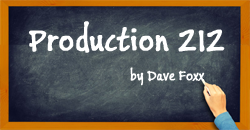 By Dave Foxx
I have been the judge of many production showcase contests. Obviously, this one was a bit more personal, seeing as I was the VO for all entries, but I think that is precisely why the competition was so fierce. It broke everything down to absolute skills, both musical and sound design. As these came in to us, I commented to Jerry that the quality level was really outstanding this time. Once I sat down and spent some time with each entry, I realized this was going to be very difficult to judge. And so it has been.
Usually, I can go through quickly and weed out any that simply aren't good enough to be contenders. I started with 26. I ended with… 26. EVERY entrant did something that made their work jump out of the speakers. Even the weakest piece showed so much promise that I just had to include it in the final round. I wrote a brief critique for each promo, pointing out the flaws and strengths, sometimes saying what I might have done differently. I am going to present the top three of them here, in no particular order. Each contestant can get what I wrote about his/her entry in a personal email, by emailing me with the request.
The winning entrant will receive a 1-year subscription to R.A.P. Magazine. The winning promo will be aired on Z100/New York and presented by The Production Vault with mixouts, once they have vetted all the sound effects/drops to avoid any legal entanglements.
So, let's give you the top 3… again, in no particular order. (I really don't want you to skip to the end of the column! LOL)
Michel Orthier from Belgium gave us a very tasty piece with a nice use of music. From using the rhythms of each song to accentuate the message in the VO, to a classic blending from one to the next and taking advantage of the lyrics to strengthen the message… this is really an outstanding piece. The beatmixing is stellar and the messaging came through loud and proud. If I had a position for him, I would hire Michel in a heartbeat.
Doug Miller at WSTR in Atlanta gave us great listener clips, a masterful promo intro with drops, some vocoder goodies, a rhythmic construct that almost defies description and it even manages to make me sound coherent. Again, Doug used the lyrics to help the message move along, but instead of using the "This is" from Break Free, as many did, he opted for the Meghan Trainor line, "Because I'm all about that bass." Based on this piece, I would say that Doug could run a Master Class in Image Production.
Karlo Zsolt from Budapest, Hungary really popped my eyes open with his piece. My first thought was, "I sure am glad he's not working across the street from me." Karlo is a musician, I would wager. The way each piece of music interacts with the hits surrounding it is masterful, indeed. The vocoder material was really fun to listen to, especially the jingle-sing over Boom Clap. Great dub-stepping on Clean Bandit too! Right down to the final ring out on Take Me Home. BIG props on this one!
I am NOT a believer of handing out "participation" trophies. I do believe that there needs to be a winner because that's one of the things that always spurs me to try harder, but sometimes it's just plain HARD to say anyone's work is better than anyone else's. In this contest, it took me a LONG time to pick a winner. As I write this, I am already 6 days past my publishing deadline.
I have selected the winner (though I'm still a little bit torn) and I'll tell you who it is after I give you a couple more names of producers who were in it to the end. Raymond Camphu from Red Deer, Alberta gave us an outstanding promo with some amazing musical and vocal manipulations. Closer to home for me, Rob Garcia in Atlantic City did an amazing beatmix. When he transitioned between All About That Bass to Hideaway, I just about lost my mind.
I was truly tempted to call a 26-way tie, but that's really not the point here. The winner is… well, let's put it this way: I don't know what it is… maybe it's the water in Budapest, but Karlo Zsolt is the winner. His promo is damned near close to perfection. I get goose bumps every time I hear it.
One last reminder that anyone who made an entry who would like to get my critique should just email me directly at This email address is being protected from spambots. You need JavaScript enabled to view it. and I will be happy to send it along. There were also a few people who missed the deadline so were not considered for this contest. Since you took the time to produce an entry, I thought it only right that I at least reply with a critique. I think I have responded to all of you, but if I haven't, please get in touch. It's been a super busy 6 weeks.
For my own sound this month, I was going to present my version of this piece, but honestly, I am a little embarrassed to say that all three of the finalist's pieces were better than mine. So, because this is MY space, I am going to take the low road and present something completely different. It's actually two pieces that do NOT have very much of my VO at all, which I'm sure will be a relief to some. They are both for the current cash contest at Z100: the Z100 Phrase That Pays.
Working with artists on station promotions doesn't often yield high results, but in this case, everything came together beautifully. Pitbull did a few lines for a ticket giveaway we did earlier this year that involved the Phrase That Pays. He also did some Pay Your Bills work for our sister station in Miami, Y100. I borrowed the Miami lines and combined them to make the first promo, which is fun and drives the message perfectly. (Remember way back when I said self-deprecating humor works best?) Then, just a few nights ago, Ne-Yo came by the station and nailed a read for us. I grabbed some interns and made a classroom group to work with his lines to create the second one. I hope you like them.
By the way… this may be the LAST time I do this. It was that hard.
♦