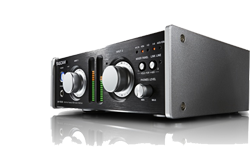 ► TASCAM unveiled the UH-7000 USB 4x4-channel audio interface and standalone microphone preamp. TASCAM's new HDIA (High Definition Instrumentation Architecture) is an entirely new design for microphone preamps. Many interface brands boast about the quality of their mic pres, but none have the confidence to offer them for solitary use outside of the digital channels. The UH-7000 HDIA mic pres feature a fully-balanced signal path from input to output, an instrumentation amplifier architecture, and premium components to achieve a -128 dBU noise floor, 117 dB signal-to-noise ratio and 0.0009% THD rating. These measurements easily beat anything close to the UH-7000's price range, providing the cleanest possible signal path for your music. Dual-sided PCM4220 A/D converters capture your mic or line inputs at up to 192kHz/24-bit resolution. The temperature-compensated internal clock offers 1PPM resolution – better than stand-alone clock generators that sell for twice the price, and limiting jitters for clean recordings. When monitoring and line output, the UH-7000 coerces your audio through a Burr Brown DA converter for fluid and honest sound reproduction. Another crucial component of the UH-7000 is its audiophile-designed power supply. An extra-large power transformer and other factors guarantee that all internal components work to their full potential. The unit itself is not only a figurative bridge between home and studio recording, but it is built like one too, with a solid aluminum structure. The knobs are calibrated for smooth, custom-tapered gain setting and the bright 20-segment LED peak meters accurately convey each channel's true level. The device is equipped with (2) XLR balanced inputs with full +48V phantom power, (2) balanced 1/4" inputs, (2) balanced XLR outputs, and AES/EBU digital out. Work the fantastic preamps of the UH-7000 into your current recording/live setup, or plug this versatile interface into your computer and start recording. Features include: DSP mixer enables independent adjustment of recording and monitoring levels; DSP dynamics effects can be applied to inputs, outputs or the master (compressor, noise suppressor, de-esser, exciter, EQ, limiter/low cut); DSP REVERB (hall, room, live, studio, plate) send effect is perfect for monitoring when recording; Confirmed operation with major DAW software, including Sonar X3, ProTools, Cubase and Live. www.tascam.com.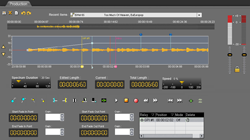 ► NETIA recently showcased the latest version of its Radio-Assist™ range of digital audio automation software. Radio-Assist 8.2 will offer the same array of tools for streamlined end-to-end multimedia production, broadcast, and publication workflows, along with two significant new features: an integrated music-scheduling application and a video editing capability. Users can access both new features from a single user interface. NETIA's Radio-Assist family of digital audio software programs covers each part of the production and broadcast workflow, allowing users to record, edit, or prepare a playlist. In addition to new browsing and publishing tools for full multimedia functionality, the software features tools for acquisition, sound-file editing, commercial and music production, newsroom systems, scheduling, multicasting, and administration. Radio-Assist 8.2 allows users to leverage built-in music-scheduling functionality. With music management tools integrated into Radio-Assist 8.2's FederAll playlist preparation module, users are able to automate playlist generation according to preset criteria, business policies, and a wide range of intelligent options for sequencing music. The video editing tool now available within the Radio-Assist 8.2 interface complements the software's Snippet and Snippet+ audio editing tools. Offering a convenient editing solution, this enhancement addresses the growing demand for radio broadcasters to provide video via their online portals. This simple and easy-to-use editing tool is available through the same GUI as the Snippet tool, providing a familiar utility that allows staff to produce video clips with very little training. Additionally, the Snippet range of editing tools available within the Radio-Assist™ automation products is now available for iOS devices. Sharing the same look and ergonomic principles as the Snippet desktop interface, the new iPhone®- and iPad®-compatible iSnippet tool allows field reporters and other remote users to enjoy Radio-Assist audio editing capabilities — familiar from the desktop — on their portable devices. The new teleprompter module for the Radio-Assist™ suite gives presenters and journalists convenient visual access to news scripts, which scroll continuously down the presenter's screen and are linked to the playout system in the studio. Customizable features such as text size, color selection, automatic speed control that adapts to reading speed, and read length may be configured in user profiles that are tailored to presenter preferences. www.netia.com.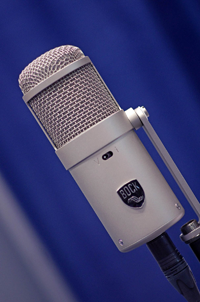 ► Manufacturing engineer David Bock has yet again captured the tone of a cherished vintage microphone in a thoroughly modern design. This time it's the Bock iFet phantom-powered condenser, which possesses the sonic soul of a classic fet47 mic of yesteryear plus more modern specifications, including deeper bass and higher highs. The iFet also features two completely separate amplifier circuits. The first circuit uses one FET and four transformers to capture high-SPL sources, such as drums and electric guitar. The second circuit uses one FET only and is ideally suited for quieter sources, such as voice. The two-circuit design effectively doubles the size of the Bock iFet's sonic palette. US-MSRP: $2,150.00. www.transaudiogroup.com.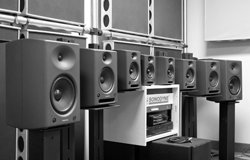 ► Based in India, Sonodyne is well known for designing and manufacturing studio monitors that deliver big-ticket performance without the big ticket. The company recently introduced the SRP series of bi-amplified, die-cast aluminum studio reference monitors. Five models span the series to meet different needs and budgets, from the small SRP 350, through the SRP 400, 500, and 600, to the large SRP 800. A sensible collection of back panel controls adapt the SRP series loudspeakers to a wide range of room conditions, and tapped inserts at the bottom and rear allow for a variety of mounting options. Clean self-power ranging from 20+20W in the SRP 350 to 175+100W in the SRP 800 is perfectly matched to the acoustics of the drivers and enclosures. www.transaudiogroup.com.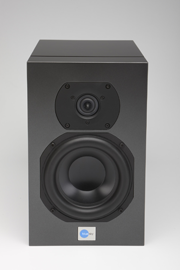 ► Blue Sky announced the worldwide debut of its newest monitoring solution, the Star System One 2.1, comprised of a single Sub 12D digital powered subwoofer and two Sat 6D digital satellite speakers. Designed and assembled in the United States, the new Sat 6D and Sub 12D can also serve as building blocks for systems of varying sizes and configurations, making them especially well-suited for broadcast, film post, and game sound design environments. According to Blue Sky/Group One Ltd. VP of Sales Chris Fichera, Blue Sky CTO Rich Walborn was the driving force behind the new Sat 6D and Sub 12D systems, ensuring that they would meet the specific and unique needs of professional users. "We knew that an advanced monitoring system had to be able to adapt to acoustical environments ranging from extremely good to quite poor, such as the typical audio area in a mobile production unit," says Fichera. At the heart of the Star System One 2.1 is the new Audio Management Controller (AMC), which optimizes and controls a wide array of functions across the entire monitoring system. The AMC is a 5.1/7.1 digital processor with 31-band parametric EQ on each channel, time delays for channel alignment as well as lip-sync, sample rate conversion, and both analog and digital inputs and outputs. The AMC's hybrid touch/hardware remote control provides solo, mute, presets, master volume and other functions. Some setup functions, including room EQ, are accomplished in conjunction with a PC attached via the AMC's USB port. The measurement and room EQ program utilizes a proprietary equalization optimization system developed by Walborn called BOO (Binary Organic Optimization). According to Walborn, this unique algorithm "compares thousands of settings in a matter of seconds, achieving the target correction curve with linearity that would be very hard to achieve manually." Room measurement can be accomplished with the built-in measurement tools or imported from systems like Smaart. The Blue Sky Star System One 2.1 will carry a list price of $5,385, with additional Sat 6D and Sub 12D units sold individually for $1,695 and $1,995, respectively. www.abluesky.com.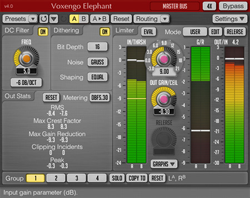 ► Voxengo announced the release of Elephant version 4, a mastering limiter plugin for professional audio and sound production applications, available in AudioUnit, VST and VST3 plug-in formats (including native 64-bit support), for Mac OS X (v10.5 and later), and Windows computers. Voxengo Elephant is a mastering limiter plug-in for professional music production applications. The most remarkable feature of this signal limiter is its sonic transparency. Elephant brings sound limiting and loudness maximization without audible "pumping" sonic artifacts. Elephant features a variety of limiter modes that can be deeply customized, and a comprehensive set of level metering tools, including headroom estimation and K-system metering. Elephant's built-in linear-phase oversampling is an important element in achieving high-quality peak limiting and loudness maximization without inter-sample overshoots. Elephant limiter can be used for mixing and mastering of both stereo and multi-channel music and sound material, at any standard sample rate. Limiting process can be visualized both as gain reduction meter and real-time graph. USD 119.95. Upgrading from the previous version costs USD 49.95. www.voxengo.com. ►
♦