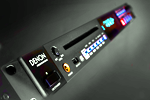 ► Denon Professional announced that it is now shipping its new DN-501C broadcast-quality CD/media player. Engineered to provide professional-grade playback, the DN-501C supports both CD-DA and CD-Data while allowing users to access iTunes® libraries from iOS devices via USB. Loaded with broadcast-rich features, expanded connectivity options, and compatible with Denon Professional's new Pitch Control App, the DN-501C facilitates flawless, affordable audio for a wide range of installation-based environments. With support for CD-DA, WAV, MP3, and both AAC and AIFF audio file formats, the 1-RU DN-501C professional CD player adds iOS compatibility to applications such as broadcast, fitness, dance, music rehearsal, studio, front-of-house playback, and background music spaces. The device's convenient USB port allows users to perform digital playback directly from iPod® and iPhone® devices while enabling mass storage playback and WAV file ripping directly from CD data. Users can also change audio pitch and perform master key control from mobile iTunes libraries using Denon Professional's free app for iOS devices. Packed with performance features, the new DN-501C CD/media player features various play modes including programming capabilities, frame-accurate searching, a dedicated cue button, and up to twenty hot starts, with five directly on the front panel. The professional-grade device also brings +/- 16% pitch control for both CD and USB files with or without master key control. For enhanced reliability, the DN-501C features a new, three-phase brushless spin motor and slot-in CD drive while RS-232C, GPIO, and professional outputs such as balanced XLR and XLR AES/EBU expand the player's connectivity options. Compatibility with Denon Pro's RC-F400S hot start remote furthers the device's ease-of-use as does the unit's high-contrast OLED display. The DN-501C CD/media player also includes an IR remote control and removable rack ears. Available now, the unit retails at a price of $649. www.d-mpro.com.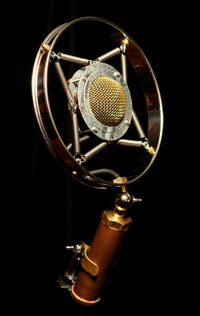 ► Ear Trumpet Labs, a privately owned company in Portland OR that makes handcrafted microphones, announced the release of a new microphone, the Myrtle. The Myrtle is a directional mic that combines the look of a classic broadcast mic with the highest-quality electronics. Myrtle's inherent warmth of tone and crisp clarity make a natural-sounding live mic. The cardioid polar pattern, headbasket design, and tuned electronics all work together to make a stable live mic with good feedback rejection, perfect for any singer who wants to make a visual and sonic statement. Myrtle is a medium-large diaphragm (26mm) condenser microphone designed with a cardioid pickup pattern primarily for live vocal use. Reminiscent of early broadcast microphones, the design features a unique copper-and-steel head basket with brass grill work, spring-suspended in a six-inch diameter stainless-steel ring with a chrome pivoting joint. The head basket incorporates an effective silk pop filter as well as Sorbothane shock and vibration damping to minimize handling noise. The copper-and-brass body fits standard microphone clips. The transformerless FET circuit, with fully balanced output and thorough EMI protection, features a moderate bass rolloff to compensate for proximity effect, and high frequency EQ tuned to the capsule to avoid harshness and help control feedback. The Myrtle has a sensitivity of 12 mv/Pa with an output impedance of 150 ohms. The Myrtle is now available for $599 directly from Ear Trumpet Labs. www.eartrumpetlabs.com.

► Twenty years after its introduction, ISDN remains the most common way of recording high-end remote voiceover sessions. Because its use is limited in other applications, however, ISDN is becoming increasingly difficult and expensive to obtain and service. SoundStreak offers an alternative way of conducting remote recording sessions, requiring only a broadband Internet connection and a free downloadable client software for Mac or Windows. Even today's high-quality Internet connections suffer from variable latency and bandwidth, meaning that a program offering two-way communication must make some trade-off between latency and sound quality. SoundStreak's patented store-and-forward system overcomes this by using a real-time voice patch for nearly lag-free communication and transferring full-quality uncompressed audio files in resolutions up to 96 KHz/24-bit via their secure server in the background while you work. SoundStreak includes a number of features and workflow enhancements such as automated file naming and handling, live script sharing and editing, and read-to-picture capabilities. All connections are with their server rather than peer-to-peer, meaning that SoundStreak offers unprecedented reliability and security while still traversing firewalls with ease. Because all files pass through the SoundStreak servers, customers are able to access and share securely archived versions of their files at any time. These features make SoundStreak an ideal remote-recording solution for those unable to obtain ISDN. These features also make SoundStreak a great supplement for studios that are already equipped with ISDN, as does the fact that the software is free to install, and the Talent end of the connection pays nothing – the Production end pays for session time. www.soundstreak.com.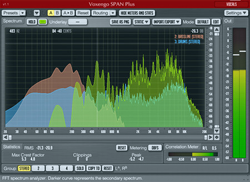 ► Voxengo announced the release of SPAN Plus version 1.1 - an extended real-time "fast Fourier transform" audio spectrum analyzer plug-in for professional music and audio production applications. SPAN Plus is available in AudioUnit, VST and VST3 plug-in formats (including native 64-bit support), for Mac OS X (v10.5 and later), and Windows computers. SPAN Plus is an extended version of the freeware SPAN plug-in: SPAN Plus provides several additional features such as PNG file export, real-time spectrum import/export and static spectrums display. SPAN Plus provides you with a very flexible "mode" system which you can use to setup your spectrum analyzer preferences. You may specify Fourier block size in samples, FFT window overlap percentage, and spectrum's visual slope. You can also choose to display a secondary spectrum of a desired type (e.g. real-time maximum, all-time maximum). www.voxengo.com.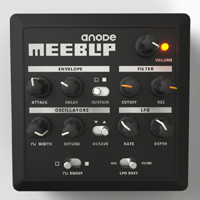 ► Blipsonic and CDM (createdigitalmusic.com) announced MeeBlip anode. Combining an analog filter with unique digital sound sources, all in an easy-to-understand, compact sound package, it's synth hardware anyone can enjoy immediately. The all-new MeeBlip anode is part analog, part digital, capable of producing a range of uniquely aggressive, bass-heavy sounds. And inspired by the best classic synths of the past, getting your hands on that sound is always simple, direct, and intuitive. Simply plug in a keyboard, computer, iPad (via adapter), or controller via the MIDI port to play notes. Then, adjust sounds via knobs and switches - you don't need to navigate a single menu. Its digital side reproduces the sound and architecture of classic synthesizers, but with an emphasis on adding personality, especially in the low end. Its all-new analog filter with resonance can range from smooth to raunchy - perfect for shaping sound or making squelchy basslines. Primary features: Unique 8-bit oscillators meet an original analog filter; Compact, 4" x 4" case (approx. 100 x 100 mm); Modulation, envelope, tuning, and pulse width controls; Open source hardware, but fully-assembled and ready to play; MIDI input for compatibility with vintage and modern hardware, computers, and (with a compatible adapter) iPad and iPhone. anode comes fully assembled and ready to use. But because it's open source hardware, users can learn from anode by looking through the code and circuits, modifying how it works, or even creating their own instruments based on the design. MeeBlip anode is available direct from the manufacturer. Pricing: US$129.95. www.meeblip.com.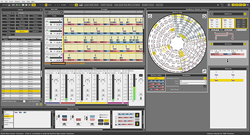 ► WaveDNA, the developer of Liquid Rhythm MIDI sequencing and beat creation software, recently exhibited at NAMM 2014 in Anaheim, California. With the help of DJ Shine (AKA Jason Spanu), an Ableton Certified Trainer whose credits include Frank Ocean, Nelly Furtado and Drake, the company showed the NAMM community why its software has been referred to as "the future of rhythm programming" and "the most innovative and cool rhythmic generator" in recent magazine product reviews. Boasting a completely redesigned user interface and a host of new features, Liquid Rhythm offers musicians, producers and DJs a range of tools to create and experiment with their rhythm tracks. Liquid Rhythm's unique visualization of MIDI and innovative suggestion tools streamline workflow for the ultimate efficiency in beat production. www.wavedna.com.
♦