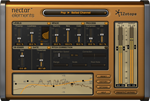 ► iZotope, Inc. has again partnered with Sony Creative Software to provide Nectar Elements as part of Sony's Vegas Pro 13 video production environment. Nectar Elements, a vocal processing plug-in, is built on an easy-to-use interface, intuitive controls, and extensive preset system for processing vocals quickly to professional results. Sony Vegas Pro 13 customers will now have the advantage of using iZotope's Nectar Elements to: Rapidly audition different vocal sounds with professionally-designed Style presets in a wide variety of genres; and personalize their sound with easy-to-use controls that drive sophisticated vocal processing with intelligent controls including: Levels, EQ, De-Esser, Gate, Space, and more. "We're very pleased to have iZotope on board for the launch of Vegas Pro 13," says Michael Bryant, Director of Worldwide Marketing for Sony Creative Software. "Our collaborations with iZotope have energized our software products over the years with unmatched audio processing power across our customer-focused, premier plug-in packages. With the addition of Nectar Elements in Vegas Pro 13, producers will now have access to single-click dialogue enhancement options, providing the perfect vocal treatment for any broadcast scenario." www.izotope.com, www.sonycreativesoftware.com.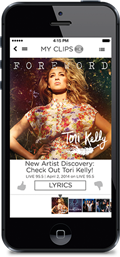 ► Portland radio listeners can download and use Clip Radio. It is the first and only mobile app that lets a listener see and interact with what they hear on the radio instantly by "clipping" to get the desired content. Clip Radio gives listeners the ability to easily browse radio programming from nearly every station in the Portland area. The app can automatically detect a station's broadcast, allowing the listener to simultaneously see what's playing and "clip" desired content to save and interact with on their own time. Clip Radio is the only app that lets listeners look at the last hour of almost any Portland radio broadcast, allowing them to access information about a song they heard a few minutes ago, find additional information about a local business they heard advertised or enter a contest promoted by the local radio personalities. "Radio will never be the same. Listeners can now get what they want directly from local radio and interact with it immediately," said Sara Sisenwein, vice president of marketing for Clip Interactive, the company behind Clip Radio. "By making the music, contests, local business information – and just about anything you hear on the radio interactive, we believe we are carving out radio's place in the digital world." Portland is the first city where Clip Radio has fully integrated nearly every radio station broadcast, and the company plans to introduce the app to several other markets over the coming months. The app is free and available for download at the App Store (iOS) or Google Play (Android). Clip Radio will work on iPhone devices running iOS 6.0 or later and Android devices running Android 3.0 (Honeycomb) or later. About Clip Radio: Clip Radio is an app developed by Clip Interactive, a Boulder, Colorado-based company founded in 2012. The company's mission is to bring interactive radio to the masses in order to bring more listeners to stations and provide new services to listeners, advertisers, labels and station owners. www.clipradio.com.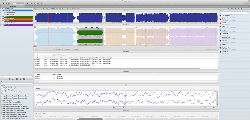 ► Audiofile, a music technology company, announced the latest major update to Triumph, their audio editor and post-production tool for Mac. Currently featured on the Mac App Store, Triumph 2.3 now supports Final Cut Pro X XML import and export complete with video preview, placing it among the App Store's most powerful audio editors for sound designers, video editors and filmmakers. In addition to bridging the gap between sound design and Final Cut Pro X, Triumph 2.3 introduces iCloud support, adding to its already rich list of integrated Mac technologies. With the inclusion of iCloud support, users are now able to share Triumph projects across all of their personal or studio machines and iOS devices. Triumph 2.3 is only the latest in a planned roadmap of major updates, all in an effort to further distinguishes it as the flagship Audiofile app for Mac. Triumph 2.3 is currently available for $79.99 at the Audiofile store. Also from Audiofile, a major update to Spectre, the real-time audio analysis suite for OS X. Ideal for any audio professional working today—from producers to broadcast engineers to video editors—Spectre is packed with 20 different multi-channel and multi-trace meters including Level, VU, Spectrograph, Oscilloscope, Spectrogram, LU and LU History. With version 1.7, Spectre has been rewritten from the ground up to support the latest loudness standards as well as making it even more powerful. Beyond its significant performance upgrade, Spectre's updated meters are now even easier to configure. Additionally, they are now Retina-ready and fully optimized for OS X Mavericks, including improved full-screen and multiple display support. www.audiofile-engineering.com.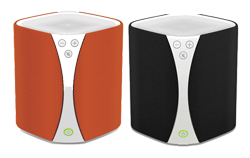 Imagination Technologies announces 'Bluetooth Caskeid', an enhanced version of its wireless multiroom audio streaming technology that delivers any audio app content to multiple Caskeid-enabled speakers through a unique combination of Bluetooth and Wi-Fi. Users simply select audio from their chosen music or radio service app and send it via Bluetooth to a Caskeid speaker. The Caskeid technology integrated into the speaker takes care of ensuring that music is then seamlessly and synchronously sent to all the speakers in the group. Caskeid is a family of technologies developed by Imagination to deliver efficient and accurate wireless multiroom audio. Specifically, Caskeid technologies address accurate and advanced synchronization (for the best sounding audio), effective low latency (for instant response across the system) and fully functioned management of the speaker system. Caskeid technologies are available for licensing from Imagination now as part of its portfolio of advanced connected consumer technology products for custom SoC design. Both PEAQ and Pure are already shipping Caskeid enabled speakers and Onkyo is to use the technology in a future product range. Pure has announced that is has integrated Bluetooth Caskeid into its Jongo wireless speaker range allowing the speakers to be used with any music streaming services including Pandora, Rdio, Deezer and Spotify. Three major brands, Onkyo, PEAQ and Pure, have already announced that they are using the full suite of Caskeid technologies in their products. Many more licensees are in the pipeline to integrate Caskeid or selected technologies from the Caskeid family. To make Caskeid's advanced capabilities fully accessible to music services, a Caskeid Software Developer Kit (SDK) enables agnostic app support over Wi-Fi for any Caskeid speakers. Apps that have Caskeid embedded into them will give users a richer multiroom audio experience. Uniquely, Caskeid technology delivers outstanding audiophile-quality stereo playback with less than 25us synchronisation accuracy, providing a true 'Wi-Fi Hi-Fi' experience that is good enough to replace wires, satisfying even the most demanding audiophile. www.caskeid.com.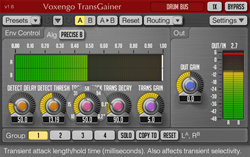 ► Voxengo TransGainer version 1.6 is now available for download. Voxengo TransGainer implements an audio signal envelope adjustment algorithm that reacts on transients rather than on a signal's loudness level. TransGainer is available in AudioUnit, VST and VST3 plug-in formats (including native 64-bit support), for Mac OS X (v10.5 and later), and Windows computers. This updated version 1.6 introduces a new "Precise B" algorithm which is better suited for mix and bus (broadband) processing.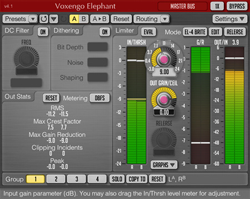 Also from Voxengo, Elephant version 4.1 is now available for download. Voxengo Elephant is a mastering limiter plugin for professional audio and sound production applications, available in AudioUnit, VST and VST3 plug-in formats (including native 64-bit support), for Mac OS X (v10.5 and later), and Windows computers. This version includes the following changes: Extended the input gain range to +24 dB; Extended the output gain range to -15 dB; Made the "Eval" switch to not affect the output statistics; Extended the "Release Shape" range to 2, offers an extreme punch and "hardness", via an idealized S-curve release shape, and more improvements. Elephant is a highly competitive plug-in for mastering applications. It features a variety of limiter modes that can be deeply customized, and a comprehensive set of level metering tools, including headroom estimation and K-metering. Elephant's built-in linear-phase oversampling is an important element in achieving high-quality peak limiting and loudness maximization without inter-sample overshoots. www.voxengo.com.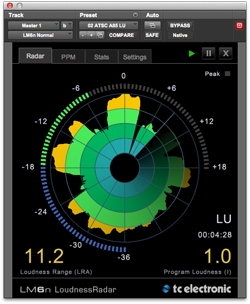 ► TC Electronic announced three new loudness meter plug-ins for audio and video editing systems. The new LM2n and LM6n meters offer a wealth of new features plus the easy to use Radar View. The LM1n plug-in provides the basics in loudness metering while only creating a small footprint on the screen. The new LM2n and LM6n native plug-ins replace the previous LM2 and LM6 plug-ins. All of these new loudness meters support the major plug-in formats, including AAX (Pro Tools 10 and 11), VST (Nuendo, Cubase, Audition, Premiere, etc.) and Audio Units (Final Cut Pro, Logic Pro, etc.) and even offers faster than real time off-line measuring in Pro Tools. What's New? Compared to the their predecessors, LM2n and LM6n offer a lot of new features such as dedicated settings for Max Momentary (M) or Max Short Term (S) Loudness display. Further, LM2n and LM6n offers an impressive 'Big' version of the radar, which is very useful when working at a distance from the screen. Desaturated view is another new feature that makes the radar's color scheme grey scale. While one would normally choose the full color version of the radar, film professionals prefer a desaturated view that does not take away focus from the visual side of their production. Many broadcasters have requested a solution for not having to use an iLok USB key, and with LM1n, LM2n and LM6n this is now possible. An iLok user account is still necessary, but users can now use an iLok key or store the license on their computer. www.tcelectronic.com.
♦