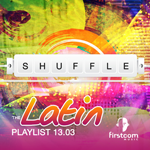 ► New releases from FirstCom include: A Tale of Romance BBCPM028 - A romantic collection of thematically linked orchestral pieces. Human Behaviour BBCPM029 - Inventive and intriguing, the wonderful and the strange! A Little History of England CHAP403 - Intimate and interesting look at the English, their history and heritage. Timeless factual documentary and drama. Silver Linings CHAP410 - A lively ensemble with splashes of colourful vocals! Factual Film Score CHAP411 - The Darker Side. Organic Textures CHAP412 - Chappell Vaults Series: Sunny strings and lounging Latino rhythms. Perfect for sophisticated getaways. Positive Promotions 3 EVO197 - Uplifting, optimistic, motivational, inspiring, acoustic driven positive underscores. Beautiful Inventions EVO204e - Music for stories, documentary, profiles, emotional underscores. Shuffle 8: The Latin Playlist EVO205 - The Shuffle series gets the Latin treatment with a burst of percussion and brass perfect for reaching the ever-growing Latin Market while in true Shuffle fashion touching every style in the Latin spectrum. Audition these and more at www.firstcom.com.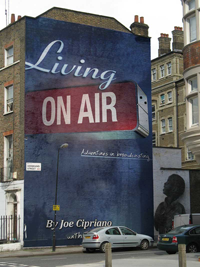 ► Benztown Radio Networks announced that Joe Cipriano, voiceover legend and Benztown voiceover talent, has released his autobiography, Living On Air: Adventures in Broadcasting, now available on Amazon, NOOK, iTunes, and www.livingonairbook.com. The book, written with Cipriano's wife, Ann Cipriano, reveals the man behind the familiar voice, and tells the storied life of Cipriano, who started on his journey as a radio d.j. in 1969 at age 14, growing up on the air and culminating as one of the world's most instantly recognized voiceover artists. The book is a collection of funny and eye-opening stories documenting the rollercoaster ride through Cipriano's unpredictable life on air. Living On Air chronicles the history of radio from the days when radio was boss, through radio's digital age. Now the most widely heard voice in entertainment, he also describes the transition to voiceover and his first few awkward attempts and relives his stories with athletes and celebrities like Martin Short, Jimmy Connors and Tony Bennett. "Living On Air: Adventures in Broadcasting brings together the two things I'm most passionate about in my life, voiceover and broadcasting. It was such a wonderful experience in writing this book to travel back in time and recreate the era of the late '60's and early '70's and paint a picture of what radio was like then." Joe Cipriano is one of America's most instantly recognized and premier voice over artists whose voice is heard daily on radio, television, in movie theaters, award shows and game shows. He is currently the signature voice of the Fox Television Network comedies and CBS Network comedies, voicing promos for Two and a Half Men (CBS), Rules of Engagement (CBS), Mike and Molly (CBS), The Talk (CBS) and The Simpsons (Fox). Joe is the in-show announcer for top-rated shows like "America's Got Talent", "Extreme Makeover Home Edition", "Million Dollar Mind Game", the Primetime Emmy Awards, Grammy Awards, PGA Awards and many more. www.livingonairbook.com.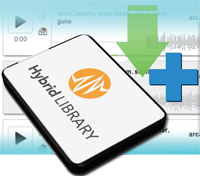 ► In continued support of freelance sound designers worldwide, Pro Sound Effects® has made available 100 more units of its enhanced Hybrid Library and is introducing a brand new add-on - the Expansion 1. "Last year, the Hybrid was dubbed, 'The Robin Hood of Sound Effects Libraries,'" said Douglas Price, Founder of Pro Sound Effects. "This year, our goal is to further level the production playing field for freelancers by giving them affordable access to big-budget library features". The Hybrid Library combines 50,000+ sound effects on hard drive and this year includes new drive design, enhanced metadata, publisher updates, and access to over 125,000 sounds online. The Expansion 1 was created in survey-driven collaboration with current Hybrid Library owners and includes 10,000+ brand new sounds in must-have effects categories such as Ambiences, Cinematic Elements, Fight Elements, Foley Footsteps, Roomtones, Weapons, Sci-Fi and beyond. The Hybrid Library and Expansion 1 are curated from leading sound effects publishers (including Blastwave FX, BOOM Library, Foundation, Soundrangers) and always created in close collaboration with Pro Sound Effects Hybrid Library owners. www.prosoundeffects.com.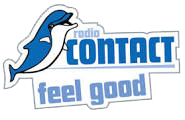 ► Radio Contact, the number-one radio station in French-speaking Belgium, commissioned Studios Peak to create new sound branding. Jingles were specially written in the station's friendly, dynamic and uplifting spirit. Given creative license by Radio Contact, the team had a blast in the studio. The result: a new, refreshing channel design and another very satisfied customer. "Great job! Such talent… Thanks, Peak, for making our brand shine!" exclaimed Head of Production Justin Douilliez. Visit www.studiospeak.net to listen to the new jingles and their variations.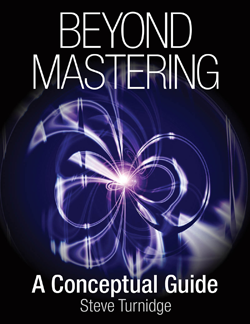 ► Hal Leonard releases Beyond Mastering, the second book by mastering engineer Steve Turnidge. In his first book, Desktop Mastering, Turnidge gave readers a tour of his unique approach to mastering, all the while providing glimpses of his mind-set and resulting workflow. Now, in Beyond Mastering, he unveils the physics and philosophy that drives the mastering engineer. He has found parallels between mastering music and mastering life, and he helps the reader to find the internal state required to achieve happiness and success. Beyond Mastering is full of guiding principles gained from Turnidge's 25-plus years in art and technology. He expresses universal truths with a mix of anecdotes, analogies and metaphors, and reveals ways to truly enjoy work and be more productive when fully integrating your profession into the rest of your life. The book is written for the audio enthusiast who wants to get a better handle on deeper aspects of the art and craft of mastering. It is also for people who enjoy reading philosophical ideas that extend beyond routine education, and for those who want to better understand the world of audio, frequency, and amplitude. $24.99 (US). www.halleonardbooks.com.
► Broadcast Music, Inc., a global leader in music rights management, will celebrate the 75th year of its founding in 2014. To mark this milestone, the Company has announced a year-long program of commemorative projects and events celebrating its history and contributions to the growth of American music. The program will kick off with the introduction of "75 Years of American Music," a coffee table book written and art directed by Bob Guccione, Jr., the founder of SPIN magazine. "75 Years of American Music" will chronicle the story of American music as related through rare images, documents and interviews from the BMI archives interspersed with current voices from influential songwriters, music publishers and entertainment executives and tastemakers. The book will be presented at the annual invitation-only BMI NAB dinner to be held in April during the NAB convention. BMI was organized in 1939 by a group of visionary broadcasters and originally managed through the NAB, making its annual convention a fitting venue for the debut of the anniversary book. It will be released in April 2014 in hardcover to select retail outlets, and will be simultaneously distributed as an e-book. Additional audio, audiovisual and printed material and programming will be produced throughout the year, including archival and current video footage on BMI TV to be distributed virally and via bmi.com. More at www.bmi.com. ▲