R.A.P. Interview: Bill Schultz
by Jerry Vigil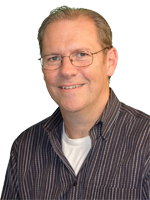 It's been nearly two decades since we last checked in with Bill, who at the time was putting a CHR production touch to a country station in New York. We find him now in Philadelphia, imaging two of Greater Media's stations in the Philly cluster, where he also served as Operations Manager for several years before taking the Creative Services Director position.
With a career spanning over 25 years, Bill has managed to spend them all in just two markets, New York and Philadelphia, working with some of the best in the business – nothing like starting at the top. If there's anything Bill has major market experience at, it's imaging, and that's exactly what we picked his brain about this month. We also get some insights into his time as an Operations Manager who wrapped up his days in the production room, and we get some great audio from Bill for this month's RAP CD. Dig in!
Production 212: 5 Easy, Beefy Tips
by Dave Foxx
Happy New Year! I sincerely hope that 2014 brings you loads of personal and professional success. Since we have to start dating our checks differently, we all seem to choose this time of year as a time to "start fresh," to make a new beginning. To that purpose, I want to re-dedicate this space to helping you achieve your goals as a creative radio producer, whether you're doing imaging or commercial work. It is my plan this year to offer more practical tips and ideas. I have tended to get into philosophical discussions with myself a lot lately, and while I think these discussions are helpful, I'd really like to start connecting the dots a little more by bridging the philosophy to more concrete "things you can do." So, let's kick the New Year off with a broad list: Five Simple Things You Can Do to Improve Your Production.
Technology: Get Ready for 2014 - New Products Seen at AES
by Matthew Morse
Okay, you might have the coolest production studio in town with the best gear available – at least when the corporate office built it during the last consolidation. But I'm here to tell you things are about to get really interesting in 2014.
How about some amazing new microphones, a smooth glass mixing console with no faders, and the latest in Pro Tools technology, all waiting for you?
Radio Hed: Rough Edges In Your Commercial Are Like Audio Velcro™
by Jeffrey Hedquist
Sometimes, the attention we put on making commercials "perfect" can stand in the way of getting results. Smooth sounding spots, polished voices, impeccable mixes, may be off-putting to your audience. They can blend into the audio fabric and not catch attention. Rough, unpolished, raw and real, is often more effective, especially with current over-communicated, skeptical audiences. It conveys an authenticity, and truthfulness.
A Reality Check On Slice of Life Advertising
by Deborah Hopkins
I hate to admit it, but sometimes I'm not particularly proud to be a Professional Radio Advertising Copywriter. The source of my discomfort is the continued presence of crummy radio commercials that end up on the air. Writers, you know the ones I mean. The scripts where you write SUPPLIED at the top, just so no one thinks you actually had a hand in writing that sucker. Of course, your audience doesn't understand that. The average listener probably just assumes that after decades, those of us in the industry are still really bad at creating radio commercials.
Four Ways to Politely Get Voice Talent to NOT Suck
by Jim Van Dusen
Most everyone in radio today needs to be pretty awesome (and not be paid too much) to stay in radio… however, there are some times (as in last minute) when you're dealing with… er… not very much talent… AND what if this talent thinks they're God's Gift? How do you save their feelings and avoid what producer's jokingly call "Friday afternoon Gold"? Here are four suggestions.
The Monday Morning Memo: A Tale of Two Lawyers
by Roy H. Williams
I recently spent a day with two lawyers who practice the same legal specialty. We'll call them Nick and Ralph. They live on opposite sides of the country. They met at a conference and became friends. Nick read my books, attended Wizard Academy, and decided to go fishing for customers with a net. He put his money in radio. Ralph thought it made more sense to target only those people in immediate need of a lawyer within his specialty. Ralph went fishing with a hook called Pay-Per-Click. Ralph said, "Nick, you're hunting with a shotgun. I'm hunting with a rifle." Ralph believes in targeting, you see. That's why he fishes with a hook and catches just one fish at a time. But you don't build a widespread reputation by waiting until your customer needs you and then targeting them through Search Engine Optimization and Pay-Per-Click.
"...And Make It Real Creative!": Funny Business?
by Trent Rentsch
My favorite radio insider joke goes like this, "We're in the Communications business!" I think I had only been in my first radio job for a month before I got that one. We were running a contest to win dinner at a local restaurant, and I witnessed "communication" in action, when the Rep in charge of the restaurant account burst into the PD's office.
...and more!