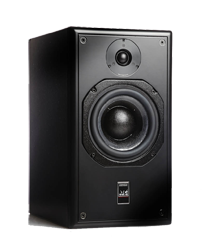 ► TransAudio Group, U.S. distributors for ATC UK, introduces the ATC SCM20PSL MkII near-field reference monitor. The passive ATC SCM20PSL MkII improves upon the previous ATC six-inch two-way passive and is ATC's smallest and least expensive monitor in the ATC Professional line up. Built to the same exacting standards as its active Pro Range siblings, the SCM20PSL MkII is ideal for those already using passives but seeking a new level of resolution in a compact passive package. They are ideally suited for critical near-field applications or smaller rooms. The ATC SCM20PSL MkII is based around the ATC 6.5-inch "Super Linear" LF driver with integrated midrange, utilizing the same ATC developed SL technology used in the larger nine-, twelve- and fifteen-inch based monitors. The SCM20PSL MkII is the first professional product to incorporate ATC's brand new in-house built ATC Dual Suspension 25mm tweeter. Five years in development, the new ATC Tweeter offers lower distortion, higher output and greater reliability. A newly ATC designed/built passive Crossover has been incorporated combining second and third order features to offer improved imaging and precision, comparing favorably to ATC's active designs. Exceptionally neutral output extends across the audible spectrum and within an all-new cabinet design, minimizing size and weight. www.transaudiogroup.com.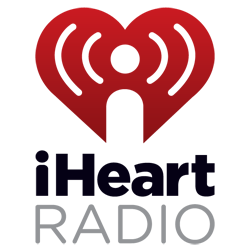 ► iHeartRadio, Clear Channel Media and Entertainment's free digital music service, launched iHeartRadio 5.0 for iOS and Android, focused on bringing iHeartRadio users an even more personalized listening experience with enhanced algorithms. Among the new algorithm updates to the digital radio service is the "For You" feature, which adds a genre selection tool for improved, more tailored station recommendations. iHeartRadio 5.0 will also include a sleeker, more intuitive UI, improved search and simplified controls. Once downloaded, new iHeartRadio users will be prompted to select their favorite music genres. Available categories will include: top 40 and pop, country, hip hop and R&B, rock, alternative, news and talk, sports, Christian and gospel, Spanish, dance, oldies, classic rock, mix and variety, soft rock, jazz, classical, comedy, world, college radio, and reggae and island. Users can easily access the new For You feature that will bring back recommendations based on location, genres you have chosen and music you have previously listened to and thumbed up, as well as recently played Custom and Live Stations. iHeartRadio 5.0 is available for download now on Android and iOS. In the coming months the new user-interface will become available across more devices, including Chromecast support and other in-home integrations, to deliver a consistent iHeartRadio experience for music lovers, no matter their location or listening device. With more than 345 million downloads and 50 million registered users, the iHeartRadio app provides access to more than 1,500 radio stations from across the country; user-created Custom Stations inspired by a favorite artist or song; thousands of curated digital stations "Perfect For" any mood or activity; and the new Shows & Personalities feature giving users access to on-demand news, talk and entertainment content. Other optimized features include the ability to save and easily access station Favorites, skip songs on Custom Stations, and thumbs up or thumbs down songs to improve recommendations. The app is 100 percent free with no subscription or capped hours. www.clearchannel.com.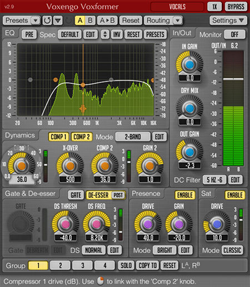 ► Voxengo announces Voxengo Voxformer version 2.9 update is now available for download. Voxengo Voxformer is a multi-functional vocal channel strip plugin for professional audio production applications, available in AudioUnit, VST and VST3 plug-in formats (including native 64-bit support), for Mac OS X (v10.5 and later), and Windows computers. Version 2.9 adds VST3 support and fixes compatibility with Adobe Premiere CS6 (mono and stereo processing only). The coolest feature of Voxformer is its one-knob vocal compressor. Using only a single knob, you can get a tight, open and definitive professional vocal sound with an excellent articulation in no time. You do not have to worry about common ratio and make-up gain controls since they are automatically selected by the advanced compression algorithm while attack and release parameters are stored in a mode preset. Moreover, Voxformer features two compressors of this type, allowing you to apply either a two-band or a two-stage (serial) vocal compression. Voxengo Voxformer end-user license is available for purchase on-line for US $69.95.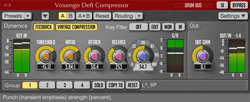 Also from Voxengo, Voxengo Deft Compressor version 1.5 update is now available for download. Voxengo Deft Compressor is an audio track and bus compressor plug-in for professional audio production applications, available in AudioUnit, VST and VST3 plug-in formats (including native 64-bit support), for Mac OS X (v10.5 and later), and Windows computers. Version 1.5 includes the following changes: -6 dB/oct low-pass and high-pass filters added and added VST3 support with side-chain. The characteristic feature of this compressor is its ability to produce "slim" and "slick" sounding compression, with an intelligibility enhancement effect. Such result is achieved by the compressor's timing function that closely resembles the S-curve on both attack and release stages. The S-curve timing function means that the attack and release stages "look" like S-curve (sigmoid curve). Such curve sonically adds a very warm coloration, without a sharp edge. Besides that, S-curve on longer release times possesses a bit of "hold" time delay where it does not change. This allows the compressor to have clean, almost uncolored effect on higher frequencies. US $69.95. www.voxengo.com.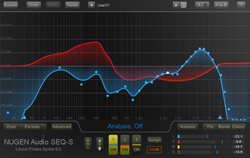 ► NUGEN Audio, creator of intuitive tools for audio professionals, announced the launch of SEQ-S, a high-fidelity, linear-phase equalizer (EQ) ideal for music production and mastering as well as film and post-production applications. With support for mono, stereo, 5.1, and 7.1 surround, SEQ-S provides sonic sculpting and precision EQ matching including stereo mid-side operation, automated spectrum analysis, curve smoothing, and a direct-draw spline interface for corrective applications. "With SEQ-S, we're providing the industry's most advanced linear-phase spline-match EQ — enabling sound professionals to massage and correct any audio with incredible resolution and precision that is far beyond what's possible with a traditional parametric interface," said Jon Schorah, creative director, NUGEN Audio. "Unlike many digital EQs, SEQ-S features a phase profile that is linear across the frequency spectrum, which results in natural-sounding EQ changes and produces minimal phase artifacts. SEQ-S also includes a unique resolution setting that can be used with high precision in the low frequencies, allowing for highly transparent adjustments without muddying the mix." Through SEQ-S's direct-draw interface and detailed spectrum analysis, users can quickly identify and specifically fine-tune their audio with ease. When coupled with EQ matching via sonic fingerprinting, the solution offers powerful creative possibilities for audio professionals. For instance, they can match one recording to another to capture the "flavor" of a piece of source audio and then transfer it to the current project — a technique that can be used on individual tracks to unify different takes and microphone positions. In addition, SEQ-S's EQ invert button provides a minimally invasive technique for creating space in a complex mix, a task that is typically too cumbersome with a traditional EQ. In a typical music project, by "sampling" the vocal and then using the EQ invert button to apply the inverted curve to the backing, users can gently create specific space without unnecessarily damaging the original tonality of the underlying audio. SEQ-S is available now for the estimated retail price of $249. www.nugenaudio.com.
♦