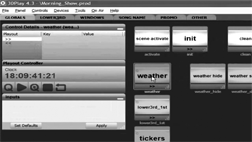 ► Orad and Kaltura have joined forces to bring the power of online video to radio stations and broadcast publishers around the world. The integrated offering takes live shows created by Orad's RadioTV and leverages Kaltura to provide a live and VOD portal, reaching listeners everywhere on any device. Orad's RadioTV is a leading automated video production solution that visualizes radio programing by broadcasting the radio talent, real-time 3D graphics, and promos as a multi-camera production. RadioTV is completely automated and relies on unique audio detection software to identify the talent's voice and determine which camera should be on air. RadioTV includes a comprehensive set of 3D graphic templates including supers, titles, logos, promos and other elements, and supports the playback of full frame videos, opening new revenue streams from advertising and sponsorships. Combined with Kaltura's media management technology, radio broadcasters can increase revenues and subscriptions by offering a complete, over-the-top, value-add video component to their programming. www.orad.tv.

► Harman's AKG recently showcased its DMM12 BC. The 12-input mixer's highly sophisticated algorithm offers a high signal-to-noise ratio to minimize the number of open microphones in a mix and offers the ability to create a different mix per each output. The DMM12 BC unit is scalable up to 10 units and each unit's inputs are individually routable to numerous outputs – two stereo line outs, one stereo record output and an AES-EBU output. The professional-grade unit offers numerous DSP functions included in the 19-inch, 1HU device. Managing level, bass, low cut, limiter, compressor, auto-mixing, priority, pam/balance, routing to receiver, routing to output 1, routing to output 2 and delay adjustments can be made quickly with the intuitive, easy-to-use interface. "A broadcast facility with DMM12 BC allows engineers to have better control of the digital audio functions, but with a more "analog" feel to the unit," stated Kent Iverson, Director of Marketing and Product Development, AKG. "The DMM series will be a substantial addition to any broadcast or backroom installed sound rig as its quality, reliability and user-friendliness meet the needs of the mixing professional on numerous levels." When in use, all inputs are active, but attenuated to a level that equals the level of one "active microphone." If one or more inputs receive relevant input signals, their amplification is increased to a level, which allows overall output to equal one "active microphone," resulting in an absolute feedback-stable system. Working to deter noise pickup, the DMM series senses numerous sonic activities to monitor and diminish unwanted sound. If a signal is picked up over a long period of time, the mixers understand that it may be an air conditioning unit or other unavoidable noise. When a large number of microphones pick up the same signal and all mics are active, the DMM system will recognize applause and not react. When two microphones are receiving the same signal, the mic with the slightly higher level gets priority, while the other one is attenuated. Also from AKG, its Project Studio Line C4500 BC broadcast microphone – designed to offer legendary AKG sound quality for in-studio, on-air broadcast applications. The cost-effective, aesthetically beautiful microphone channels the popular characteristics of AKG's original Project Studio Line. The C4500 BC is designed with a cardioid pickup, with a low proximity effect and integrated multilayer pop filter to ensure the best results, even with the most lively voiced speakers. The C4500 BC meets the strictest requirements of digital audio with its ultra-low 8dB-A self-noise and 145/165 dB SPL capacity. The mic's acoustical design and front-end address allow for comfortable on-air broadcast work and easy positioning in front of instruments, including bass drums, upright bass, baritone sax or other high-output sources. The C4500's 3-stage filter and low up-close bass boost allow for close positioning to sources, accurately capturing target sound. www.harman.com.
► Harman's Studer has announced V6 software for its OnAir range of consoles, which includes automatic microphone mixing functionality for radio, Studer® VoiceMix. Already implemented on the Studer Vista range of consoles (VistaMix), VoiceMix helps manage unscripted multi-microphone live events such as talk shows and discussion panels, which suffer from both microphone spill and background noise. With each active microphone added to the mix, the overall sound quality deteriorates, resulting in decreased intelligibility and unpleasant comb filter effects (phase distortion). VoiceMix removes the need for an operator to manually adjust all the faders all the time, leaving the microphones of talking participants open, while closing the microphones of silent participants in order to reduce spill and background noise. VoiceMix offers the solution by mimicking the action of a human operator: increasing gain for 'talking' mics and reducing gain for all others, but doing it very quickly and keeping the amount of total gain constant, so a clean live mix can be created. VoiceMix is a gain sharing system rather than a gating system as used in other desks; the lack of need to set thresholds vastly speeds and simplifies setup. Each source channel has a weight, which allows the desk operator to add weight, or priority, to the main presenter such that if required he can 'talk over' the guests or contestants. Other enhancements in V6 software include increased integration of Axia Livewire™ Audio Over IP networking, and A-Link support for the OnAir 3000 series. www.harman.com.

► Finding the right balance between dialogue and ambient sound is a major challenge for audio engineers and a common complaint from broadcast audiences. To solve this problem, Fraunhofer IIS, the world-renowned source for audio and multimedia technologies, developed Dialogue Enhancement that puts the viewer in control. Fraunhofer IIS partnered with Thomson Video Networks to demonstrate Dialogue Enhancement for the first time at IBC 2013. With Dialogue Enhancement, TV audiences can individually adjust the volume of dialogue, music, or sound effects within a single broadcast program. Fraunhofer's technology is the first of its kind to deliver this level of individual audio control at the low bit rates required by the networks for broadcasting. The Dialogue Enhancement encoder analyses the sound engineer's mono, stereo or 5.1 surround mix of the input audio signals such as a commentator's voice and the atmosphere of a sports stadium. Based on this analysis, the encoder generates a stream of parametric side information. The transmission of the encoded mix, plus side information, is extremely bit-efficient and increases the overall bit rate only slightly. On the receiving side, the user is then able to adjust the volume of the dialogue independently from the overall volume. Devices that are not capable of decoding the parametric side information will play back the mixed audio signal. www.iis.fraunhofer.de/amm or www.thomson-networks.com.
► EditShare®, maker of shared media storage and end-to-end tapeless workflow solutions, featured at IBC2013 a new version of its Flow media asset management solution, including two new Flow modules – AirFlow and Flow Automation. The new modules work alongside existing Flow Browse, Logger and Ingest modules to dramatically improve productivity and enhance workflow practices. Flow 3 is a significant update to EditShare's media asset management software, adding the ability to manage any file type, not just video content. The system allows audio clips, still images and documents to be tracked throughout a project. More importantly, users can add their own "asset type" metadata to these files. Key Features of Flow 3: Collaborate through a web browser anywhere in the world with AirFlow; Track any video, audio, image or document asset across single or multi-user projects; Import/export clip metadata or transcripts to/from other systems; Save time and money by automating simple and complex repetitive tasks with Flow Automation; Support for scanning and browsing your archived content on existing third-party near-line storage and restoring to EditShare online storage; and more. www.editshare.com.
♦