TECHNOLOGY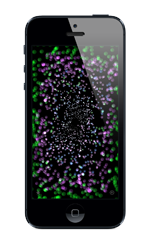 ► Audiofile Engineering, creators of professional audio software for Mac OS X and iOS, announces Vio, the first app for iPhone and iPad released under their new Square B brand. Morph and shape your voice by exploring Vio's mesmerizing and unique user interface, watch the entrancing graphics, and hear the transformation of your voice. Vio is an amazing app for anyone who wants to experience their voice transformed beyond imagination. In the hands of an experienced musician or producer, Vio is a serious creative tool to design new vocal sounds. Build sonic universes from your own voice. The innovative audio engine behind Vio goes far beyond existing voice effects to create novel, futuristic vocal styles. Vio's sound spaces vary in character from edgy and energetic to mellow and relaxing. Vio surprises and inspires your creativity: you may not intend to do something, and it comes out cool. Whether you are an amateur or seasoned professional, Vio's pitch correction technology ensures that everyone sounds in tune and is beautifully harmonized. Explore each sound space by touching Vio's swirling particle vortex. Move the vortex around the screen and change how your voice is transformed - harmony is added or subtracted, melodies emerge and disappear, and reverberations shape shift. Double-tap the screen, loop what you have just sung or hummed, and focus on morphing your sound with the particle visualizer. Record your performances and share them via email, SoundCloud, Dropbox, or iTunes file sharing. Choose between compressed and high quality audio files. US $2.99 at the iTunes App Store. www.audiofile-engineering.com.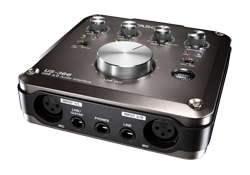 ► The US-322 and US-366 are the next line of interfaces from the Tascam. These interfaces combine new technologies like on-board digital mixers (DSP Mixer) and on-board digital effects (DSP Effects) along with advances on the US-122mkII and US-144mkII interfaces. The US-322 and US-366 sport similar aluminum casings for the same rugged reliability plus new improved HDDA (High Definition Discrete Architecture) mic pres. These HDDA Mic Pres offer a wider frequency response (10Hz to 68kHz), high S/N ratio (98dB), low EIN (-120dBu) and low THD+N (0.0045%). These all-new interfaces boast low S/N ratio, low THD and the US-366 flaunts 24bit/192kHz recording; certifying these as the best sounding interfaces to be released by Tascam yet. The 2-in/2-out US-322 features 1 Mic XLR/Line-Guitar TRS input, 1 Mic XLR/Line TRS input, 2 Line TRS and 2 Line RCA outputs. The 6-in/4-out or 4-in/6-out US-366 adds 2 Line RCA inputs and 1 Digital RCA/Optical input/output. One click of the top-loaded "Mixer Panel" button will access Tascam's new mixing console screen and on-board insert/send effects for easy-to-use, versatile recording. The digital mixer offers two operational modes, multi-track mode and stereo-mix mode. US-322 ESP: $149.99. US-366 ESP: $199.99. www.tascam.com.
► NETIA recently showcased the latest version of its Radio-Assist™ range of digital audio automation software. Radio-Assist 8.1 will offer the same array of tools for streamlined end-to-end multimedia production, broadcast, and publication workflows, along with two significant new features: an integrated music-scheduling application and video editing capability. Users can access both new features from a single user interface. NETIA's Radio-Assist family of digital audio software programs covers each part of the production and broadcast workflow, allowing users to record, edit, or prepare a playlist. In addition to new browsing and publishing tools for full multimedia functionality, the software features tools for acquisition, sound-file editing, commercial and music production, newsroom systems, scheduling, multicasting, and administration. Radio-Assist 8.1 allows users to leverage built-in music-scheduling functionality. With music management tools integrated into Radio-Assist 8.1's FederAll playlist preparation module, users are able to automate playlist generation according to preset criteria, business policies, and a wide range of intelligent options for sequencing music. The video editing tool now available within the Radio-Assist 8.1 interface complements the software's Snippet and Snippet+ audio editing tools. Offering a convenient editing solution, this enhancement addresses the growing demand for radio broadcasters to provide video via their online portals. This simple and easy-to-use editing tool is available through the same GUI as the Snippet tool, providing a familiar utility that allows staff to produce video clips with very little training. NETIA also showcased the latest version of its Content Management System (CMS) that allows users to manage all processes within the global production environment — from editing through post and distribution — through simple, easy-to-manage workflows and task automation, accessed through one unique and easy-to-use interface. With the NETIA CMS, users can connect all of their partners and vendors within a single production ecosystem, simplifying the sharing and managing of media assets. The latest version of the CMS includes enriched features within its metadata management module and its indexing and segmentation functionalities, while the new, enhanced GUI allows a greater number of fields to be personalized. In order to automate the description of audio and video content, NETIA CMS interfaces with third-party speech-to-text transcription systems. A multilingual thesaurus module available in the new version ensures there are endless possibilities for describing content very precisely, in turn making it easier for users to access and retrieve specific content. Finally, the CMS includes an enhanced administration application that further simplifies system management. www.netia.com.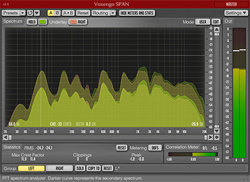 ► Voxengo SPAN version 2.5 update is now available for download. SPAN is a free real-time "fast Fourier transform" audio spectrum analyzer plugin for professional music and audio production applications. For the most part it was derived from Voxengo GlissEQ dynamic parametric equalizer and reproduces its spectrum analysis functionality. SPAN is available in AudioUnit and VST plug-in formats (including native 64-bit support), for Mac OS X (v10.5 and later), and Windows computers. SPAN features: Output signal power statistics, spectrum smoothing, user interface window resizing, clipping statistics, correlation meter, K-metering, stereo and multi-channel analysis, mid/side analysis, internal channel routing, channel grouping and more. www.voxengo.com.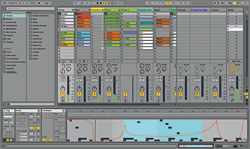 ► Ableton has released Live 9, the new version of its music creation software. The latest version of Live features include: ● Session automation: In Live 9's Session View, automation can now be recorded in real time directly within clips. Automation can move together with clips between Arrangement and Session View. ● Find sounds fast: In Live 9's re-designed browser, all instruments, effects, samples, and plug-ins are in one easy-to-navigate view. Drag and drop folders from anywhere on your computer, search as you type and navigate from the keyboard to find everything quickly. ● Discover new sounds: Live 9 comes with a large selection of production-ready sounds (more than 3000 in the Suite edition), providing a full range of synthesizers, drum kits and one-shot samples, acoustic instruments, loops and much more - all powered by Live's built-in synthesizers, samplers and effects so they can be tweaked and personalized. USD 99 / EUR 79 (Live 9 Intro download version), USD 449 / EUR 349 (Live 9 Standard download version) and USD 749 / EUR 599 (Live 9 Suite download version). Ableton also released Push - Ableton's first hardware instrument for making songs from scratch. Push provides direct, hands-on control of melody and harmony, beats, sounds and structure, powered by Ableton Live 9 running on your computer. High-quality, dynamic pads, buttons, encoders and display combined with an innovative workflow allow you to play and compose musical ideas without the need to look at or touch your computer. www.ableton.com. ►
PRODUCTION LIBRARIES
► New releases from Firstcom include: Grand Stage Folk CHAP402 - Rousing vocals, warm scene setters and lively foot stomping folk tracks. Minimalist Beauty CHAP404 - Beautifully crafted sound worlds. Darkfly18 DF18 - Fun, pop, entertainment, flashy promos, entertainment news. Evolving Patterns EVO183 - Discovery, science, minimal underscores, technology, innovation. Piano Works 2 EVO184 - A variety of compelling solo piano works from blues to percussive to introspective. Latin Pop 2 EVO186 - Latin pop crossover trends, dance, tribal, club, dance and more. Shuffle 6 – Spring Fling EVO187 - Energetic and upbeat sounds for Spring break, Spring advertising and Springing forward. Dramedy GAL112 - Suspense, intrigue & comedy. The Incredible Big Band GAL113 - A unique big band soundtrack. Welcome to the shows! Toxic Beauty GM160 - Fashion, make up, celebrity news, hot pumping break the house down. Audition these and many more new releases at www.firstcom.com.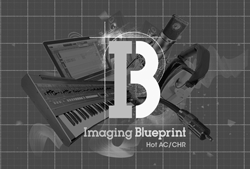 ► Premiere Networks announced it will provide exclusive international distribution for Imaging Blueprint. Premiere will offer the imaging library to CHR and Hot AC stations worldwide, effective immediately. "We are thrilled to represent Imaging Blueprint internationally, as this new production library was built by producers for producers," stated Tanya Juhasz, Premiere Networks Executive Director, International Business Development. "The UK has a reputation for producing cutting-edge sound and Contraband Media is leading the charge!" "We worked very closely with Tanya and the team at Premiere throughout the inception of Imaging Blueprint," stated Adam Burgess, Director, Imaging Blueprint. "We wanted to create something truly unique, something we wanted to produce and they wanted to represent, and I think we've nailed it!" Created and designed by the directors at Contraband Media Ltd, Imaging Blueprint is an innovative, online database featuring thousands of audio files containing sound design, music beds, artist-imaging work parts, vocal work parts and topical elements. Updated 24/7 and on demand, it provides tools for stations to produce innovative imaging, breaking down the work parts into clever and simple building blocks, and allowing the producer to be truly creative. With more than 30 years of experience, the Imaging Blueprint team has been recognized with multiple production awards and their work is utilized by some of the most-popular stations around the world, including BBC Radio 1, 95.8 Capital FM, Kiss 100, Nova, XFM, Virgin Radio and The Edge. www.PremiereRadio.com, www.imagingblueprint.com. ►
THE MIX
► Ozark Radio Network has signed with vCreative's PPO cloud-based continuity system to manage the production process from beginning to end for broadcast and digital creative. "Ozark Radio Network had been trying to perfect the production order system for some time with no luck," commented Shawn Marhefka, Owner of Ozark Radio Network. "When I saw a demo of the system, I realized that the perfect production order system already existed!" Greater Media's legendary WBT-AM/FM and WLNK-FM have also adopted vCreative PPO as their new production/continuity system. The cloud-based PPO system will replace their "old-school" production orders. www.vcreativeinc.com.
► Hal Leonard Books is now shipping Studio One for Engineers and Producers. This Quick Pro Guide is designed to help engineers and producers who are already comfortable using another DAW software platform make the transition to Studio One. The author and audio engineer Bill Edstrom says: "I've done projects in just about every DAW on the market. To use most of these systems you need to be in a very technical frame of mind. I was looking for something simpler - something to get creative songwriting ideas out. That's when I discovered Studio One." This new cross-platform (Mac/PC) DAW is built from the ground up for speed, efficiency, and power. The book is accompanied with 12 new video tutorials covering the key concepts. Studio One for Engineers and Producers demonstrates the creative, practical, and technical benefits provided by PreSonus in this modern, well-developed, flexible, and user-friendly application. Studio One For Engineers And Producers: $16.99 (US). www.halleonardbooks.com. ▲