TECHNOLOGY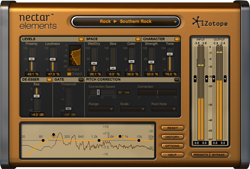 ► iZotope, Inc. has announced the release of Nectar Elements, the latest addition to the Nectar family of vocal plug-in effects. Built on the same DSP as Nectar, Nectar Elements features an easy-to-use interface designed with the singer-songwriter, podcaster, or home recordist in mind. With ten vocal processing effects working behind the scenes, Nectar Elements simplifies vocal production, allowing users to focus on their sound, not their set-up. Nectar Elements features dozens of Style presets that let you choose between a variety of classic and creative vocal styles, from Motown to Grunge to radio-ready podcast. Easily and quickly adjust the simple controls to find your voice and make it shine. Key Features: Rapidly audition different vocal sounds with professionally-designed Style presets in a wide variety of Genres. Personalize your sound with easy-to-use controls that drive sophisticated vocal processing. Quickly get punchy vocals with the loudness you need for consistency across your tracks. Help settle your vocals into your mix with delays and reverbs that add ambience and "smoothing." EQ let you enhance and sculpt the tone of your voice, or adapt any Style to suit your sound's needs. A De-Esser easily removes unwanted "ess" sounds and sibilance using just one intelligent slider. A Gate and Automatic Pitch Correction also provided. MSRP $129 USD or €99 EUR. www.izotope.com.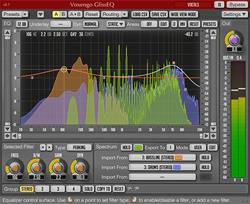 ► Voxengo GlissEQ version 3.7 update is now available for download. Voxengo GlissEQ is a dynamic parametric equalizer plug-in for professional audio and sound production applications. GlissEQ is available in AudioUnit and VST plug-in formats (including native 64-bit support), for Mac OS X (v10.5 and later), and Windows computers. An interesting and unique feature GlissEQ offers is its filters with dynamic behavior. Beside this "dynamic behavior", GlissEQ features a real-time spectrum analyzer. Moreover, the spectrum of a track can be exported to any other instance of GlissEQ thus making real-time inter-track spectrum comparisons possible. This can help you free frequency ranges in one track to allow the instrument in another track occupying same frequencies breathe.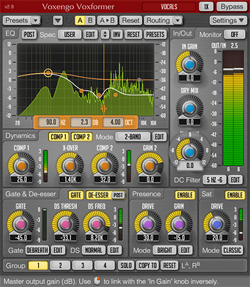 Also from Voxengo, Voxformer version 2.8 update is now available for download. Voxengo Voxformer is a multi-functional vocal channel strip plugin for professional audio production applications, available in AudioUnit and VST plug-in formats (including native 64-bit support), for Mac OS X (v10.5 and later), and Windows computers. A cool feature of Voxformer is its one-knob vocal compressor. Using only a single knob, you can get a tight, open and definitive professional vocal sound with an excellent articulation in no time. You do not have to worry about common ratio and make-up gain controls since they are automatically selected by the advanced compression algorithm while attack and release parameters are stored in a mode preset. Moreover, Voxformer features two compressors of this type, allowing you to apply either a two-band or a two-stage (serial) vocal compression. US$69.95. www.voxengo.com.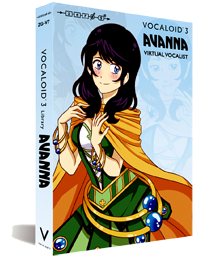 ► SoundsOnline.com presents AVANNA, "the clearest and sweetest sounding English Vocaloid yet". Ideally suited to pop and celtic, she can also be used in a myriad of styles. The new Vocaloid 3 interface allows you to import wav files so Avanna can sing along with your compositions from within Vocaloid. Avanna comes with a default reverb for added realism and you can add vibrato and expression to her voice. Whether it's sweet and pure leads, harmonies or backing vocals, Avanna can sing anything you like any time you want. VOCALOID3 EDITOR Lite is included with AVANNA and offers the following functionalities: Piano-roll style note editor, importing functionality from a standard MIDI file; Inputting lyrics and automatic conversion to phonemes; Assigning musical expression templates from an Icon Palette; Sending notes, lyrics and musical expression to the Synthesis Engine; Saving vocal data as a .wav file; Changing synthesis parameters; Reverb; Playback .wav files. For full product info including demo songs visit the AVANNA webpage at www.soundsonline.com. Pricing: US $129.95. Based in Hollywood, USA, SoundsOnline.com, is a wholly owned division of EastWest, and an online source for professional sounds and virtual instruments. Based in Amsterdam, SoundsOnline-Europe distributes EastWest/Quantum Leap products in Europe.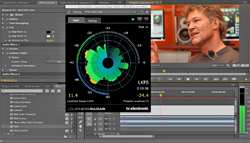 ► TC Electronic, a manufacturer of loudness metering and processing equipment for broadcasters, has teamed up with Adobe to integrate its LoudnessRadar in the next versions of Adobe® Premiere® Pro and Adobe Audition® on a license agreement. The LoudnessRadar builds on TC Electronic's LM6 Radar Loudness Meter and offers a wide range of loudness measuring tools that are key to content creators delivering for broadcast, film and internet. In short, the LoudnessRadar provides an easy-to-read overview of loudness over time. It displays Loudness History on the revolving radar, Momentary Loudness on the outer ring, True-Peak clips, Program Loudness and Loudness Range in a single view. "Loudness compliance is a key requirement for content creators today and moving forward," said Simon Williams, director of strategic relations at Adobe. "Our Adobe Premiere Pro and Adobe Audition users will be able to have access to an innovative and easy-to-use loudness monitoring solution." www.tcelectronic.com.
► iHeartRadio's "Perfect For" and alarm clock features, announced in January, are now available on Android devices. "Perfect For" allows users to choose from thousands of curated stations based on a range of moods and activities. Early morning listeners can pick from "A Traffic Jam," "Drinking Coffee," "Chilling Out" and "Hitting Snooze," which each contain station suggestions "Perfect For" waking up. The alarm clock feature allows users to not only wake up to iHeartRadio, but also to set reminders. For example, fans of Z100's "Elvis Duran and the Morning Show" can set the app to turn on just as the show begins or when they know a particular call-in contest is running. www.iheartradio.com.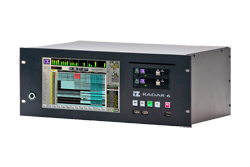 ► iZ Technology Corporation, manufacturer of hard disk multi-track recording and playback systems, announced the launch of their updated software v4.0.1 for RADAR 6. Key features of 4.0.1 software: Support for RADAR 6 Solid State record drives with integral USB 3.0 port; Support for RADAR 6 Blu-ray combo drives; Optimized storage device handling and bug fixes. The solid state record drives in the new RADAR 6 now come with a built in SuperSpeed USB 3.0 device port housed in a rugged, all metal removable key lock enclosure with a rating of 25,000+ insertions. The SATA drive can be removed from RADAR and used as a stand-alone portable drive that can be connected to any computer with a standard USB 3.0 cable for file transfer at blazing speeds. The drive is also backwards compatible with USB 2.0. Software 4.0.1 now supports Blu-ray slot load combo drives that can burn the latest dual layer Blu-ray disks up to 100 GB, red book audio CDs, data CDs and DVDs, and DVD-RAM disks. RADAR systems starting at $6,800 USD. www.izcorp.com. ►
THE MIX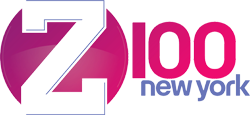 ► Z100, New York's Hit Music Station, announced that it was named the "Station of the Year" at 2013 WorldwideRadio Summit that took place in Los Angeles. The Worldwide Radio Summit Industry Awards are completely chosen through an open-to-the-public nomination and voting process. Z100 also took home four additional awards including" "Personality of the Year" to Elvis Duran from the "Elvis Duran and the Z100 Morning Show," New York's top-rated radio morning show which is syndicated on nearly 70 stations across the country; "Music Director of the Year" to Jagger; "Imaging/Production Director of the Year" to Dave Foxx; and "Station Online Presence of the Year" to Z100.com. In addition, Clear Channel Media and Entertainment also received recognition for "Company Executive of the Year" to Bob Pittman and "Company Online Executive of the Year" to Zena Burns.
► Dan Kelly (Creative Services Director, WPLJ & NASH-FM/New York) faced off against last year's champion, Paul Duffy (Imaging Director, iRadio/Dublin) at the recent Worldwide Radio Summit (Hollywood, CA) in Benztown's 2nd Annual Iron Imager Contest, an international radio imaging contest where production professionals compete for $1,000 cash and the coveted title of World's Best Imager. The Iron Imagers had 1 hour to create a :30 second music promo using ingredients from Benztown's 20 Imaging Libraries. In a true test of their professional abilities, the format chosen was Alternative, which is well outside the comfort zone for both of this year's Iron Imagers. This year's judges (Ken Benson, President, SparkNet Research & Consulting; Louie Diaz, Program Director, Alpha Broadcasting/Portland; and Trevor Shand, Imaging Producer & Writer for Rogers Broadcasting/Canada and KROQ/Los Angeles) voted overnight, and selected Dan Kelly as the 2013 Iron Imager! Dan humbly accepted his custom made championship belt, and has already agreed to return to the Worldwide Radio Summit in 2014 for Iron Imager 3! [Check out the final two imaging pieces on this month's R.A.P. CD!]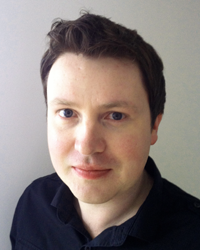 ► Wise Buddah has appointed former BBC Radio 1 producer Neil Sloan to the newly created role of Audio Output Manager. Sloan – working alongside Wise Buddah's Clare Chadburn - will be tasked with executive producing all of the radio indie's BBC radio commissions as well as any brand-funded audio content. Crucially, he will also be given license to develop new pay-per-play content ideas for direct-to-consumer channels. Wise Buddah head of content Simon Willis said: "What we get with the appointment of Neil is both an experienced and successful radio and multi-platform producer and someone who shares our passion and desire to change the world. There is no rulebook for how content should be delivered or paid for digitally and new direct-to-audience and pay-per-play models are very exciting to us. At Wise Buddah Neil will be given the freedom and support to develop new ideas in those areas." Before joining Wise Buddah Sloan spent 12 years working at the BBC, most recently as producer of Radio 1's The Official Chart, handling editorial responsibility for the on-air and multi-platform elements of the weekly rundown of the UK's best-selling singles. Sloan said: "Working for a forward thinking and progressive company like Wise Buddah allows me to not just take responsibility for both new and ongoing commissions but also to develop my own content ideas, ones that will hopefully win new business and help to drive the company forward." Wise Buddah produces radio programmes for BBC Radio 2, BBC Radio 4, BBC Radio 5 Live, BBC 6 Music and the BBC Asian Network. www.wisebuddah.com.
► Whether you're an independent studio engineer, a live sound operator, a broadcast technician, a postproduction specialist, or a student diving headfirst into the real world, the second edition of The Business of Audio Engineering, from Hal Leonard Books, is written for you. The author shares modern-day approaches that will increase your chances for success in the audio business. This book teaches you what you need to know about the life of a professional audio engineer with effective business strategies presented by an award-winning and highly-esteemed engineer/business pro. From attracting clients to keeping them; to hiring studios to working on your own, dealing with problem artists, producers, and labels; to handling a crisis (or keeping one from happening); to getting paid what you're worth and being worth what you're paid, Dave Hampton has the advice you need to manage your audio engineering career like the successful business it can be. www.halleonardbooks.com. ▲