Page 2 of 3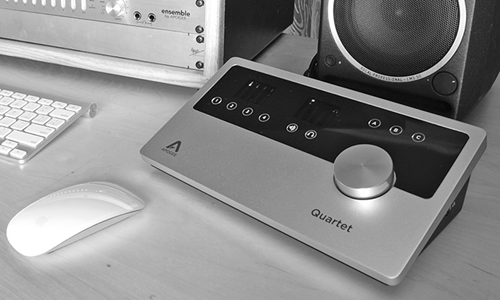 WHAT IT IS
As the name suggests, the Quartet is a four-in, six-out USB audio interface for Macs only. The four combination XLR mic/quarter-in line inputs are two more than most of us use, but the extras do come in handy for external CD players and whatnot, not to mention serving as returns for external effects processors. They will sample at rates up to 192kHz with either 16 or 24 bit resolution. For those occasions when even four mic preamps are not enough, the Quartet also features two ADAT-format optical digital inputs that allow one to connect an external mic pre expander for even more mic channels, although it drops the max sample rate to 96kHz in that configuration.
The Quartet's back panel is home to the four aforementioned combo XLR/jack inputs and two ADAT input ports, plus six analog outputs on quarter-inch TRS jacks, USB ports for connection to the host computer (plus one for MIDI, which we will ignore here), a word clock output, a ground terminal and cable clamp, and an input for the external power supply.
The Quartet's interface consists of two color screens for metering and status display (levels, grouping, phase, muting, phantom power and Soft Limit). The leftmost QuickTouch pads are numbered one to four for input selection. Two more buttons select speaker or headphone level adjustment, and meters for all four inputs and the output levels are simultaneously visible. The single controller knob, with its integral push-switch, adjusts all the variable functions, as well as serving as a main volume control.
The aluminum wedge enclosure feels hefty and quite solid, and non-skid base is remarkably effective at keeping the unit in place even on a sloped surface. The Quartet shares the same single-knob control interface as do the Duet 2 and One units. Apogee's signature "QuickTouch" touch pads and displays are set into a single black panel, and helps give the whole unit a clean and elegant appearance. Frankly it forced me to clean up the rest of my desk, which was shamefully cluttered with junk, just to give it a suitable environment in which to sit.
GOZINTAS AND GOZOUTAS
The Quartet has six balanced analog outputs on TRS jacks, which can be used in pairs as three stereo speaker feeds for comparison monitoring, individually for 5.1 surround out, or configured as sends to external effects devices. There's also a separate headphone output located on the right-hand side of the case, which has full level control via the front panel, and that can be fed from its own monitor mix if desired.

The A to D and D to A conversion is performed by Apogee's world-class conversion technology, and the designers have endeavored to provide mic preamps whose quality is suitable for the converters. Each of the digitally-controlled analog preamps behind the combination jacks offers a boatload of clean gain, from 0 to 75dB, and changing the gain is smooth and quiet with no hint of stepping. As you'd expect, 48 volt phantom power is available independently on each microphone input for condenser microphones.