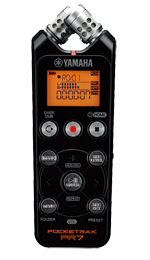 ► Yamaha's new POCKETRAK PR7 is an easy-to-use, ultra-portable linear recorder that captures effortless high-quality recordings whenever and wherever needed. Equipped with newly developed XY stereo microphones, the PR7 captures high-resolution stereo recordings, achieving consistent quality and natural sound regardless of the surrounding environment. The PR7 comes with 2GB of internal memory (with the ability to expand the capacity with micro SD/SDHC memory cards) and features long battery life, mic line inputs for external microphones, 24bit/96kHz recording and a built-in speaker. The PR7 is equipped with Marker editing that lets users insert up to 36 index markers in audio files either during recordings or playback, providing the location of a particular playback position. These markers can also be used to loop a specific section of a file to re-listen to certain phrases of a recording. Because each environment comes with a different set of recording demands, the PR7 also features five optimized presets tailored to a variety of applications, perfect for rehearsals, memo-taking, speaking engagements and field recordings. The presets are optimized with an enhanced High Pass Filter that eliminates low frequency noise along with dynamics control settings, which are customized for different recording environments. Settings include OFF, ideal for capturing musical performances, NEAR, which is suitable for near-field recordings, BAND, optimal for ensemble performances, FIELD for outdoor recordings and SPEECH for meetings, seminars and other speaking situations. In addition, the PR7 comes with Steinberg's WaveLab LE audio editing and mastering software that provides 2-track audio editing with high-end EQ and dynamics processing to improve the sound of the audio file. This software also includes professional level VST plug-ins, giving users a wide range of effects for mastering and enhancing tracks. Yamaha's POCKETRAK PR7 (MSRP: $249) is now available. www.yamaha.com.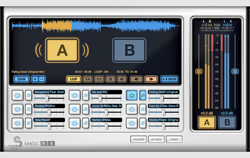 ► Sample Magic announced the release of its new 'Magic AB' referencing plugin, a simple, powerful reference tool that allows the producer to switch between the audio they are working on in their DAW and up to nine reference tracks in an instant. With A/B referencing playing an essential part in the production, mixing and mastering process, Magic AB offers an infinitely faster, easier and more accurate method to compare multiple audio streams to those available in any DAW or audio editor. Magic AB's controls and ergonomically-designed GUI can be learned in two minutes, and will lead to a lifetime of better mixes. With Magic AB, producers can: Effortlessly shape mixes: Love the sound of a commercial track? Fire up Magic AB and shape your own sound ever closer to what you want. Compare multiple mixes quickly and simply; Balance the relative volume of mixes. Magic AB is available as an instant download in AU, VST (32- and 64-bit), RTAS and AAX formats for Mac OS and Windows at www.samplemagic.com/details/184/magic-ab. It retails at £24.90.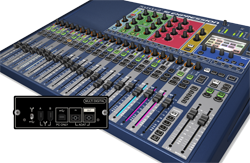 ► Soundcraft has announced a new option card in the ViSi Connect series of expansions for the Si Expression, Si Compact and Si Performer consoles, providing users of the console with a multi-channel, multi-format interface for live and studio recording to DAWs and other recording systems. The Multi Digital card provides 32 output channels (fed from the console channel direct outputs or other feeds) and 32 input channels for playback/monitoring from the recording system, often PC or MAC based DAW's. The card has connections for USB and FireWire, plus another eight channels of ADAT interface on TOSLINK optical connectors. A second FireWire port allows the connection of an external hard disk as well as a computer, which provides a more stable recording solution than using the computer's internal hard drive. The new card extends the applications for the console as live performances can now be easily recorded for later mixdown, or used for virtual soundcheck and setup using multi-track playback. In the studio, the console can become a more powerful part of the system utilizing the exemplary sound of the mic preamps for recording, providing up to six stereo latency-free artist headphone monitor feeds, control room monitor outputs and of course physical fader final mix-down. The card also allows expansion of inputs and outputs to the console as any of the ports can be used to connect external equipment such as multichannel mic preamps or audio interfaces which have USB, FireWire or ADAT connections. www.soundcraft.com.
♦