TECHNOLOGY
► In response to broadcasters, podcasters and engineers who have asked "Isn't there a small AoIP mixer, somewhere?" Axia has engineered the DESQ, a compact mixer that occupies only 18 square inches of desktop real estate. "Radio professionals have repeatedly told us that they wished Axia made a smaller IP console suitable for podcast production, dubbing stations, live performance spaces or interview studios, so they wouldn't have to settle for non-networked mixers in those applications," says Michael "Catfish" Dosch, President of Axia Audio. "DESQ answers that wish neatly. It takes up very little room, but still gives talent access to all of the audio sources available on their Axia network. Some clients have told us they'd even put one on the PD's desk!" DESQ, like its rack-mountable cousin RAQ, is powered by the fanless Axia QOR.16 integrated console engine, which provides analog, AES/EBU and Livewire I/O, along with GPIO ports, console power supply and CPU, and an exclusive zero-configuration network switch with Gigabit. Setup is easy: DESQ connects to the QOR.16 with a single cable. As a standalone console, DESQ is great for personal studios, but can be quickly connected to an Axia Livewire™ network. Additionally, a single QOR.16 engine can be used with two DESQ consoles (or with the new RAQ rackmount mixer), making a cost-effective solution for multi-console installations. A DESQ with QOR.16 carries a suggested list price of just $4,990 USD; adding a second DESQ costs $1,995 more. Features include: 2 stereo Program buses, plus Preview (cue) bus; six 100 mm. dirt-resistant, side-loading faders; automatic mix-minus for every fader; options knob and Channel Information display for quick selection of sources, pan/balance adjustment, EQ adjustment, gain trim and other options; 4 Show Profile snapshot locations for recall of frequently-used configurations. www.AxiaAudio.com.
► Gepco International introduced a new line of powered cables. The Gepco® Brand RunONE™ Powered Cables combine audio and power, along with optional data, under a single durable, yet flexible jacket. With multiple uses for corporations, DJs, lighting rigs and tours, RunONE allows the user to pull a single cable in place of multiple cables, providing a portable and neat solution that saves time and hassle. Each RunONE cable combines one channel of power with two, eight or 12 channels of 110 Ohm balanced audio for line level, mic level or digital AES audio signals and can be used with self-powered speakers or in DMX lighting control. Additional configurations of RunONE include two channels of Category 5e cable that can be used for data drops in remote power and audio applications. Snakes with optional data can also be used for digital audio transmission while sending power to Front of House (FOH) for remote locations. Shielding around the power channels eliminates power noise from interrupting the audio/data signal, ensuring high-quality performance. Terminated with industry-standard connectors, RunONE cables offer the option of Edison, IEC and Neutrik® powerCON® connectors for the power channel; 3-pin XLR, 5-pin XLR (for DMX lighting), TRS and Neutrik® convertCON® connectors for audio channels; and RJ45 and Neutrik® etherCON® connectors for optional data channels. RunONE cables are available in pre-defined and custom configurations. www.gepco.com.
► Stitcher Smart Radio, provider of on-demand news, entertainment, sports and talk radio for mobile devices, announced the launch of several new app capabilities including the Stitcher Smart Station. Listeners now have a new way discover the best of over 10,000 shows on Stitcher with personalized recommendations. Since launching the 'Listeners Also Like' feature last year, over 50% of new users have been using the feature to discover new shows. On average listeners discover 5 new shows within their first month. Stitcher currently generates over 10 million recommendations a day to help listeners discover the best of Internet radio. The updated mobile app includes several new features including: Smart Station – Never be in the dark about which shows and programs you should be listening to. An industry first for talk radio, the Stitcher Smart Station makes recommendations based on your listening activity. By culling your listening history, favorite shows and thumbs up, the Smart Station recommends shows you're most likely to enjoy. Lock Screen Album Art – Make your listening experience more visual. See the currently playing show on your phone's lock screen while you're listening to Stitcher. Sleep Timer – Set Stitcher to automatically stop playing after you nod off. With Stitcher's most requested feature, you can set specific sleep settings to have your shows automatically stop. Whether you're setting it for sleep or for your regular morning commute, your Stitcher app is more in-tune with your listening habits. Easier Sharing on Twitter – Keep the sharing alive. With pre-populated show descriptions and sources, Stitcher is now making it easier and ever to share your favorite shows. The Stitcher Smart Radio app is available to all iOS and Android users and can be downloaded from the iTunes App Store and Google Play. www.Stitcher.com.

► Voxengo announced the release of Warmifier version 2, a valve warming/harmonic enhacing plugin for professional music and audio production applications, available in AudioUnit and VST
plug-in formats (including native 64-bit support), for Mac OS X (v10.5 and later), and Windows computers. Warmifier is a plug-in which processes audio signals in a way similar to analog valve equipment. By using Warmifier you can achieve valve warming and "console" coloration effects. Warmifier is applicable both to the complete mixes and to individual instrument tracks. You have several parameters at your disposal that allow you to control the strength and the color of the effect. Also, you have several valve types to choose from. Each valve type offers a different overall coloration. While the effect of this plug-in is definitely subtle, the difference it makes is similar to the difference in sound between different analog mixing consoles. In most cases it boils down to adding a subtle "sparkle", "presence", "warming" or "solidifying" effect to a sound track it was applied to. Features include: 7 valve types, 2 processing modes, stereo processing, up to 8x oversampling, preset manager, all sample rates supported. USD 59.95. Also from Voxengo, new updates: Voxengo Beeper v2.5, Voxengo Latency Delay v2.2, Voxengo MSED v2.4, and Voxengo Sound Delay v1.4. These are freeware audio plug-ins available in AudioUnit and VST plug-in formats (including native 64-bit support), for Mac OS X (v10.5 and later), and Windows computers. Note that on Mac computers, these plug-ins now support Mac OS X v10.5 and higher only, running on Intel processors. Mac PowerPC support is not available. Voxengo Beeper is an auxiliary audio processing plugin which you can use to insert short beep, noise burst or silence signals to any sound material. This plug-in may help you protect your work from theft. It is safe to apply this plug-in to any mission-critical material because plug-in does not perform any processing on the audio between signals. Voxengo Latency Delay is an auxiliary plugin which allows you to compensate latency produced by any audio plug-ins, instruments and processes which produce latency but do not try to report it to the host. Latency Delay introduces 10000 samples latency itself and delays the audio signal by 10000 minus the specified amount of samples or milliseconds. Please note that audio host application should support the latency compensation itself for this plug-in to function properly. Voxengo MSED is a professional audio encoder-decoder AU and VST plugin for mid-side processing which is able to encode (split) the incoming stereo signal into two components: mid-side pair, and vice versa: decode mid-side signal pair into stereo signal. MSED is also able to work in the "inline" mode with the ability to adjust mid and side channels' gain without the need of using two plug-in instances in sequence. You can use MSED to extract mid-side channels, swap stereo channels, switch polarity of the signal. Voxengo Sound Delay is an auxiliary multi-channel signal delaying plugin for professional audio applications. You may specify delay time in both milliseconds and samples, with a high level of precision. This plug-in – being technical in its purpose – provides a basic signal delaying function only, without signal feedback or modulation capabilities. www.voxengo.com.

► iZotope introduced the Ozone® Maximizer Rack Extension for Propellerhead's popular virtual studio software. The Ozone Maximizer Rack Extension is an essential mastering tool for adding fullness and polish to music produced in Reason. iZotope redesigned the Ozone Maximizer to perfectly complement the workflow Reason users know and love, making it an ideal addition to Reason's Master Section. With iZotope's exclusive IRC (Intelligent Release Control) technology, the Ozone Maximizer excels at boosting the overall loudness of a mix without causing distortion or pumping. This Rack Extension also includes iZotope's renowned MBIT+ Dither, letting users preserve the quality of Reason sessions when exporting audio for CD or MP3.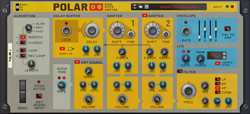 ► Propellerhead announced Polar, a new Rack Extension audio effect. Polar is an old school harmonizer and pitch-shifter effect with a host of modern tricks up its sleeves. Designed for classic harmonizing, stereo widening, and real-time pitch shifting, Polar also invites users to experiment with buffer looping and audio freezing to create otherworldly effects. Consisting of selectable dual pitch-shifters with classic, smooth and looping algorithms, Polar is created for singers, producers, guitarists and remixers looking for transparent pitch-shifting as well as creative ways of turning bland recordings into wide, evolving soundscapes. The built-in LFOs, auto-panning, envelope and buffer lock provide further sound sculpting possibilities, while delay and feedback turns single-note recordings into arpeggios. For more information about Rack Extensions, Polar, and to listen to audio examples, visit www.propellerheads.se/go/74B1DC9D. USD $69. ►
PRODUCTION LIBRARIES
► SFX Radio is a new online sounds library dedicated to radio imaging. The library contains thousands of sound effects, music beds, voice overs, shells, drones, accents, hits, artists drops, voices of listeners, beat breaks, loops, medleys, and more, all available 24/7, in HD quality. New cuts are added daily. Subscriptions start from $4.99 USD to $249 USD for a full year of unlimited downloads. www.sfxradio.com. ►
THE MIX
► The National Association of Broadcasters is calling on digital and entertainment media professionals and members of the NAB Show content community to become active participants in the development of the overall education program for NAB Show. All interested professionals are encouraged to submit technical paper or session proposals for the 2013 NAB Show, held April 6 - 11 in Las Vegas, prior to the entry deadline of October 19. Submissions must be relevant to the creation and distribution of all media and filmed entertainment content, or address emerging trends and their impact on the media business. Conferences for the 2013 NAB Show program include: Broadcast Engineering, Broadcast Management, Cloud Computing, Creative Master Series, Disruptive Media, Military and Government Summit, and the popular General and Super Session Series. Event organizers will consider proposals on new media for multiple platforms, new business models, and the impact of new technologies and marketplace realities on existing businesses and creative processes. For submission contact information and additional information on topics considered for proposal submissions, go to http://www.nabshow.com/2013/education/speaking_opportunities/. In addition to the 2013 Call for Speakers, NAB Show invites previous speakers to join the Speaker Alumni Group through LinkedIn, designed to provide media and entertainment professionals who have contributed to the NAB Show in the past an opportunity to engage with show organizers and each other throughout the year. To request membership in the group, visit LinkedIn and search "NAB Show Speaker Alumni." NAB Show is also seeking nominations for its Program Advisory Group, which comprises industry leaders and subject matter experts who provide feedback on overall conference design and suggest new areas of programming to address the evolving media and entertainment landscape. Nominations for this group may be sent to NAB Show staff via email to This email address is being protected from spambots. You need JavaScript enabled to view it..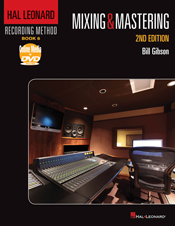 ► Hal Leonard Books has published Mixing & Mastering ($39.99) by Bill Gibson. This updated second edition is Book 6 of The Hal Leonard Recording Method. It is designed to help the reader complete the recording process by crafting powerful and compelling musical works ready for release. It's extremely important that the instrument and vocal tracks in a recording sound their best and work together to form a cohesive blend. Mixing & Mastering demonstrates techniques and procedures that result in a polished mix and powerful master recording, using current plug-ins, software, and hardware. Readers will learn how to prepare the mastered recording for CD/DVD replication, streaming, and digital distribution in stereo or surround. Updated illustrations, photographs, and audio and video examples on the accompanying DVD will reinforce understanding of what is needed to mix and master like the pros. www.halleonardbooks.com. ▲