TECHNOLOGY
► New from Digigram: CANCUN 442-Mic and CANCUN 222-Mic Professional USB Sound Cards -- CANCUN is a range of innovative mobile USB sound cards for on-the-go audio professionals and reporters. The range offers high-end performance and features with an ergonomic design that makes the cards exceptionally efficient to use. CANCUN is initially available in two models: the CANCUN 442-Mic with four inputs and outputs, and a dual input/output version, the CANCUN 222-Mic. Both offer simultaneous analog and AES I/O with 2x500 MIPS dual-core processing power, embedded in a stylish ultra-robust casing. CANCUN's very high-quality mic preamp delivers 55 dB gain, 105 dB THD+N, and a maximum sensitivity of -60 dBu. The pro-grade specification delivers analog levels of +25 dBu maximum and guaranteed low latency of less than 4 mS on Windows® and Mac® OS X® platforms. A slim and durable touch panel with LED illumination houses all the required connectivity for professional use, including breakout cables and a Neutrik® XLR plug for microphones, and provides an efficient control surface. Also included is a companion software application. The software allows the user to control the sound card's status and operational information such as gain values, driver setup, current state, peak meters, and locks. IQOYA *CALL/LE Flexible IP Audio Codec. Extending Digigram's range of IQOYA™ IP audio broadcast solutions, IQOYA *CALL/LE is a cost-effective, highly versatile audio-over-IP (AoIP) codec for use over standard Internet connections such as DSL lines, WiFi, and 3G. Designed for any real-time AoIP contribution application requiring superior end-to-end 24-bit full-duplex audio quality, this highly reliable codec offers a symmetric RTP mode that allows for quick and easy setup of full-duplex connections over the Internet, without any challenging NAT issues or the need for SIP infrastructure. Focusing on ease of use and ergonomics, the device offers quick profile creation for audio and network formats, as well as super-fast configuration via a Web-based interface. AQORD *LINK IP Video Encoder/Decoder/Transcoder. AQORD *LINK is Digigram's new encoder/decoder/transcoder for high-quality IP video and broadcast. Its applications include content contribution (point to point) from a live event to the studio, from one studio to another, from studio to transmitter, or delivery to a content distribution network (CDN). AQORD *LINK is ideal for IPTV distribution, typically for hospitality and ISP video distribution to end-user STBs. Designed for SD/HD live streaming, the AQORD *LINK simultaneously processes two video channels per 1U/19-inch rack-mounted chassis, with a built-in storage capacity of 1TB. AQORD *LINK delivers broadcast-quality video at data rates from 0.5 to 20Mb/s from or to IP stream or internal hard drive to or from an SDI connection using MPEG-TS encapsulation. Three Gigabit Ethernet RTP-UDP/IP ports transmit and receive streams in either unicast or multicast for flexibility in broadcast, telecommunications, and contribution applications. www.digigram.com.
► Shure has expanded its portfolio with two complements to the UHF-R® Wireless System, designed to meet the needs of professionals working in the field. Production professionals who want a lightweight, portable wireless microphone solution can now look to the UR3 and UR5. The UR3 Plug-on Wireless Microphone Transmitter enables the user to convert any wired XLR microphone to wireless in seconds. It features a comfortable, ergonomic design for ease of handling during interviews and news gathering. Additional features such as a sweepable high-pass filter, 48V phantom power and a microphone preset list that can be programmed to tailor settings make it extremely versatile. The UR5 Portable Diversity Receiver features wide-band frequency tuning, hands-on navigation, rechargeability, and a variety of mounting options. www.shure.com.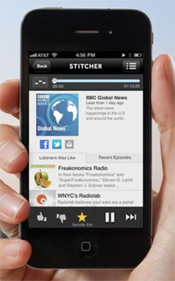 ► Stitcher Smart Radio, a provider of on-demand news, entertainment, sports and talk radio for mobile devices, announced the launch of several new app capabilities including the Stitcher Smart Station. Listeners now have a new way discover the best of over 10,000 shows on Stitcher with personalized recommendations. Since launching the 'Listeners Also Like' feature last year, over 50% of new users have been using the feature to discover new shows. On average listeners discover 5 new shows within their first month. Stitcher currently generates over 10 million recommendations a day to help listeners discover the best of Internet radio. The updated mobile app includes several new features including: Smart Station – Never be in the dark about which shows and programs you should be listening to. An industry first for talk radio, the Stitcher Smart Station makes recommendations based on your listening activity. By culling your listening history, favorite shows and thumbs up, the Smart Station recommends shows you're most likely to enjoy. Lock Screen Album Art – Make your listening experience more visual. See the currently playing show on your phone's lock screen while you're listening to Stitcher. Sleep Timer – Set Stitcher to automatically stop playing after you nod off. With Stitcher's most requested feature, you can set specific sleep settings to have your shows automatically stop. Whether you're setting it for sleep or for your regular morning commute, your Stitcher app is more in-tune with your listening habits. Easier Sharing on Twitter – Keep the sharing alive. With pre-populated show descriptions and sources, Stitcher is now making it easier and ever to share your favorite shows. The Stitcher Smart Radio app is available to all iOS and Android users and can be downloaded from the iTunes App Store and Google Play. www.Stitcher.com.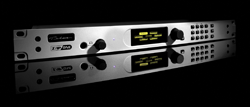 ► Telos has released a free-to-download software update for its popular Z/IP ONE IP codec, adding new features and capabilities at no charge to users. "Our software engineers have been very busy," remarks Telos R&D engineer Jason Wisnieski. "We've improved our exclusive Agile Connection Technology for even better performance on 'iffy' IP connections. We beefed up Z/IP ONE's NAT traversal capabilities, which makes it even easier to connect to codecs behind firewalls." "We've added new features too," Wisnieski continues. "We've added IPv6 support, automatic redial options, and tools for viewing and monitoring the status of WiFi connections. And we streamlined the front-panel menu so that the commands users need most frequently are even easier to get to." Z/IP ONE is a member of the Telos Zephyr family of codecs. It's a slim 1RU device that maximizes the audio quality of remote broadcasts over public IP networks and mobile phone data services - even connections behind NATs and firewalls. Z/IP ONE gives broadcasters the largest choice of high-performance codecs available in an IP codec, including AAC-ELD, AAC-HE, AAC-LD, MPEG Layer 2, MPEG 4 AAC LC, MPEG 2 AAC LC, G.711, G.722 and linear PCM. www.Telos-Systems.com.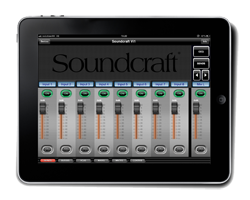 ► HARMAN's Soundcraft has updated the Soundcraft ViSi Remote iPad app to allow control of the Vi Series range of consoles in addition to the Si Compact range. The new version of the app is available free of charge on the iTunes store. ViSi Remote enables a single iPad to control multiple consoles from the Soundcraft Vi Series or Si Compact range on a single wireless network. Soundcraft ViSi Remote allows users to roam around a venue and not only adjust input channel levels and mutes, but also adjust aux send levels and matrix sends, and level and graphic EQ settings on bus outputs. The Soundcraft Vi Series consoles controllable by ViSi includes all variants of Vi1, Vi2, Vi4 and Vi6. The app uses HARMAN's HiQnet™ architecture to connect the network of consoles to a wireless router, which communicates with the iPad. For even more flexibility, multiple iPads may be used on the same network, even on the same console, so that individual artists can control their own monitor sends, for example. www.harman.com. ►
PRODUCTION LIBRARIES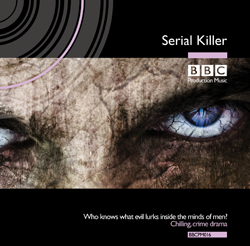 ► New releases from Firstcom include: Serial Killer BBCPM016 - Intensely dark orchestral works and suffocating sound design-led ambiences. Ancient Empires BBCPM017 - Majestic themes from ancient times echo out over the intrigue and suspense of religious rituals and fierce battles. Cultured Traveller BBCPM018 - Exotic and beautiful. A grand and seductive travel soundtrack. Headhunter COHH11 - Massive modern R&B, Hip Hop and Beats from the Masters. Upscale Underscores EVO177 - Luxurious and sophisticated compositions that depict the upscale lifestyle. These gorgeous underscores will help sell any hi-end product or service for those with a taste for the good life. Shuffle 4 EVO178 - Car Spots, luxury cars, trucks, family sedans, target marketing for urban and some Latin flavor...what advertiser doesn't want that Swag? Down Home Christmas EVO179 - Country, bluegrass, folk and more, down home, holiday music styles for an acoustic old time Christmas. Audition these and more at www.firstcom.com. ►
THE MIX
► The 11th annual WEEI/NESN Jimmy Fund Radio-Telethon on August 21 and 22 raised more than $3.3 million to support adult and pediatric care and cancer research at Dana-Farber Cancer Institute in Boston. Contributions came in from all 50 states and around the world to help in the fight against cancer. The event has raised more than $31 million total since its inception in 2002. The 36-hour Radio-Telethon broadcast on WEEI 93.7 FM/850 AM Sports Radio Network and New England Sports Network (NESN) live from Fenway Park has become another summer tradition for the Jimmy Fund and the Red Sox. The event featured compelling interviews with Dana-Farber patients, researchers, doctors and staff and video vignettes. Several Red Sox players made on-air appearances, including Dustin Pedroia, Clay Buchholz, Adrian Gonzalez, and Jimmy Fund Co-Captain Jarrod Saltalamacchia. The Jimmy Fund founded in 1948 when members of the Boston Braves visited the hospital bedside of a 12-year-old boy with cancer, dubbed "Jimmy" to protect his identity. The visit was broadcast, nationally on radio and people gave generously to help children like him battling the disease. That broadcast, along with player appearances and radio appeals during Braves games, helped build a state-of-the-art hospital for cancer research and patient care. Today, the Jimmy Fund continues to be an official charity of the Boston Red Sox, and since 2002, the WEEI/NESN Jimmy Fund Radio-Telethon has raised more than $30 million to support adult and pediatric cancer care and research at Dana-Farber Cancer Institute. www.JimmyFund.org.
► Leaders of the network radio industry announced the formation of the Network Radio Compliance Council (NRCC) to promote effective, reliable reporting and stewardship of network radio audio commercials and programming. The Network Radio Compliance Council's mission is to establish best practices, providing advertisers, agencies and radio stations with better tools for the placement and reporting of commercial audio. Customers (defined as advertisers and radio stations) and vendors will be invited to meet regularly with the NRCC to share issues and discuss timely topics. The membership of the council will initially consist of the compliance heads from the six RADAR-rated network organizations. The Council has elected Meg Montury of Premiere Networks as Chair and Chris Buehler of Dial Global as Vice Chair. The Council will host quarterly meetings with invited guests, including radio vendors, ad agencies and additional network radio companies. "It is vital for the network radio industry to have an active and unified body to work with customers and each other to improve the standards, speed and effectiveness of scheduling and reporting of our client's commercial audio," said Charles Steinhauer, President of Operations, Dial Global. Network organizations on the Council include American Urban Radio Networks, Crystal Media Networks, Cumulus Media, Dial Global, Premiere Networks and United Stations Radio Network. ▲