TECHNOLOGY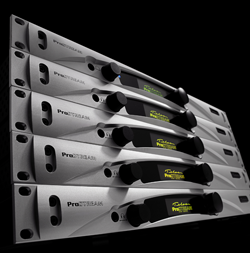 ► ProSTREAM is the new hardware streaming audio encoder from Telos designed to free stations from error-prone PCs with noisy consumer sound cards. Traditional streaming solutions demand one computer to process audio, a second to encode it, and a third to stream it. Telos ProSTREAM integrates all of these functions in a single streaming appliance. ProSTREAM converts your programming to detailed streaming audio, optimized for any bit rate you select. A full three-band audio processor by Omnia Audio feeds an encoder section with genuine MPEG encoding algorithms from Fraunhofer, the inventors of MP3. The two sections are closely coupled; Omnia's unique SENSUS technology actually works with the encoder to analyze and adapt the processor's algorithms to the specific bit rate chosen so that the resulting sound is clean, powerful and artifact-free. Finally, ProSTREAM sends its encoded audio - with your choice of MP3, AAC-LC or HE-AAC encoding - directly to a specified stream replicator for distribution to Internet listeners. You can feed ICEcast or any SHOUTcast or SHOUTcast-compatible media server, Wowza or Adobe Flash Media servers for streaming to Flash clients, or send it to your Live365 server. ProSTREAM can accommodate analog or Livewire IP-Audio audio input. Two separate Ethernet ports let you keep your house network safely separate from the outside world: the LAN port for audio input and browser-based remote control, and the WAN port for sending encoded audio to your streaming service provider. An intuitive Web interface makes setup a breeze; simple front-panel controls with adjacent headphone jack make for convenient on-the-fly adjustments, even in noisy rack rooms. The Omnia audio processing comes with a variety of presets designed to get you running quickly, while an easy-to-use preset editor gives you the power to create and fine-tune custom settings. ProSTREAM is neatly self-contained in a 1RU box. ProSTREAM carries a list price of $1,995 USD. www.Telos-Systems.com.
► Barix is exclusively providing IP audio decoding solutions to RFC Media for its private-label, retail radio network for Spec's Wines, Spirits and Finer Foods — growing to nearly 90 store locations across Texas. The project underscores Barix's expertise in Audio over IP solutions for both radio broadcast and in-store media applications. RFC Media, managed by longtime radio broadcast professionals, creates custom-produced, Internet-delivered radio stations for private enterprises, supplying music with live breaks to create a true broadcast experience. The company uses Barix Exstreamer 100 IP audio devices to receive and decode its professionally-produced program streams at client locations, citing ease of use and setup, stability, low cost and audio quality as key differentiators from competitive solutions. "Barix gives us the power we need to ensure our clients have continuous, uninterrupted service of a living, breathing radio station," said Pat Fant, co-founder and chief operating officer, RFC Media. RFC Media differentiates itself from background music services by offering a true hosted radio station experience. "Host presenters" make announcements — live or on delay — related to the business during music breaks. All clients receive customized music programs updated every 24 hours, including Spec's Radio, the private-label radio station created for the Texas retail chain. "We're not a playlist company – we're radio people," said Fant. "We have a professional production studio with the equipment and software to put together and stream a full presentation. This stems from our background as broadcasters. We approach this differently from interruption-style media common in background music systems. We talk to the customer instead of advertising to them." Fant adds that Barix makes it simple to add locations. The RFC Media staff handles device configuration (five minutes or less per device) and adds new IP addresses to the network. The devices are shipped to client locations along with instructions for two simple connections. "The fact that these are simple to use and configure makes it easier for us and our clients," said Fant. "We minimize our costs by not sending installers to each store with a toolkit and spools of wire. The locations just need a high-speed internet connection and the ability to plug an Exstreamer into a sound system, and they are ready to go." Spec's Radio can also be heard online at www.radiofreecruze.com/SpecsPlayer.html and via a custom mobile iPhone app. RFC Media is building a similar network for NASA, although at this time the private radio station, "Third Rock, America's Space Station," is online only at www.nasa.gov. Barix AG (www.barix.com), headquartered in Zurich Switzerland, specializes in research and development of state of the art IP based communication and control technology. Barix products are stand-alone and able to remotely connect worldwide over standard networks/Internet offering new and improved solutions to the professional audio distribution, communication and automation industry. Barix products provide solutions in audio over IP (audio distribution and monitoring, communication, security) and automation (remote controlling, monitoring and maintenance).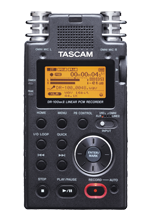 ► Tascam introduced the DR-100mkII 24 bit/96kHz linear PCM recorder. This new rugged recorder offers high-end recording features to musicians and engineers who demand more from their portable recorder. It features four built-in microphones, two cardioid and two omnidirectional. A pair of XLR microphone inputs with phantom power welcomes pro-grade condenser microphones, and line in and out connectors are also provided. The new and improved version of the DR-100 adds balanced line ins, S/PDIF digital inputs, locking connectors and more. All these premium features make DR-100mkII perfect for high-end portable recording, DSLR filmmaking and post production effects gathering. Other features include: Improved mic pre amp with higher gain and lower noise, up to 96kHz/24-bit WAV recording, 32 to 320kbps MP3 recording, wired/wireless remote control included (RC-10), limiter and low cut filter, records to SD or SD-HC card (2GB card included), built-in speaker, and tripod mount.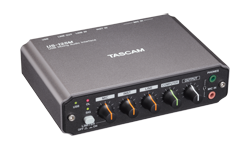 Also from Tascam, the US-125M, an USB audio interface with mixer functionality. It combines a mic, instrument and line source with a computer audio signal and it feeds the mix to your computer via USB. The US-125M provides up to 16 bit/48 KHz audio resolution and is ideal for broadcasting over the Internet. It features four inputs with dedicated level controls: a Microphone input (balanced XLR/TRS on rear or unbalanced mini jack on front) with switchable limiter and Signal/Overload indicator, a Guitar input (standard phone jack), a Stereo line input (RCA) and a Stereo audio input from computer via USB. This USB-powered device is housed in a solid aluminum case, and can also be used as a simple stand-alone mixer. US-125M is a simple-to-use audio interface that is great for all levels of musicians and because of the loop mix feature; it is perfect for online streaming, online collaboration, sound-on-sound recording with online video and audio, video production, podcasting online gaming, musical instruments training and for home recording. www.tascam.com.
► Voxengo GlissEQ version 3.5 update is now available for download. Voxengo GlissEQ is a dynamic parametric equalizer plug-in for professional audio and sound production applications. GlissEQ is available in AudioUnit and VST plug-in formats (including native 64-bit support), for Mac OS X (v10.5 and later), and Windows computers. The most interesting and unique feature GlissEQ offers is its filters with dynamic behavior. Beside this "dynamic behavior", GlissEQ features a real-time spectrum analyzer. Moreover, the spectrum of a track can be exported to any other instance of GlissEQ thus making real-time inter-track spectrum comparisons possible. This can help free frequency ranges in one track to allow the instrument in another track occupying same frequencies breathe.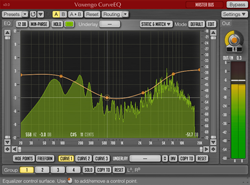 Also new from Voxengo, the release of CurveEQ version 3, a spline equalizer plugin for professional music and audio production applications, available in AudioUnit and VST plug-in formats (including native 64-bit support), for Mac OS X (v10.5 and later), and Windows computers. CurveEQ shows you the actual filter response you are designing by means of a spline (a smooth curvy line), so you can actually see what the EQ is doing with the sound. This, in turn, allows you to get the best from your mix and your tracks. CurveEQ perfectly suits the needs of mastering, and in some cases CurveEQ is suitable for use as an in-track equalizer. CurveEQ implements spectrum matching technology that allows you to transfer the spectrum's shape of one recording to another. In other words, this allows you to "copy" frequency balance of existing time-proven mixes so that other mixes that are still in the works may have a chance to sound better. This technology also greatly helps in music mastering since using it allows you to easily lessen any dramatic differences in the area of frequency balance between various tracks. USD 99.95. www.voxengo.com.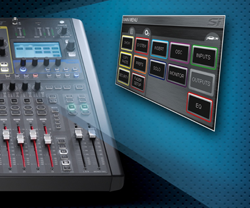 ► HARMAN Soundcraft's popular small-format digital console Si Compact has received a major upgrade with the V2 software release. The new free upgrade provides more than 23 major new features, updates and nhancements; the first welcome addition being eight additional DSP channels expanding the Si Compact 16 and Si Compact 24 to 32 and 40 inputs to mix, respectively. Of particular note is the new user configurable fader layers allowing input channels to be reassigned anywhere on either input layer and any bus master reassigned to either master layer. Now an engineer can put the inputs and returns where he or she most needs them, for example, having the main vocal or presenter always in position 1 on both input fader layers, or mixing aux and matrix masters on a single bus layer to reduce the number of layer changes. Selective Copy & Paste is now implemented allowing all or part of a selected channel or bus to be copied and pasted elsewhere. This basic functionality is augmented with the ability to copy and paste individual bus or matrix mixes and copy/paste FX presets between Lexicon processors. Enhanced MIDI control allows snapshots to be recalled from any external devices capable of sending simple program change messages. A new security mode prevents unauthorised access to key functions; as well as 'total lockdown' security can be tailored for different 'operator access' levels for example locking out house EQ and processing for guest engineers whilst allowing access for in-house operators. www.harman.com.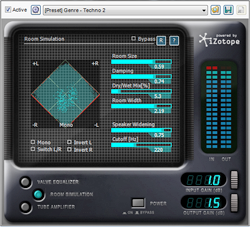 ► iZotope, Inc. announced Mastering Essentials, a new tool designed specifically for Acoustic Mixcraft Pro Studio 6. By licensing elements from Ozone, iZotope's flagship mastering suite, Acoustica is delivering a basic mastering solution approachable for musicians of any level. "Mastering Essentials is the perfect intro to mastering," explains Alex Westner, iZotope's Director of Business Development. "With over 80 presets to choose from, users can get going quickly with great results. We take it a step further, though, by letting musicians experiment with customizing their sound. The three additional EQ, Reverb, and Tube Amplifier modules allow users to grow and expand their capabilities as they become more comfortable with mastering their own music." The Valve EQ module features high-quality 4-band EQ. The Room Simulation (Reverb) module has controls for reverb and stereo widening, including a vectorscope for visualizing the stereo spread of the audio. The Tube Amplifier module offres Bass Compression, a Tube Limiter, and Tube Saturation components. www.izotope.com. ►
THE MIX
► Bahakel's Jackson Telecasters, Inc. in Chattanooga, Tennessee is now managing all of it creative production continuity with the cloud-based vCreative PPO continuity workflow system. After just getting up and running with the system, Traffic Manager Sherry Ball reports, "We already see the amount of paper work decrease greatly. The flow is moving quite well." Salem Communications' Atlanta cluster began using the vCreative PPO system to manage their continuity and production, and according to Creative Services Director Dan Ratcliffe, workflow is already improving. In addition to AE's enjoying the vCreative PPO Mobile site to manage production orders on their smart phones, Ratcliffe says, "I love it just because I don't have to wait for the paper production orders to be filled out by sales folks, then go to traffic & continuity to be put in the system, then finally get to me. I automatically have what I need to start producing as soon as the sales person puts it in the system. I love that!" www.vcreativeinc.com. ▲