TECHNOLOGY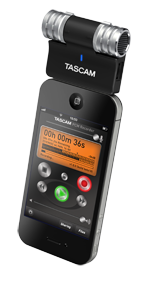 ► Tascam introduced a pocket sized iM2 stereo mic for iPad / iPhone / iPod Touch. Tascam's iM2 turns the iPhone, iPad or iPod Touch into a high-quality stereo recorder. A pair of condenser microphones – same high quality as Tascam's DR-series recorders – plugs into the dock connector of your Apple device. The microphones are adjustable over 180 degrees for optimal sound placement. The iM2 contains its own microphone preamp and analog-to-digital converter for low noise and premium audio quality. Unlike mics that use the built-in iPhone preamp, the iM2 can handle up to 125dB SPL sounds for the loudest concerts and instruments. Also enclosed in the iM2, is a stereo limiter to tame sudden loud sounds. The microphone level is adjustable with a knob on the side, making it quick and easy to adjust without looking at the unit. It's powered through the dock connector so no battery is required. A USB input is provided to charge your Apple iOS device for long recordings, either through a computer or Tascam's PS-P515U power adapter. Available now at a street price of $79. A PCM Recorder app, a perfect companion to the iM2 will be available on the iTunes store at no charge. www.tascam.com.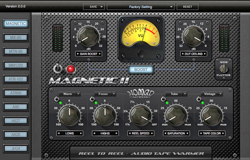 ► Nomad Factory announced the launch of "MAGNETIC II", a realistic "Real to Real" audio tape warming effect plug-in that gives your audio tracks the vintage tape sound. This effect can inject sterile audio with the warmth and character of classic tube circuitry and analog tape saturation. The plug-in features pure analog reel-to-reel tape speeds, tape/tube saturation and tape color effects, as well as a dedicated vintage style EQ and a built in Boost mastering section. MAGNETIC II offers new features and 9 new tape models that offer the sound of vintage tape machines such as Otari MX-80 / MTR-90, Studer A80MkII and more. (MSRP $149). www.nomadfactory.com.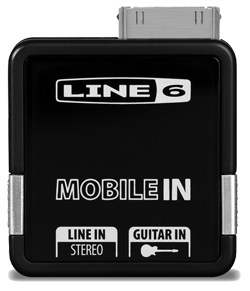 ► Line 6, Inc. (line6.com) announced the Mobile In™ digital input adaptor and Mobile POD® guitar tone app. The new hardware and app allow guitarists to connect an electric guitar to their iPhone or iPad, which gives them the same high-quality sounds they'd get if they were playing from a wide variety of famous guitar amplifiers, speakers and effects including distortion, chorus and reverb. The new Mobile POD app brings famous Line 6 tone and technology to its most portable level. The free app includes collections of 64 models of modern, vintage and boutique guitar gear including amps, cabinets, stompboxes and rack effects. Users can mix and match the fully adjustable models to build a virtually unlimited variety of tones, which can then be saved as presets. Also included with the app, free of any in-app purchase, are over 10,000 hand-crafted presets created by artists, Line 6 and other guitar players. Mobile In digital input plugs into the 30-pin connector on the bottom of the iOS device. This digital connection enables the adaptor to offer pro-quality audio specs for guitar tones that are exceptionally rich and clear. Mobile In supports up to 24-bit/48 kHz digital audio. The Guitar input features 110 dB dynamic range. The stereo Line input, which is perfect for sending keyboard audio or any other standard mono or stereo line-level audio source to your iPhone® or iPad®, has 98 dB dynamic range. MSRP $79.99. www.line6.com.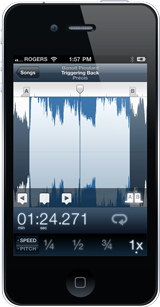 ► SuperMegaUltraGroovy announced the availability of Capo 1.2 for iOS, which adds audio effects that help users learn their favorite music by ear. Capo 1.2's mono re-mixing effect allows music students to isolate the left or right channel in their learning materials. For instance, a student learning to play the saxophone might have practice songs that contain a saxophone panned to the left, with the rest of the band panned to the right of the song. The student can now choose to slow down and learn the saxophone part on its own, or play along with the band. Most importantly, Capo's powerful vocal reduction effect from the Mac app has been brought to the iOS platform. This helps singers practice along with their favorite songs, and allows instrumentalists to push the vocals out of the way while learning to play their favorite parts. Capo 1.2 also includes a 10-band equalizer that allows frequencies to be better separated while trying to learn parts that are difficult to hear in a full song. Bass players often use the equalizer effect, as it allows them to focus on the low end of a song without being distracted by the rest of the instruments. Capo 1.2 is available now from the iTunes App Store for $20, and it runs on the iPhone 3GS or better, the 32GB 3rd generation iPod touch or better, and iPad. www.capoapp.com.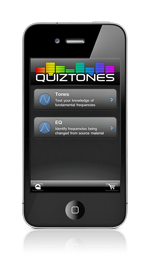 ► Audiofile Engineering, creators of audio software for Mac OS X and iOS, announced the release of Quiztones for Mac as well as an update to the iOS version for iPhone, iPad, and iPod touch. Quiztones is an innovative ear training application designed to help audio professionals and musicians accomplish better mixing, recording and live sound. Quiztones uses quizzes to engage users in training exercises from frequency tones to EQ boosts/cuts on pink noise, instrument loops, and songs in a user's music library. Quiztones trains the ears to instantly and intuitively recognize frequencies, which is useful for tasks like mixing, adjusting EQ settings, and identifying and eliminating feedback. Quiztones iOS has been updated to version 1.6 and now offers an Expert Mode of 1/3 octave quizzes. This new version also includes bass, electric guitar, strings, and orchestra content in the purchase price, previously only available via In-App Purchase. Finally, version 1.6 includes a native iPad interface to make the best use of the larger display. Quiztones for Mac is available on the Mac App Store for $19.99. Quiztones for iOS is available through iTunes for $4.99. www.quiztones.net.
PRODUCTION LIBRARIES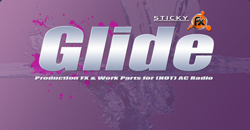 ► Sticky FX Productions presents a custom made production FX package for AC and HOT AC formats called 'Glide' containing 350 FX and imaging work parts. "No fierce attacks or ground shaking rumbling impacts but easy and friendly sounding beds and drones that blend in with your station's sound just right. Impacts and breakers that cut through but with just the amount of energy it needs and nothing more." Glide's 350 FX and work parts are divided in 10 categories including beds, bleeps, breakers, drones, fly-inns, impacts, logo's, musical elements, stagers and whooshes. The new package from Stick FX is ideal for AC and HOT AC Formats as well as for Smooth R&B, specialty shows like 'Quiet storm' and for AC/News hybrids and News and Talk formats. www.stickyfx.com.
THE MIX
► Centennial Broadcasting has promoted Hot AC WBQB (B101.5) and Adult Standards WFVA (AM1230, WFVA) Production Director, Chuck Archer, to Operations Manager of its Fredericksburg Cluster. "Chuck brings years of experience and knowledge to the position and I am very confident he will transcend his experience and leadership strengths into further enhancing our on-air team and operations," commented Jim Butler, General Manager. Archer said, "The last five years have been some of the best and most rewarding of my radio career. This is a tremendous opportunity. The Fredericksburg area, with its proximity to Washington, DC, is a thriving, dynamic community. I'm excited to take on this new role with the wealth of talent driving our stations." Archer has won multiple awards as Production Director for the cluster including two first place Virginia Association of Broadcasters awards and first runner up in the International Radio And Production Magazine awards. Prior to his work in Fredericksburg, Archer has been APD/MD at CBS Radio's WARW in Washington, DC; Operations Manager at Triad Broadcasting's Savannah/Hilton Head Cluster (under the professional name Chuck Raven), and Program Director for Triad's WHKX/WHQX in Bluefield, WV. Headquartered in Clemmons, North Carolina, Centennial Broadcasting II, LLC, owns nine radio stations in three Virginia markets: Fredericksburg, Winchester, and Lynchburg. Chuck can be contacted at This email address is being protected from spambots. You need JavaScript enabled to view it..
► The 2012 New York Festivals® Radio Program & Promotion Awards, recognizing the World's Best Radio Programs™, announced its official Call for Entries. Established in 1982, the competition honors innovative work in radio broadcasting, with entries from radio stations, networks, and independent producers from around the globe. New York Festivals Radio Program & Promotion Awards Executive Director Rose Anderson announced several updates. There are now categories for Program Open, Best Regularly Scheduled Sports Program, Best Sports Special, Sports & Recreation, Environment & Ecology, and Best Student Documentary. On Air Station Contests are now eligible in the Special Event category. The Podcast group includes 2 new categories: Sports & Recreation and Culture & The Arts. The deadline for entering the 2012 Radio competition is March 19th, 2012. All award winning entries will be featured at www.newyorkfestivals.com.
► Premiere Networks recently announced the addition of a new host to the weekend lineup of Coast to Coast AM, the most-listened-to overnight radio program in North America. John B. Wells, a long-standing favorite of Coast to Coast AM listeners who has guest-hosted the program since 2005, began hosting the live Saturday evening 1 - 5 a.m. ET slot currently hosted by Ian Punnett. On December 3, Punnett, who first joined the Coast to Coast AM weekend lineup in 1998, announced on-air that he would step down from his Saturday hosting duties in an effort to seek aggressive treatment for a debilitating case of tinnitus. Wells stated, "Spending Saturday nights talking to millions of Coast to Coast fans is a dream come true. After guest hosting the show off and on for the last few years, it's a real honor to officially join the Coast to Coast and Premiere Networks crew." John B. Wells is a veteran radio host and voice actor with credits ranging from radio stations and TV shows, to movies and advertisements on all seven continents. www.CoastToCoastAM.com. ►