TECHNOLOGY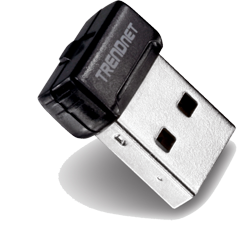 ► TRENDnet, a best-in-class wired and wireless networking hardware brand, announces the availability of the world's smallest 150Mbps Micro Wireless N USB Adapter, model TEW-648UBM. The ultra-compact form factor measures 0.59 x 0.74 x 0.28 inches (1.5 x 1.9 x 0.7 cm). When plugged into a USB port, the adapter extends a scant 0.3 inches (0.8 cm) from the edge of the computer. The adapter is so small that users can stow a laptop with the adapter plugged in, without worrying about damaging the laptop or the adapter. This adapter is also the only product in its class that features a convenient WPS button. One-touch Wi-Fi Protected Setup, or WPS technology, eliminates the hassle of entering complicated codes in order to connect to a wireless network. Simply press the WPS button on a compatible router (most TRENDnet routers feature a WPS button), then press the WPS button on TRENDnet's 150Mbps Micro Wireless N USB Adapter, confirm that you want to connect, and you're connected. The 150Mbps Micro Wireless N USB Adapter, model TEW-648UBM, has an MSRP of U.S. $39.99. This product is currently shipping to TRENDnet's online, retail, DMR, and distribution partners. www.trendnet.com.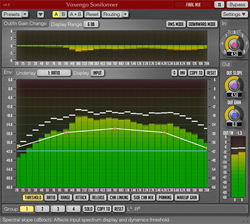 ► Voxengo Soniformer version 3.3 update is now available for download. Soniformer is a spectral mastering dynamics processor plug-in for professional music production applications, available in AudioUnit and VST plug-in formats (including native 64-bit support), for Mac OS X (v10.5 and later), and Windows computers. Every parameter in Soniformer is defined by means of a graphic envelope which is freely-modifiable and which may contain unlimited number of control points. Beside usual threshold, attack, release and compression/expander ratio parameters Soniformer offers you control over "stereo width" and "panning" parameters making Soniformer an effective tool for stereo field adjustments. Soniformer features include: 32-band dynamics processor, envelope-driven parameters, 32-band "analog" spectrum analyzer, stereo balance and correlation meters, multi-band panning, narrow-band sweeping, stereo and multi-channel processing and more. Soniformer is available for purchase on-line for USD 99.95. www.voxengo.com.

► Media Score, Inc., makers of ListenerSurvey.com – an online listener advisory panel platform used by radio stations around the world –announced the launch of a mobile extension to its flagship product: using this new ListenerSurvey.com "mobile app," stations can now easily survey and test music on listeners' smartphones and tablet devices, in addition to their desktop, laptop, netbook, and other portable computers. The new ListenerSurvey.com mobile app is designed to maximize audience participation by enabling radio stations to instantly conduct surveys on mobile devices anywhere, at any time, in addition to the Web, Facebook, and their online broadcast sites. If pre-release research data and radio station testing are any indication, ListenerSurvey.com's mobile application is expected to bring audience participation to new levels of response and immediacy, according to Media Score president Tom Meyer. Listeners can download and install the application on their mobile device, then participate in surveys, either by registering for the first time or logging into an existing account. Email invitations and reminder messages are automatically routed to the listener based on how they choose to access the survey, through email and social media, online or using mobile devices. www.listenersurvey.com. ►
PRODUCTION LIBRARIES
► New Releases from Firstcom include: AM069 Video App: Simple, elegant design, wonder, quirky to serious ad music, digital media, web, technology, invention and creativity, automation, corporate video, games and hand held wonders. CHAP388 Simply Choir: An original collection of contemporary and classical choral styles. CHAP389 Grand Stage Hybrid: Gritty urban anthems. COHH-10 Massive Beats: Electronica, house, big beat, Dubstep, glitch, modern R&B, club pop, more ultra innovative beats from DJ Skee and Build Destroy Music. DF16 Drama Danger Action Reality News: Another comprehensive collection of attention-grabbing, ready-for-prime-time music and sound design created to make any production jump out at viewers. EVO164 Sports Scored 6: Big beats and brass, sports promotions, sports highlights, horn hits, funky, urban, rock and testosterone, victory and defeat. EVO169 Shuffle 1: All the styles and moods any editor/producer would ever need. EVO172 Positive Promotions 2: More energetic, uplifting music, optimistic, inspiring, motivational, building underscores. GAL102 Feelgood Swing!: Wapadowa vocals, Gypsy swing, easygoing swing, kitsch comedy combos, ragtime, voacal jazz, boogie woogie, 30s, 40s, 50s feelgood, fun, silly, eccentric. GAL104 8-Bit Legacy: A tribute to 8-bit sounds. 8-bit, video game, games, positive, quirky, electro, synths, guitars, lo-fi, creative, retro, vintage, technical, rock. Audition these and more at www.firstcom.com.

► Killer Hertz V.2 will offer the beds, fx and sound design of Jeff Thomas (ex-KIIS Los Angeles, Howard Stern, Virgin Radio) along with the day to day imaging work of production guru Michael Horn, the production heavyweight who's powered Chicago's CHR premiere Top 40 station since 1994. The service is already being used by WDZH Detroit, WNKS Charlotte and WAYV Atlantic City, and is being ushered in with a brand new, state-of-the-art website and free downloads of the original Killer Hertz CD. Jeff Thomas Productions launched Killer Hertz as a production CD in 1996 and took it online 7 years ago. "This collaboration is a great fit." Jeff noted. "Mike's work and mine seems to fit perfectly together and this project just seemed to build itself." Mike Horn writes, produces and voices most of his own work. He also plays a leading role within the CBS CHR creative team. "For a while now the feedback I've been getting is that there is room for a service that doesn't concentrate on one particular network or group's promotions or shows. This is a very exciting product and a real alternative" Mike added. The service is available for cash or barter. www.killerhertz.com. ►
THE MIX
► Benztown Radio Networks is pleased to announce the addition of 104.7 KISS FM (KZZP-FM), Phoenix, to the Hot Mix affiliate list. KZZP-FM Program Director Tim Richards knows that Hot Mix will deliver, noting, "Hot Mix is a perfect fit for KISS. Every song counts in a PPM world and Hot Mix makes sure that the flow is perfect. We're glad Hot Mix is on our team!" Hot Mix recently celebrated its 25th anniversary as the nation's hottest mix show, and Darin Taoka, Hot Mix's Director of Programming and the man behind the mix is excited to bring his signature show to Phoenix. "I've known Tim for many years, and working with him to bring the best mix show in radio to Phoenix is an honor! It's going to be a blast!" From Z100 in New York, all the way across the country to its newest home in Phoenix, Hot Mix continues to light stations up every weekend by mixing the biggest hits beat-to-beat and back-to-back. www.benztown.com/hotmix. Benztown Radio Networks, a wholly owned subsidiary of Hollywood Radio Networks, is an international media syndication company providing unique, first-rate programming and features to radio stations and media companies across the world, including The Melissa Etheridge Radio Show, The Bring it Minute with Tony Horton, The Todd N Tyler Radio Empire, The Ace & TJ Show, Hot Mix, Slow Jams with R Dub, The Dr. Bruce Hensel Show and Medical Minute, The Storm Report, The Old Farmers Almanac Report, The Race Report Update, Round Trip with Dave-O and FlashBack. Other news from Benztown: Former Weather Channel Radio Meteorologists Jennifer Narramore and Sally Russell join The Storm Report Radio Network. The Storm Report Radio Network provides day to day weather forecasts with a station's own staff meteorologist. During crisis situations, radio may also utilize The Storm Report for Emergency Weather Coverage particularly during winter, hurricane and tornado seasons. The Storm Report just added this past month: Townsquare Media Utica/Rome's WIBX, WFRG and WODZ, North American Broadcasting/Columbus, OH WTDA, WRKZ, WMNI, WLFJ-FM/Greenville, SC WLFA/Asheville, NC, WNOW-FM/Charlotte, NC, WMBJ/Myrtle Beach, SC, WALC/Charleston, SC, WLFS/Savannah, GA, Entercom/Kansas City KMBZ-AM-FM and WZTH/Greenville, TN. Masa Patterson, Benztown's Affiliate Relations Director said, "Dan Holiday continues to build a winning brand with The Storm Report Radio Network. Bringing on experts like Jennifer and Sally further strengthens their offerings and position as a leader in radio weather coverage, and adding 15 affiliates in April is an impressive validation. Benztown is thrilled to be working with Dan and his team." www.thestormreport.com.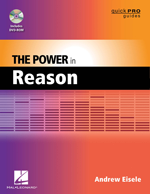 ► Hal Leonard Books is now shipping The Power in Reason ($16.99) by Andrew Eisele. Part of Hal Leonard's QuickPro Guides series, the book is designed to help readers get up to speed quickly and get the most from their software. The Power in Reason begins with an overview of the program, demonstrating basic operations and how to record and edit MIDI. Next comes a look at some of Reason's instruments, such as the Subtractor and ReDrum Drum Computer, followed by suggested techniques for adding effects to create a powerful and polished sound. Author Andrew Eisele shows readers how to build a simple composition in Reason and presents basic mixing concepts that will help them create a professional-sounding production. Readers will also learn how to render compositions to a stereo file suitable for burning to a CD or uploading to the Web. Along the way, Eisele shares many of the tips and techniques he has learned as a Reason power-user and trainer. Also from Hal Leonard Books, Mixing and Mastering with Pro Tools ($16.99) by Glenn Lorbecki. In Mixing & Mastering with Pro Tools, multiplatinum engineer/producer and certified Pro Tools trainer Glenn Lorbecki shows you, step by step, how to achieve your best mixes using Pro Tools. This focused guide will unlock the full potential of Pro Tools as a professional mixing and mastering platform. Avid's relatively recent move to open the Pro Tools software platform to third-party interfaces has given the user numerous new options, making Pro Tools available for Mac and PC systems – not just Avid hardware. This Quick Pro Guide cuts to the chase and gives you the best of Pro Tools at your fingertips, with plenty of sessions, audio examples, and video assistance to guide you along the way. www.halleonardbooks.com.
► Sean Bell is now producing and presenting a weekly hour long "Club Classics" radio programme which is available for free to radio stations around the world -- one station per geographical location/market. It's sent as 4 MP3 files, totaling 51 minutes, so stations can insert their own imaging and commercials etc. The music featured is mainly 70's and 80's disco, club, soul and funk. Stations can pre-view an edition at www.club-classics.com user the username and password 'seanbell' to download the sample programme.
► Media Latino Communications, Inc. launches MLC Radio Consultants with services provided by Radio Media Consulting Inc. whose General Manager is Javier Parra. Jesse Rios, who heads MLC said "I am excited about this partnership with RMC Inc. as they are one of the best Latin radio consultants in the country. This partnership allows us to be able to consult all Latin radio formats on barter!" Currently there are 47 stations that utilize MLC Radio Consultants extending the MLC NETWORK to over 200 affiliates in the US. Media Latino Communications, Inc. is a Glendale, CA based multi-media company. The company offers the largest Spanish show prep MLC Prep, an imaging/branding division MLC Imaging, and 24/7 Spanish radio networks in the Regional Mexican, Soft A/C, Spanish Christian and Latin Hurban formats, and a Latin Pop countdown show Las 20 con Kolo Barrera. www.medialatinocom.com, www.mlcprep.com, www.mlcimaging.com. ▲