TECHNOLOGY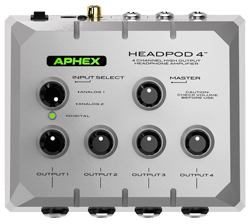 ► Aphex announced two new products. The HeadPod4 headphone amplifier is simple to operate with four individual volume controls for each channel's discrete Aphex amplifier. This means that each person can use their favorite headphones completely independent of the other channels. And, just as important, without having to worry about diminishing the sound quality because of mismatched headphone loads that typically pull down headphone amps employing just one amplifier for all channels. HeadPod4 provides both digital and analog inputs and the highest quality analog to digital conversion and sound monitoring available. Another critical feature: there's no unplugging and re-plugging as the HeadPod4 allows users to leave all the inputs right in place and dial in exactly what each one needs. Also from Aphex, the EX.BB 500™. As one of the early innovators of '500' style components, Aphex helped initiate the standards for this style of configuration. In 2012, Aphex is at it again, launching a complete line of '500' products, beginning with a 500 Series version of the legendary Aphex Exciter, adding the sonic depth of the proven Big Bottom®, with its dynamic low frequency punch, improved detail and the much-exalted 'thickness'. www.aphex.com.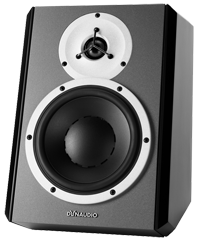 ► Dynaudio Professional introduces DBM50, an active desktop monitor featuring a 7.1" woofer and a 1.1" soft dome tweeter. All aspects of its design point towards desktop use, from the angled front over the waveguide around the tweeter to the optional addition of a level controller that never compromises the level interrelationship between speakers. Each and every unit is handcrafted in Denmark with attention to even the tiniest detail. More than 20 years of expertise in speaker design, development and manufacturing guarantees a set of monitors that go the extra mile to recreate even the smallest and most subtle details of any recording or production. Take complete control with the optional sleek controller that puts the user squarely at the helm of volume control in any situation. Levels can be set and manipulated with precision and ease, completely independent of the computer or workstation in use. The DBM50 controller provides perfect tracking, which guarantees spot-on stereo imaging with unprecedented precision. Other DBM50 features: 50+50 Watts, 117 dB SPL, Frequency Range: 46Hz - 21kHz, Weight: 7.2 lbs./kg. USD $499 each. Volume Controller (optional) USD $69.

► New from Voxengo, the release of the next major version of its OldSkoolVerb plugin - a freeware algorithmic reverberation AU and VST plugin for professional music production applications. OldSkoolVerb now supports most user interface features the latest Voxengo plugins offer, including undo/redo history, preset manager, user interface coloration and others. Most importantly, this updated version 2.0 features an improved reverb algorithm which became more robust, more stereo-balanced and more parametrically flexible. OldSkoolVerb implements a kind of "classic" stereo reverb algorithm which is technically simple yet optimal. It also produces a very clear spatial image that blends well with the mix. OldSkoolVerb offers you a comprehensive set of parameters permitting you to achieve various reverbs ranging from plate to hall reverb sound. OldSkoolVerb is best suited for non-percussive and soft-attack sounds like vocals, piano and pad sounds. Voxengo Polysquasher update version 2.4 is now available for download. Polysquasher is a mastering compressor plugin for professional music and sound production applications, available in AudioUnit and VST plug-in formats (including native 64-bit support), for Mac OS X (v10.5 and later), and Windows computers. Polysquasher was designed with a main goal: to be transparent. Transparent compression action is a cornerstone for any mastering compressor. Transparency of audio signal processing is necessary to preserve all existing elements in the mix, while compression itself is necessary to make the mix sound uniform to other mixes (tracks) and to make it sound more solid and "glued". And Voxengo Elephant version 3.9 update is now available for download. Voxengo Elephant is a mastering limiter plugin for professional audio and sound production applications, available in AudioUnit and VST plug-in formats (including native 64-bit support), for Mac OS X (v10.5 and later), and Windows computers. This version includes the following changes: The "Min Infrastructure" user interface display mode added. The "Flat Level Meters" level meter display mode added. Native 64-bit AudioUnit and VST support on Mac OS X added. www.voxengo.com. ►
THE MIX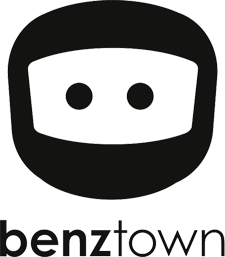 ► Benztown Branding recently launched the Benztown VO Blog, anonline community for radio voice-over talent at www.benztownvoiceover.wordpress.com. The blog will be a collaborative forum for readers who are interested in starting, building or learning about careers as a radio voice-over artist. Topics discussed will include: the right gear, effective VO demo's, networking, marketing, building a VO booth, scheduling/prioritizing jobs, new plug-ins, processing tricks, weird stories, and "a day in the life" of a VO artist. Benztown encourages reader contributions, content suggestions, questions, demo submissions, and anything that might be of value to your fellow VO artists. Initial posts feature Voices of the Week, Harry Legg, Chuck Matthews, and Rachel McGrath and videos like "Don LaFontaine – The Voice" and "How to set up your home studio". The blog was created as an educational resource and community for current VO talent and up-and-comers to share their knowledge and experiences. Information will be delivered via video tutorials, pictures, posts, graphics, and interviews and will provide the voice-over community with a forum for collaboration, sharing great ideas and tips, and inspiring creativity. www.benztownvoiceover.wordpress.com. Benztown also recently announced their partnership with Dawson McAllister's nationally syndicated talk show, The HopeLine. "My team and I are humbled by the gracious creative contributions from Benztown and their group of talented producers", says creator and host, Dawson McAllister. "They are a godsend and the resources they are providing will allow us to continue to craft the powerful message of hope and healing that our off-air "HopeLine" team and I offer each week to hundreds of thousands of teens and young adults." The HopeLine is a call-in talk show about real issues facing teens and 20-somethings today. The stories are raw and unrehearsed from real people dealing with issues like abuse, pregnancy, addiction, and more and they all have one thing in common - they need to talk about it. "Suicide is now the 3rd leading cause of death for those aged 15-24. The HopeLine's efforts are an integral part in curbing this trend," says Benztown President Dave "Chachi" Denes, "We're happy to assist Dawson's show and reinforce our belief in radio's responsibility to community service." A Non-Profit show, The HopeLine can be heard on over 140 stations in the US and Canada. For more information about The HopeLine go to www.thehopeline.com and for Benztown go to www.benztown.com.
► On the heels of Cox Media Birmingham enlisting vCreative PPO at the beginning of this year, Cox Media has now added Atlanta, San Antonio, Tulsa, Miami and Greenville-Spartanburg to the list of markets using the cloud-based PPO system to manage continuity and production for both digital and terrestrial media. Cox Media Atlanta Sound Designer Corey Holzberg checked in to report, "So far, so good. The more we use it, the more we like it. [PPO] is really streamlining our production department. It's nice (and helpful) to have everything in one central location." Within the PPO system, all production files and documents remain attached to production orders and are easily accessible from any internet-enabled device. Currently, over 1,500 radio stations use the vCreative PPO system. More information is available at www.vcreativeinc.com.
► Miloco Sudios have announced the launch of The Market Place, a new listing of affiliated recording, mixing and residential studios spread across the world. The Market Place is not an exhaustive directory of every recording studio but an international selection of high quality studios affiliated to Miloco. The aim is make it easier for clients to find good facilities outside of the Miloco group, which are nevertheless fully endorsed by Miloco. The studios that have launched on The Market Place have been carefully chosen to form a global and dynamic group. They include famous commercial studios in major cities, luxury residential retreats in stunning natural surroundings and smaller studios located closer to home, all of which complement Miloco's existing portfolio. The countries with Market Place studios at the time of launch are spread far and wide across England, Wales, Iceland, France, Belgium, Italy, Greece, Austria, Turkey, USA and Indonesia, with other countries (and continents) on the horizon. The website enables clients to use the studio search tool to filter studios by type, location and rate, or search for a specific item of equipment by typing in its make, model or by using a general term such as 'drum kit' or 'piano'. The search results generated by the tool will combine rooms both from The Market Place and from Miloco's own studio page onto one screen where they can be viewed altogether. Once the studio has been found all booking and invoicing processes can continue through Miloco from start to finish using their experienced office team. www.miloco.co.uk/marketplace.
► The Federal Communications Commission recently announced that the agency will open the airwaves for community radio. To make room for a new wave of local stations, the FCC will clear a backlog of over six thousand pending applications for FM translators, which are repeater stations that rebroadcast distant radio stations. The decision will allow for the first new urban community radio stations in decades. "The FCC has opened the door for communities to use their own local airwaves, and that will be transformative," said Brandy Doyle, Policy Director for the Prometheus Radio Project. The announcement concludes the first hurdle in implementing the Local Community Radio Act, passed by Congress in 2010 after a decade-long grassroots campaign. The FCC is on track to accept applications for new Low Power FM (LPFM) stations nationwide as early as Fall 2012. Community groups are gearing up to apply for the licenses, which will be available only to locally-based non-profit organizations. "For our migrant communities here in Arizona, community radio would give a voice to people who rarely get to speak for ourselves in the media," said Carlos Garcia, Lead Organizer with Puente Arizona. "Anti-immigrant voices dominate the airwaves. Community radio can help us tell our own stories, share news and information, and get organized." Broadcast radio remains one of the most accessible means of communication in the US, with 90% of Americans listening at least once a week. Low power community stations are non-commercial and cost as little as $10,000 to launch, putting these stations within reach of many communities who have limited access to other media outlets. The FCC plan will preserve channels by dismissing translator applications that would preclude future community radio stations in certain markets where the FCC has determined that space for community radio will be scarce. The Prometheus Radio Project has been the leading advocate for low power community radio since 1998. Over its history, Prometheus has supported hundreds of communities in licensing, building, and operating their own radio stations. ▲