TECHNOLOGY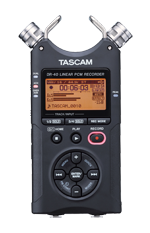 ► Tascam's DR-40 packs adjustable condenser microphones, four track recording, XLR mic inputs and extended battery life into a portable recorder you can take anywhere. It captures up to four tracks from built-in condenser microphones, XLR mic or line inputs. The high-quality internal microphones are adjustable from XY to AB position, helping you to tailor your recording to the sound of the room. A pair of Tascam microphone preamps welcome condenser microphones with phantom power, recording at up to 96kHz/24-bit resolution. It accommodates balanced XLR or 1/4" line inputs using locking Neutrik Combo jacks. The DR-40 accepts SD or SDHC cards up to 32GB, and a 2GB card is included. Once recorded, play back your takes with EQ and the optional Level Align feature to avoid volume jumps. A stereo reverb effect is also built-in, as well as a speaker and chromatic tuner. Transfer recordings to computer using the USB 2.0 jack. Other features include overdub mode, variable speed playback, limiting and low cut filter, and more. The Tascam DR-40 is available now at an estimated street price of $199. An optional BP-6AA Battery Pack, which takes six AA batteries, increases the battery life of the DR-40 from 17.5 to over 50 hours. This battery pack is designed to attach itself to DR-40 and a tripod allowing users to record for a long period without the use of an AC adapter or a computer. www.tascam.com.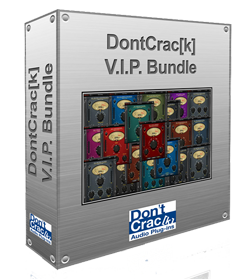 ► DontCrack announces the launch of the DontCrack "V.I.P. plug-in series" aimed at audio professionals that need simple and easy-to-use audio tools in their everyday tasks. DontCrack has partnered with plug-in designers from around the world to bring a series of high quality plug-ins that offers instant sonic satisfaction while offering a clean interface with only the most essential knobs and switches to quickly tweak sound parameters. Each plug-in in the V.I.P. series will cost only $49 individually or $489 for the entire collection. The DC V.I.P. Bundle contains 20 plug-ins that are: DC Analoger, DC Brightness, DC Chorus Ensemble, DC Clarisonix, DC Classic Flanger, DC Classic Phaser, DC Cool-Vibes, DC Digital Plate, DC Digital Reverb, DC Dimension 3D, DC Distorted, DC Echoflex, DC Electro Optical, DC Retro Compressor, DC Retro Equalizer, DC Retro Filter, DC Retro Limiter, DC Transcontrol, DC Tremolo Pan, DC Ultramaxit. www.dontcrack.com.
► Mixed In Key announced the release of Mixed In Key 5, the latest version of its harmonic-mixing software that's used by DJs. Mixed In Key 5 quickly and accurately identifies the keys and tempos of digital music files, making it easy for DJs to create mashups and play perfect DJ sets. Version 5 offers new features and functions, as well as a powerful new key-detection algorithm. Mixed In Key 5 offers multi-processor support for both Mac and Windows machines, allowing the software to take full advantage of the blazing speeds possible on multicore CPUs. Another highlight is the new Audio Player, which lets users audition the key-detected songs and samples from within the software. In addition to existing support for MP3 and WAV file formats, Mixed In Key 5 adds M4A and MP4 (video file) support. The new key-detection algorithm provides enhanced levels of accuracy and sophistication, and can detect key changes within songs. Key changes are clearly shown in the waveform display of the Audio Player, allowing users to see, at a glance, where in the song the change occurs. Whereas the key detection in previous versions looked at a song-file as a single entity, the new algorithm analyzes it as a series of beat-aligned segments. This ability to analyze short audio files means that remixers and producers can use Mixed In Key when working with sample and loop libraries, making it easier to find files in the same key. As with previous versions, Mixed In Key 5 uses the "Camelot Wheel" system, which displays key names on a circular chart that is numbered and color-coded. This approach makes harmonic mixing easier by graphically showing which songs are compatible with each other. In version 5, a clickable Camelot Wheel offers an elegant new way to see key-detected material. Once the software has analyzed a collection of songs (for example, an iTunes library), clicking on a key name on the Camelot Wheel instantly brings up a list of all the files in that key, making song selection a snap. Available from www.mixedinkey.com for $58.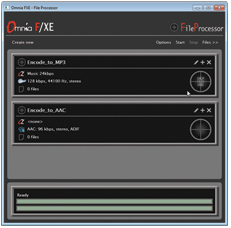 ► Introducing the latest member of the Omnia family, the Omnia F/XE. F/XE is a file-based audio processor and encoder application specifically engineered for podcasting or filebased streaming. It combines genuine Omnia audio processing with Fraunhofer MP3 and AAC codecs for the highest possible fidelity and delivery of any file-based source material. Omnia F/XE is software only, no special cards are required. It is able to read PCM WAV files, MPEG Layer-2 and MPEG Layer-3 source files. Omnia F/XE can automatically send the output file to an FTP server and will notify the user at once by email if problems are detected. Logs are kept during processing so that the source of a problem can be traced. In addition, Omnia F/XE can read metadata from external files and embed the information as ID3 tags in the output files. Encode the output audio using MP3 or AAC (including HE AAC and HE AAC v2), or save linear PCM WAV audio files. The core processing and encoding is implemented as a high-performance, low memory footprint, native application. Drop files on FileProcessor for on-demand processing and encoding, or automate your work using FolderBot to watch folders for new files and automatically process them as they arrive. You can define multiple configurations in FileProcessor. Each configuration can process and encode the files with a different set of parameters or send the output to different locations. This makes it easy to define and reuse project-specific configurations. FolderBot watches one or more folders and automatically processes the files as they are added to the folder. Files can be handled differently based on the watched folder or source file name. www.omniaaudio.com.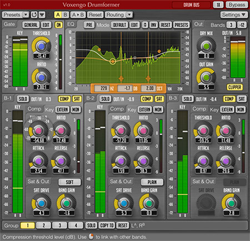 ► Voxengo announced the release of its newest plug-in: Drumformer. Drumformer is a multiband drum and master track dynamics processing plug-in for professional music and audio production applications. Drumformer was designed to be a comprehensive solution for the broadest range of sound processing tasks, allowing you to easily implement almost any dynamics processing idea you may have. Drumformer is available in AudioUnit and VST plug-in formats (including native 64-bit support), for Mac OS X (v10.5 and later), and Windows computers. Drumformer can operate in broadband, 2-band and 3-band modes, with each band having compressor-expander and saturation modules. The sound of the compressor can be defined as "gluey with a ping", because it instantly creates a "tight and glued together" sound while masterfully emphasizing the transients. The saturation module offers you a choice between six saturation modes, each having a smooth sound and differing harmonic content. Drumformer features a precise gate module with a round sound and multifaceted controls that is useful when you are processing a multi-tracked drum kit. The built-in parametric equalizer with its spectrum analyzer will also come in handy. The "Clipper" module which is a part of the plug-in allows you to get artistic master output clipping effects. USD 99.95. www.voxengo.com.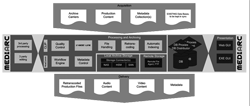 ► NOA Audio Solutions, provider of audio archiving systems with headquarters in Vienna, Austria, announced the release of mediARC™ 1.6, an upgrade to its mediARC 1.5 workflow, media, and metadata system. The upgrade enables faster indexing, faster searches when using imprecise input, and single sign-on and low-level access from non-NOA systems. mediARC 1.6 contains several improvements, including phonetic search, which identifies and corrects incorrect spelling to match search terms with metadata more quickly and accurately; alternative spelling suggestions for search terms through different levels of fuzzy search; a new version of the RemoteFileAgent, which replicates multiple active directories to enable single sign-on to mediARC from outside systems; the new mediARC API, which allows non-NOA systems to access mediARC data without the need for a customized, low-level access model; and an overhaul of the MatLink engine for faster indexing. NOA Audio Solutions is a global provider of turnkey solutions for quality-controlled digitizing, management, and archiving of audio and other media content. Scalable to suit collections of all sizes, NOA's three product families, ingestLINE™, mediARC™, and jobDB™ are today installed in some 20 high-profile enterprises worldwide, including Sveriges Radio Förvaltnings (SRF), Yleisradio Finland (YLE), Radiotelevizija Slovenija (RTV), Fonoteca Nacional de Mexico, and Voice of Vietnam. www.noa-audio.com. ►

PRODUCTION LIBRARIES
► New Releases from Firstcom include: AM070 Political Politics - Simple down home heroes, transitions, dark negative attack ads and political satire and pundits. DF15 Fringe Element - New York sound designer, Chris Jones, and crew, blend up a punchy promo stew that will grab the most jaded media consumer and shake them silly. Sound Design, Promos, FX. EVO158 Panoramic - Soaring tradition style strings and orchestral works deliver the perfect soundtrack for nature, pastoral, panoramic, vistas and flyover scenes in a film score setting. EVO162 Acoustic Underscores - Indie folk to acoustic underscores. Creative and quirky, folk-country, comfortable, positive and happy. Ad music, vocals and hook lines. EVO163 Rock Inspired - Creative indie and alt rock themes, simple riffs to big anthems, hopeful, inspiring, energy, forward motion and building. GM146 Underscores That Build 2 - Another batch of songs that start very subtle, and then gradually build to a positive climax. It's like having 2 songs in one. Audition these and more new releasers at www.firstcom.com. ►
THE MIX
► The nine Cox Media Group stations in Birmingham, AL (WZNN-FM, WBPT-FM, WZZK-FM, WBHK-FM, WAGG-AM, WBHJ-FM, WENN-AM, WENN-AM & WALJ-FM) are adopting PPO, the cloud-based continuity workflow management system from vCreative. Usage of PPO in Birmingham gives the sales staff a comprehensive mobile interface for tracking both terrestrial and digital ad production from desktops, laptops, tablets or smartphones. PPO also provides real time continuity workflow tracking for traffic and production directors with enhanced communication and accountability features. Currently, over 1,400 radio stations use the vCreative™ PPO system. More information is available at www.vcreativeinc.com.
► Clear Channel Radio and Cumulus Media Inc. announced an agreement that will extend both companies' digital reach and benefit consumers by offering them more choice, more value and a more comprehensive experience both digitally and locally. Under the agreement, the 570 Cumulus radio stations in 120 markets will be available on the New iHeartRadio platform wherever it is offered, including the Web, mobile devices and automobile. Clear Channel Radio will also advertise daily deals from Cumulus Media's SweetJack, the deals platform that provides local merchants – including the best restaurants, spas, salons, stores and venues – the promotional power of radio. The New iHeartRadio is Clear Channel's free digital radio service that offers more than 800 broadcast and digital-only radio stations from 150 cities plus the ability to create custom radio stations. While Cumulus will continue to stream its stations on its own station websites and mobile apps, the New iHeartRadio platform will serve as the sole digital aggregator for Cumulus stations, which will all advertise iHeartRadio on-air and feature a link to iHeartRadio on all their websites. SweetJack's platform has grown its user base to more than one million members in sixteen markets. Significant national expansion will continue in 2012, offering consumers savings of up to 85% through the Web, email links or smartphones. This agreement means that SweetJack's national radio deals platform will be powered by advertising on almost 1,400 radio stations and station websites across the country. SweetJack is available at www.SweetJack.com and the iPhone, iPad and iPod Touch as well as through Cumulus radio station websites. www.clearchannel.com, www.cumulus.com, www.sweetjack.com. ▲