TECHNOLOGY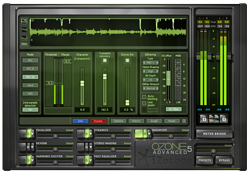 ► iZotope, Inc. announced the release of Ozone 5 and Ozone 5 Advanced. Ozone 5 is an update to iZotope's software mastering suite. Ozone 5 Advanced is a professional mastering suite that expands Ozone's feature set with individual component plug-ins, extended features, and the brand-new Ozone Meter Bridge. "Whether you're a musician, engineer, or mastering pro, Ozone 5 lets you master music and other audio simply and efficiently," says Nick Dika, iZotope Senior Product Manager. "Ozone 5 is the biggest update we've ever offered, with improvements that will appeal to Ozone experts and new users alike." What's New in Ozone 5? Pristine Sound and Enhanced DSP - Each module has been updated with refined signal processing algorithms to bring you a new level of mastering quality. Optimized Workflow and Updated Interface - iZotope has redesigned Ozone's user interface to allow for finer control while placing important features right at your fingertips. New users can jump in without a steep learning curve while experienced Ozone fans will feel right at home. Visual Feedback - Every module features updated metering to help guide you to the perfect-sounding master. Introducing Ozone 5 Advanced: Each module in Ozone 5 Advanced is equipped with extended features made specifically for mixing and mastering professionals. For added flexibility, Ozone 5 Advanced allows customers to use each of the mastering modules as individual plug-ins. Combining essential visualization from Ozone's modules with new metering tools, the all-new Meter Bridge provides a suite of audio analysis tools that help you visualize changes made during the mastering process, troubleshoot problematic mixes, and compare reference tracks. www.izotope.com.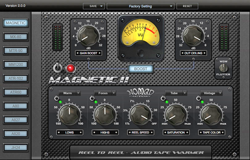 ► Nomad Factory announces the launch of "MAGNETIC II", a realistic "Real to Real" audio tape warming effect plug-in that gives your audio tracks the vintage tape sound. This effect can inject sterile audio with the warmth and character of classic tube circuitry and analog tape saturation. The plug-in features pure analog reel-to-reel tape speeds, tape/tube saturation and tape color effects, as well as a dedicated vintage style EQ and a built in Boost mastering section. The result is a creamy, warm sound. MAGNETIC II features 9 new tape models that offers the authentic sound of famous vintage tape machines such as Otari MX-80 / MTR-90, Studer A80MkII and many more. MAGNETIC can be used in many different musical ways. Try using it on individual tracks to add subtle warmth and tape color to your drums or use it to create a filtered cassette AM-radio effect on a vocal. When used on the master bus, MAGNETIC can warm your entire mix and "boost" it up to broadcast level. (MSRP $149). www.nomadfactory.com.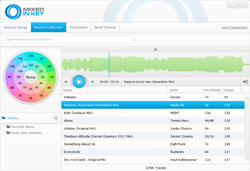 ► Mixed In Key announced the release of Mixed In Key 5, the latest version of its harmonic-mixing software that's used by mix DJs. Mixed In Key 5 quickly and accurately identifies the keys and tempos of digital music files, making it easy for DJs to create mashups and play perfect DJ sets. Version 5 offers new features and functions, as well as a powerful new key-detection algorithm. Mixed In Key 5 offers multi-processor support for both Mac and Windows machines, allowing the software to take full advantage of the blazing speeds possible on multicore CPUs. Another highlight is the new Audio Player, which lets users audition the key-detected songs and samples from within the software. In addition to existing support for MP3 and WAV file formats, Mixed In Key 5 adds M4A and MP4 (video file) support. The new key-detection algorithm provides enhanced levels of accuracy and sophistication, and can detect key changes within songs. Key changes are clearly shown in the waveform display of the Audio Player, allowing users to see, at a glance, where in the song the change occurs. Whereas the key detection in previous versions looked at a song-file as a single entity, the new algorithm analyzes it as a series of beat-aligned segments. This ability to analyze short audio files means that remixers and producers can use Mixed In Key when working with sample and loop libraries, making it easier to find files in the same key. As with previous versions, Mixed In Key 5 uses the "Camelot Wheel" system, which displays key names on a circular chart that is numbered and color-coded. This approach makes harmonic mixing easier by graphically showing which songs are compatible with each other. In version 5, a clickable Camelot Wheel offers an elegant new way to see key-detected material. Once the software has analyzed a collection of songs (for example, an iTunes library), clicking on a key name on the Camelot Wheel instantly brings up a list of all the files in that key, making song selection a snap. Mixed In Key 5 for Windows and Mac OS X is available from www.mixedinkey.com for $58. The upgrade from previous versions costs $29.99.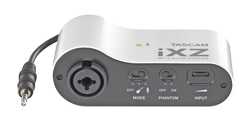 ► TASCAM introduced a pocket sized iXZ Mic/Instrument Input for iPad/iPhone/iPod Touch. This little gadget turns an iPad/iPhone/iPod Touch into an instant recording studio. Plug in a microphone, guitar or bass to interact with the latest guitar amp, sampling, recording and DJ apps. The iXZ supplies phantom power for condenser microphones and input setting sets the gain. There is also a headphone output to monitor from your iOS device. Features include: Switchable mic/line input, 1/8" headphone output, XLR mic input, high-impedence guitar input, mic input powered by two AA batteries, non-powered guitar input. www.tascam.com.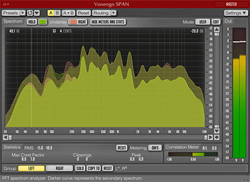 ► Voxengo SPAN version 2.4.1 update is now available for download. SPAN is a free real-time "fast Fourier transform" audio spectrum analyzer plugin for professional music and audio production applications. For the most part it was derived from Voxengo GlissEQ dynamic parametric equalizer and reproduces its spectrum analysis functionality. SPAN is available in AudioUnit and VST plug-in formats (including native 64-bit support), for Mac OS X (v10.5 and later), and Windows computers. Note that on Mac, SPAN now supports Mac OS X v10.5 and higher only, running on Intel processors. Mac PowerPC support is not available. SPAN features include: Output signal power statistics, spectrum smoothing, user interface window resizing, clipping statistics, correlation meter, K-metering, stereo and multi-channel analysis, mid/side analysis and more. www.voxengo.com.

► Propellerhead Software released Reason 6, a major update to their music software: Reason Essentials, the successor to Record, that packs all the recording, editing, effects, instruments, mixing and mastering in a streamlined package; and Balance with Reason Essentials, an audio interface for Mac and Windows integrated with Reason Essentials software. Combining all the features from Record, Reason version 6 adds audio recording and editing, along with Propellerhead's mixing console with EQ and dynamics on every channel, multiple parallel racks, Line 6 amp models, new effect devices, seamless time/tempo stretch plus additional features. New creative effects designed for using directly with instruments or inserting into tracks include: Pulveriser, sound crushing effect with crunchy compression, dirty distortion and flexible modulation; The Echo, advanced stereo echo with modern delay and analog tape echo emulation; and Alligator, a three band pattern gate for complex rhythmic texturing. Interface enhancements, high definition audio transpose and true 64-bit compatibility highlight other new feature improvements. www.propellerheads.se. ►
PRODUCTION LIBRARIES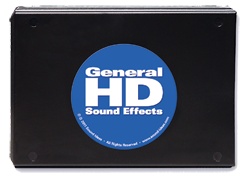 ► Sound Ideas, the world's largest publisher of professional sound effects, has released a new hi-def sound effects library - The General HD "for the next generation studio". Sound Ideas new General HD Sound Effects Library has more than 26,000 sounds all originally recorded at 24 bit/96 kHz. The General HD is published on hard drive as broadcast wav files. Each file contains complete metadata to allow accurate searches with popular content management software; and each hard drive contains not only the original 24 bit/96 kHz files but also copies of the complete collection in 24 bit/48 kHz, 16 bit/48 kHz, and 16 bit/44.1 kHz. "There have been a lot of changes in the audio industry since I started the company 32 years ago. Over the last 3 decades we have released over 1,000 CDs of sound effects, but nothing like the New General HD. I personally feel it is our best work ever." said Brian Nimens - the founder, President and CEO of Sound Ideas. www.sound-ideas.com.
THE MIX
► AdsWizz carved out its share in the U.S. online audio market with the announcement of over sixty new customers. AdsWizz provides the digital audio industry's CDNs, Ad Networks, Advertisers and Online Audio Publishers with an open platform to serve targeted, multi-format advertisements to end-listeners and increase revenue by monetizing the streamed digital content. Within six months, AdsWizz garnered these customers independently, as well as through its strategic alliance with Liquid Compass, a premier audio streaming delivery network currently serving over 1,000 radio stations across the U.S. market. The company recently opened up a second office in Denver, CO in addition to its American-based headquarters in San Mateo, CA. "In the past, many elements of online audio advertising services were provided by a patchwork of companies, only supplying part of the complete service. Through our recently launched LC Pro 2.0 streaming audio platform, advertisers and radio stations now have a one-stop shop for all of their digital advertising needs," said Zackary Lewis, founder and CEO of Liquid Compass. "Thanks to our partnership with AdsWizz, we can now provide our customers with ad insertion and ad measurement that they need in order to compete and stay alive in this economic environment." Joint customers AdsWizz and Liquid Compass provide services to include: Cromwell Radio, Merlin Media, Crawford Broadcasting, Leighton Broadcasting and Rich Broadcasting. AdsWizz offers customers four key digital audio advertising solutions including: Ad Serving, Ad Insertion, Audience Measurement and its Global Ad Exchange. Since AdsWizz strongly believes in the importance of offering choice and flexibility to Broadcasters and Pure Players, customers can mix and match encoding/streaming technologies or partner AdNetworks to suit their individual needs. These sixty customers greatly value AdsWizz's exceptional flexibility and particularly its flagship product, the AdsWizz Audio Injector for Streamers (AIS), an application that enables CDNs, Ad Networks and Online Audio Publishers to insert advertisements directly into audio streams being delivered to end-listeners. www.adswizz.com.
► Entercom San Francisco (KBWF-FM, KDFC-FM and KOIT-FM) has officially gone paperless with their commercial production continuity thanks to vCreative's PPO system. The 'Paperless Production Order' (PPO) system is web-based and maximizes efficiency and accuracy through greater organization and accountability. The adoption of PPO in San Francisco also gives the full staff the ability to submit, check in on and listen to spots from virtually any location. When asked how the transition to vCreative PPO was going, Continuity Director Giselle Mendoza said, "I love it! Set up was really simple. My AE's find the system very user-friendly. I like how the system holds everyone accountable with the History feature. Our workflow has been much more efficient now that the production team doesn't have to wait for me to physically walk the production orders back to the studio." Currently, over 1,400 radio stations use the vCreative PPO system. More information is available at www.vcreativeinc.com. ▲