TECHNOLOGY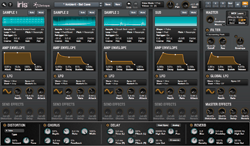 ► iZotope, Inc. has released the Toys Sound Library for exclusive use with Iris, iZotope's groundbreaking visual instrument. This entertaining and surprise-packed Sound Library plays on childhood nostalgia, evoking emotions ranging from joyful happiness to nightmarish terror. Create youth-inspired soundscapes for any purpose with one of one hundred professionally-designed patch presets, like Lunchbox Lead, Unicorn Tears, Peanut Butter Nap, Mood Ring, and Candy from Strangers. Alternatively, open up the Sound Library's toy box of audio samples and discover over two hundred new sounds to manipulate within Iris, including wooden blocks, laser guns, dollhouses, wind-up cars, squeak-toys and xylophones. Nurtured from a diverse selection of childhood favorites, Toys is the perfect sound set for those looking to add professional playfulness to their sound design work. Whether scoring for a blockbuster film or just playing around, Toys will keep you occupied for hours of audio mischief. Other Iris Sound Libraries by iZotope include: Food, Glass, and Wood. Toys is now available for an MSRP of $49 USD. To learn more about Toys and Iris, visit www.izotope.com. Also from iZotope, the company has licensed a suite of audio repair and restoration tools for the debut of Sound Forge™ Pro Mac, Sony's Professional Digital Audio Editor. Built on a clean slate for OS X, Sound Forge Pro Mac provides a contemporary application environment that's perfect for recording, editing, processing, and rendering broadcast-quality audio master files. "Sony was looking for highly innovative, easy-to use technology to raise the bar," says Alex Westner, Director of Business Development for iZotope, Inc. "We're proud to be a part of the long-awaited release of Sound Forge Pro Mac." Sound Forge Pro Mac includes three algorithms to solve common audio problems: iZotope's DeClicker, DeNoiser, and DeClipper. These professional sound repair tools allow quick results directly in the Sound Forge interface. The inclusion of additional iZotope technology in Sound Forge's Mac version is a perfect complement to the iZotope Mastering Effects Bundle, found already in Sound Forge Pro for PC since 2007. Sound Forge Pro Mac software, including audio repair algorithms and mastering effects powered by iZotope, is now available worldwide through software stores and online retailers for an MSRP of $299.95 USD. More information on the Sound Forge family of products and the entire line of Sony Creative Software applications can be found at www.sonycreativesoftware.com.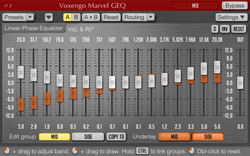 ► Updated Voxengo Marvel GEQ v1.2, Voxengo Overtone GEQ v1.10, Voxengo Stereo Touch v2.5, Voxengo Tube Amp v2.4 freeware audio plug-ins are now available for download. These plug-ins are available in AudioUnit and VST plug-in formats (including native 64-bit support), for Mac OS X (v10.5 and later), and Windows computers. Note that on Mac computers, these plug-ins now support Mac OS X v10.5 and higher only, running on Intel processors. Mac PowerPC support is not available. Voxengo Marvel GEQ is a linear-phase 16-band graphic equalizer AU and VST plugin with multi-channel operation support (supporting up to 8 input/output channels, audio host application-dependent). Marvel GEQ offers extensive internal channel routing capabilities, and supports mid/side channel processing. Overtone GEQ is 7-band harmonic (overtone) graphic equalizer AU and VST plugin with multi-channel operation support (supporting up to 8 input/output channels, host setup-dependent). Overtone GEQ offers extensive internal channel routing capabilities, and supports mid/side channel processing. Stereo Touch audio AU and VST plugin implements a classic technique of transforming a monophonic track into spacious stereophonic track by means of mid/side coding technique. Tube Amp is an audio effect AU and VST plugin that applies asymmetric tube triode overdrive usually found in single-tube microphone pre-amp boxes. The sound this plug-in produces varies from a mild "warm" overdrive to a fuzzy distortion. Also from Voxengo, Deft Compressor version 1.4 update is now available for download. Voxengo Deft Compressor is an audio track and bus compressor plug-in for professional audio production applications, available in AudioUnit and VST plug-in formats (including native 64-bit support), for Mac OS X (v10.5 and later), and Windows computers. Note that on Mac, Deft Compressor now supports Mac OS X v10.5 and higher only, running on Intel processors. Mac PowerPC support is not available. Version 1.4 includes the following changes: Key signal gain parameter added. Plug-in's popup-windows now recover last position after reopening. Mouse backward and forward buttons can be used for parameter value selection. The "Min Infrastructure" user interface display mode added, and more. The characteristic feature of this compressor is its ability to produce "slim" and "slick" sounding compression, with intelligibility enhancement effect. Such result is achieved by compressor's timing function that closely resembles the S-curve on both attack and release stages. These updated and other pro audio plug-ins can be downloaded at www.voxengo.com.
► Harman's Soundcraft has launched an audio calculation toolkit app for the Apple iPhone®. The app is an invaluable tool for audio engineers, offering converters for Volts-dBu-dBV and delay times in metres-seconds-milliseconds-feet-samples, as well as a timecode offset calculator. Future versions will expand the suite of useful tools with other utilities. The Audio Calc Toolkit is available for $0.99 on the iTunes store. www.soundcraft.com. ►
PRODUCTION LIBRARIES
► 36 PRODUCTION MUSIC is launching this month with Top 40/Pop/Urban buyout music produced in 2012. Their composers and producers include "Hitman Howie Tee", Anthony Mazza, and Quickmix out of Berlin. The tracks are offered as 60s, 30s, and 15s with no vocals ever. Tracks may be purchased individually with affordable pay per cut options, or you may purchase the entire library plus updates on a thumb drive. Check out a demo and audition music at www.36pm.com. This month, 36 Production Music is offering a special to RAP readers -- a free cut of your choice! Email them for your free cut. Email links are on the site at www.36pm.com.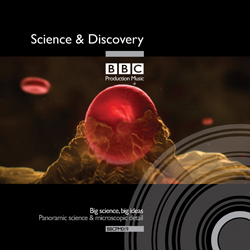 ► New releases from Firstcom include: Science and Discovery BBCPM019 - Big science, discovery, research and wonder. Hard Drama Promos BBCPM020 - 30 second edits that build to immediately excite your audience. Tropical Jukebox Vol.2 'Caribbean Shakedown' - Joyous Caribbean calypso that's guaranteed to make you shake your stuff and put a smile on your face. Emotional Anthemic Rock II CHAP398 - Powerful, melodic rock, full of building emotion. Quirky World CHAP399 - Off the wall melodies with cute and crazy backings. String Works EVO167 - A very extensive collection of string driven minimal underscores. Simple themes to emotional storytelling, documentary to high end commercials. Inspired and creative arrangements. Audition these and more at www.firstcom.com.
► Announcing Stereobot.com, a new online music library that puts simplicity first. Lit up by a vivid color scheme, the calling cards of Stereobot.com are: a handpicked catalog of premium production music that encompasses all genres and all moods; and simple searches that lean on the magic of smart sliders (e.g. happy vs. sad), checkbox categorization filters (e.g. sounds like), and pre-built playlists (e.g. Dark & Spooky). Users can even tap the search skills of Stereobot.com's own music supervisors if they are the delegating type. Every option gets you to the same place: a pain-free licensing experience. "There is too much glut in the current production music market," said Tasos Frantzolas, Founder of Stereobot.com. "We only stock the best and then make sure those songs are really easy to find. This way anyone working on a film, theater, television, advertising, app, and video game project can get in and out in no time at all." Stereobot.com was born out of Frantzolas' first venture, Soundsnap.com, a site for production-grade sound effects. After sending out a customer survey, a prominent portion of their community alerted them to a simple need that wasn't being met by other companies: "a place for high-quality, affordable production music." As sound effects and music naturally complement one another, Stereobot.com was designed to be a fresh take on an old formula; one that understands the needs of productions, but injects a little more life, and a lot less clutter into what should always be a smooth and intuitive process. Stereobot.com's song licenses are available in .wav format for use in any commercial or non-commercial application. They offer several levels of pricing options that range from $30 for a student/non-profit use to $1,200 for a national TV spot. Free watermarked mp3 versions are also available for trial purposes. www.stereobot.com. ►
THE MIX
► Voodoo Sound has launched an international radio imaging service. Voodoo Sound has been servicing some of Australia's biggest names in radio broadcasting for over 21 years. Voodoo Sound is now taking its radio imaging services to the global market, offering cost effective, high quality imaging services to stations everywhere. Voodoo Sound has two decades of Capitol city experience, and countless hours spent working with some of the biggest programming names in the Australian radio industry. They are equipped well to produce some of the most respected production work in the country, drawing on a wealth of experience gained from tens of thousands of hours producing award winning imaging and radio programs for high profile, high rating stations around Australia. Voodoo Sound is owned and operated by Darren Robertson, who he has been, and is, an incorporated company in Australia for the past 13 years. He has worked and consulted with companies such as Southern Cross Austereo, Australian Radio Network, DMG (the most high profile companies in radio in Australia). In that time he produced award winning radio programs, one off specials and station imaging. Prior to this Darren spent some 8 years as Production Manager/Imaging Producer for some of the country's most respected radio broadcasters. www.voodoosound.com.au.
► Hal Leonard Books has published Power Tools for Pro Tools 10 ($39.99) by Glenn Lorbecki. Instructor, certified Pro Tools trainer, and award-winning producer/engineer Glenn Lorbecki will walk you through the best ways to get the most of out of Pro Tools 10. See and experience the new features incorporated in this software, all the way from the new ways it handles data, memory, and gain functions to some seemingly small updates that make a huge difference in your productivity. This comprehensive guide provides excellent instruction in the newest Pro Tools 10 features; at the same time, it establishes a foundation of technical and creative protocol that will help beginning and intermediate users – as well as seasoned professionals – establish the most expedient work flow while recording, processing, and mixing the highest quality audio. The accompanying DVD-ROM contains video and audio examples along with sessions files that powerfully support the text. The multitrack Pro Tools session contains full rhythm section and vocal tracks, professionally recorded and skillfully explained in the text and videos. www.halleonardbooks.com. ▲