TECHNOLOGY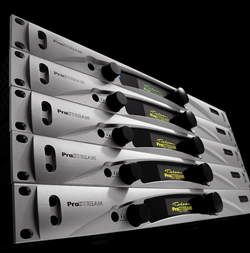 ► The ProSTREAM is the new hardware streaming audio encoder from Telos that eliminates PCs. Traditional streaming solutions demanded one computer to process audio, a second to encode it, and a third to stream it. Telos ProSTREAM gives broadcasters the freedom they've craved by integrating all of these functions in a single streaming appliance. ProSTREAM converts your programming to streaming audio, optimized for any bit rate you select. A full three-band audio processor by Omnia Audio feeds an encoder section with genuine MPEG encoding algorithms from Fraunhofer, the inventors of MP3. The two sections are closely coupled; Omnia's unique SENSUS technology actually works with the encoder to analyze and adapt the processor's algorithms to the specific bit rate chosen so that the resulting sound is clean, powerful and artifact-free. Finally, ProSTREAM sends its encoded audio - with your choice of MP3, AAC-LC or HE-AAC encoding - directly to a specified stream replicator for distribution to Internet listeners. You can feed ICEcast or any SHOUTcast or SHOUTcast-compatible media server, Wowza or Adobe Flash Media servers for streaming to Flash clients, or send it to your Live365 server. ProSTREAM can accommodate analog or Livewire IP-Audio audio input. Two separate Ethernet ports let you keep your house network safely separate from the outside world: the LAN port for audio input and browser-based remote control, and the WAN port for sending encoded audio to your streaming service provider. An intuitive Web interface makes setup a breeze; simple front-panel controls with adjacent headphone jack make for convenient on-the-fly adjustments, even in noisy rack rooms. The Omnia audio processing comes with a variety of presets designed to get you running quickly, while an easy-to-use preset editor gives you the power to create and fine-tune custom settings. Best of all, ProSTREAM is neatly self-contained in a 1RU box. ProSTREAM carries a list price of $1,995 USD. www.Telos-Systems.com.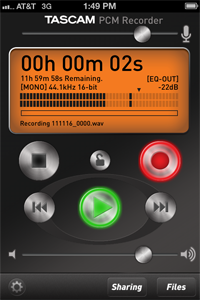 ► Tascam launched the Tascam PCM Recorder Application for the iPad / iPhone / iPod Touch. Available for free download, Tascam PCM Recorder app is the perfect companion for Tascam's iOS products such as the iM2 stereo microphone and iXZ mic and guitar interface. Tascam PCM Recorder turns the iPhone, iPod Touch or iPad into a stereo recorder, based on the popular Tascam DR-series. The Tascam PCM Recorder app has input and output level faders with an "on-screen" meter to help you check levels. High and low EQ are built-in, as well as stereo limiting and a low cut filter to prevent overload. In the application, record mono or stereo files at CD-quality for up to 12 hours. After recording, files can be accessed through iTunes or uploaded to SoundCloud right from the iPhone. Tascam PCM Recorder app is available now on the iTunes store at no charge. www.tascam.com.
► Barix AG, a pioneer in IP audio, control and monitoring, launched it first, free iOS app for use on the iPhone, iPod Touch and iPad. The new app, Reflector, is a mobile receiver for the Barix Reflector Service, allowing customers to monitor their audio streams on the go. The Barix Reflector Service is typically used by radio broadcasters and service providers to stream audio between two or more points. The service essentially offers IP streaming without the complexity of IP, simplifying the setup process for audio transport connections. The Reflector app taps into the main Reflector Service audio feed to allow real-time listening and monitoring of contact closure status and network statistics. This gives broadcasters and service providers access to a wealth of information about their streams and channels from any location. The Reflector iOS application is now available through Apple's iTunes store free of charge. www.barix.com.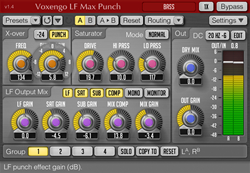 ► Voxengo LF Max Punch version 1.4 update is now available for download. LF Max Punch is a professional audio effect plugin for music and sounds where low-frequency thump and punch are most welcome, and where distortion is applied specifically to bring the bass sound to life. LF Max Punch is available in AudioUnit and VST plug-in formats (including native 64-bit support), for Mac OS X (v10.5 and later), and Windows computers.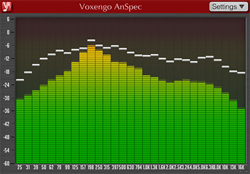 Also from Voxengo, newest free plug-in, AnSpec, an analog-style third-octave spectrum analyzer plug-in for professional music production applications. AnSpec is available in AudioUnit and VST plug-in formats (including native 64-bit support), for Mac OS X (v10.5 and later), and Windows computers. AnSpec was designed to be a handy visual feedback tool for those who like smoothness and easiness of use of analog analyzers. AnSpec also provides peak level indication. While there are no adjustable parameters available in this plug-in, you can still change level meter ballistics and resize plug-in's window. AnSpec can be downloaded freely at the Voxengo web site. www.voxengo.com.
► iZotope, Inc. announced the release of six iOS software developer kits (SDKs) and a free guide to audio programming for iOS. "By releasing licensable SDKs and a free guide for iOS Audio development, iZotope is providing iOS developers with high-quality, easy-to-use audio effects and resources for their apps," says Alex Westner, iZotope's Director of Business Development. "With hundreds of thousands of applications being released into the market every month, the world of mobile development has become an extremely competitive environment. Superior audio quality is essential for distinguishing top apps from the masses." While iZotope has already licensed audio DSP technology to clients such as Smule for "I Am T-Pain", Audiofile Engineering for "FiRe and FiRe 2," and Sonoma Wire Works for "GuitarTone," iZotope is excited to bring tools to the market for the beginner and experienced developers alike. What's in the SDKs? Developers will have access to a wide variety of professional audio effects spanning these six kits: Audio Repair: De-noising and audio clean up; DJ FX: Time and pitch control for single voiced instruments; Vocal FX: Pitch correction and vocal remover; Trash FX: 9 different box models and 11 distortion types; Fun FX: Fun vocal FX including tape stop and loud speaker; Core FX: EQ, dynamics, delay, reverb. In addition to the SDKs, developers get a free guide to audio programming for iOS. This handy reference provides a concise collection of information on using Core Audio in iOS, including how to use both Audio Queues and Audio Units, the two main methods in Core Audio for handling audio. www.izotope.com. ►
PRODUCTION LIBRARIES
► New Releases from Firstcom include: CHAP386 Italiano, CHAP387 Tropical Jukebox Vol. 1 'Island Spice', EVO165 Pop Ad Acoustics, EVO166 Deep Drama, EVO168 Inspire, GM148 Urgent Stories, GM149 Almighty America, HM-101 Southern Gothic, MSTR233 Rock Metal 8, MSTR234 Reality Show 8, MH090 Global Explorer, MH091 Rockability, OM162 Political Advertising, OM163 Piano Power Rock, RCR008 Good Clean Fun, RCR009 College Indie, SEE014 Hero Rising, VL122 Basketball Beats & Breaks, and VL123 Arena Aspirations. Audition these and more at www.firstcom.com.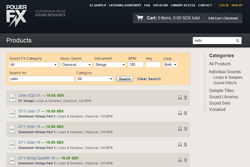 ► PowerFX is now offering full access to their sound libraries. With either a Pro Sound Effects Account or Pro Loops & Samples Account, you will have instant access to over 20,000 sounds in a searchable, online database. "I think producers and sound users who work in different places or have multiple work station setups will really appreciate this service", states Bil Bryant CEO of PowerFX. "For sound users today, it´s not about owning, it´s about having access and simple license to use just what you need, when you need it." The Pro Loops & Samples Account is $199 a year and the Pro Sound Effects Account is $149 a year. www.powerfx.com. ►
THE MIX
► Clear Channel Media and Entertainment announced 15 appointments to its new brand Imaging Team, a part of its National Programming Platforms group, effective immediately. The new Imaging team, which consists of 15 format-specific Imaging Coordinators, will be led by Kelly Doherty, recently appointed Director of Imaging for Clear Channel's National Programming Platforms group. "This team includes the top producers in each format," said Doherty. "The talent, expertise and ingenuity that this new Imaging Team brings together is unmatched and I am excited to lead such a top-notch group." "Kelly and her creative team are responsible for bringing our national programming initiatives to life through incredible on-air promos," added Tom Poleman, President of National Programming Platforms for Clear Channel Media and Entertainment. The Image Coordinator experts will produce and distribute compelling and diverse on-air promotional audio spots for Clear Channel's National Programming initiatives, including format-specific creative efforts across iHeartRadio, Artist Integration Programs and large-scale contests and events including the iHeartRadio Music Festival. Imaging Coordinator appointments include (by format): Adult Contemporary - David Jay Heislop; Mainstream/Alternative Rock - Miles Hlivko; Active Rock - Malcolm Ryker; News/Talk - Scott Stanley; Contemporary Hit Radio - Darrin Marshall; Spanish - Liliani Gonzalez; CHR Rhythmic - Jon Manual; Sports - Bob Schmidt; Classic Hits/Oldies - Garry "Garry D" Domingue; Urban AC - Eddie Fennell; Classic Rock - Rick Gangi; Urban Classic/Old School R&B - Ron Shapiro; Country - Bernie Lucas; Urban Contemporary - Steve Dubbz; Hot AC - David "Diego" Tomerlin. www.clearchannel.com.
► Centennial Broadcasting has promoted Hot AC WBQB (B101.5) and Adult Standards WFVA (AM1230, WFVA) part-time personality Bill Carroll to Production Director of its Fredericksburg cluster. He will also handle the evening (7p-Mid) slot on B101.5. "Bill is a natural addition to our full time airstaff. He possesses mad production skills and his warm and friendly personality both on and off the air make him the perfect fit for the evening show on B101.5," commented Chuck Archer, Operations Manager. Carroll said, "I can't wait to get back in the production studio and re-join one of the best teams you could have supporting you in radio! I'm looking forward to taking my creativity to new heights and enjoying the ride!" Carroll has been with B101.5 in a number of capacities since 2006. He has been both an evening and midday personality and most recently a part-time air personality while working as an Audiovisual Engineer for Innovative Technologies, Inc. Headquartered in Clemmons, North Carolina, Centennial Broadcasting II, LLC, owns nine radio stations in three Virginia markets: Fredericksburg, Winchester, and Lynchburg. For more information, contact: Chuck Archer, Operations Manager: This email address is being protected from spambots. You need JavaScript enabled to view it..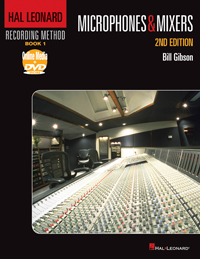 ► Hal Leonard Books, a source of books on the music business, audio technology, instrument history, and more, has published Microphones & Mixers ($39.99) by Bill Gibson. The book is an updated second edition of Book 1 in the 6-book Hal Leonard Recording Method series and includes a DVD ROM and online media. As the first book in the series, Microphones & Mixers covers the critical first steps in a truly organized path through the entire recording process. Topics include how professional microphones work, which to choose and why (plus accepted techniques for using them), understanding the signal path from mics to mixers and how to operate these tools to capture excellent recordings, as well as explanations of the most up-to-date tools and techniques involved in using dynamics and effects processors. From initial considerations to mix-down, mastering, and replication, this method provides important considerations and techniques every recording musician needs to know. Also from Hal Leonard Books, Music 3.0: A Survival Guide for Making Music in the Internet Age ($24.99) by veteran music and technology author Bobby Owsinski. This second edition takes a cutting-edge look at the music business as we know it today – and where it's going tomorrow. Music 3.0 is a completely updated edition of the original best seller, featuring the latest music business and social media concepts as well as new interviews with a variety of the industry's top movers and shakers. Music 3.0 not only looks at the music industry's evolution and how we got to Music 3.0, but also provides the information that today's musician or music business executive needs to take advantage of the new music industry paradigm. What has changed? Who are the new players? Why are traditional record labels, television, and radio no longer factors in an artist's success? How do you market and distribute your music in this new world? How do you make money in this new music world? How do you develop your brand? How do you use Facebook, Twitter, and YouTube as marketing tools? What are the new technologies that are being introduced that will influence how we sell or market? All these questions are answered in the book. This second edition also contains new low-cost high- and low-tech tips for marketing and promotion. www.halleonardbooks.com. ▲