TECHNOLOGY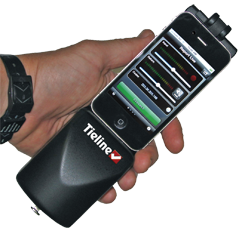 ► Tieline Technology will be releasing a professional hardware Mic Adapter that allows you to attach your favorite pro dynamic microphone to an iPhone 4® when newsgathering using the Company's Report-IT Live Codec Application. Said Darren Levy, Tieline's International Marketing Manager, "We've now had over 5000 downloads of the app since July last year and we've had hundreds of users requesting a portable, professional hardware solution that captures the full dynamic range of the iPhone's digital input. The market is definitely hungry for a solution that fits in the palm of your hand and allows the iPhone to record audio or broadcast live using a pro dynamic mic and two sets of headphones or ear buds." The Tieline Mic Adapter features a professional XLR mic input and dual headphone outputs for live interviews between the remote site and the studio. It also has adjustable mic gain attenuation, automatic gain control On/Off, a stereo line level input and is self-powered using 2 AAA batteries. Importantly, the Mic Adapter also features a mini-USB power input for iPhone charging during long broadcasts. Tieline's new Mic Adapter for iPhone 4 can also be used for a variety of other iPhone Pro Audio apps. www.tieline.com.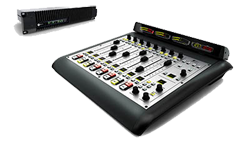 ► Radius, the new IP-Audio console from Axia, is a compact networked mixing desk with four stereo buses, eight faders, 16 audio I/O ports and an Ethernet switch with Gigabit. Retail priced for just $5,990 USD, features include: automatic mix-minus for every fader; talkback capabilities; built-in Ethernet switch has six 100Base-T and two Gigabit ports; 4 GPIO machine-control ports; record Mode one-touch recording; monitor controls for an adjacent studio; fan-free mixing engine separate from control surface, with analog, AES3 and Livewire I/O; desktop-mounted - no countertop cutout needed. Additionally, Radius has switchable VU/PPM LED bargraph meters, 100mm. conductive plastic faders, aircraft-quality switches with LED lighting, onboard NTP-capable clock, event timer, and high-resolution OLED readouts on each fader strip. Axia allows broadcasters to easily build audio networks using switched Ethernet to connect a few rooms, or an entire facility. Axia networks have a total system capacity of more than 10,000 audio streams, and can carry hundreds of digital stereo channels (plus machine logic and PAD) over a single CAT-6 cable, eliminating much of the cost normally associated with wiring labor and infrastructure.www.AxiaAudio.com.
► Telos Systems recently debuted the new ProStream streaming audio encoder. Since broadcast audio was first sent to the Internet, broadcasters have been wishing it was an easier process. You need a box to process it, another to encode it, yet another to stream it. Why can't one device do it all? ProStream is a single, integrated streaming appliance. ProStream uses genuine MPEG encoding algorithms from FhG, the inventors of MP3, to ensure the most artifact-free sound quality at whatever bit rate you choose. You can encode directly to MP3 or MPEG-AAC and feed any Shoutcast-compatible media server, or a Wowza server for streaming to Flash clients. Other features include an intuitive web interface which provides remote control functions including creation and editing of processing presets with an easy-to-use preset editor; a web-based control allows access from any browser-equipped computer on your network - no other software required; convenient front panel controls so you can manage your most-frequently needed functions right from the rack; built-in headphone amp with 1/4'" jack and volume control for monitoring input or output audio; includes studio-grade analog inputs and outputs, which can be changed to AES/EBU with an optional card; on the input side, you can use Livewire IP-Audio as an audio source; on the output side, ProStream delivers fully processed, unencoded audio as well as encoded audio, giving you another source for processed sound; full network connectivity is provided via two Ethernet jacks, one for LAN (including Livewire) and the other for WAN and streaming. www.Telos-Systems.com.

► Tascam has revved the world's only combination CD Player / MiniDisc recorder to the MD-CD1mkIII. The original model and its follow-up have been big hits with contractors looking for the advantages of MiniDisc in a compact size. The new model upgrades the digital I/O and the CD player now supports WAV file playback in addition to MP3 files. The MD-CD1mkIII includes a CD player and MiniDisc recorder transport, each of which can be operated independently. Individual inputs and outputs are available for each, plus a "common" output containing both signals. Each transport has both a coaxial and optical S/PDIF output, and the MiniDisc has coax and optical inputs. An optional LA-MC1 balancing kit offers balanced XLR inputs and outputs to the MD-CD1mkIII when required. The MD-CD1mkIII can be controlled through wireless remote, RS-232C or a PS/2 keyboard. The CD transport supports pitch change from -50% to +16% speed. CD Text is displayed on the unit. Most CD disc formats and play modes are supported, and a digital output level can be employed with fade in and fade out. The MiniDisc section supports recording in SP, MONO, LP2 and LP4 modes, and can mix modes on one disc. The MD-CD1mkII can dub from CD to MiniDisc at up to 4x speed, and continuous playback is available from one transport to the other. Both the CD and MiniDisc include Auto Cue and Auto Ready functions. Packing hours of playback in only 2 rack spaces, the MD-CD1mkIII is the ultimate choice for cramped installations requiring the flexibility of MiniDisc. www.tascam.com.
► Staco Energy Products Company recently unveiled several industry-firsts. Among the new UPS products are the FirstLine® P family of parallelable three-phase Uninterruptible Power Supplies (UPS), and the FirstLine® BMS – the industry's first wireless battery monitoring system. These technologies are ideal for information technology (IT) applications such as those found within the broadcast arena's highly digitized environment, especially to protect transmitter exciters and HD radio coders, monitoring, remote control and Emergency Alert Systems, links to remote programming sources via digital telephony, satellite, etc., as well as office computers, stand-alone computers and computer networks for audio playback, program scheduling and more. The FirstLine® P family of UPS products comes with two different models for 10 – 100 kVA applications and for 80 – 125 kVA applications. FirstLine® P units can be run in parallel – up to 8 (N+1) for the 480VAC 80-125 kVA model, and up to 4 (N+1) for the 208VAC 10-100 kVA version. This provides redundancy for mission critical applications yet requires no additional hardware. All units are hot swappable, for maximum flexibility, availability and expandability. The new wireless FirstLine® BMS Battery Monitoring System continuously monitors UPS batteries and provides real-time information, ensuring that batteries are ready when needed to support mission critical functions. Information is displayed through curves and bar graphs on the FirstLine ® BMS easy to read 6.4" LCD touch screen monitor. This easy to install battery monitoring system measures and records critical elements including battery cell voltage, battery string voltage, battery string current, battery room temperature, battery cell impedance, as well as battery terminal temperature. Armed with this critical battery status information, managers can ensure that capacity conditions are continually met as well as the permanent availability of high quality energy. Because it is wireless, the FirstLine ® BMS easily integrates into existing applications, can be installed in half the time with less cost than traditional, wired battery monitoring systems. www.stacoenergy.com.

► DiGiCo's SD11 is a console that is the smallest (both in size and price) that the company has ever produced, but still packed full of DiGiCo's famous features. The SD11 is designed to be equally at home as a desktop console or mounted in a 19" rack. By simply removing the end cheeks and armrest, 19" rack fixings are revealed, making it straightforward to incorporate the SD11 into any touring or installation environment. Manufactured with a steel chassis for strength and a polycarbonate-overlaid, aluminum work surface for reduced weight, the SD11 features 12 touch sensitive moving faders below a 15" touch sensitive screen. 16 Microphone pre amps, eight line outputs and two mono AES I/O are provided, in addition to which users have the option to connect a DiGiCo D-Rack to the CAT5E port. This provides a remote I/O rack frame with an additional 32 Microphone inputs and up to 16 outputs. Further connections are a MADI port, GPI/O, MIDI, Overview screen output, Word Clock I/O, an Ethernet port for console remote control / networking and a USB port for file exchange and session backup. The SD11 features 32 input channels with full processing, eight of which can be configured as full Flexi Channels. All inputs have dual mono inputs for fast 'Main' and 'Alt' channel switching, which are ideal for corporate events where a large number of spare microphones may be required. Standard input channel processing includes channel delay; single and multi channel presets; HPF and LPF, with an industry leading 24db per octave; four bands of parametric EQ with band curve selection; compressor and gate; moveable insert point and access to all bussing. Standard output channel processing includes output delay; four bands of parametric EQ; filtering; compressor and gate; moveable insert point; groups with buss to buss routing; and Auxes that have direct talk to output with dim control for fast monitor communication. Dynamic EQ provides both expansion and compression on all four bands of the parametric EQ. These powerful processors can be assigned to any of the input or output channels, whether they are Mono, stereo or LCR and four units can be allocated as required. Multi-band compressors are also installed, giving the user extended dynamic control of any input or output channel. Again, four units can be positioned on either input or output channels. One of the more unusual features for a digital console with the SD11's small footprint is that it has 12 Flexi Busses, which can be user configured as either mono or stereo. In its maximum configuration these could be used as 12 stereo mixes - equal to a remarkable 24 busses. www.digiconsoles.com. ►
PRODUCTION LIBRARIES
► New releases from Firstcom include CHAP367 Ambient Electronica -Ultra chilled dreamy electronic; CHAP370 Experiments In Bass - Infusion into low end frequencies; EVO159 Stories: Mixed Moods - A variety of themes and underscores for reality, drama, emotion and investigative storytelling; EVO160 Cinematic Beats - Massive big hanging beats, modern drama, reality, fantasy, glitch, electronic, tragically hip; EVO161 Indie Classical - Creative and accessible featuring a hybrid of traditional and modern ensembles from emotional, documentary to motivating and energetic; GM143 Dancelicious - Dance/club style; HM-097 Dramedy - Reality TV housewives and made up conflicts with a quirky twist; perky, playful cues for Reality TV and light drama; EVO158 Sexy 2: Club/Pop/Fashion - Sensual, intimate, club culture, fashion, scandal and general decadence; MSTR227 Reggae - Classic roots, dancehall styles and ska styles; MSTR228 Exotic Lands - Hindu love songs, Congolese folk, Arabic belly dances, Chinese storytelling and more; MSTR229 Sports Themes - inspired by the bone-crunching conquest, life-changing glory and career-ending defeat of professional athletes everywhere ; MH075 Nu Jazz Sounds - An eclectic mix of breaks, jazz, hip hop, soul and funk; the sound of jazz for the nu jazz generation; MH077 Angels and Antlers - All your holiday necessities wrapped up in one sweet package . Lots more to check out at www.firstcom.com.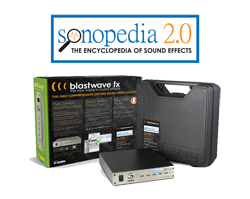 ► Blastwave FX announces Sonopedia 2.0, the upgrade to the encyclopedia of HD sound effects. Sonopedia 2.0 is the professional sound effects library for high definition media production. The upgrade features include: 10,000 new sound effects; over 400 5.1 surround sound effects; sound effects loops; more variety in takes (distance, velocity, duration); a new category: textures – featuring sound effects design elements. In total, over 30,000 HD sound effects pre-installed on a Glyph GT 050Q hard drive compatible on Mac and PC. All sounds are broadcast .wav files (24/96, 24/48, 16/44.1) and include mp3 reference files. Sonopedia 2.0 comes with a search engine that is powered by NetMix Lite Search Software, allowing users to search, audition, and drag n' drop into any project. Sonopedia 2.0 is available through www.blastwavefx.com for $3999. ▲