TECHNOLOGY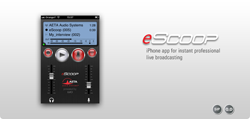 ► AETA AUDIO Systems has announced the launch of eScoop, a complete professional audio recording and broadcasting tool for devices including iPhones®, iPads®, Macs®, and PCs. eScoop provides facilities for recording, editing, transmitting, and publishing audio for live broadcasting, allowing users to record and transmit simultaneously through mobile wireless networks and on desk-based IP networks as a client or a server. Developed in collaboration with the Dutch pro-audio developer Technica Del Arte (TDA), eScoop supports many protocols such as SIP as well as both one-way SHOUTcast/Icecast streaming and two-way streaming when a return channel is required. In addition to broadcasting live material, eScoop also enables the playout of prerecorded material while broadcasting. A simple editing tool allows the user to isolate any item being used. Available now as an app for the iPhone, the iPad, Macs, and PCs, and with an Android™ version available soon, eScoop makes it easy for reporters in the field to capture live audio instantly and broadcast it with professional quality codecs, without specialist equipment other than an external microphone, if required. The wide range of built-in codecs includes MP2, AAC, AAC-HE, AAC-HEV2, G711, and G722, and eScoop is the first professional software codec to include support for the N/ACIP standard. eScoop is available now from €319. www.aeta-audio.com.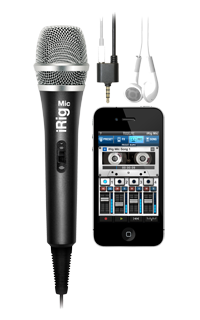 ► IK Multimedia is shipping iRig™ Mic - the first handheld quality condenser microphone for iPhone®, iPod touch® and iPad®. iRig Mic is ideal for the vocalist and songwriter on the move, and it is also perfect for recording speeches, instruments, performances or any other sound sources in the studio, on stage or in the field. The iRig Mic features a highly unidirectional condenser-electret microphone capsule that provides quality recording in both close and distant miking conditions. Its real-time monitoring with its dual mini-jack connector and rugged metal body makes it road-ready. The familiar shape of iRig Mic is perfect for handheld performance, plus it can be mounted on any mic stand leaving your hands free for operating the app on your iOS device. A three-level gain switch makes it instantly adjustable for any sound pressure condition. iRig Mic also comes with a suite of IK's apps: VocaLive Free (for vocalists and songwriters), iRig Recorder (the new IK free audio recording app… coming soon) and AmpliTube Free (for guitarists and songwriters). iRig Mic also works with a wide variety of other vocal and audio recording and processing apps for the iOS platform including GarageBand for iPad. iRig Mic is now available directly from IK's online store and from select music and electronic retailers worldwide for $59.99/€49.99. www.ikmultimedia.com.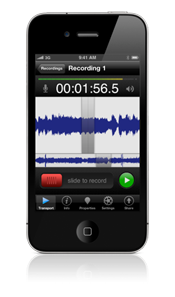 ► Audiofile Engineering has released FiRe 2, a new version of their field recording App that has been redesigned and rewritten from the ground up with a host of new features for the latest iOS devices. Features include: advanced editing suite with SmartEdits, Bezier fades, change gain, normalize, looping playback, regions and more; improved Transport screen with faster and smoother drawing and larger waveform view; EQ and Dynamics effects developed by Audiofile Engineeringl iTunes file transfer; enhanced input processing powered by iZotope™; and Record in background. FiRe 2 requires iOS 4.2 on an iPhone 3GS/4, 3rd/4th gen iPod touch, iPad, or iPad 2 and is available through iTunes for $5.99. FiRe 1.5 is still available for older iOS devices. audiofile-engineering.com.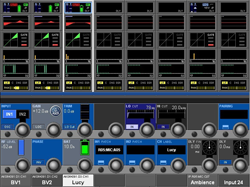 ► Every engineer has been there. The radio mics check out fine on the RF Tech's laptop, but that's before the talent walks onto the stage. Reception black spots, drained batteries, accidental mutes--anything can happen once the show gets underway. Thankfully, HARMAN's Soundcraft and AKG now make the FOH engineer's life easier. Now it's possible to monitor the status of any HARMAN HiQnet™-compatible AKG radio mic directly from the Soundcraft Vi Series console surface, courtesy of VM2 (Vistonics Microphone Monitoring). VM2 provides real-time visual displays of battery life, RF status, mic muting and internal clipping directly on a channel strip on the Vistonics™ screen, so it's possible to see a problem long before you hear it, right there on the relevant channel--with expanded information instantly available just by touching the screen. System configuration uses Harman's proprietary HiQnet network--simply plug in the mics, patch them to the related console channels, and you're done. You can even identify the relevant mic receiver in the rack by pressing the Locate button, causing the receiver front panel display to flash. VM2 will be available for all Soundcraft Vi Series consoles in V4.5 software, including Vi1, Vi2, Vi4 and Vi6. Compatible AKG Wireless mic systems are WMS 4000, WMS 4500 and DMS 700 (optional HUB 4000Q HiQnet Ethernet interface required). www.harman.com.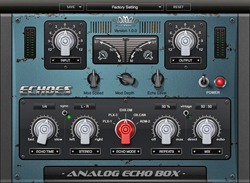 ► Nomad Factory announces the release of ECHOES, a new Analog Echo Box plug-in designed to reproduce the warmth and richness of classic vintage delay effects. Following the philosophy behind Nomad Factory's MAGNETIC plug-in, ECHOES is designed to be easy to use. ECHOES has captured the essence of the original effects by keeping it simple. With the turn of a few knobs, the plug-in delivers musical results and instant analog delay. www.nomadfactory.com.
► Voxengo Tube Amp version 2.3 update is now available for download. Tube Amp is a free audio effect plugin that applies asymmetric tube triode overdrive usually found in single-tube microphone pre-amp boxes. The sound this plug-in produces varies from a mild "warm" overdrive to a fuzzy distortion. Tube Amp conforms to AudioUnit and VST plugin specifications, and is available for Mac OS X (v.10.4.11 and later) and Windows (32-bit and 64-bit) computers. This version features a new processing mode that is capable of a very strong overdrive performance suitable for producing a crunchy guitar sound and performing final loudness maximizing. www.voxengo.com.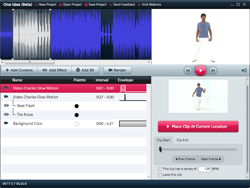 ► Mixed In Key, makers of Harmonic Mixing software, announces One Idea, an innovative new software program that allows anyone to make a professional music video. Simply open an audio file, choose a video clip, and One Idea will automatically sync them together. "One Idea removes the steep learning curve from making high-quality music videos", said Yakov Vorobyev, founder of Mixed In Key. "With bundled content, built-in effects and a simple interface, anyone can jump in and create a music video for any audio track." The key to One Idea is beat matching. The playback speed of any video can be adjusted to match the beat of the audio track. You can import your own footage or choose from One Idea's collection of included clips to get started. Video layers can then be blended together using click and drag envelopes, similar to those found in audio editing software. Built-in effects give your music video a personal style. One Idea includes filters such as Pan and Zoom, Color Balance, Tile Pulse and many more. Effects can be stacked for limitless combinations. Key features: Automatically detects the tempo of imported audio files; imports included clips or your own video footage from DSLR cameras such as Canon 5D Mark II; built-in effects tweak the look-and-feel of your video; effects can be used to create video loops and add motion to still images; content generators provide endless creative possibilities for VJs; supports MP3, WAV and AAC audio files; imports many different video formats, including MP4, MOV, and AVI . The current beta version of One Idea is available for $199. The price for this version will increase to $599 soon. One Idea requires Windows 7 / Vista / XP. One Idea for Mac is coming later this year. www.OneIdeaVideo.com.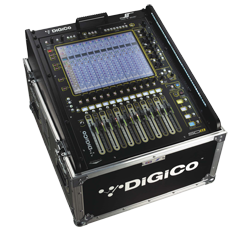 ► DiGiCo unveiled their new SD11, a console that is the smallest (both in size and price) that the company has ever produced, but still packed full of DiGiCo's features. The SD11 is designed to be equally at home as a desktop console or mounted in a 19" rack. By simply removing the end cheeks and armrest, 19" rack fixings are revealed, making it straightforward to incorporate the SD11 into any touring or installation environment. Manufactured with a steel chassis for strength and a polycarbonate-overlaid, aluminum work surface for reduced weight, the SD11 features 12 touch sensitive moving faders below a 15" touch sensitive screen. 16 Microphone pre amps, eight line outputs and two mono AES I/O are provided. Further connections are a MADI port, GPI/O, MIDI, Overview screen output, Word Clock I/O, an Ethernet port for console remote control / networking and a USB port for file exchange and session backup. The SD11 features 32 input channels with full processing, eight of which can be configured as full Flexi Channels. All inputs have dual mono inputs for fast 'Main' and 'Alt' channel switching, which are ideal for corporate events where a large number of spare microphones may be required. Standard input channel processing includes channel delay; single and multi channel presets; HPF and LPF, with 24db per octave; four bands of parametric EQ with band curve selection; compressor and gate; moveable insert point and access to all bussing. Dynamic EQ provides both expansion and compression on all four bands of the parametric EQ. Like all DiGiCo consoles, the SD11 software runs on a standard PC or Intel-based Macintosh for offline preparation and remote control of the console. One SD11 can also be linked to another, using a standard CAT5 crossover cable, providing 24 faders for control. www.digico.biz. ►
THE MIX
► After more than five years of working together, European jingle and production house VHU Europe and Seattle-based ReelWorld have decided to both go their own ways, and focus on their own strengths. Apart from producing their own jingle packages and production libraries, VHU Europe has been ReelWorld's European representative since 2006. Over the last five years the Netherlands-based company managed relationships with about 100 clients on behalf of its American partner. As a result, ReelWorld jingles can now be heard from Scandinavia to Portugal, and from Germany to Russia. "Despite of that, ReelWorld wanted to have their own office in this market", explains VHU Europe founder and creative director Diederick Huizinga. "At the same time our own company has grown." He thinks the reason is the increasing demand for customized, European sounding jingles. "That's why we both decided to focus on our own strengths. I want to sincerely thank ReelWorld for the partnership over the last five years, and wish them nothing but the best." VHU Europe will from now on be the exclusive home of PURE Jingles - the European hit radio jingle sound & imaging – and the sound design team of PANTHERSOUNDS. Huizinga: "Stations can make their PURE Jingles package complete with a matching FX and music workpart kit from PANTHERSOUNDS, like the Orange Panther Creator production service or an individual Custom DNA. It's the best of both worlds." www.purejingles.com, www.panthersounds.com. ▲