TECHNOLOGY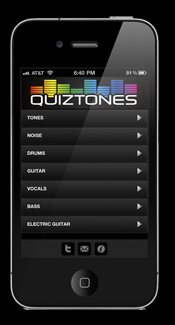 ► Audiofile Engineering, creators of professional audio software for Mac OS X and iOS, have recently acquired Quiztones (http://quiztones.net), an ear training application for audio professionals and musicians, and released it as an App for iPhone, iPod touch, and iPad. Quiztones founder Dan Comerchero joins Audiofile Engineering as a Product Manager. Quiztones is designed to train the ears to instantly and intuitively recognize frequencies. This is useful for tasks like mixing, adjusting EQ settings, and identifying and eliminating feedback. "As musicians and audio professionals, we spend a great deal of time analyzing frequencies, whether we're adjusting them for a good mix in the studio, for immediate release or trying to get rid of feedback on stage," said Comerchero. "Ear training with Quiztones can make this a lot faster and easier by eliminating trial and error methods of frequency identification such as sweeping." Quiztones cleverly uses various quizzes to engage users in training exercises from simple frequency tones and pink noise to real-world sounds like frequency-altered drums, acoustic guitar, electric guitar, bass and vocals. Quiztones is designed to: Sharpen frequency recognition skills, improve mixing and EQ skills, prevent noise buildup in mixes and recordings, identify and eliminate feedback on stage, and eliminate the need for time-consuming frequency sweeping. Quiztones requires iOS 4.0 or later on an iPhone, iPod touch, or iPad and is available through iTunes for $2.99. To learn more about Quiztones, visit: audiofile-engineering.com/quiztones.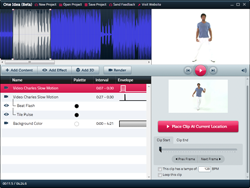 ► Mixed In Key, makers of Harmonic Mixing software, announces One Idea, a new software program that allows anyone to make a professional music video. Simply open an audio file, choose a video clip, and One Idea will automatically sync them together. "One Idea removes the steep learning curve from making high-quality music videos", said Yakov Vorobyev, founder of Mixed In Key. "With bundled content, built-in effects and a simple interface, anyone can jump in and create a music video for any audio track." The key to One Idea is beat matching. The playback speed of any video can be adjusted to match the beat of the audio track. You can import your own footage or choose from One Idea's collection of included clips to get started. Video layers can then be blended together using click and drag envelopes, similar to those found in audio editing software. Built-in effects give your music video a personal style. One Idea includes filters such as Pan and Zoom, Color Balance, Tile Pulse and many more. Effects can be stacked for limitless combinations. Key features include: Automatically detects the tempo of imported audio files; Imports included clips or your own video footage from DSLR cameras such as Canon 5D Mark II; Effects can be used to create video loops and add motion to still images; Content generators provide endless creative possibilities for VJs; Supports MP3, WAV and AAC audio files; Imports many different video formats, including MP4, MOV, and AVI. A beta version of One Idea has been available for $199. The price will increase to $599. One Idea requires Windows 7 / Vista / XP. One Idea for Mac is coming later this year. www.OneIdeaVideo.com.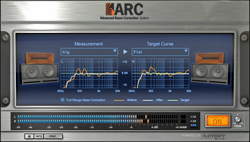 ► IK Multimedia announces the version 1.3 update of its ARC (Advanced Room Correction) System. This new version adds native compatibility with 64-bit applications and operating systems and is a perfect companion to the company's T-RackS® 3.5 mixing and mastering suite. The ARC System also has a new pricing structure that makes it more affordable for users to bring custom control room tuning to their own studios both large and small with price reductions starting at 50% off of the previous systems' prices. The ARC System delivers a solution to acoustical problems for any DAW-based studio. Combining a professional calibrated measurement microphone, standalone software that captures sound information and calculates proper room correction, and a multi-platform plug-in: this technology will improve how your studio sounds forever. ARC features the revolutionary Audyssey MultEQ® technology, which measures acoustical information throughout the listening area in your studio. It then combines this information to provide an accurate representation of the room's acoustical problems. The equalization solution then corrects for both time and frequency response problems more effectively and efficiently than any other room correction EQ on the market. The result is a clear and reliable representation of your mix. Regardless of the acoustical issues in your studio, what you are recording, mixing or mastering becomes immediately clear and reliable and your studio sound will improve forever. The native version of the ARC System costs $299.99/€229.99* with a cross-grade option at $249.99/€189.99. The TDM version of the ARC System costs $349.99/€269.99 with a cross-grade option at $299.99/€229.99. An upgrade from the native version to the TDM version is available for $99.99/€74.99. The ARC System version 1.3 is now available from the IK Multimedia online store and selected music retailers. www.ikmultimedia.com/arc.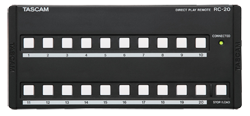 ► Tascam have released the RC-20 Direct Play Remote. The RC-20 brings instant playback through flash start to the CD-500 or CD-500B – the only CD players available with flash start capability. A set of 20 pushbuttons on the remote play the first 20 tracks on a CD when plugged into the remote jack on the CD-500 or 500B. The simple-to-use remote includes space to label each track to help locate the target material. A Stop/Load button is also available for preloading tracks and stopping playback. All of this is housed in a remote under 9" wide. Dimensions: 8.25" W x 0.78" H x 3.7" D. Weight: 13.4 oz. www.tascam.com.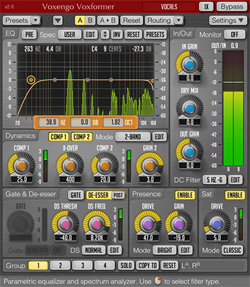 ► Voxengo Voxformer version 2.6 update is now available for download. Voxengo Voxformer is a multi-functional vocal channel strip plugin for professional audio production applications, available in AudioUnit and VST plugin formats, for Mac OS X and Windows computers. The most important change this version implements is the addition of 3 new saturation modes that extend the sound coloration palette you can use to process your tracks. The coolest feature of Voxformer is its one-knob vocal compressor. Using only a single knob, you can get a tight, open and definitive professional vocal sound with an excellent articulation in no time. You do not have to worry about common ratio and make-up gain controls since they are automatically selected by the advanced compression algorithm while attack and release parameters are stored in a mode preset. Moreover, Voxformer features two compressors of this type, allowing you to apply either a two-band or a two-stage (serial) vocal compression. Voxengo Voxformer end-user license is available for purchase on-line for US $69.95. www.voxengo.com. ►
PRODUCTION LIBRARIES
► FirstCom Music announced the induction of Build Destroy Music (BDM) into The Chronicles Of Hip-Hop catalog. BDM, created and produced by DJ Skee, is a hybrid music company featuring up-and-coming musicians, songwriters, and producers. It is designed to fill the demand for unencumbered, cutting-edge, original music for TV, commercials, films and video games. By leveraging its sister company, SKEE.TV and its founder DJ Skee, BDM looks to capitalize off of the brands' built-in network; a network with over 400 million impressions to date via video and radio content. "Skee has created a mecca for the freshest, newest talent anywhere around with BDM and we are excited to have this incredible talent pool producing for Chronicles of Hip-Hop," says Ken Nelson – Sr. Vice President/Executive Producer for FirstCom Music. In addition to being one of the highest regarded DJ's in the world, DJ Skee has four Sirius/XM radio shows, a show on KIIS-FM in Los Angeles, a leading media marketing and online entertainment company in SKEE.TV and was named to Billboard Magazine's coveted "30 Under 30" industry Power Players. The multi-hybrid music mogul launched the SKEE.TV platform in 2007 and has quickly built it into one of the most successful producers of original content and marketing initiatives on the web, orchestrating campaigns for Fortune 500 companies including Daimler-Chrysler and T-Mobile, as well as producing some of the most viewed music videos of all time from artists such as Far East Movement, New Boyz, Soulja Boy Tell Em, Chris Cornell and The Game. The first two releases can be auditioned at firstcom.com.
► Stephen Arnold Music has launched ''Locals Only™''. Driven by an entirely new user/client-sourced workflow, Locals Only is an innovative music package and platform that provides its clients with music branding that constantly evolves and refreshes. Locals Only taps the efficiency of social media applications to create a unique, private community that shares in the use and creation of branded music content. It works like this: Working with a custom collaborative online toolset created by Stephen Arnold Music, Locals Only users will share a market exclusive, core package – including at least 15 themes -- anchored by a memorable 3-note sonic logo. Each user/client will receive at least one custom arrangement to meet their specific local branding needs, via an in-depth consultation with Local music branding specialists from Stephen Arnold Music. The Locals Only private online community can share in new arrangements as they are produced by Stephen Arnold Music, allowing news directors and promotional directors to communicate about suggestions for fresh arrangements and recent additions via a blog, forum, and social networking. Once a new cut has been added, users can log into a music download site for quick access to the latest user-sourced arrangements. News and community updates will be posted to Facebook and Twitter. Locals Only stations benefit from a constantly evolving source of musical content that will always integrate with their own sonic branding, all available at a cost-effective syndicated price. This is because any station that is a member of Locals Only not only receives a market-exclusive package, but also enjoys access to an increasingly large pool of themes and arrangements as other stations join, or when existing members' localized themes are updated. For instance, if the package is licensed to stations in 20 markets, each client station could access 35 works: made up of 15 from their core package, plus 20 more market-specific arrangements. Ringtones will also be available through Stephen Arnold Music's new mobile delivery system. Viewers will be able to text a simple keyword to a short code to download the ringtones to any mobile phone platform. www.stephenarnoldmusic.com. ►
THE MIX
► vCreative adds 22 more stations to their PPO system. The twenty-two Cromwell stations in Illinois, Tennessee and Kentucky are using the PPO system for submitting and tracking production workflow with full accountability every step of the way. President Bayard "Bud" Walters reports "our staff is very excited about going paperless." The cloud-based PPO workflow platform also maximizes Cromwell's creative abilities by sharing resources—such as writers or voice talent—seamlessly across markets, regardless of location. Production orders can also be filled out anywhere Account Executives go, as PPO is web-based and remotely accessible. Currently, around 1,400 radio stations use the vCreative™ PPO system. More information is available at www.vcreativeinc.com.
► MacMusic/440Network announces the launch of what appears to be the first and only website exclusively dedicated to audio software on Mac, PC and iOS systems. 440Software proposes the first complete directory of iOS, iPhone / iPad audio applications that will help users find the software they are looking for without having to search the iTunes search engine. An efficient "watch list" will also help subscribers keep all of their audio software up to date. Simply sign in with your FaceBook, Twitter or Google login information to take advantage of all 440Software useful information for FREE! 440Software is the extension of the audio software section found on MacMusic.org. There are many other cool site features such as browse by categories, audio production, educational, top downloads, top view, top rated, etc, that will certainly help audio software enthusiasts find the audio software or plugins that really fits their needs. www.440software.com. ▲