TECHNOLOGY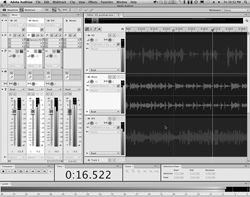 ► It's official… Adobe announced at NAB that a new cross-platform version of Audition will join the next version of Creative Suite Production Premium: CS5.5, bringing new efficiency and flexibility to audio post-production workflows for video professionals and audio specialists. Audition CS5.5 will be available on Windows and Mac for the first time and can be purchased as a standalone product or as part of Production Premium. Starting at $99 to upgrade from Audition 1.5 and later versions and all versions of Soundbooth, and with an MSRP of $349, Audition CS5.5 is scheduled to ship in May with availability through Adobe Authorized Resellers, the Adobe Store and Adobe Direct Sales. Features include: Roundtrip editing between Audition CS5.5 and Premiere Pro CS5.5; Robust audio workflow including recording, multitrack editing, mixing, mastering and audio sweetening; Fast new multiprocessor-powered audio playback engine ; Quick creation of persistent subclips that combine separate audio and video source files using the Merge Clips feature; Exchange of projects with popular digital audio workstations (DAWs) and other non-linear editing systems (NLEs); New dual-system sound support in Premiere Pro CS5.5 ensuring audio recorded in the field syncs quickly and correctly with video – dual-system sound support is essential for many of today's popular cameras like HDDSLR, the RED ONE and Silicon Imaging SI-2K that lack robust recording capabilities and require a dedicated sound recorder. www.adobe.com.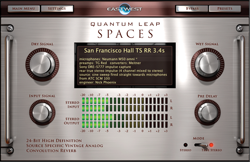 ► EASTWEST, a maker of virtual software instruments, announced Quantum Leap Spaces, a new, 24-bit true stereo convolution reverb that sets a new standard by utilizing new impulse recording techniques developed over the past seven years. Produced and engineered by Nick Phoenix, Quantum Leap Spaces includes custom impulses taken over the past seven years from around the globe, with a focus on the western United States. Concert halls (including the EastWest/Quantum Leap Symphonic Orchestra Hall), churches, cathedrals, caverns, recording studios (including EastWest Studios), soundstages, forests, a swimming hall, parking garages, water tanks, a tunnel, vintage plates and custom digital reverb preset impulses ensure you'll find the right space to fit your needs. An arsenal of the best gear that Neumann, Neve, Telefunken, TG, Manley, Sennheiser, Fairchild (to name a few) have produced over the past 60 years was used to create Quantum Leap Spaces, along with the Sony DRE S777 sampling reverb and Meitner A-D converters. ATC monitors were positioned in the room/hall to emulate the real world sound projection properties of various instruments. For example, firing the sweep tones from the middle to left rear of the stage, backwards and slightly towards the floor created an impulse taken for a French horn. 1st violin section impulses were taken by firing a series of speakers at an angle towards the ceiling, just like a real section. A fifth speaker with the high end reduced was fired towards the floor to emulate the body of the violins. This same methodology was used to record reverbs for rock instruments in various LA studios. "Usually the speakers used in these convolution sampling sessions are of average quality because you destroy them occasionally, but that was not a compromise we were prepared to make, we wanted everything to be the best quality possible" said Phoenix. Because of this, the reverbs in Quantum Leap Spaces are the best available, and have a fantastic balance of early reflections and room sound that really draws a dry instrument into the space, rather than the usual "sound plus reverb" result. Quantum Leap Spaces includes a hi-resolution, true stereo engine that focuses on delivering the best sound at a very low CPU load. Most impulses are in 8-channel format to accommodate surround mixes. Quantum Leap Spaces is available for both MAC and PC for $299 MSRP. www.soundsonline.com/spaces.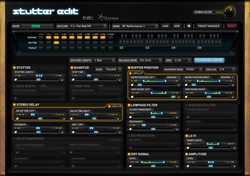 ► iZotope has released Stutter Edit, its first collaboration with GRAMMY-nominated composer and electronic musician Brian Transeau (BT). Stutter Edit's features revolve around an innovative live sampling engine that lets producers, laptop performers and other musicians manipulate audio in real-time. Stutter Edit slices audio into small fragments and sequences the pieces into razor-sharp rhythmic effects, recreating techniques that once took hours to perfect in the studio. Results can range from jarring to subtle: a melody can be disintegrated into a syncopated rhythmic roll, or a drum hit can be transformed into an arpeggiated scale of pitches. The complex set of tools in Stutter Edit is balanced by an elegant MIDI control scheme, which makes adding effects a completely intuitive process—much like playing an instrument. In addition to these trademark stutter effects, performers and producers can juggle between a multitude of rhythmic effects including gate, pan, digital distortion, delays and filters. The Generator module creates custom noise sweeps that can be triggered along with stutter effects to build tension and create dynamics, both in live performances and studio arrangements. "Stutter Edit exists because I wanted to step on stage with a laptop and improvise the complex and musical rhythmic effects that sometimes took me days of trial and error to create," explains BT. "I'm elated to partner with iZotope and unveil Stutter Edit to the world, and I can't wait to see what other producers, composers and sound designers will do with this insane new effect. I truly believe this will dramatically change the topography and scope of what is possible with live sound design and remixing. In the studio, musicians can utilize Stutter Edit to add color and transitions to recordings, making arranging with effects all about intuition instead of trial and error. Specifications: Windows (XP, x64, Vista, 7); Mac OS X v10.5.8 or later (Universal Binary); Plug-in formats: VST, Audio Unit, Pro Tools 7.4+ (RTAS). $249 USD MSRP. www.izotope.com.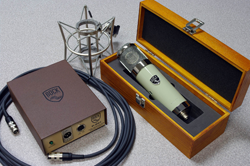 ► TransAudio Group introduced the new BOCK 241 mid-priced vocal tube microphone. The BOCK 241 updates the performance level of BOCK 151 bringing it closer to the top-selling BOCK 251. The new BOCK 241 features a high frequency flat or minus switch, dedicated cardioid operation, and outboard inductor based power supply to drive the vintage inspired tube circuitry. Users will notice the 241 offers a similar look and feel to the BOCK 251 due to a revised body and head grille that better approximates the 251's cherished sonic cardioid characteristics. The 241 will replace the 151 at exactly the same price point. MSRP: $3,650.00. Also from TransAudio, the new Drawmer 4x4R Active Signal Splitter. The 4x4R offers four inputs, each switchable between a mic and line. Each of four input sections offers a six LED meter, 48v phantom switch, 66 dB of mic gain and a "listen" function to monitor any of the four input sections through the front panel headphone amp. In addition, each input section can be linked to the adjacent input section offering four different input to output options: 4x4, 3x12 +1x4, 2x8 or 1x16. Optional transformer isolation is available. A painstakingly designed signal path, compact size in 1 RU form factor, along with quality construction, make this the perfect tool for a portable live sound rig or a fixed installation that requires multiple outputs from a few inputs. www.transaudiogroup.com. ►
PRODUCTION LIBRARIES

► After several months of operation in the CHR and AC formats, United Stations Radio Networks, Inc. (USRN) has announced that the network will be making their new radio imaging service called PHANTOM PRODUCER available to Country stations. The move expands the revolutionary online production app into America's largest format and brings the total number of formats for which the service is available to four (CHR, AC, Hot AC and now Country). The service had been available experimentally in the Country format for a brief while, and with this announcement, the Phantom Producer service officially launches for the Country format. Altogether, imaging and production from Phantom Producer can now be heard in nearly 75 US cities. This announcement comes from USRN's EVP/Programming, Andy Denemark, along with Phantom Producer's creator and Executive Producer, Jeff Thomas. Phantom Producer has already completely altered the way customized imaging can be created at radio stations. The service gives users the ability to audition, mix and download their own customized sweepers, jingles, links and other interstitial production elements via a password-protected website. Phantom Producer works via a new and exclusive online user interface that accesses customized elements created just for the client station - along with regularly updated imaging material - and allows users to mix-n-match those elements into perfectly mixed sweepers or jingles that can be downloaded immediately, ready for air in a matter of seconds. No new gear or software is required and no production skills are necessary, as a result, the Phantom Producer service ushers in a new era of "desktop imaging." More information and several video tutorials are available at www.phantomproducer.com. United Stations is the exclusive distributor for Phantom Producer in North America. Jeff Thomas has helped image radio stations all over the world in a career that has spanned more than 30 years. Thomas is perhaps best known for his time spent at Clear Channel's KIIS-FM, Los Angeles where he was the station's Creative Services Director, but he's also widely known for creating the Killer Hertz Sound Design Library, that's used by radio and television stations all over the world and in numerous movie trailers. The Phantom Producer Country production team includes imaging wizard John Kerber who's imaging and sound design work has covered such brands as MTV, VH1, CMT and more. John has been Imaging Director for Howard Stern since 2006 where he pioneered the sound for Sirius channels HOWARD 100 and HOWARD 101. He has also consulted and contributed to many imaging libraries including his own Blue Sound Design library. USRN currently produces and distributes dozens of format-specific programs and services accounting for over 5000 affiliations with commercial radio stations in the U.S. The New York-based company maintains programming, sales and affiliate marketing offices in New York, Los Angeles, Chicago, Dallas, Washington and Nashville. USRN was founded in 1994 by radio pioneers Dick Clark and Nick Verbitsky.
► New releases from Killer Tracks include KT 241 Dramatic Trailers, complete with live strings and big orchestral sounds. KT 240 Dance-Pop, a mixture of vocal and instrumental tracks divided into three sections: The Dance Floor, Top 40's and Urban Dance. CM 81 80s & 90s Hip Hop relives the popular hooks and beats from the original glory days of Hip Hop television. NM 304 Heartland Rock captures the sound of the hard working soul of America with electric and acoustic guitars, drums, bass, accordions, and even fiddles painting heartfelt stories of the heartland. Audition these and more at www.killertracks.com. ►
THE MIX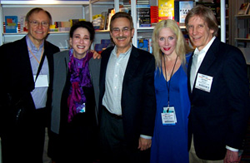 ► Geller Media president Valerie Geller celebrated the release of her new book, "Beyond Powerful Radio" with a launch party and autograph session at the NAB convention in Las Vegas. Seen, from left, are Radio-Info's Tom Taylor, Geller, Joint Communications president John Parikhal, KVHS San Francisco GM Melissa McConnell (also the author of the book's instructor manual) and Hedquist Productions' Jeffrey Hedquist. Hedquist contributed parts of the following chapters: Becoming a Powerful Storyteller, including his "Ten Questions for storytellers." Sales & Commercials, including "Six Story Starters." Fundraising & Giving. Jeffrey Hedquist is President and Creative Director of Hedquist Productions and regular columnist for Radio And Production. www.Hedquist.com.
► Planet Charley Productions LLC continues to raise money for the victims of the Japan from the earth quake and tsunami on March 11th. As part of their "We Care About Our Planet Program" one dollar from each World Class talent booking will be donated in full to The American Red Cross who is working in concert with The Japanese Red Cross for financial aid of the victims. More information at www.PlanetCharley.com. ▲