TECHNOLOGY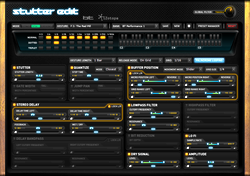 ► iZotope has released Stutter Edit, its first collaboration with GRAMMY-nominated composer and electronic musician Brian Transeau (BT). Stutter Edit's features revolve around an innovative live sampling engine that lets producers, laptop performers and other musicians manipulate audio in real-time. Stutter Edit slices audio into small fragments and sequences the pieces into razor-sharp rhythmic effects, recreating techniques that once took hours to perfect in the studio. Results can range from jarring to subtle: a melody can be disintegrated into a syncopated rhythmic roll, or a drum hit can be transformed into an arpeggiated scale of pitches. The complex set of tools in Stutter Edit is balanced by an elegant MIDI control scheme, which makes adding effects a completely intuitive process—much like playing an instrument. In addition to these trademark stutter effects, performers and producers can juggle between a multitude of rhythmic effects including gate, pan, digital distortion, delays and filters. The Generator module creates custom noise sweeps that can be triggered along with stutter effects to build tension and create dynamics, both in live performances and studio arrangements. On the stage, Stutter Edit makes it simple for laptop performers to create improvised remixes that include incredible stutters, fills and build-ups. Stutter Edit's MIDI-controlled workflow is a perfect complement to performers using Ableton Live for DJ sets. In the studio, musicians can utilize Stutter Edit to add color and transitions to recordings, making arranging with effects all about intuition instead of trial and error. BT is widely recognized for pioneering the "stutter edit" as a musical technique. He originally designed the Stutter Edit software to help automate his painstaking process for breaking audio into impossibly small fragments and using them for new sound synthesis. Transeau has used various early versions of the Stutter Edit software both in his studio and in live performances for years, but until today these tools have not been available to the public. BT's Sonik Architects software company was recently acquired by iZotope Inc., who built the technology into a complete product compatible with both PC and Mac OS X platforms and major music production and performance hosts. $249 USD MSRP. www.izotope.com.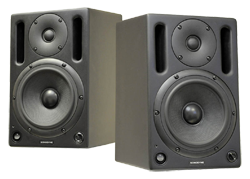 ► TransAudio Group, distributor of Sonodyne nearfield monitors, recently introduced the Sonodyne SM 50Ak and SM 100Ak. Leveraging India's booming economy with the company's forty years of experience in the branded and OEM hi-fi market, Sonodyne builds nearfield monitors that sell for less than equivalent American and Euro monitors. The SM 50Ak is the smallest monitor in the Sonodyne range. Its active bi-amp design delivers 45-watts to the 51/4-inch woofer and 45-watts to the tweeter to smoothly reproduce 70 to 22,000 Hz. Its aluminum enclosure and well-considered shape contribute to the open high-end, honest mid-range, and tight bass. The next model up is the SM 100Ak, also biamplified, offering 80-watts to a 61/2-inch woofer, and the same 45-watt powered tweeter. The Sonodyne SM 100Ak delivers more low-end response, a larger sweet spot in front, and greater SPL. MSRPs: SM 50Ak - $1,050/pair , SM 100Ak - $1,400/pair. www.transaudiogroup.com.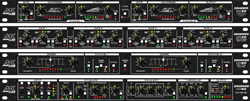 ► Drawmer announced a revision to their popular MX Series, now called MX Pro. These single rack-space analog processors offer Drawmer's best value and are still handmade in the Drawmer UK factory. Four units currently comprise the Drawmer MX Pro Series: MX30 compressor, MX40 four-channel gate, MX50 De-Esser and MX60 Channel Strip. All of them rely on Drawmer's proprietary circuitry and deliver a well-considered mixture of automatic functionality and intuitive, musical controls. Combo XLR and 1/4-inch jacks accommodate any infrastructure, live or studio. www.drawmer.com.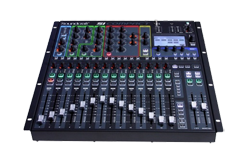 ► The new Soundcraft Si Compact Series digital consoles bring Soundcraft's digital mixing platforms to an affordable price level for tour sound, corporate event, house of worship and theatre applications, amongst others. With full DSP functionality built-in to a small-footprint chassis, the Si Compact range provides up to 40 inputs to mix in 3 frame sizes. Motorized faders with patented Soundcraft FaderGlow™ operate on two layers, but the main difference from similarly priced mixers is the provision of a full encoder set for all the functions on a channel, from input gain through EQ and dynamics to bus controls. The Si Compact series packs digital mixing facilities along with Lexicon® effects into a trio of small footprint consoles available in 16, 24 or 32 mic/line input formats, with 4 stereo returns. No layering of the audio controls makes operation fast and simple. There are 4 separate Lexicon FX processors with dedicated FX busses in addition to the main mixes, and BSS Graphic EQ for every bus. www.harman.com.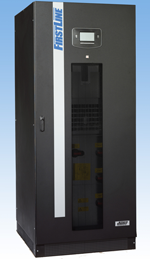 ► Staco Energy Products Company introducee the FirstLine® P, a parallelable three-phase Uninterruptible Power Supply (UPS) for 80-125kVA applications. These units boast efficiencies of up to 98%, while delivering maximum availability and flexibility. True on-line, double-conversion technology is achieved through IGBT and Digital Signal Processor (DSP) control, enabling delivery of a high input power factor of 0.99, and a low input current distortion of less than or equal to 3%. The compact and reliable FirstLine® P is ideal for information technology (IT) applications such as those found within the broadcast arena's highly digitized environment, especially to protect transmitter exciters and HD radio coders, monitoring, remote control and Emergency Alert Systems, links to remote programming sources via digital telephony, satellite, etc., as well as office computers, stand-alone computers and computer networks for audio playback, program scheduling and more. As a standard feature, up to 8 FirstLine® P units (N + 1) can be run in parallel, providing redundancy for mission critical applications requiring no additional hardware. All units are hot swappable, for maximum flexibility, availability and expandability. Dual Bus System and Dynamic Dual Bus system configurations provide an efficient and reliable power source. The FirstLine® P requires only front, top or bottom access, so it can be placed against a wall, minimizing its footprint. www.stacoenergy.com.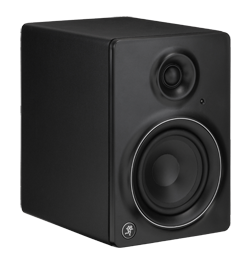 ► Mackie announces a complete redesign of its line of affordable powered studio monitors, the MRmk2 Mackie Reference Monitors. The new series is aimed at those looking for a professional monitoring solution for project studios, edit suites and home theatres. Mackie MRmk2 studio monitors feature all-new professional transducers specifically designed to match their respective amplification. Both models employ a 1˝ neodymium magnet-driven soft dome tweeter featuring ferro-fluid cooling to help protect against power compression during wide dynamic playback. The 5.25˝ (MR5mk2) and 8˝ (MR8mk2) hyperbolic-curved cone woofers reduce severe cone resonances, drastically minimizing distortion. The Class A/B amplifier section features XLR, TRS and RCA connectivity, along with user-adjustable acoustic controls for simple room correction. The cabinet is rear-ported, reducing distortion, and features an optimally-sized custom Waveguide and molded baffle, offering balance to the HF / LF content while increasing both the stereo imaging and depth of field. The MR5mk2 has a U.S. MSRP of $199.99 and the MR8mk2 has a U.S. MSRP of $329.99. www.mackie.com. ►
PRODUCTION LIBRARIES
► Soundquadrat announces the official launch of Fame FX Vol.1. The sound FX buyout package offers more than 450 royalty free imaging FX for Radio, TV and Broadcasting Media. Fame FX comes with mix outs, solo workparts and includes: impacts, hits, sonic IDs, starters, electronics, flyIns, combos, slow downs, stops, impact loops, zaps and more. Fame FX is the only self expanding and community featured Sound FX library. As more copies of the library are sold, additional elements are added to the library. Earlier purchasers reap the most additional elements. Audio is delivered as .wav files at 16bit 44.1kHz. Current price is $299 US. Soundquadrat's imaging can be heard on more than 200 stations around the globe, including world famous industry brands like Clear Channel, FOX, Entercom, Citadel, CBS, Cumulus, Astral, NRJ and many more. www.fame-fx.com. ►
THE MIX
► New stations to sign up for the vCreative™PPO (Paperless Production Orders) system include Border Media's Austin, TX stations and LKCM Radio Group. Senior VP of Operations and Austin Market Manager for Border Media Bob Proud says: "We're always looking for ways to work smarter. The PPO System allows us to do just that . . . making life easier for our staff and allowing us to do a better job for our clients." In multi-market radio groups such as LKCM, PPO also streamlines the production workflow between staff members located in separate buildings. This allows for sharing of creative resources such as writers, voice talent and producers across markets. vCreative™ PPO is a web-based system that provides cost-saving organization and accountability for production workflow. The vCreative™Network offers the ability to cloud base creative resources such as copy writing, production, display ad design, and voice-overs. Currently, over 1,200 radio stations use the vCreative™ PPO system. More information is available at www.vcreativeinc.com.
► After a recent March 8th layoff from Clear Channel Radio, Buzz Calhoun has shelved a 23 plus year career in Broadcasting to pursue voiceovers full time from home. "It just seemed to me that the jobs were fewer and fewer and the number of applicants greater and greater. Either I wasn't as good as I thought I was to land a new job, or there were too many of me trying for the same position. Whatever the reason, it seemed futile to continue an unfruitful pursuit." After considering all options, Calhoun decided to cash in on favors with contacts he had established over the years and ventured into doing voiceovers full time from home. "It just seemed like the next logical step, I enjoy doing VO, this way I can still do what I love and evolve into a voice actor rather than worry about 'announcing' for a station, plus I can spare myself from living in a cubicle." Gone also is the name Buzz Calhoun, now choosing to simply use his real name, Erik Cudd. "The alias has been with me since the early 90's and I doubt anyone would want to steal it, I know it's there if by some chance I ever get a call from a station but I'm not really holding my breath. I just decided to use my real name and look forward to doing what I can for someone who needs a voice like mine." A new website, logo, and home studio are now in operation and Cudd is on the lookout for any and all clients. His website is erikcuddvoiceovers.com.
► Jeffrey Hedquist, President/Creative Director of Hedquist Productions, Inc. (RadioHed) will be doing the following live seminars: The Conclave at The Doubletree Hotel Minneapolis-Park Place, Minneapolis, MN, 7/15/11 3:30 – 4:30 PM, "Words That Win", www.theconclave.com. Montana Broadcasters Association, 9:00 AM – 3:30 PM, 10/4-6, www. mtbroadcasters.org. Kentucky Broadcasters Association, "Interactive Commercials", 10/12/11 8:30-11:30 AM, Richmond, KY, www.kba.org. Hedquist issued this invitation, "Come and say hi. Bring your toughest commercial challenges and fire them at me. It allows me to dig deep to try to come up with creative solutions that will work for your clients." ▲