TECHNOLOGY

► XTA announced the DP548 Dynamic Audio Processor. The DP548 combines the best of the company's product line and delivers an audio solution which is their most powerful yet. "You can think of the DP548 as 'a DP448 on steroids', but that only paints part of the picture." Says XTA Sales & Marketing Director, Bill Woods. "Think of a standard DP448 - fully loaded with a 28-band EQ, eight parametric EQs and delay on every input; high pass, low pass, nine parametric EQs and delay, plus a combination of two limiters, including the look-ahead "D-Max" limiter on each output. Then add three bands of Dynamic EQ on every input, a variable knee compressor on every output with full control over ratio, threshold, attack and release times. On top of all that, include full matrix mixing of any input to any output or mix of outputs and provide memory recallable dynamic EQ for the first time via AudioCore, and that is the power and potential of the DP548." www.xta.co.uk.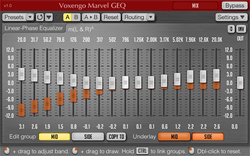 ► Voxengo released Marvel GEQ, a freeware linear-phase 16-band graphic equalizer plug-in with multi-channel operation support (supporting up to 8 input/output channels, audio host application-dependent). Marvel GEQ offers extensive internal channel routing capabilities, and supports mid/side channel processing. Marvel GEQ is available in AudioUnit and VST plug-in formats, for Mac OS X (v.10.4.11 and later) and Windows (32-bit and 64-bit) computers. Marvel GEQ allows audio engineers and musicians to apply quick EQ shape adjustments, both to audio tracks and full mixes. Other features include: freehand drawing mode, +/- 12 dB gain range per band; channel grouping; preset manager; A/B comparisons; and all sample rates support.
Also from Voxengo, update version 3.2 for Soniformer is now available for download. Soniformer is a spectral mastering dynamics processor plug-in for professional music production applications, available in AudioUnit and VST plug-in formats, for Mac OS X (v.10.4.11 and later) and Windows (32-bit and 64-bit) computers. The update includes the following changes: Oversampling filter type "Min-phase/Lin-phase" switch added; Global "Auto Oversampling Level" 1X (off) option added; Graphics drawing performance improved; Level meter's "density mode" look improved, and other additions. Every parameter in Soniformer is defined by means of a graphic envelope which is freely-modifiable and which may contain an unlimited number of control points. Beside usual threshold, attack, release and compression/expander ratio parameters, Soniformer offers you control over "stereo width" and "panning" parameters, making Soniformer an effective tool for stereo field adjustments. www.voxengo.com.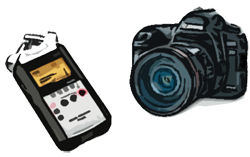 ► Singular Software™, a developer of workflow automation applications for digital media, announced that DualEyes™ is now available for Mac® OS® X. DualEyes is designed as a standalone application for the automatic synchronization of video and audio clips for dual-system audio production. Designed to work alongside any video editing application, DualEyes is streamlined for the task of replacing in-camera scratch audio with separately recorded high-quality audio. "DSLR popularity is still the big news in the industry, and it is reflected in the growing requests we've received for DualEyes support on the Mac platform," says Bruce Sharpe, CEO, Singular Software. "DualEyes eliminates the painful process of manual audio replacement during post-production, which saves hours." Recommended for both novice users and seasoned professionals, DualEyes synchronizes and cuts the audio to automatically match each video clip in both start time and duration. Users simply record audio on a separate recorder and use DualEyes to replace the camera audio with that high-quality separate audio. With DualEyes' technology, all original media files are kept intact, while new media files are created for advanced flexibility. "DualEyes allows you to sync and interleave the high-quality audio with the original video, without re-rendering the video. The result is a new clip, ready for editing, that has the original-quality video synced with your high-quality audio," says Al Caudullo, 2D and 3D filmmaker, teacher and journalist. DualEyes for Mac OS X 10.5 and later is available to purchase via the Singular Software website for $149 USD. www.singularsoftware.com.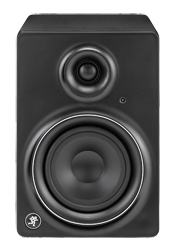 ► Mackie announced a complete redesign of its line of ultra-affordable powered studio monitors, the MRmk2 Mackie Reference Monitors. Featuring power with clarity and definition at its price point, the new series is aimed to please those looking for a professional monitoring solution for project studios, edit suites and home theatres alike. Mackie MRmk2 studio monitors feature all-new transducers specifically designed to match their respective amplification. Both models employ a 1˝ neodymium magnet-driven soft dome tweeter featuring ferro-fluid cooling to help protect against power compression during wide dynamic playback. The 5.25˝ (MR5mk2) and 8˝ (MR8mk2) hyperbolic-curved cone woofers reduce severe cone resonances, minimizing distortion. The Class A/B amplifier section features XLR, TRS and RCA connectivity, along with user-adjustable acoustic controls for simple room correction. The cabinet is rear-ported, reducing distortion, and features an optimally-sized custom Waveguide and molded baffle, offering balance to the HF / LF content while increasing both the stereo imaging and depth of field. The Mackie MRmk2 Series Powered Studio Monitors have a U.S. MSRP of $199.99 and $329.99. www.mackie.com.
► Broadcasters with the Zephyr iPort MPEG Gateway can download the newly-released v1.5.2 software update from the Telos website, free of charge. Zephyr iPort enables broadcasters to transport multiple channels of stereo audio across IP networks with guaranteed QoS, such as STL links, Internet streaming, satellite uplinks, broadcasting to cell phones, and other audio distribution systems. iPort's efficient use of Livewire I/O combined with multiple codecs in a single 2RU device result in a low cost per channel compared to that of multiple single-channel codecs. Because not every remote connection is the same, Zephyr iPort users have a comprehensive selection of connection protocols from which to choose. There are standard MPEG Layer 2, Layer 3, AAC and aacPlus choices, plus low-delay AAC-LD and high-efficiency low-delay AAC-LD+HE, both with special error resilience protection that conceals low levels of random packet loss. Zephyr iPort also includes AAC-HE+PS (High Efficiency + Perceptual Stereo), the most bit-efficient codec available today, allowing stereo operation down to 32kbps. www.telos-systems.com. ►
PRODUCTION LIBRARIES

► London-based production company and audio branding specialists Noise Fusion have made their entire catalogue of radio imaging effects libraries available to buy online. For the first time, the ID_1 library can be purchased as a buyout package directly from the Noise Fusion website. Other previously exclusive custom packages are also now available to buy online – the CHR FX series features the ultra-contemporary sound design, effects and music that powered the core imaging of the Galaxy Network and the One Network. Noise Fusion's creative director, Ben Neidle, said: "I'm really excited to be able to put all our effects packages online directly into the hands of radio imaging producers all over the world and at very competitive prices. The system we've launched makes getting hold of our sounds easy and painless – no complicated license periods and no fuss. Our new website has also enabled us to upload all the awesome work we've produced for clients over the past few months." The effects packages and new projects from Noise Fusion can be found at www.noisefusion.com.
► Pro Sound Effects, provider of sound effects libraries and licensing services, released the Foundation Sound Effects Library produced by game sound designer Stephan Schütze. Currently comprised of 16,006 sound effects, The Foundation library is the result of Schütze's sound effects recording odyssey through Australia, Asia and North America starting in 2005 and continuing to this day. At 22 GB, The Foundation Sound Effects Library is delivered on a USB 2.0 external hard drive, includes sound effects search software, and free sound effects updates digitally delivered every 3 months. The Foundation Sound Effects Library contains contemporary sound effects recordings organized in categories such as animals, ambiences, vehicles, industrial machinery, domestic sounds, weather and other audio elements. The 320 GB LaCie Rikiki Hard Drive features over 16,000 16/48 broadcast .wav files. Free sound effects updates include at least 250 every 3 months. The Foundation Sound Effects Library is available at an introductory price of $1995 (Retail Price $2995). Pro Sound Effects is the exclusive worldwide distributor and licensor for the Foundation sound effects catalog, in addition to Blastwave FX, Sound Control SE and BBC licensing representation. www.prosoundeffects.com.
► Killer Tracks announces 11 new albums including: KT 244 Acoustic Pop - 12 original Acoustic Pop songs with vocals; KT 243 Primetime TV Underscores - 13 original tracks for colorful atmospheres in four sections, including Sitcoms and Such, Sunny Scene Changes, Quirky Comedies and Extracurricular Activities; KT 242 Impact: Percussion 2 - dynamic percussion for scenes with a 'metered' ease; VTM-A 10 Don't Bore Us, Get to the Chorus 2 - the next installment of the Vitamin A vocal series featuring 30 original vocal hooks for promos and advertising spots; EDGE 96 Fun & Sassy Reality - musical atmospheres spread across four sections including: Introduction to the Lifestyle, Girls Gone Shopping, Leisure Time, and Personal Drama. Audition these and more at www.killertracks.com.
THE MIX
► The New York Festivals International Radio Program & Promotion Awards, honoring "The World's Best Radio Programs™," announced the 2011 Radio Awards Finalists. This year's Grand Jury selected 183 entries from 26 countries as Finalists. The following international companies took the lead in the preliminary judging round: Canadian Broadcasting Corporation with 19 Finalists; RTE Ireland, with 15 Finalists; Australian Broadcasting Corporation with 10 Finalists; Reliance Broadcast Network India with 8 Finalists; and BBC with 6 Finalists. In addition, both TBI Media Ltd England and GMG United Kingdom were each honored with 5 Finalists. All Radio Finalists will go on to the second round of judging to determine Gold, Silver, and Bronze award winners. 2011 Finalists include: Australian Broadcasting Corporation, for "Pakistan Floods - Baby Benazir"; BBC Radio 2 England, for "To Kill a Mocking Bird at 50"; Ben Manilla Productions Inc. USA, for "Jimi Hendrix: West Coast Seattle Boy - The Radio Special"; CBS Television Distribution, USA for "ET Beth Holloway Exclusive"; ESPN Bristol USA, for "ESPN: Scared Straight"; KBS (Korean Broadcasting System), Republic of South Korea, for "Korea, China, Japan - A Story of Three Nations"; Radio Mango India, for "World Aids Day"; Radio Mitre S.A Argentina, for "Radio X"; RTE Radio 1 Ireland for "The Burial at Thebes by Seamus Heaney"; Sirius XM Radio, USA for "The History of Howard Stern Act IV"; Showtime USA, for "Nurse Jackie"; Ten Alps Radio England, for "John Lennon: The New York Years"; and Wise Buddha Creative England, for "Jagger's Jukebox". A complete list of the 2011 NYF Radio Program & Promotion Awards Finalists are featured on the website at www.newyorkfestivals.com.
► Registration has opened for this year's International Radio Creative & Production Summit, August 19 – 20 in Los Angeles at the LAX Hilton. Topics include: How To Apply "Made To Stick" Principles To Radio Advertising (Dan O'day); Ten Things Every Audio Producer Must Know About Music (Dave Foxx); Targeting Any Script's Emotional Intensity "Sweet Spot" (Nancy Wolfson); Critique-A-Spot-Or-Demo-A-Thon (Dan O'day & Nancy Wolfson); Building Your Four-Square Professional Network; and Improv To Improve - As A Writer And As A Performer (Dan O'day). Details at www.danoday.com/summit. ▲