TECHNOLOGY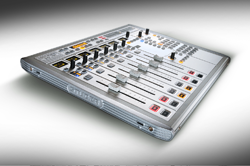 ► HARMAN's Studer introduced the OnAir 1500 digital mixing console, a flexible solution for radio broadcasting and production, the result of Studer's attention to its customers, who are increasingly requesting more versatility and connectivity from their mixing systems at an affordable entry budget price point. The Studer OnAir 1500 is a 12-channel, 6-fader console (expandable to 12 faders) available at an entry price of around $10,000 list, the first time a Studer has been available in this price category, ideal for studios needing an additional professional-grade fader unit and additional I/O or a compact and cost-effective mixing console for a production room or on-air studio. Integrated USB playback and record functions make the OnAir 1500 a very compact yet complete production unit and mixer. With simple point-to-point connectivity it can easily be moved around as a backup or secondary unit. Flexibility is increased with the addition of a 6-fader extension bay, creating either a 12-fader surface, or an additional six faders that can be remotely placed in a producer's bay or used as a redundant surface. The system bridges the gap between production and on-air needs, offering an all-inclusive feature set to simplify great programming in either setting. Channel parameters such as EQ and dynamics can be edited using console controls in combination with the OLED channel displays without requiring an additional screen or PC. For more advanced operation and configuration, the console provides interfaces for connecting a PC screen, keyboard and mouse. The master section gives the operator simple yet comprehensive access to the signal monitoring and switching for control room and studio with an internal speaker preconfigured to output CUE and talkback signals. Audio monitoring is augmented by two 29 segment stereo bargraph PPMs, providing constant overview of all-important signals; six different meter standards are available. Unique features such as Headphone Split allows the user to listen to two different sources, one through the left earpiece and the other through the right. Preset buttons also allow one-touch control of all monitoring. Additional monitoring for separate studios is available via an external Monitoring/Talkback unit for added flexibility. The separate NANO SCORE of the OnAir 1500 contains the audio and control engine. Its straightforward design provides standard sockets, making any additional breakout panel unnecessary. Two separate card slots can be equipped with any optional D21m I/O module, such as MADI (up to 64 ch in/56 ch out), ADAT, AES, or additional MIC inputs. The front panel carries three USB ports, one of which is used to identify the console operator. The second port can host a USB stick for recording and playout, while the third one can be switched to deliver an additional eight channels of I/O to/from a USB device. The core connects to the surface via one Cat5 cable, which also supplies power to the surface. www.harman.com.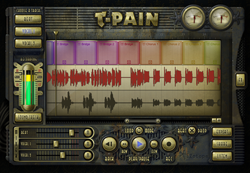 ► iZotope and T-Pain teamed up on The T-Pain Effect, a collection of music making tools designed to empower everyone to make music. Users will be able to make beats and record vocals featuring the distinctive sound of T-Pain himself. The T-Pain Effect centers on The T-Pain Engine, a self-contained beat-making and vocal recording application for PC and Mac. Aspiring artists can get started immediately by selecting from over 50 professionally crafted song templates comprised of hundreds of T-Pain approved beats. With the backing track in place, users can then sing, rap, or speak on one or two vocal tracks to record a song with ease. Beats and song arrangements can be customized and vocals can be edited, including punch-in recording for retakes. For more vocal flavor, users can add The T-Pain Effect to the vocal tracks, tweaking the hardness and softness controls to dial in just the right sound. Then, after adjusting the levels of the final mix, the completed song can be exported and shared with friends or published directly to SoundCloud to share with the online world. In addition to the standalone T-Pain Engine, the product includes a VST, AU, and RTAS plug-in version of The T-Pain Effect for use with popular digital audio workstations (DAWs) such as Pro Tools, GarageBand, Cubase, SONAR, Logic, and more. The plug-in is a professional tool designed for music production studios and includes real-time monitoring through the host program, hardness/softness controls for dialing in the sound, and scale presets to match the key of a song. Advanced users can also create their own scale presets using the built-in keyboard or a MIDI controller. The product also includes iDrum: T-Pain Edition, a virtual drum machine that includes hundreds of custom beats of different musical genres, inspired by over 50 new T-Pain iDrum kits with all-new samples. Used as a standalone application or a plug-in, users can arrange beats into songs, create new kits and patterns, import their own samples, and edit samples with effects like pitch, filter, and decay. The T-Pain Effect is available for $99 MSRP. www.izotope.com.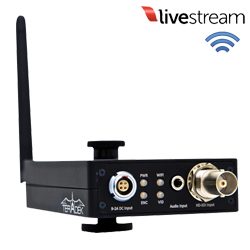 ► A big idea that created a small product first established itself in the Cinema industry and now continues to prove itself in the demanding environments of news gathering and live event broadcasting. Teradek's Cube™, a miniature camera-top HD Video Encoder, accepts video from any camera, compresses it using state of the art H.264, and streams the video over any IP interface including Ethernet, built in Wi-Fi, or even cellular. Cube™ streams straight to many popular video enabled devices, including set top boxes, smartphones, iPads, web browsers, or to Cube™ decoders for onsite monitoring. Cube's™ video assist and news gathering capabilities have previously been covered in detail on the web and featured in many popular cinema blogs, editorial videos, and traditional print publications. Now Cube™ has its sights on a brand new market: live event broadcasting. This year Cube™ was used at NAB'11 in Las Vegas and Cine Gear in Los Angeles to present Best of Show interviews between hosts and guests covering new product releases. Teradek's partnership with Livestream.com allows users to take their events live to millions of people with the simple push of the "Go Live!" button. This native integration with Livestream.com has allowed Incubus to broadcast themselves with a unique backstage feeling from numerous locations all over the world straight to their fan's computers or mobile devices, to promote their highly anticipated new album, "If Not Now, When?" Cube™ starts at $1,190 and is scalable to any application. Available direct from Teradek or from over 50 Distributors and Resellers worldwide. www.teradek.com.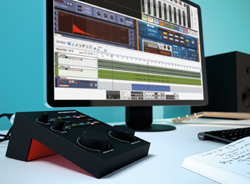 ► Propellerhead Software recently unveiled Balance, its first audio interface and foray into hardware. Integrated with Reason Essentials Software, Balance is at the heart of Propellerhead's complete music making solution. Balance, a two-in by two-out audio interface for Mac and Windows, is designed for the single person operated home/project studio. Fully USB 2 powered with separate volume controls for monitors and headphones, it contains 8 input connections to keep all instruments, mics and devices connected and ready to record with the press of a button—without software pop-ups or control panels. The included Reason Essentials packs in all the recording editing, effects, instruments and mixing tools needed to create great sounding tracks. "We looked at recording from our musician users' perspective. They were spending time concerned with issues other than music making—riddled in installing software, managing cables, setting up control panels, setting gain levels, tweaking recording parameters, and more. It frankly wasn't as easy and straightforward and it should be," says Ernst Nathorst-Böös, CEO. "So, we were compelled to create Balance with Reason Essentials to let them focus on creativity and not on technology." Hardware buttons on Balance bring up a large meter/tuner in Reason and can also enable "Clip Safe," Propellerhead's new recording technology that with one click heals clipped recorded audio. Reason Essentials with Balance audio interface is available for purchase worldwide at a suggested retail price of EUR €499 / USD $499. www.propellerheads.se.
► Voxengo Crunchessor version 2.7 is now available for download. Voxengo Crunchessor is a general-purpose track compressor for professional audio production applications. It is available in AudioUnit and VST plug-in formats, for Mac OS X and Windows computers. Version 2.7 includes the following changes: Additional automation parameters added for channel group 2. Key signal gain parameter added. Mouse backward and forward buttons can be used for parameter value selection. The "Min Infrastructure" user interface display mode added. Version change history information window added. One of Crunchessor's main advantages is the ease of tuning, which at the same time instantly delivers an excellent sonic performance. Another feature of Crunchessor is its valve-type processing, which is applied in parallel to compression. This makes Crunchessor an ideal choice for musicians and producers who are fond of analog compression sound and its warmness. www.voxengo.com.
► Audiofile Engineering, creators of professional audio software for Mac OS X and iOS, announce Quiztones 1.5, a new version of their unique ear training application for audio professionals and musicians. Available as an app for iPhone, iPod touch, and iPad, Quiztones 1.5 sports a newly redesigned interface and a host of new features. Quiztones is designed to train the ears to instantly and intuitively recognize frequencies. This is useful for tasks like mixing, adjusting EQ, and identifying and eliminating feedback. Version 1.5 adds over 25 new frequency trainers, in the form of quizzes, in addition to the tones, pink noise, drums, acoustic guitar and vocal trainers originally included in version 1. New difficulty levels and scoring help the user keep track of their progress. www.audiofile-engineering.com. ►
PRODUCTION LIBRARIES
► FirstCom Music, in partnership with BBC Worldwide, welcomes BBC Production Music to their collection of libraries. The catalog combines new and original tracks by BBC composers with music from successful BBC dramas, documentaries, and shows that carry worldwide appeal. BBC Production Music features the work of world-renowned composers such as Carl Davis, Debbie Wiseman, Ty Unwin, Nitin Sawhney, and Ivor Novello winning Daniel Pemberton to name just a few. "The BBC has always featured the very best artists, orchestras and composers. We are very happy to present them all together in one dynamic music catalog from FirstCom and BBC Production Music," says Ken Nelson – Sr. Vice President /Executive Producer for FirstCom Music. The exclusive four album pre-release is now available for audition and download at firstcom.com. The full launch will present an additional 11 albums offering everything from sweeping romantic dramas and proud period pieces to brutal booming tunes and the magic of the natural world. ►
THE MIX
► London-based production company and audio branding specialists Noise Fusion have updated their website with audio from recent projects. Demonstrations including sound design work for BBC 6 Music, music production for Sony Ericsson and audio imaging for Music One are now available to audition online. Noise Fusion's creative director, Ben Neidle, said: "I'm really proud of the commissions we've worked on so far this year and our updated site gives everyone to opportunity to hear and read about what we've been up to". Founded in 2004, Noise Fusion is a London production company creating award winning audio imaging, music and sound design for clients such as Channel 4, The Brit Awards, XFM, Capital FM, ITV and BBC Radio 1. The founder and creative director of Noise Fusion is former XFM station imaging producer Ben Neidle. www.noisefusion.com. ▲