TECHNOLOGY
► Steinberg has launched Nuendo 5, a new state-of-the-art production environment tailored to top-flight production studios in post production, live recording and audio production. Supporting Mac OS X 10.5 and 10.6 as well as Windows 7, Vista and XP, Nuendo 5 is available from authorized Steinberg dealers for $2,340 MSRP. Among the new features presented in Nuendo 5 is a new ADR toolset engineered for audio post, providing new capabilities for spotting including advanced take and marker handling, EDL import, a new video engine and more. Clip Packages have been designed specifically for sound editors as a new way of organizing and handling audio as clusters of files across multiple tracks that can be archived, previewed and retrieved almost instantly using the upgraded Nuendo 5 MediaBay. Enhanced mixing features in Nuendo 5 include further developments on the Nuendo automation system as well as direct routing with multiple destinations. A new plug-in set with the next-generation Surround Panner and a surround bus Patch Editor further add to the advanced feature set for surround. Numerous other additions in Nuendo 5 include a waveform display in the Nuendo mixer, improved compatibility with Pro Tools audio files and automated Batch Export functions. Nuendo 5 also integrates seamlessly with Steinberg's Nuendo SyncStation synchronizer hardware, providing sample-accurate sync in almost any situation requiring rock-solid sync to almost any modern sync standard. Nuendo 5 also features complete support for a range of controller devices such as Euphonix, WK Audio and the Smart AV Tango. www.steinberg.net.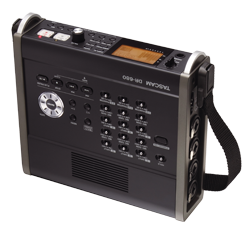 ► The Tascam DR-680 brings multi-channel portable recording within reach of any musician for polished live, location and surround recordings. Up to eight tracks can be recorded to solid-state SD card media at 96kHz/24-bit Broadcast WAV quality. Six mic inputs provide phantom power and 60dB of gain for great-sounding recordings with condenser microphones. Record the six microphones along with a digital S/PDIF source for 8 track recording. Inputs can be monitored using a built-in mixer with level and pan controls for each input. The stereo mixdown can even be recorded along with the six mics for quick stereo playback of the event. There's even a built-in speaker to check recordings without headphones. In addition to WAV recording up to 96kHz, the DR-680 captures stereo audio at 192kHz/24-bit for audiophile-quality masters. The DR-680 records multi-channel MP3 audio for web-ready recordings. Two of the recorders can be connected with a cascade cable for up to 16-track recording on battery power. Other features include: Auto-recording mode begins recording when the input reaches a certain level; Mark function during recording/playback; Edit functions such as divide and delete; 128x64 backlit LCD display; Records to SD/SDHC card media; (4) XLR/1/4" (combi) mic/line inputs and (2) TRS 1/4" mic/line inputs; Low cut filter and limiter on each input; (6) RCA unbalanced line outputs; USB 2.0 (mini B) connection for computer. www.tascam.com.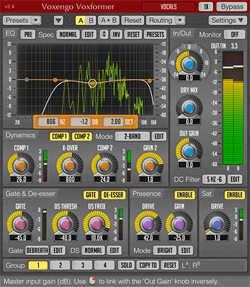 ► Voxengo Voxformer version 2.4 update is now available for download. Voxformer is a multi-functional vocal channel strip plugin for professional audio and sound production applications, available in AudioUnit and VST plug-in formats, for Mac OS X and Windows computers. Version 2.4 update implements the following changes among others: "Ctrl+Drag" narrow band sweeping implemented; DC filter parameters are now specified for all channel groups to avoid phasing problems; Smoothed spectrum display implemented; the "No Multi-Channel Operation" global switch was added that fixes incompatibility with some non-VST2.3 compliant VST hosts. Voxformer is available for purchase on-line for USD 79.95. www.voxengo.com.

► Open Labs, a leader in innovative Music Production Stations based in Austin, Texas, debuted their newest line of Production Stations, Generation6. The Gen6 lineup includes the Gen6 MiKo QC6, the Gen6 NeKo QX6, the Gen6 MiKo LXD and the Gen6 NeKo XXL. The entire new Gen6 product line offers more power, more sounds and is more affordable. All products in the Gen6 lineup feature processors from the 2010 Intel® CoreTM processor family and are based on Microsoft's Windows 7 for true Open Platform Capability. The Q series lineup includes the MiKo QC6 and the NeKo QX6, which offer over 10,000 sounds, full DAW capabilities, a 15" touch screen interface, DVD/CD burning and internet capability and a 37 or 61 keyboard form factor. The L series lineup, which are the pinnacle of Music Production Stations, include the MiKo LXD and the NeKo XXL. Both production stations offer over 15,000 sounds, full DAW capabilities, a 15" touch screen interface, DVD/CD burning and internet capability and a 37 or 61 keyboard form factor. The L series offers incredible control over production with the Alpha 2 controller, the bankable Mix Edit and the drum pad interface Bump MP. The NeKo XXL also raises the bar in audio by offering 24bit/192khz recording. The Gen6 MiKo QC6 is available for $3,799 USD and the Gen6 NeKo QX6 is available for $3,999 USD. The Gen6 MiKo LXD is available for $4,799 USD and the Gen6 NeKo XXL is available for $6,999 USD. All Open Labs production stations can be purchased directly through Open Labs at www.openlabs.com or through an authorized reseller listed on the Open Labs web site.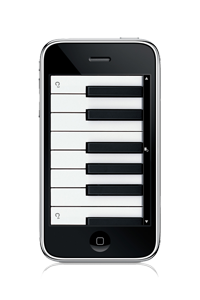 ► Musicians and music lovers who use MIDI technology have a remarkable new way to create, control and connect with their instruments. Audiofile Engineering, a developer of audio software for Mac platforms, has released MIDI Surface for iPhone OS. Designed for use with Line 6's one-of-a-kind MIDI Mobilizer hardware accessory, MIDI Surface gives iPhone and iPod touch owners the ability to build their own fully customized MIDI control surfaces. Seamless touch-screen control of MIDI-enabled instruments such as keyboards, drum machines, software synths and more is now available in the palm of users' hands. Suitable for use on stage, at home or in studio settings, MIDI Surface offers four interface styles, each with its own set of changeable parameters: The Keyboard interface features Channel and Velocity controls. The Sliders interface includes Channel, Controller (Mod Wheel, Expression, etc.), Low Value and High Value controls. The Drum Pads interface includes Channel, Category (Note On, Controller, Program Change), Note, Note Off (Immediate or Touch Up) and Velocity controls. The X-Y interface supports up to four touches and includes Channel, Controller, Left Value and Right Value controls. Users can create and save as many MIDI Surface interfaces as they like. Each customized control surface can be configured in precise detail and adjusted on the fly. Users can even store their own unique Presets for quick recall. Audiofile Engineering previously developed MIDI Memo Recorder, a free application that allows iPhone and iPod touch users to record, store and playback MIDI sequences using Line 6's MIDI Mobilizer accessory. MIDI Surface is now available for download via the Apple App Store for $5.99. www.audiofile-engineering.com.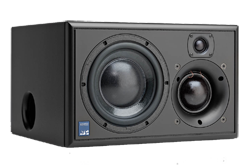 ► TransAudio Group, the U.S. distributor for ATC (Acoustic Transducer Company) audio reference speakers, is now shipping the U.K. manufacturer's first ever compact active three-way studio control monitor - the SCM25A Pro. Designed for positioning on a meter bridge, or rack-mountable for broadcast applications, the ATC SCM25A Pro offers very high-performance in the most compact possible form factor. The drive units all use large diameter, under-hung voice coils for excellent dynamic range and linearity. The mid-range is ATCs world-renowned soft dome and the bass driver is a hand-built, in-house, using a carbon-paper cone with high excursion capability. On-board amplification features the company's class A/B Mosfet output stage delivering 150W to the bass driver, 60W to the mid and 25W to the high frequency driver. All three stages are fed by 4th order critically damped crossover filters with phase compensation. The unit's ported enclosure measures 10.4 inches (264 mm) (H) x 16.9 inches (430 mm) (W) x 16 inches (408 mm) (D). The SCM25A Pro produces a wide, stable soundfield with very low coloration and offers low-frequency extension to 42 Hz (-6dB). MSRP: $8,500. www.atcloudspeakers.co.uk.
PRODUCTION LIBRARIES
► New releases from FirstCom Music include: AM064 Network News - Traditional fast moving news and information, designed for serious news, political, and world events; AM065 Big Fat FX - Impact effects, hits, sound design, production elements; CHAP 354 The Roots Of Blues Rock - Heavy riff-based amped-up blues; CHAP 356 Complete Movie Collection - Classic Soundtracks And Movie Themes; CHAP 357 Complete Movie Collection - Classic Soundtracks: B Movie, Horror and War; EVO139 Pop Bites - Bite size teen portions, pop styles, pop culture, fashion, youth Idols, kids TV, top hits, instrumental promos; EVO146 Soft Touch - Soft sell neutral music backgrounds, acoustic guitar, percussion and light motion for narration, video and commercials; GM-132 Big & Juicy Underscores 4 - Tasteful positive underscores for people profiling, light sports events, corporate webcast, magazine news, advertising, talking heads, all with that user friendly feel; and many more. Audition at www.firstcom.com.
► Pro Sound Effects is now distributing five new libraries from the BBC Sound Effects Archive. The BBC Sound Effects Library has the largest, most global and diverse selection of animal sound effects and historical sound effects currently available. For audio demos and track listings, please visit the BBC Publisher Page on www.prosoundeffects.com. Pro Sound Effects works with the BBC Information & Archives to make the BBC Sound Effects Library available both digitally and on sound effects hard drives with search engine software. The five libraries include the BBC Complete Sound Effects Library with 33,000 sounds and the re-release of the BBC Original 1 - 60 Sound Effects Library with updated metadata. Search software is included free; the library is delivered pre-digitized on hard drive with 3 year data replacement policy. The embedded metadata is compatible with NetMix, Soundminer, Basehead and more. www.prosoundeffects.com.
THE MIX
► Multiple RMB Crystal Award Finalist and Runner-up in the 2009 Radio And Production Awards, Matt Fogarty, recently launched mattfogarty.ca to promote his voice work. Matt is currently the voice of Ricky's All Day Grill in Canada, and is now looking to begin projects for new prospective clients seeking a fresh, diverse and affordable sound. In addition to voice work, Matt offers scriptwriting and copy services, as well as campaign consultation. For more information, contact Matt Fogarty, or visit www.mattfogarty.ca.
► Another six Entercom stations sign on with vCreative™PPO. There are now over thirty Entercom stations using vCreative™PPO. KBZC-FM, KKDO-FM, KSEG-FM, KRXQ-FM, KDND-FM & KCTC-AM are the latest to sign up. Also added are Nebraska's KHAS-AM, KKPR-FM, KLIA-FM, KXPN-AM and KICS-AM; and Sacramento's KKFS-FM, KFIA-AM, KTKZ-AM and KSAC-FM. The online system allows AE's to enter or review production orders online. Orders can be for traditional on-air radio spots or even online streaming and banner ads. Once submitted, production orders are fully tracked with user, dateand time stamping as well as perpetually archived with all source files for easy access down the road. www.vCreativeInc.com. ▲