TECHNOLOGY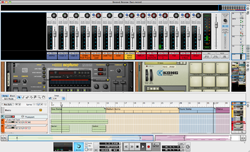 ► Propellerhead Software released for sale the biggest overhaul to its Record - Reason application family to date. Reason 5 and Record 1.5 introduce new instruments, effects, sequencing, sounds, patches and more for composing, beatmaking, loop-mangling, vocal treatment, songwriting, remixing and music production. The new Kong Drum Designer and Dr. Octo Rex loop player extend Reason's instrument arsenal to help musicians get phenomenal sounding rhythms, drums tracks and beats. Reason 5 and Record 1.5 add a whole new take on sequencing: Blocks—build songs parts like patterns and string them together for fast arranging with the ability to freely go back and forth between pattern and linear modes. Neptune, a pitch correction tool and voice synthesizer, turns less than perfect performances into great ones in no time. Simply play new harmonies on a MIDI keyboard for instant backing vocals. Live sampling into all sample capable devices means any musician can use samples in a new and playful manner, discovering the lost art of creative sampling. The Expanded Factory Sound Bank, doubling in size, plus added signature sound designers' patches, inspire new arrangements and compositions. Multi core optimization, an on-screen keyboard and tempo scaling of clips top the list of additional improvements. www.propellerheads.se.

► Mackie recently announced two new mid-format analog consoles, each featuring dual internal FX processors, dedicated compression and 4-track recording via USB – the 24-channel 2404-VLZ3 and 32-channel 3204-VLZ3. Mackie VLZ3 4-Bus Premium FX Mixers with USB deliver professional sound quality and performance in an ultra-compact and rugged design with the channel count needed for SR applications. The Mackie 2404-VLZ3 and 3204-VLZ3 feature low-noise, high-headroom XDR2™ mic channels (20 and 28, respectively) and two dedicated channels for stereo inputs. Inline compression is available on each of the four subgroups and on four select channels. Dual 32-bit RMFX™ effects processors offer 16 presets, including tap delay. The integrated 4x2 USB interface offers multiple routing options to a DAW, with a stereo return that's assignable to the mains for background music or into a channel strip for mix integration. With the smallest footprint in their class and legendary Mackie rugged design, VLZ3 4-Bus mixers are perfect for often cramped FOH areas or portable applications. The 2404-VLZ3 has a retail price of $1,429.99 USD. The 3204-VLZ3 has a retail price of $1,699.99 USD. www.mackie.com.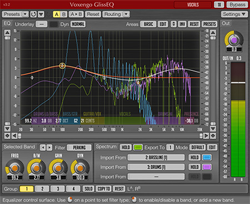 ► Voxengo GlissEQ version 3.2 is now available for download. Voxengo GlissEQ is a dynamic parametric equalizer plug-in for professional audio and sound production applications, available in AudioUnit and VST plug-in formats, for Mac OS X and Windows computers. Some of the changes in the new version include: Smoothed spectrum display implemented. Mid/side spectrums are now shown correctly. Spectrum's block size does not affect vertical spectrum's position now. Secondary spectrum display implemented. EQ highlight areas implemented. The "No Multi-Channel Operation" global switch was added that fixes incompatibility with some non-VST2.3 compliant VST hosts. The most interesting and unique feature GlissEQ offers is its filters with dynamic behavior. Such "dynamic behavior" gives a friendly, assisting equalization experience. Boosting up the highs will not create the fatiguing effect of overload; boosting up the lows will not make things sound mushy. Instead, you get a pleasant transient-emphasizing effect bringing life and dimension to your tracks. Also from Voxengo, Crunchessor version 2.6 is now available for download. Voxengo Crunchessor is a general-purpose track compressor for professional audio production applications. It is available in AudioUnit and VST plug-in formats, for Mac OS X and Windows computers. Version 2.6 includes the following changes among others: Parameter automation on AU Mac OS X now shows real parameter values. Preset "update" function implemented in the preset manager. The "VST Function Sync" global switch was added that fixes crashes in some hosts (i.e. Tracktion). "Density mode" implemented in level meters. The "No Multi-Channel Operation" global switch was added that fixes incompatibility with some non-VST2.3 compliant VST hosts. The "Show All Channel Meters" routing switch added. Crunchessor offers a selection of compression coloration styles. By choosing an appropriate coloration style, you can add the character most suitable for the sound material you are working with. As an option, you can disable both coloration and valve warming processing to get a neutral and clean compression sound. www.voxengo.com.
► Staco Energy Products introduced its latest addition to their line of Automatic Voltage Regulators (AVR) for the power conditioning in demanding applications. Based on a series regulation transformer controlled by variable transformers (VTs), these robust units offer tight output regulation and are easily customizable. The basic AVR will handle more than 90% of typical power problems – handling all but the most extreme voltage swings. Options such as suppression of high voltage transients, high harmonic content or site load balance can be added – providing site-specific power correction in a one-box solution. The Staco AVR is ideal for broadcast transmitter sites and studios, lighting systems, commercial broadcast and military mobile communications trucks, trailers and shelters and more. Gold plated contacts on all coils and nickel plated copper bus bars are standard. Easy front panel allows access for service/installation. www.stacoenergy.com. ►
PRODUCTION LIBRARIES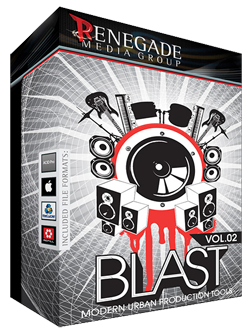 ► Renegade Media Group, a sample library company founded by producers Josh Harris and Bobbybass, announced BLAST: Modern Urban Production Tools Vol. 1 and 2, two new sample libraries full of kits, sounds, and loops. Bobbybass himself used sounds from this library on the 3x platinum single Jay Sean's "Down" featuring Lil Wayne and "Do You Remember" featuring Sean Paul and Lil Jon. BLAST Vol. 1 contains more than 500 Hip Hop, R-n-B, Southern, Crunk, and Tribal sounds that includes full construction kits, single drum shots, and keyboard loop idea starters and building blocks. This library totals more than 4GB of content. BLAST Vol. 2 picks up where Vol. 1 left off and continues with more than 450 total sounds and nearly 3GB of total content. Both BLAST Vol. 1 and 2 are available in Acidized Wave Files, Apple Loops, Rex2, and Reason Refill formats. $79.99 USD each. www.renegademediagroup.com.
► Premiere Radio Networks announced that Benztown Branding and radio icon Charlie Tuna have teamed up to produce an Oldies/Classic Hits production and imaging library called The Charlie Tuna and Benztown Classic Hits Library. For the first time ever, Tuna's extensive collection of interviews has been digitized and is now available through Benztown Branding. Distributed by Premiere Radio Networks on a barter basis, stations will have access to a library 40 years in the making that includes interviews with thousands of celebrities ranging from Michael Jackson to Paul McCartney. Charlie Tuna stated, "Arriving in L.A. in 1967 to become part of the legendary KHJ Boss Jock line-up, and starting my first syndication company here in 1971, I realized then that the interview opportunities I had were unparalleled and archived these priceless visits. Now I'm ready to share them, and team up with the world-class production of Benztown to take Classic Hits stations to a brand-new level of entertainment for their listeners!" The library also includes 12 weekly updated categories with production elements and work parts such as: drum loops, sound effects, music beds, music hooks and voice samples. Additionally, thousands of "plug and play" elements encompassing sweepers, promos, drones, ramp loops, holiday/special events and celebrity/artist IDs will allow users to easily customize their station. www.Benztown.com.
► Killer Tracks has compiled a collection of 20 election-oriented albums in categories including Positive/Inspirational, Negative, Patriotic, Problem/Solution, and Breaking News. Check them out at www.KillerTracks.com. ►
THE MIX
► WPLJ-FM in New York City is the eighty-fourth Citadel Broadcasting station to begin using vCreative™PPO, and Service Broadcasting's KKDA-AM/FM and KRNB-FM in Dallas, Texas were also recently added. The online Paperless Production Order system allows AE's or continuity to enter and review production orders from virtually any location. Once submitted, production orders are fully tracked with user, date and time stamping, as well as archived with scripts and audio for easy access down the road. Currently over 1000 radio stations in markets large and small have signed on to vCreative's PPO. More information at www.vcreativeinc.com.
► Radio And Production welcomes a new advertiser, Unique Tracks, makers of royalty free production music, elements and sound effects. The company is currently offer RAP readers a 15% discount! See the ad on page 19 for details. www.uniquetracks.com.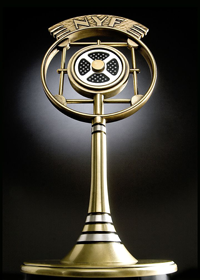 ► New York Festivals International Radio Program & Promotions Awards recently honored its winners at the 2010 Radio Awards ceremony held at the Manhattan Penthouse. This year's GrandJury® awarded 2 prestigious Grand Trophies, one to Ten Alps Radio England, and the other to Canadian Broadcasting Corporation. In addition, the Canadian Broadcasting Company was honored with the title of Broadcaster of the Year for the 4th time in 5 years. Gold, Silver, and Bronze Award winners were presented with NYF's newly minted Art Deco trophy. CBC also took home a 5 Gold Trophies, 5 Silver, 5 Bronze trophies, and 6 Finalist Certificates. United States companies received 8 Gold Trophies, 2 Silver, 11 Bronze and 21 Finalist Certificates. Radio Free Asia garnered a Gold Trophy for "A New Form of Women Trafficking", in Best Special Report category for Radio Free Asia Washington DC. Additional US Gold winners include: Nextbook, Inc. for "Vox Tablet", in the Religion category for Tablet Magazine; and Voice Of America for "My Nation's Command, My Only Dream: The Story of North Korean Migrant Workers in Vladivostok", receiving the award in National/International Affairs for Voice Of America. San Francisco's Ben Manilla Productions, Inc. received two Gold Trophies one for "The Protest Singer: An Intimate Portrait of Pete Seeger" in Best Music Special, and "The Sounds of American Culture" in Culture & The Arts. Other prominent US Gold Trophy winners include: WGCU Public Media for "Lucia's Letter" honored in Best News Documentary/Special; WNYC Radio for "The Fall of the City" winning Best Drama Special; and American Public Media for "All is Calm" in Best Drama Special category. For a complete list of this year's award winners go to www.newyorkfestivals.com.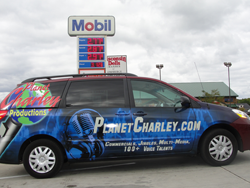 ► September was National Childhood Cancer Awareness Month, and as part of their "We Care About Our Planet Program," Planet Charley Productions -- with studios and offices in Wisconsin Dells, WI -- partnered up with Wisconsin area Mobil gas stations to raise money for St. Jude Children's Research in Memphis, TN. Several donation boxes (P.O.P.s) were set up at participating Mobil gas stations. Mobil customers were kind enough to donate $525.18. In October, Planet Charley Productions raised money for The Breast Cancer Awareness Foundation for Breast Cancer Awareness Month. More information can be found under the "We Care About Our Planet Program" header at www.PlanetCharley.com.
► Just in time for the holidays, Hedquist Productions has assembled The Claus Family Voices for your commercials, promos and voice mail. Their team of actors bring to life the voices of Santa, Mrs. Claus, several elves, Scrooge, Cratchit and the Grinch for your productions. Visit www.hedquist.com for details.
► Sean Bell has added a new blog to his website. Check it out at www.sounds-good.biz. ▲