TECHNOLOGY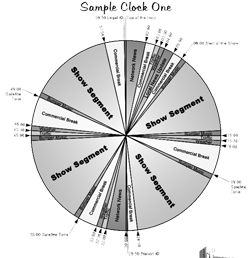 ► DLD Media announces the availability of the Broadcast Clock Creator. Radio professionals can now create quality broadcast clocks quickly and easily. Clocks can be used for syndicated shows, staff training, to show advertisers where commercials air within the hour, etc.. Features include unlimited segments within the hour, add images, text and comments outside of the clock, save clocks for future revisions, export as a PDF file and more. For sample clocks, screenshots and more information about The Broadcast Clock Creator visit www.DLDMedia.com.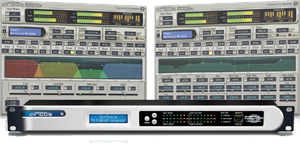 ► Symetrix announces the availability of the AirTools Multiband Processor 2m, which marshals the power and innovation of the company's DSP solutions to meet the very specific needs of broadcast professionals. The inclusion and easy configuration of every necessary DSP module optimizes broadcast audio for improvements in tone, intelligibility, and intensity. The Multiband Processor 2m hardware implementation is robust, allowing for multiple audio connections across all of the most widely-used interconnect protocols, with minimum latency, wide dynamic range, and low distortion. Easily configurable floating-point DSP modules include: programmable filters, phase rotator, de-esser, downward expander, broadband automatic gain control (AGC), eight-band parametric equalizer, four-way programmable crossover, four-band multiband compressor and limiter, stereo image enhancer, acoustic environment simulator, clipper, and alignment delay, among others. Inputs and outputs consist of dual-balanced analog lines or AES3 digital lines configurable for stereo, mono, MS encode, or MS decode operating modes. Word clock input, Ethernet, RS-485, and user-configurable audio input failover complete the back panel array. The AirTools Multiband Processor 2m is easy to program using a wizard-driven Windows application, which is free to download and test drive from the Multiband Processor 2m product page. Up to fifty user-defined and factory presets can be recalled from the front panel, a network computer, or an optional hardware controller. In addition, preset loading can be synchronized automatically via an onboard event scheduler, allowing an engineer to tailor the signal processing to program material and/or the character of the host's voice. www.SymetrixAudio.com.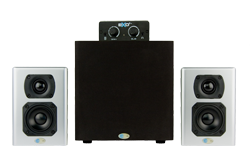 ► Blue Sky introduces EXO2, an evolution of the original EXO stereo near-field monitoring system. Taking the best features from the EXO, the next generation of EXO combines true, full-range monitoring with the convenience of a desktop remote control hub, but with a twist. EXO2's revamped subwoofer features an even smaller footprint (10"H x 9"W x 11"D) allowing it to easily integrate into even the most compact workspace with virtually the same sonic performance of the original EXO system 14" sub. Features include two 3" 2-way satellites, with 1" soft-dome tweeter; separate 8" subwoofer, for extended low frequency response; 160 watts of total system power (35W per satellite, 90W subwoofer); XLR/TRS inputs for pro mixers and DAWs; RCA inputs for computer soundcards and CD players, etc.; 3.5mm mini jack input for iPods and mp3 players. MSRP: $499.00 (USD). www.abluesky.com.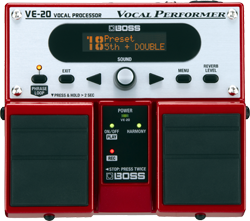 ► BOSS brings quality effects processing to the performing vocalist in the compact design and simplicity of a twin-pedal stompbox with the VE-20 Vocal Performer. The new VE-20 has been designed from the ground up for singers and is ideal for all types of vocal expression, including traditional singing, narration, and beat boxing. The VE-20 comes with effects to add unique flair to your vocal performance. With the click of a footswitch, lush vocal doubling and harmonies, real-time pitch correction, delay, reverb, limiting, and special effects — such as Distortion, Robot, Chromatic, Radio, and Strobe — can be added. Layers and loops can also be created in real time with the onboard Phrase Looper. The VE-20 features stereo XLR outputs, ¼" and XLR inputs, and a simple user interface. The VE-20 is now shipping with an MSRP of $343.50. www.BossUS.com.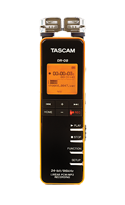 ► Tascam's compact DR-08 portable digital recorder packs serious audio quality into a handheld dynamo that fits in your pocket. It captures audiophile-quality 96kHz/24-bit WAV files – or web-friendly MP3 files – to robust MicroSD media. The built-in microphones have a unique mechanism to change the width and angle of the elements, allowing you to tailor the pattern for the perfect recording. There's even a built-in kickstand for placing the recorder right where you want it. A pair of AAA batteries allows you to record for hours to the included 2GB card, then transfer the recording to your computer using high-speed USB 2.0. Like the top-selling DR-07, the DR-08 has features like auto level control and a low cut filter for clear recordings. Add your own microphone or line-level source using the 1/8" stereo input. The DR-08 has loop and variable speed on playback, allowing you to slow down speed without changing the pitch to learn new music. Noise canceling and EQ functions improve playback timbre, and the sleek design makes the DR-08 Tascam's most portable recorder yet. Other features include: Auto recording mode starts recording when the input reaches a certain sound level; Timer recording mode for beginning recording at a certain time of day; Pre-recording buffer (up to 2 seconds); 96x96 backlit LCD display. www.tascam.com.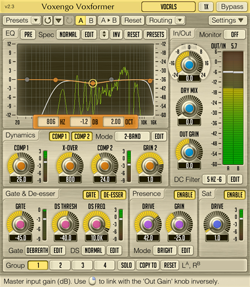 ► The Voxengo Voxformer version 2.3 update is now available for download. Voxengo is a multi-functional vocal channel strip plug-in for professional audio and sound production applications, available in AudioUnit and VST plug-in formats, for Mac OS X and Windows computers. Combining several professional quality processing modules, Voxformer was designed to be a comprehensive solution for all your vocal processing needs – be it spoken or sung vocals. In most cases Voxformer can be used for processing of a wide range of instruments beside vocals. Voxformer features include: two built-in vocal compressors, two-band compressor operation, asymmetric compression, 5-band equalizer, real-time FFT spectrum analyzer, presence boosting module, multi-channel processing and more. Voxengo also announces Beeper v2.1 and Stereo Touch 2.1 updates now available for download for these free audio plug-ins. These plug-ins can be loaded into any audio host application that conforms to the VST or AudioUnit plug-in specification. Plug-ins are compatible with Windows (XP and later versions, 32- and 64-bit) and Mac OS X (10.4.11 and later versions, Intel and PowerPC) computers (2 GHz dual-core or faster processor with at least 1 GB of system RAM recommended). Voxengo Beeper is an auxiliary audio processing AU and VST plugin which you can use to insert short beep, noise burst or silence signals to any sound material. This plug-in may help you protect your work from stealing. It is safe to apply this plug-in to any mission-critical material because plug-in does not perform any processing on the audio between signals. Voxengo Stereo Touch implements a classic technique of transforming a monophonic track into spacious stereophonic track by means of mid/side coding technique. This plug-in is most effective on monophonic sounds without overly sharp transients: it works great for both acoustic and electric/overdriven guitars, synthetic pad sounds and even vocals. www.voxengo.com. ►
PRODUCTION LIBRARIES
► New releases from Firstcom Music include: CHAP 348/Intense Underscores, "The the edge and back, dramatic, energetic underscores"; CHAP 351/Luxury & Power Money: how to make it and how to spend it; CHAP 353/World 24: Breaking news: This dangerous and beautiful world; EVO141/Nashville Sessions: "Back to the basics, new country rock featuring the best country session players in Nashville, no frills all out country jams"; GAL087/Whistle Up!:"Indie pop, jazz moods, lone whistler, march, glamour"; GAL089/Buddy Movie: "Music for R-rated movies, teen movies, buddy movies, soul vibes, pop punk, datapop, wild rock"; GM-128/Positive Rock/Moody Guitars: "Huge monster positive rock themes, plus moody guitars for scoring a darker flavor with a twist"; GM-129/Gotham Rap 2: "Hard hitting NY rap, gangsta dramatic moods depicting urban underscores (explicit lyrics)". Audition these and more at www.firstcom.com.
THE MIX
► Voice actor and veteran broadcaster, Johnny George, has received the Certification of Accreditation from SaVoa, the Society of Accredited Voice Over Artists. SaVoa affirms that Johnny George has been assessed by a qualified peer review panel and found to meet or exceed established standards for vocal and technical delivery for the provision of voice over services. SaVoa Incorporated is a not-for-profit corporation based in North Carolina. Membership in SaVoa depends on successful completion of the peer review process. It tells clients that you meet or exceed established standards for vocal delivery (performance and technique) and technical delivery (audio quality and technique), and that you conduct business in a manner that enhances the voice over community as a whole. www.johnnygeorge.com.
► Congrats to Ty Ford whose Hot Flash indie film he produced took Grand Prize in an international indie short competition (www.indieshortfilms.net/2009winners.html) and Best In Show in the Baltimore Videographers' Association's 4th Annual Film Festival! Ty reportedly responded with a brief but eloquent, "Holy CRAP! I couldn't be more pleased."
► WORC-FM, WWFX-FM, and WXLO-FM in Worcester, MA are the latest Citadel Communication stations to sign up for use of vCreative™PPO. The paperless production order system is accessible online and tracks every production order through the entire workflow process. In addition, it gives managers quantitative reports on their staff's actions and it also links Worcester's producers to the 70 other Citadel stations already on PPO, for easy out-of-market voice requests and voice sharing. vCreative, Inc., headquartered in Babson Park, FL, provides solutions for the management of creative resources to the media industry. vCreative™PPO (Paperless Production Orders) is a creative workflow management system that provides organization and accountability for production workflow. The vCreative™Network offers instant connection to creative resources such as copy writing, production, and voices. Currently, vCreative provides their services to radio stations in markets large and small, including: Lincoln Financial Media, Citadel Broadcasting, Entercom Communications, Clear Channel Communications and more. More information is available at www.vcreativeinc.com.
► Drake Donovan Creative Services welcomes Clear Channel Country KAJA-FM/KJ97 in San Antonio for voice-over services. Drake is also welcoming back returning clients Minnesota Christian Broadcasters, Inc for v/o and production on WZFJ-FM in Pequot Lakes, MN and JMP Radio Group's Hot AC WSWT-FM in Peoria, IL for production services. www.drakedonovancreativeservices.com.
► Two of Cox Media Group's 86 radio stations, WJMZ 107-3 JAMZ in Greenville, S.C. and WKHK K95 in Richmond, Va. were among 50 finalists in The National Association of Broadcasters 2010 Crystal Radio Awards for their outstanding year-round commitment to community service. Crystal Radio Award finalists were chosen by a panel of judges representing broadcasting, community service organizations and public relations firms. www.nab.org. ▲