TECHNOLOGY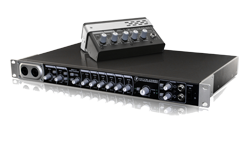 ► Mackie announces two new premium recording interfaces, additions to the popular Onyx family — the Onyx Blackjack and Onyx Blackbird. These new interfaces combine the sonic benefits of Mackie's Onyx mic preamps with high-end Cirrus Logic® AD/DA converters and workflow-friendly features that are perfect for people starting or expanding upon their studio. The Onyx Blackjack is an ultra-compact desktop 2x2 USB interface, perfect for the home studio. It features two acclaimed Onyx mic preamp channels, each featuring built-in DIs for connecting guitars, etc. Separate level control for studio monitors and headphones, along with true analog hardware monitoring take the guesswork out of zero-latency recording. It is bus-powered, with a rugged, ergonomic chassis perfect for both portable and home studio applications. The rackmount Onyx Blackbird delivers studio-grade recording via eight Onyx mic preamps. A 16x16 FireWire interface, Blackbird also features 8x8 ADAT and wordclock I/O, providing ultimate expandability. There are two "Super Channels" on the front panel with dedicated low-cut switches, phantom power and true hardware monitoring options for quick zero-latency tracking. The other channels are equally flexible, utilizing the powerful Blackbird Control DSP Matrix Mixer for quick setup of independent mixes and the ability to route any input to any output. Monitor, main, alt and dual headphone outs with dedicated source selection and level control ensures there are plenty of mix routing options. The Onyx Blackjack and Onyx Blackbird are Mac/PC compatible, work with most major DAWs and include Tracktion 3 Music Production Software. The Onyx Blackjack has a retail price of $259.99 USD, £210 including VAT and €249including tax. The Onyx Blackbird has a retail price of $629.99 USD, £499 including VAT, and €599 including tax.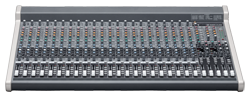 Also from Mackie, two new mid-format analog consoles, each featuring dual internal FX processors, dedicated compression and 4-track recording via USB – the 24-channel 2404-VLZ3 and 32-channel 3204-VLZ3. Mackie VLZ3 4-Bus Premium FX Mixers with USB deliver professional sound quality and performance in an ultra-compact and rugged design with the channel count needed for SR applications. The Mackie 2404-VLZ3 and 3204-VLZ3 feature low-noise, high-headroom XDR2™ mic channels (20 and 28, respectively) and two dedicated channels for stereo inputs. Inline compression is available on each of the four subgroups and on four select channels. Dual 32-bit RMFX™ effects processors offer 16 extremely useable presets, including tap delay. The integrated 4x2 USB interface offers multiple routing options to a DAW, with a convenient stereo return that's assignable to the mains for background music or into a channel strip for mix integration. With the smallest footprint in their class and Mackie rugged design, VLZ3 4-Bus mixers are perfect for often cramped FOH areas or portable applications. The Mackie VLZ3 4-Bus Series Premium FX Mixers with USB are now available. The 2404-VLZ3 has a retail price of $1,429.99 USD, £1199 including VAT and €1499 including tax. The 3204-VLZ3 has a retail price of $1,699.99 USD, £1349 including VAT and €1699 including tax. www.mackie.com.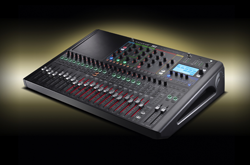 ► Positioned as the digital mixing solution for all sizes of sound company or user, the new Soundcraft Si Compact Series is a power-packed range of digital consoles that brings all the experience of Soundcraft's digital mixing platforms to a very affordable price level for tour sound, corporate event, house of worship and theatre applications, amongst others. With full DSP functionality built-in to a small-footprint chassis, the Si Compact provides up to 40 inputs to mix in 3 frame sizes, the smallest of which is also rack-mountable. Motorized faders with patented Soundcraft FaderGlow™ operate on two layers, but the main difference from similarly priced mixers is the provision of a full encoder set for all the functions on a channel, from input gain through EQ and dynamics to bus controls. Drawing on its bigger brothers; Soundcraft's acclaimed Si Series, the new Si Compact packs powerful digital mixing facilities along with stunning Lexicon® effects into a trio of small footprint consoles available in 16, 24 or 32 mic/line input formats, with 4 stereo returns. And for once, compact doesn't mean compromise. No layering of the audio controls makes operation fast and simple, and with 4 separate Lexicon FX processors with dedicated FX busses in addition to the main mixes, and BSS Graphic EQ for every bus, you'll never find yourself wishing you had more processing power. Andy Trott, Harman's Vice President and General Manager for Mixing, Microphones & Headphones said, "Whilst over the past two years we've expanded our digital range with high- and mid-range extensions to the Vista, OnAir, Vi and Si Series', we've been determined to drive our product portfolio down into the sub $10,000 price points. Our strategy has always been to integrate no-compromise audio quality together with innovative, feature-rich specifications and an easy-to-use-and-learn, highly intuitive user interface. Si Compact is the result of 18 months extremely focused and creative development and is particularly exciting as it's so unique; it brings together so many professional features and technologies from across Harman Professional brands into a highly specified but yet super compact mixing platform at an unbelievably low price point." www.harman.com.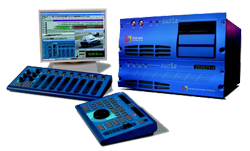 ► Prism Sound, manufacturer of the SADiE product range of high-end DAWs, announced a major addition to its new SADiE 6 release. In a deal announced with iZotope, all SADiE 6 systems will include an expanded audio effect feature set powered by iZotope technology. These features will include: Reverb, Chorus & Flanger, Analogue Delay, Phaser, Pitch-Shift, Parametric EQ, Single-Band Compressor, Multiband Compressor, Simple Mastering (including EQ, reverb, exciter, widener, loudness maximize). These nine VST plug-ins make use of SADiE 6's extended VST capabilities and are in addition to the existing on-board EQ's, dynamics, aux sends, M/S decoder width control Graphic EQ and Mastering Limiter. All SADiE 6 systems also come with SADiE's own Hi-dither tools, with the Sound Suite and Mastering Suite packages including Prism Sound's Super Noise Shaping dither tools. Peter Nash, SADiE 6 specialist at Prism Sound, comments: "The deal with iZotope brings a well respected range of creative tools to SADiE 6, which will prove invaluable to creative radio production professionals and post production specialists alike. We have worked closely with iZotope to choose precisely the right combination of functionality to allow creativity to be maximised in what is already regarded as the most serious of DAWs used by broadcasters the world over." Radio New Zealand is the first international broadcaster to invest in SADiE 6, with Spanish broadcaster RNE and others following suit after the official release at IBC 2010. www.izotope.com, www.sadie.com, www.prismsound.com.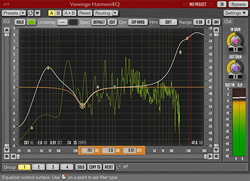 ► New from Voxengo: HarmoniEQ version 2.0, a parametric, harmonically-enhanced equalizer plug-in for professional music production applications, available in AudioUnit and VST plugin formats, for Mac OS X (v.10.4.11 and later) and Windows (32-bit and 64-bit) computers. The harmonic enhancement HarmoniEQ applies to the sound is an inherent element of its overall sonic quality. HarmoniEQ also features dynamic equalization modes that offer you a vast palette of sound-shaping capabilities, suitable for mastering. Since the easiness of tuning was one of the goals when producing this plug-in, HarmoniEQ features a single control surface to control the equalizer curve. Just drag the filter control points to the right places. You can enable up to 7 filter bands, with the filter type freely-selectable from peaking, low-shelf, high-shelf, low-pass, high-pass and notch filter types. Another useful element of HarmoniEQ is its control surface's frequency range which goes up to 38 kHz. Such extended range allows you to make smooth "air" boosts easily. While HarmoniEQ is best suited for EQ boosts, its EQ cuts also sound great. An updated version 3.7 of Voxengo Elephant is now available for download. Voxengo Elephant is a mastering limiter plugin for professional audio and sound production applications, available in AudioUnit and VST plug-in formats, for Mac OS X and Windows computers. This version implements the following changes: "Show All Channel Meters" metering issue in 5.1 surround mode fixed. Additional visual look variation settings added. K-metering modes now use fixed 600ms RMS and release time constants. Elephant is a highly competitive plug-in for mastering applications: it features a variety of limiter modes that can be deeply customized, and a comprehensive set of level metering tools, including headroom estimation and K-metering. Elephant's built-in linear-phase oversampling is an important element in achieving high-quality peak limiting and loudness maximization. And the Voxengo SPAN version 2.2 update is now available for download. SPAN is a free real-time "fast Fourier transform" audio spectrum analyzer plug-in for professional music and audio production applications. For the most part it was derived from Voxengo GlissEQ dynamic parametric equalizer and reproduces its spectrum analysis functionality. SPAN conforms to AudioUnit and VST plugin specifications, and is available for Mac OS X (v.10.4.11 and later) and Windows (32-bit and 64-bit) computers. List of changes in version 2.2: Correlation meter values around -1 are now displayed correctly in the "density" mode. Statistics "reset" function now resets statistics of all channels correctly. K-metering modes now use fixed 600ms RMS and release time constants. Additional visual look variation settings added. Underlay color selection was removed - group's defined color is used now. "Hide Meters and Stats" switch added. Spectrum display is now more precise in high-frequency region.
PRODUCTION LIBRARIES
► Netherlands based StickyFX Productions announces the release of Sticky FX CHR Volume 1. The CHR package has over 300 imaging elements ranging from short sweeps, high pitched bleeps, cut through splitters and ground shaking impacts to 30 seconds and up Beat fillers, Beat drones and atmospheres in different moods and tempos. It's available on a buyout basis and ready for instant and secure download. Already on the air on B96 Chicago, RGR FM Belgium and Jelli.net. All info and demo at www.stickyfx.com.
► New releases from Killer Tracks: Join legendary Motown songwriter Lamont Dozier as he revisits his signature sound of the '60s and '70s in Reflections of Motown, the first album of the DOZIER: Generations collection. Also new is KT 236 Pop Country, a huge vocal album featuring several of the genre's hottest up-and-coming singers and songwriters. Plus seven additional albums from Chronic Trax, Killer Edge, Network Music, ZTS and even SLAM! Audition and download these releases online at killertracks.com. ▲