TECHNOLOGY

► Tascam has unleashed the US-2000, a new 16-input audio interface condensed into only one rackspace. Eight studio-grade microphone preamps welcome condenser microphones, and two of the mic inputs are on the front panel for easy access. An additional six balanced 1/4" line inputs are provided, as well as four balanced line outs and stereo digital I/O. The front panel features a 100-LED meter bridge for setting input and output levels. The US-2000 connects to a computer through high-speed USB 2.0, and is priced about the same as less-capable 8-channel FireWire interfaces. Included with the Tascam US-2000 is Cubase LE4, a 48-track workstation for Mac or Windows computers. It includes flexible hardware controls for zero-latency monitoring during recording. The Tascam US-2000 has a street price under $500. Other features: 96kHz / 24-bit audio resolution, (8) XLR microphone inputs with phantom power, (2) 1/4" instrument inputs (chan. 7&8 on front panel "combi "jacks), stereo S/PDIF digital in and out, 100-LED meter bridge (5 segments for each input and output), zero-latency direct monitoring with mono/stereo switch for each pair of inputs, 1/4" balanced stereo monitor output with its own volume control, 1/4" stereo high-powered headphone output.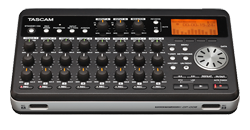 Also from Tascam, the DP-008, an 8-track Digital Portastudio small enough to fit into a guitar case. Based on the best-selling DP-004, the DP-008 adds four more tracks for a total of eight tracks with built-in mixing. The DP-008 has dedicated knobs for volume and pan for each track, plus a reverb send knob for the built-in reverb effect. The DP-008 has two XLR microphone inputs with phantom power, a guitar level input and even built-in stereo mics so you're ready to record anything. Tracks are mixed down to a dedicated stereo track and EQ is available on each track, but the Portastudio interface keeps it simple to use. The new Tascam DP-008 records to SD Card media, and a 2GB card is included with the unit. The DP-008 is available from Tascam retailers with an estimated street price of $299. Features: 2-track simultaneous recording, (2) XLR microphone inputs with phantom power, (2) 1/4" line inputs, one switchable to guitar level for direct recording, 1/4" footswitch input and Autopunch features for punch-in recording, RCA line outputs, 1/8" stereo headphone output, powered by four AA batteries (included) or PS-P520 power supply (optional), chromatic tuner and metronome features, stereo reverb effect on send/return path, Level, Pan and 2-band EQ controls per channel, 44.1kHz/16-bit recording resolution, records to SD or SDHC Card media, up to 32GB supported, USB 2.0 connection to computer for backup and track/mixdown export, built-in stereo electret condenser microphones, backlit LCD display. www.tascam.com.
► Radio WorkFlow presents their latest software development. Radio WorkFlow Commercials is now available allowing stations to link their Sales, Creative, Traffic and Production teams paperlessly. It runs in tandem with their existing Radio WorkFlow software and comes at no additional cost. www.radioworkflow.com.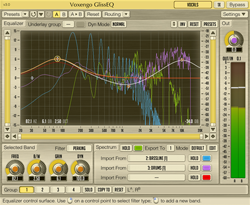 ► Voxengo announced the release of GlissEQ version 3, a powerful parametric dynamic equalizer plugin for professional music production applications, available in AudioUnit and VST plugin formats, for Mac OS X (v.10.4.11 and later) and Windows (32-bit and 64-bit) computers. The most interesting and unique feature GlissEQ offers you is its filters with dynamic behavior. While when using a normal equalizer you always get what you have set: if you specify a 6 dB boost at 100 Hz you get exactly a 6 dB boost at 100 Hz. GlissEQ offers you a slightly different approach: when you specify +6 dB at 100 Hz, you don't necessarily get 6 dB of gain; the filter's effective gain is adjusted dynamically according to the sound material you are filtering. Such "dynamic behavior" of GlissEQ's filters gives you a friendly, assisting equalization experience. Boosting up the highs will not create the fatiguing effect of overload; boosting up the lows will not make things sound mushy. Instead, you will get a pleasant transient-emphasizing effect bringing life and dimension to your tracks. The pronunciation of the dynamic behavior can be controlled via special "Dyn" parameter. GlissEQ also features a real-time spectrum analyzer. Moreover, the spectrum of a track can be exported to any other instance of GlissEQ thus making real-time inter-track spectrum comparisons possible. This can help you free frequency ranges in one track to allow the instrument in another track occupying same frequencies breathe. Other features: up to 32 filter bands, 16 filter types, harmonically-enhanced filter type, multi-channel processing, internal channel routing, channel grouping, mid/side processing, up to 8x oversampling, 64-bit floating point processing, preset manager, undo/redo history. www.voxengo.com.

► JDK Audio, the new brand developed and engineered by analog innovator API, announces the fourth product in its line of signal processing equipment. The R22 is a two-channel, rack-mount compressor with linkable stereo operation that uses true RMS power summing, a patented Thrust circuit for chest-hitting low-end, and easy to use, refreshingly musical control of all parameters. The R22 interconnects with both balanced XLR and quarter-inch inputs and outputs. Because the R22 has LED indicators and switchable analog metering of the output level and gain reduction, it's easy to optimize gain structure. Switchable hard- or soft-knee compression, combined with variable threshold, ratio, and make-up gain controls deliver a wide range of compression textures for an equally wide range of source material. Equally at home in a project studio or commercial recording facility, the R22 shines with a ruler-flat frequency response out to 50 kHz. www.apiaudio.com. ►
PRODUCTION LIBRARIES
► 23 new releases from Killer Tracks feature KT 228 Crime Drama 2, which features intense investigative tracks from award-winning CSI: Miami composer Jeff Cardoni. KT is also celebrating their new digital-only status with the timely HITS 09 Going Green compilation and CEZ 4070 Think Green. KT 229 Dramedy 2 picks up right where KT 204 Dramedy left off, with quirky themes fitting for a neighborhood of fun-loving, gossiping and troublemaking housewives. KT 227 Simple Textures 2 provide simple yet introspective scores for moments of abstract thoughts and subtle circumstance. CM 77 Eclectic Hip Sounds is Indie Rock that explores eccentric and vintage sounds with new and modern arrangements. Audition and download these releases and more online at www.killertracks.com. ►
THE MIX

► HD sound effects publisher Blastwave FX and Avid announced they have teamed up for a Competition & Giveaway with prize packages worth $12,000. Participants can register to win Post Production Packages and compete for the Grand Prize by creating and submitting a 30-45 second video that answers the question "What Role Do Sound Effects Play in Picture?" Three award winning sound designers will select the Grand Prize winner, who will receive a Turnkey A/V Post Package worth $8,300. The Grand Prize includes: Avid Media Composer 4, Mbox 2 & Pro Tools LE, SONOPEDIA™ HD Sound Effects Library, The Sound Effects Bible, and DV Toolkit 2. The deadline for entries is April 20th and the winner will be announced on May 5st (Cinco de Mayo). Anyone who registers is automatically entered to win two (2) Basic Post Packages worth $1,800 each. These two giveaway prizes include: Mbox 2 Mini & Pro Tools LE, .wavFX Mini sound effects library, 2X Blastwave FX Sound Effects Download Packs, The Sound Effects Bible, and DV Toolkit 2. To register for the Blastwave FX & AVID Competition and Giveaway visit: www.blastwavefx.com/avid. Award-winning judges include Skip Lievsay (No Country For Old Men), Jacob Ribicoff (Revolutionary Road) and Ric Viers (Blastwave FX and author of "The Sound Effects Bible") Video entries addressing the question "What Role Do Sound Effects Play in Picture?" will be judged upon the following criteria: How well the soundtrack supports the video and/or vice versa; Exemplification of role of sound for picture; and Structure and flow from beginning to end. All registrants will receive a Free Competition Download Pack containing 45 selected free sound effects from the Blastwave FX library and pre- and post-roll footage, which may be used in creating the video. The purpose of these competitions is to challenge participants to showcase their creativity while thinking outside the box and fostering relationships within the media production community. For more details, rules, information on prizes and judges, please go to the Blastwave FX & AVID Competition and Giveaway homepage. www.blastwavefx.com.
► Drake Donovan is expanding the focus of his company from voice-over and radio imaging production to multi-media branding. Drake says, "As more emphasis is put on digital content and digital sales, I have broadened my services to apply radio imaging principles to the station website. For example, if you have a weekend contest promo, I can create the recorded promo for the air, a graphic for your website, and even marry the two into a video pre-roll for the streaming player." Drake Donovan Creative Services will offer video production and graphic design, in addition to voice-over and imaging on a market-exclusive, cash retainer basis. For booking information and audio/visual samples, visit www.drakedonovancreativeservices.com.
► An audiobook titled The Longest Night: A Personal History of Pan Am 103, directed by Jeffrey Hedquist, was nominated by the Audio Publishers Association (APA) for a 2010 Audie Award. The "Audies" competition is the only awards program in the United States devoted entirely to honoring spoken word entertainment. Hedquist is President and Creative Director of Hedquist Productions Inc. and RAP columnist in Fairfield, IA. Hedquist previously narrated and directed many audiobooks, including Who Killed Emmett Till?, A Treasure's Trove, Secrets of the Alchemist Dar and 27 audiobooks in the well-known book series Chicken Soup for the Soul. He can also be heard as the off-camera narrator on television documentaries, such as "Saving The Sphinx," and "Iowa's World War II Stories." www.audiopub.org.
► New York Festivals® Radio Programming & Promotions Awards, revealed its newly designed trophy, inspired by the classic 1920's Art Deco microphone made popular during radio's golden age. The freshly minted trophy will debut at the 2010 Radio Awards ceremony, and will be crafted in gold, silver, and bronze colors representing the competition's winners ranking. This original design will continue the tradition started fifty-three years ago of honoring the World's Best Work™, in radio broadcasting, with entries from radio stations, networks and independent producers from around the globe. NYF's Radio Programming & Promotions Awards continually adapts its categories to the ever-changing, always evolving broadcast industry. In keeping with the demands of the consumer, NYF's Radio Awards introduced new categories this year, including Podcast for the Arts, Best Student Artist Performance/Interview and Best Student Comedy. The complete list of categories include: News Programs, News Inserts, Information/Documentary, Entertainment, Talk Programs, On-air Talent, Craft & Technique, Programming Format, Promotion Spots, IDs, Audio Podcasts, and Student categories. The Final deadline for 2010's NYF Radio Programming & Promotions Awards is March 31, 2010. For more information go to www.newyorkfestivals.com.
► Western Canada Lottery Corporation and their agency Venture Communications, Calgary won the big lottery at this year's Radio Marketing Bureau Crystal Awards! This year's judges unanimously awarded the Best-in-Show Platinum Award and the $10,000 Grand Prize to Venture Communications' entertaining radio advertising for Western Canada Lottery Corporation. The winning spot, "Crossword Scratch 'n Win – "Lip Paint", produced by 6 Degrees, also garnered the Gold Award in Performance and additional Craft Awards. This year's winners came from agencies, advertisers and radio stations across Canada which reflected the strength and depth of radio creative talent in this country. The Gold Crystal winners included: Brick Brewing, GJP Advertising & Design, Toronto; British Columbia Lottery Corporation, DDB Canada, Vancouver; Vancouver Alpen Club, Jim Pattison Broadcast Group, Vancouver; Durham RCC, CHUM Radio/CTVglobemedia, Toronto; ABC Canada Literacy Foundation, zig, Toronto; BMW Canada, Cundari, Toronto; Dream Easy Kitchens, Vista Radio, Kelowna; 107.5 Dave FM, Corus Radio, Kitchener; and Curve 94.3, CHUM Radio/CTVglobemedia, Winnipeg. To see the complete list of winners and to listen to all the winning spots simply logon to www.rmb.ca. The Radio Marketing Bureau (RMB) is Canada's premier resource centre for radio advertising. The RMB's mandate is to inspire and educate members, agencies and advertisers about radio's power and effectiveness in achieving and exceeding business goals. Through consultation, marketing, research and creative services, RMB supports advertisers in achieving maximum return on their media investment. ▲