TECHNOLOGY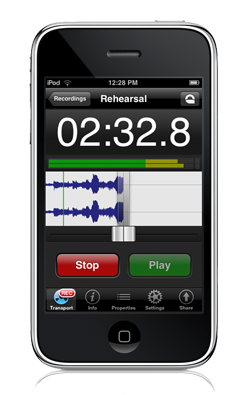 ► Audiofile Engineering, a leading audio software developer for the Mac, announces the world's first professional field recorder built exclusively for the Apple iPhone and iPod Touch. Created for audio professionals by audio professionals, FiRe brings several firsts to the iPhone platform. Audio pros can now use this mobile platform for serious field recording with an accurate real-time waveform display, audio markers, support for professional Broadcast WAVE metadata, and the instant downloading of audio files in multiple formats. Designed to revolutionize expectations for portable field recorders, FiRe supports stereo recording with external microphones such as the Blue Mikey and Alesis ProTrack. If the internal mic is used for mono recordings, the screen rotates 180 degrees allowing users to best position the device for optimum directional pick-up. Users can scroll the live waveform display with the touch of a finger or navigate it with a system of configurable double-taps. FiRe includes professional and accurate VU meters for input and output signals, a moveable playback head, configurable time units, the ability to tag recordings with locations data, and an overdub mode for layering tracks. FiRe is also the first recorder of any kind to offer native SoundCloud integration, making it simple to upload recordings directly to the web and share them with the tap of a button. FiRe is now available on the Apple App Store for $5.99. www.audiofile-engineering.com.
► Global Security Systems (GSS) announced the debut of FM radio data chips plus RDS-based protocol for cell phones and consumer electronics. GSS partnered with mixed-signal leader Silicon Laboratories have been working together for over three years to develop government and commercial FM-based message distribution systems and receiver chip designs supporting the Radio Data Service (RDS) aspects of FM broadcasting. The integrated technologies provide cell phone users with FM listening, and add the important feature of State and Federal emergency messaging via the FM broadcast infrastructure. The benefit of this system is the ubiquitous FM broadcast infrastructure and its reliability during natural disasters, weather events and man-made emergencies. Silicon Labs' embedded FM antenna technology further enhances the system by allowing the FM receiver to use internal antennas inside the mobile device instead of requiring plugged-in headphone wires. This allows mobile devices to remain constantly connected to the FM alerting system, while capitalizing on power-saving mechanisms inherent in the GSS protocol to consume very little current. In addition to the advanced power-saving features in the GSS technology, the RDS-based signaling supports targeted messaging to micro geographies, over-the-air programming and activation, scanning algorithm to allow receivers to roam uninterrupted nationwide and addressable down to the chip level much like an ESN in a cellular devices. For more information about GSS and the AlertFM technology, visit www.alertfm.com, www.gssnet.us and www.silabs.com.
► Propellerhead Software unveiled Record, the recording software that puts the musician in focus. Record combines effortless recording and a software mixer console with a rack of audio processing gear that builds itself or can be infinitely customized. "We figured it was time that someone took a fresh look at recording from a musician's perspective. Not needing to bolt music features onto an aging audio application, we truly started from scratch with full knowledge of today's computer architectures and capabilities. Record is the result," says Ernst Nathorst-Böös, CEO. "In short we wanted to do what we've always done—help people make more and better music." For guitar players, the built-in virtual POD® from Line 6 brings a wide range of top quality guitar amps and cabinets. Record's software mixer's sound is faithfully modeled after the SSL® 9000K hardware with flexible routing, full dynamics, EQ, advanced effects handling and complete automation. With its state-of-the-art dynamic multicore audio handling, Record uses a computer's processing power to its fullest. Record will be available for purchase worldwide on September 9, 2009. Record will be available through all Propellerhead dealers worldwide at a suggested retail price of $299 USD / €299 EUR. www.record-you.com. ►
PRODUCTION LIBRARIES
► Killer Tracks announces thirteen new releases. KT 218 Homicide, a collection of terrifying crime cues from film score veteran Kurt Oldman. You'll also find innovative new scoring tools in KT 217 Score This (contemporary indie scores delivered as edit-friendly stem mixes) and Edge 85 Changes (modular tracks with dramatic mood shifts, created specifically for problem/solution advertising). CM 074 Electronica Exotica takes colorful 60's lounge and exotica themes and mashes them with punchy contemporary beats and sound samples. NYB 94 Technology In Motion 2 features compositions created using either natural acoustic instruments and synthesized rhythms, or natural percussion and synthesized orchestration. NM 294 Cocktail Jazz features tasteful syncopated rhythms, a blend of piano and sax trio numbers. Audition all new releases at www.killertracks.com. ►
THE MIX
► The National Radio Hall of Fame (NRHOF) announced the results of its national online balloting process for induction into America's only National Radio Hall of Fame. The public selected: Neal Boortz - the conservative WSB/Atlanta-based host of "The Neal Boortz Show, which airs throughout the United States and is syndicated by Dial Global. Dr. Demento - a weekly syndicated program of novelty songs and comedy skits hosted by Barret Hansen and formerly heard on the Westwood One Network. Ed Walker – the Washington, DC host of "Play it Again, Ed" that aired on WMAL –AM and garnered one of the largest audiences in DC radio history. Walker and radio partner Willard Scott were known as the "Joy Boys" on WWDC and WRC. Walker now hosts "The Big Broadcast" on WAMU-FM featuring classic programs from the 30s, 40s and 50s. Wendy Williams - talk show host for more than 20 years, Williams began her career on WOL/Washington DC. Former host of "The Wendy Williams Experience" on WBLS/New York, Williams recently left radio to focus on her television career. The NRHOF Steering Committee also selected radio executive Norman Pattiz for induction into the National Radio Hall of Fame. Pattiz is Founder and Chairman of Westwood One, America's largest radio network organization, and a pioneer in the national radio syndication business. Previously the Steering Committee had announced its posthumous inductees for 2009, who are: Jose Miguel Agrelot (deceased) – the first Hispanic ever inducted into the National Radio Hall of Fame, Agrelot was the most dominant media personality in Puerto Rico until his death in 2004. Known as "The Puerto Rican Bob Hope," Agrelot developed hundreds of different characters during his radio career, including his best known, "Don Cholito." He started the longest running program in Puerto Rican radio history, "Su Tu Alegre Despertar," which aired for over 50 years. Harry Kalas (deceased) – a Philadelphia radio icon who began his career in 1961 calling minor league games while he was in the U.S. Army stationed in Hawaii. Kalas made his major league debut in 1965 calling games for the Houston Astros before being hired as the "voice of the Philadelphia Phillies" in 1971. Kalas, who was also the voice of NFL Films, was nicknamed "Harry the K." Kalas passed away on April 13, 2009 in a broadcast booth while preparing to do what he loved most – call a Phillies game. Studs Terkel (deceased) – the legendary host of his own program on WFMT/Chicago from 1958 to 1998. Terkel was known for his unique interviewing style which showcased his personal curiosity for the common man and for politicians and celebrities alike. An internationally acclaimed personality and best selling author, Terkel was also an inspirational figure and mentor to a younger generation of journalists and literary figures. He passed away at the age of 96 on October 31, 2008. Premiere Radio Networks will produce and distribute the live induction broadcast on Saturday November 7, 2009 at 10PM (ET) from the Renaissance Chicago Hotel (One W. Wacker Drive). George Noory, of Coast to Coast AM, will host the broadcast with Radio Hall of Famer Jim Bohannon of Westwood One serving as the announcer. Promotional support provided by American Airlines, official airline of the Radio Hall of Fame. Tickets for the black-tie induction gala benefit are $350.00 each and may be purchased online at www.RadioHOF.org. Tables of ten are available for purchase at the following levels of support: $3,500, $10,000 and $15,000. To learn and hear more about past National Radio Hall of Fame inductees visit www.radiohof.org.
► Radio personality, Darren Marlar is launching a new radio product called MARLAR 24/SEVEN (www.Marlar24Seven.com). There are a variety of ways you might know the name of Darren Marlar. First and foremost, he's been a drive-time radio personality for the past twenty years. If you don't know him from his on-air work, you might know him from his station imaging through Marlar House Productions – or perhaps you're one of the over 1,000 radio personalities who have used his show prep in the past ten years. Or maybe you know Darren Marlar as a clean standup comedian, as he performs in front of thousands of people every year. Or perhaps you've read his monthly humor column at TheChristianPulse.com. His latest venture is the creation of MARLAR 24/SEVEN (a.k.a., "The Darren Marlar Radio Show"). According to Marlar, the product is a blending of both syndication and voice tracking – allowing a station to have a major market quality syndicated show, but have it be virtually local and yet remain affordable. MARLAR 24/SEVEN comes with 35 fully produced cuts each weekday, several pages of dry voice work each month, a daily show promo, a monthly humor column by Darren for the affiliate station's website, newsletter, etc., five "Power Charge" promos per month, a daily podcast for stations to make available to their listeners, and quite a bit more. "This is something I've been thinking about for close to five years now," says Marlar. "Doors began opening for us right from the start. Even before we had the website done, we already had our first affiliate: WWIL in Wilmington, North Carolina. It's very exciting – I just wish I could get some sleep." To find out more visit www.Marlar24Seven.com.
► At a time when film and TV production budgets are severely stretched, a new service from production support site, www.productionwizard.com, offers some long awaited help. Their new Little Black Book feature is designed to help productions save time and money, revolutionising the way the industry sources its preferred suppliers. Productionwizard.com's new Little Black Book brings productions and suppliers closer, allowing them to request then compare competitive quotes from their preferred suppliers at the click of a button. Since launching earlier this year Productionwizard.com has used the latest technology to offer a seamless market comparison service, matching production support with the suppliers they need within a few keystrokes. The addition of a preferred suppliers list (the Little Black Book) is the next logical step, giving production the flexibility to send a discrete job request to their preferred suppliers before widening the search to all of the 1000s of suppliers on Productionwizard.com. The trigger for building the Little Black Book came at a recent industry awards dinner, following a remark from a leading TV exec. "She asked us why we didn't offer what she really needed: an internet equivalent to the nasty dog-eared Little Black Book from which she ran her multinational production business. Our developers started work the next morning and early feedback indicates that this is the killer application our users have been looking for." explains Chairman, Timothy Knatchbull, a former Discovery Channel exec. COO Alex Barraki, familiar to many from his BBC days, adds "We noticed that whilst production companies the world over were using the site happily, many were turning to us only when their existing contacts failed them. With our new Little Black Book production executives can now rely on Productionwizard.com day in day out, to quickly contact preferred suppliers and compare the market at the click of a button: saving time and money". Productionwizard.com is free to use for all, since the site plans to drive revenue from highly targeted advertising and industry sponsorship. To date 1000s of suppliers worldwide have joined, covering over 300 roles and services in film and TV production - including facilities houses, crewing companies, transport firms and freelancers. www.productionwizard.com. ▲