TECHNOLOGY

► Tascam has updated their combination CD players/cassette recorders to the CD-A550 and CD-A750. Like Tascam's CD-200, the new models employ Teac's new CD-5020A drive mechanism, designed for audio playback with a smooth loading drawer and low clamping noise. New features include MP3 and WAV file playback, CD Text display, Auto Cue and Auto Ready. Also new is the digital output and pitch control for both the CD and cassette mechanisms. The CD-A550 is a combination CD player and cassette recorder with unbalanced phono inputs and outputs. The CD-A750 adds balanced XLR ins and outs, parallel and RS-232 control. Each has contractor-specific features such as power-on play, a wired remote control, rackmountable design and shock memory on CD playback. Other features: Common outputs which can be selected sources as Tape or Auto or Mix; CD-Tape continuous play; CD to Tape dubbing include Edit dubbing; Mono mix (CD and Tape); 3 U Rack mountable; Various time display (CD-DA: Lap, Remain, Total remain MP3: Elapsed); Shock-proof memory; Auto reverse cassette playback and recording; Dolby B noise reduction; 55-key Wireless Remote control. www.tascam.com.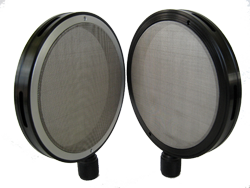 ► Pete's Place Audio recently announced the official introduction of its latest tool, the Blast Pad. Developed and handcrafted by Pan60 for Pete's Place, the product is a unique filter designed to protect microphones used in high-SPL applications. "Considering how sensitive and expensive vintage tube and ribbon mics can be, it's a wonder that many engineers don't think twice about putting up a cheap pop filter in front of them," says Pete's Place Audio President Lisa Montessi. "The downtime and cost to re-ribbon a mic can be substantial, making the Blast Pad a wise investment." Over time, high sound pressure levels--from kick drums, amp stacks, horns, harmonicas, powerful vocalists, and the like--can ultimately distort and/or damage ribbon and large diaphragm condenser microphones. The Blast Pad very effectively minimizes the air movement received by the mic, protecting a valuable investment while transparently taming plosives that can ruin an otherwise great "take." The Blast Pad is a chambered dual-screen filter with six ports around the outer edge of its circumference. The main body structure is made of corrosion-resistant aluminum, which is anodized for added protection, while the filter mesh consists of two different-sized corrosion-resistant stainless steel screens. Easily cleaned with soap and water, the highly durable Blast Pad is built to last. Weighing slightly over five ounces, the product features a five-inch diameter with a four-inch opening, plus a mount for a standard microphone stand or gooseneck. Retail pricing for the Blast Pad is set at $297.00 (USD). www.petesplaceaudio.com.
► KRK Systems is shipping of the R6 passive studio monitor. The R6 incorporates design cues from KRK's Rokit line, including radically radiused edges along the front of the cabinet. The R6, like its Rokit brethren, remains true to this legacy, providing a sleeker, more modern look that is as functional as it is beautiful. A key component to the new look is the molded front baffle. This design feature virtually eliminates diffraction distortion caused by standard flat baffles. The R6 leverages KRK's research and development into baffle design and fabrication. The curved front baffle was engineered to minimize diffraction of high-frequencies, resulting in a sweet spot that is significantly larger than products with square or lightly rounded baffles. The baffle also houses a molded front-facing bass port that minimizes low-frequency phase distortion and unwanted frequency emphasis typical of rear-facing bass ports. The end result is a harmonious yet accurate blend of low and high-frequency components that result in a more accurate speaker. The R6 voicing is designed to mimic the voicing of KRK's Rokit 6 monitor, which is renowned for its accuracy and mid-range clarity. The R6 features 5-way speaker binding posts, a precision crossover and is capable of handling 100 watts (RMS) of power. "While powered monitors make up the majority of the studio monitor business, there is still demand for passive monitors. The R6 addresses the needs of broadcasters, project studios and home enthusiasts by providing legendary KRK precision and accuracy in a passive speaker," said Tony Rodrigues, Vice-President of Marketing for KRK Systems. www.krksys.com.
► The principals of Listener Driven Radio, LLC (Broadcasters Lee Zapis, Daniel Anstandig, and Mike McVay) announced the release of new Listener Driven Radio software, empowering broadcasters to become crowdcasters. The listeners become the Music Director with Listener Driven Radio. Listener Driven Radio is a new model for radio built on crowdsourcing, that allows listeners to go online, or to their iPhone, and offer their input into what plays next on the radio station. LDR is constantly absorbing listener input, song votes, and comments on music, and automatically adapting radio programming in real-time. The audience can control the station's on-air product… within the parameters that the Program Director creates. McVay New Media President and LDR architect Daniel Anstandig said, "This is a new way of programming radio and growing your brand-community. This is the first time that the power of crowdsourcing has been harnessed this way for radio programmers. Imagine being able to improve your product while decreasing the cost of programming." Zapis Capital CEO Lee Zapis said, "The software we've developed will allow the listener to truly take control of their radio. So many of us in broadcasting have been concerned about the competition we face from the Internet, satellite, and social networking. LDR diminishes those concerns and takes what's best about the Internet and puts it to use for your radio station." Features: Turn listeners into collaborators. Constant research is generated from active listener interaction. Listeners log-on, click-to-pick their favorite songs, and then sit back and enjoy hearing what they, and other listeners, selected to play on the air. The Program Director selects the universe from which the listeners click-to-pick. That way stations will still be "SAFE" while allowing the audience to program the music that they play. LDR builds community by empowering the audience and giving them ownership over radio programming, integrating their feedback into the music scheduling immediately. Listeners can also comment and vote on new songs, giving them the power to elect new songs for airplay. LDR makes it possible for listeners to vote for songs, request songs, pick which song should play next, and upload or vote for new music through radio station websites, iPhones, and Facebook. The radio station will be connected to the social networking platforms used most by your audience. Radio listeners will communicate online using LDR, and will be encouraged to repeat visit and repeat listen to your station. LDR feeds Twitter automatically for radio stations, helping them to increase tune-in. LDR ties in directly to radio automation systems and instantly adapts a radio station's programming based on listener feedback and parameters preset by the Program Director. The software is available to radio stations for cash or barter. www.listenerdrivenradio.com.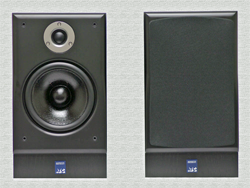 ► TransAudio Group announced the availability of ATC's most reasonably-priced reference monitor – the SCM11 two-way passive speaker. The new monitor incorporates ATC's innovative Constrained Layer Damping (CLD) technology, which reduces third-harmonic distortion between 100 Hz and 3 kHz, resulting in an extended, resonance-free axial frequency response, improved off-axis frequency response, and a significant increase in loudspeaker power response. The new CLD technology is incorporated in the 5.9 inches (150 mm) mid/low frequency driver with 1.77 inches (45 mm) integral soft dome. The driver features a precision undercut bass pole, in-house, hand-wound precision flat wire coil, and a massive optimized motor assembly. The driver is paired with a new soft dome 0.98 inches (25 mm) neodymium high-frequency unit featuring a precision alloy ATC waveguide. The frequency response of the SCM11 is 56 Hz – 22 kHz (-6 dB), with a sensitivity of 85 dB (1W @ 1 meter) and a maximum SPL of 108 dB. The recommended power amplifier rating is 50 to 300 Watts. Finished in black ash, the cabinet dimensions are 14.96 inches (380 mm) (H) by 8.3 inches (211 mm) (W) by 9.84 inches (250 mm) (D). Each unit weighs 18.7 lbs. (8.5 kg). "ATC's low distortion technology really works but it's pricey. This new CLD technology means that small affordable versions of the high-end speakers are now possible. The SCM11 is ATC's most reasonably-priced loudspeaker to date, and we're excited to be able to offer this kind of clarity at $1,440 a pair," says Brad Lunde, president, TransAudio Group, Inc. www.atc.gb.net.
PRODUCTION LIBRARIES
► Blastwave FX, the HD sound effects label, announced its new website which now features 423 sound effects packs for download. Keeping up with the demand for content that is available at the click of a button, Blastwave FX offers packaged sounds featured as: POWER PACKS: 25 sounds for $25 from Production Elements to General Sound Effects; and SCENE BUILDERS: Scene specific collections designed for high impact movie scenes that include car chases to zombie attacks. All 396 Power Packs and 27 Scene Builders are delivered as 16 bit 44.1 kHz .wav files in a .zip file and are embedded with Blastwave FX's metadata that is compatible with Pro Tools, Avid, Final Cut Pro, NetMix, and Soundminer. The new site also includes the Blastwave Labs Blog, the company's regularly updated Blog (www.blastwavefx.com/blog). It features the latest information on the HD Sound movement, video highlights of shows, tutorials on search engine use, sound industry news and sound design competition updates such as the SONOPEDIA™ Sound Design Competition. And for audio professionals that are looking to take some Blastwave FX sounds for a test spin, the company has included a free download pack of 68 favorite sounds from various Blastwave FX libraries. www.blastwavefx.com. ►
THE MIX
► Nick Tozzi, an award-winning producer of comedy bits for radio, shares some of his best bits in Bitography. These 22 bits written, performed and produced by Nick Tozzi range from satirical to edgy to downright silly. "Put some bite into your show with a little bit of Nick... or a lot!" Go to studio.tunecore.com/music/nicktozzi for the playlist, liner notes and a link Bitography on iTunes.
► The Radio Marketing Bureau posted four in-depth bulletins recently highlighting a number of trends emanating from the BBM PPM pre-currency data on the RMB website. "Just as we saw in Montreal," says Gary Belgrave, President of the RMB, "the pre-currency trending for Toronto, Calgary, Edmonton and Vancouver demonstrates radio's importance as a primary medium for just about all Canadians everyday of the week. The robustness of the PPM data provides further proof, as was previously shown in diary data, that radio reaches Canadian consumers in record numbers." The RMB encourages advertisers and agencies to become familiar with and explore the preliminary PPM measurement data. These latest four bulletins are part of an on-going series of PPM information capsules available on the RMB website at www.rmb.ca. The Radio Marketing Bureau (RMB) is Canada's premier resource centre for radio advertising. The RMB's mandate is to inspire and educate members, agencies and advertisers about radio's power and effectiveness in achieving and exceeding business goals. Through consultation, marketing, research and creative services, RMB supports advertisers in achieving maximum return on their media investment.
► Jeffrey Hedquist reports that Hedquist Productions, Inc. of Fairfield, Iowa cast, directed and recorded the voice actors (12 actors in 24 speaking roles) for Marvel Entertainment, Inc.'s first motion comic, SPIDER-WOMAN: Agent of S.W.OR.D. The motion comic, written by Brian Michael Bendis with art by Alex Maleev, debuted on iTunes, as the #1 episode on the Television-Animation sales chart and as the #2 episode on the Top Television Episodes sales chart. What is a motion comic? It's a new blend of Marvel's evocative graphics combined with moving parts and voiceovers. Marvel's official "movie" trailer is free online at: marvel.com/motion_comics, where all 5 episodes may be downloaded for $1.99 each. Hedquist Productions provided voice talent casting by Jay Mattsson, recording by Andrew MacKenzie and directing by Jeffrey Hedquist who also voiced the Ant Man, Captain America and Wolverine characters. www.hedquist.com. ▲