TECHNOLOGY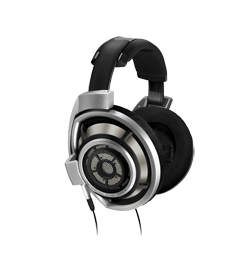 ► A completely novel type of transducer and an innovative ear cup design are two of the key design features of Sennheiser's new top-of-the-range HD 800 headphones. This audiophile model, which is sure to remind high-end enthusiasts of the company's legendary Orpheus headphones, offers brilliant sound imaging and impressive spatiality through the use of a 56mm sound transducer - currently the largest to be found in any dynamic headphones - and an ear cup design that directs sound waves to the ear at a slight angle. The vibrating part of the diaphragm is not a circular surface area but a ring, which is able to set the entire air volume over the transducer into motion, generating the full-bodied sound of the HD 800. This annular design, patented by Sennheiser, solves the problems relating to the dynamic transducer principle for the first time. "The more transducer surface area is caused to vibrate, the purer the headphone sound becomes at low frequencies," explains Axel Grell, acoustics developer at Sennheiser. "However, transducers with a large surface area have the disadvantage that, at high frequencies, undesired resonances known as eigenforms occur at the diaphragm. This results in distortions in sound reproduction that even high-quality Duofol laminations are not able to completely eliminate. The ring design minimizes the distortion of the sound image, even with a transducer as large as 56mm." The result is impressive: with total harmonic distortion of less than 0.02 percent (at 1kHz and 100dB SPL) and a frequency response of 6 to 51,000Hz, the HD 800 has brilliant trebles, precise bass reproduction and a much clearer sound image. Special attention has also been paid to the design of the ear cups. "We perceive acoustic signals to be natural when we experience them with a spatial extension," observes Grell. "Today, most music is made to be reproduced by two loudspeakers, which form an equal-sided triangle together with the listener. This results in a sound field close to the ears that is at a slight angle to the head. When the sound field reaches the ears, the sound is reflected into the ear canal and to the eardrum by the structures of the external ear with slight time differences. It is precisely these differences that are a key factor in spatial hearing and in the localization of the sound event outside the head. With its large, inclined transducers, the HD 800 generates a sound field that corresponds to the listening experience with loudspeakers, but far exceeds loudspeakers in the purity of the sound reproduction." Select materials and a top-quality black/silver finish give the headphones a look of elegance. To ensure that the acoustics of the transducers are not impaired by any partial vibrations, the transducer is mounted in high-precision gauze made of stainless steel. The ear cups are made of high-quality plastic with particularly good attenuation characteristics. Further, there is no covering at all for the ear cups, as less material means that there is less opportunity for partial vibrations to occur. For the same reason, a special headband was developed for the HD 800 that utilizes a patented multi-layer design consisting of metal and high-quality plastic attenuates headband vibrations, thus effectively eliminating any dips in sound pressure level at low frequencies. Specific cables have also been developed for the HD 800 headphones. The four-strand high-performance wires made of silver-plated, low-oxygen copper are specially shielded against electromagnetic disturbance. The two high-precision plugs and the 1/4-inch (6.3mm) jack plug are gold-plated for optimum contact. To guarantee an optimum fit on the head, the ear cups are suspended on one side only. High-quality plastic material developed for the aviation and aerospace industries ensure maximum stability. The circumaural ear cups fit comfortably around the ears without aggressive lateral pressure for hours of music enjoyment. The material used for the ear pads is Japanese Alcantara, which is particularly friendly to the skin and easy to clean. MSRP: $1,399.95. www.sennheiserusa.com.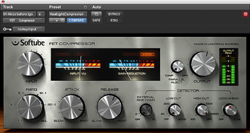 ► Softube announced the release of their newest modeled plug-in, the FET Compressor. As with previous Softube designs, the FET Compressor is based on component-level modeling combined with higher level modeling of the components' interactions--an approach used to accurately capture the performance nuances of the original hardware. Great attention was paid to modeling the behavior of complete sections of the original circuits (quirks and all), including the input and output stages, gain-reduction feedback loops, subtle (and not so subtle) distortions, bias differences of various transistors, and the like. Once the fundamentals were nailed, the team began implementing enhanced features designed for today's computer-based recording musicians. For example, you can instantly dial into the preset ratios found on the original hardware, but you can also smoothly sweep across ratios to the "tweeners." So when 12:1 is too little and 20:1 is too much, you've got 13.6:1 and 17.25:1 and 19.4:1--or pretty much anything your ears desire. And yes, even the "all four buttons in" mode (which you weren't supposed to do, but sure sounded great) has been modeled. Other features include a fast 20 microsecond attack time, a look-ahead function adjustable up to 1ms, low- and high-cut filters on the detector to allow for frequency-dependent input response, built-in parallel compression, an external sidechain input (with variable gain), input and gain reduction VU meters, a peak output meter, and true stereo mode, which eliminates phase anomalies when the FET Compressor is strapped across a stereo bus for mastering. Available in both Native (VST/AU/RTAS; approximately $249.99) and TDM/VENUE (approximately $399.99) formats. www.softube.com.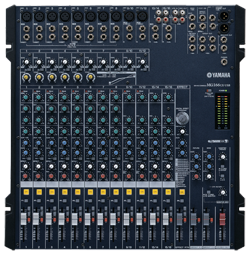 ► Yamaha announced its rollout of six upgraded MG Series analog mixers. These new mixers include features inherited from the company's professional mixing consoles and offer intuitive operation, crystalline sound and components that are optimized to work together. The new mixers come with easy-to-use compressor knobs. Conventional compressors can be tricky to operate, since they generally require setting a number of parameters to match the source. To simplify this procedure, Yamaha originally introduced "single-knob" input compressors on its EMX line of powered mixers. This feature proved so successful that users began asking when it would be included in non-powered mixers, as well. In response, all of these new MG models offer the ability to dial in the right amount of compression simply by turning a single knob until things sound right. The new MG166C and MG206C mixers' feature sets include Neutrik™ XLR connectors, redesigned faders, an environmentally friendly finish and high-output LED metering that is legible even in daylight. They also include EQ, advanced circuit design and high-quality microphone preamplifiers. The MG166CX and the MG166CX-USB mixers incorporate Yamaha's digital SPX multi-effect processor. As the USB suffixes on their model numbers imply, the MG16/6CX-USB, MG166C-USB and MG206C-USB include USB ports and are specifically included to simplify and enhance live recording. The three USB models come with Steinberg Cubase AI4 recording software. The MG166C (MSRP: $449), the MG166CX (MSRP: $499), the MG166C-USB (MSRP: $529), the MG166CX-USB (MSRP: $599), the MG206C (MSRP: $729) and the MG206C-USB (MSRP: $799) are now shipping. www.yamaha.com/proaudio.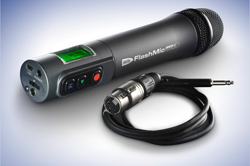 ► HHB has developed a dedicated FlashMic website packed with product details, user information, technical information, software downloads and video content. Accessible at www.flashmic.info, the site is updated regularly with FlashMic user news from around the world, recent examples of which include the acquisition of more than three-hundred interviews in Iceland for a radio documentary series, use of the FlashMic by German public broadcaster NDR, and footage of actor Jamie Foxx showing off his FlashMic on Jay Leno's Tonight Show. Alongside the extensive product information on the site, visitors can download the user manual in full for a complete overview of functionality, while existing users can access the latest FlashMic software and firmware, and the latest version of FlashMic Manager, the Mac/PC application used to configure the FlashMic off-line. The site also includes answers to a series of frequently asked questions, a feature that will be particularly interesting to new users. www.hhb.co.uk, www.flashmic.info.
THE MIX
► überblend launched its custom blend of audio branding services with Production Director Michael Stuber at the helm. Unlike traditional radio imaging that focuses on the individual pieces of a station's identity (such as promos, sweepers and station ID's), überblend removes the "a la carte" feel from imaging production by strategically creating an overall brand, consulting on, evaluating and implementing the necessary production elements. The company will operate from a custom-built facility in Quincy, MA; joining the überblend staff is audio designer Alden Fertig. "A station's competitive advantage is based on their brand as a lifestyle for listeners," says Stuber. "While radio imaging is about the individual audio production pieces, radio branding is about the big picture. In other words, a radio branding piece should be created with a clear strategy in mind to serve the big (branding) picture and establish a station's lifestyle identity." Stuber continues, "The message of a piece is not only in its language and vocal delivery, but also in its sound, rhythm and context." Working with radio consultants and program directors, überblend conducts a complete branding evaluation to develop the client's desired strategic framework. Stuber and Fertig then choose the appropriate combination of words, voices and sounds that comprise each production element for the station's new sonic identity. Drawing from a background in voiceover and commercial production, Stuber auditions, casts and directs vocal talent to ensure consistency in addition to managing and directing all jingle production. Promos, sweepers, rejoiners and other imaging elements are designed and produced in-studio, as are the necessary music beds and custom designed elements. This step-by-step process of evaluation, production and implementation creates a noticeable difference in the station's sound quality and flow. www.uberblend.com.
► YouCastr, the Live Interactive Sports Network, announces programs to focus on high school sports broadcasting and college sports broadcasting. Since the launch of YouCastr last year, hundreds of high schools and colleges have broadcast games with YouCastr. "Schools that use our service have found that it creates a great opportunity for all students to get involved," Ariel Diaz, YouCastr CEO said. "YouCastr makes it easy for schools to broadcast online, and provides a way for family and friends to stay connected even if they cannot attend games." To support all the people signing-up to broadcast high school sports and college sports, YouCastr has implemented College and High School Rep programs, added tens-of-thousands of college and high school teams to the site, and have made it simple for students, parents or alumni to broadcast live sports over the web. No prior knowledge of broadcasting is needed - all you need is a computer, an Internet connection, and a microphone. www.youcastr.com.
► TargetSpot, Inc., an internet radio advertising company, announced a partnership with Slacker, a "Personal Radio" innovator. Slacker will sell inventory through TargetSpot's online advertising platform, which allows businesses of all sizes to create, target (by geography, listening preferences and/or demographics) and deliver audio and visual advertising. Additionally, Slacker ad inventory will be available to agencies and large advertisers through TargetSpot's full-service account management team. Slacker Personal Radio, available online at www.Slacker.com, enables listeners to personalize over 100 expertly programmed stations and create, edit and share their own Personal Radio stations. Slacker listeners also have easy access to artist profiles, album reviews and cover art within the Slacker Web Player, on their Slacker Personal Radio Players and soon on BlackBerry smartphones. The addition of Slacker to TargetSpot's roster of stations follows the company's recent acquisition of Ronning Lipset Radio in October. TargetSpot now represents more than 1000 stations, on more than 50 radio groups and web properties. The network partners include the top tier of internet radio, from large terrestrial broadcasters such as CBS Radio and Entercom, to the big internet pure play properties such as Yahoo, AOL and Live 365, to the best independent stations such as Big R Radio, 181.fm and 1club.fm. www.targetspot.com. ▲