TECHNOLOGY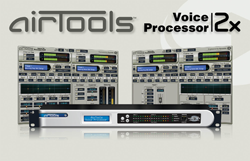 ► Symetrix announced the latest in its line of voice processors for the broadcast market. The AirTools Voice Processor 2x features two independent channels of ultra-low latency digital signal processing that are completely customizable from an easy-to-use computer software program. The AirTools 2x includes up to fifty customized programs which may be saved and instantly recalled. The Voice Processor 2x occupies one rack space and interconnects with the rest of the studio via two mic/line analog inputs, two mic/line analog outputs, two AES digital outputs, and a word clock input. Available processing includes compression, equalization, de-essing, downward expansion/gating, high-pass filtering, low-pass filtering, and voice symmetry. The included Windows® software application enables complete control of critical parameters and interfaces with the hardware unit via an Ethernet connection. Once a desired sound is dialed in, all settings can be saved as named presets for later recall, allowing a given studio mic to be optimized for a diverse air staff of male and female voices. Presets may be recalled with convenient front panel controls, optional hardware remote(s), or a third-party control protocol. MSRP: $1,599. www.SymetrixAudio.com.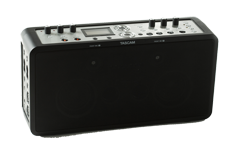 ► The newly-announced BB-1000 Portable CD/SD Recorder from Tascam is built to make recording to CD as simple as pressing record on a cassette 'boom box.' The battery-powered recorder records to either SD Card media or blank CDs from four built-in microphones or XLR mic inputs. The two front and two back mics can be individually trimmed for a balanced recording, and tracks can be immediately played back through a built-in 10W sound system. The BB-1000CD has been designed for simple operation in schools, houses of worship and band rehearsal spaces. The BB-1000CD offers uncompressed recording to CD-R/RW media for audio CDs. The SD Card can capture as WAV file or MP3 files, and SD Card recordings can be burned to CD. The recorder can use two microphones on the front of the unit, two mics on the rear, or a pair of XLR mic inputs with phantom power as the recording source. Tracks can be played through the built-in speaker system, and can be looped and slowed down without changing the pitch.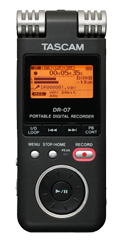 Also from Tascam, the DR-07 Portable Digital Recorder, a handheld digital recorder priced under $200. Based on TASCAM's best-selling DR-1, the DR-07 records to SD or SDHC Card Media, and a 2GB SD card is included with the unit. A stereo pair of electret condenser microphones captures great-sounding performances as 24-bit WAV or MP3 files. The DR-07 is powered by AA batteries and files can be transferred to computer using a high-speed USB 2.0 connector. All of this recording power is contained in a compact, sturdy case. Musician-friendly functions of the DR-07 include the ability to loop and slow down playback without changing the pitch to learn new music. A mic stand mounting hole and included windscreen add recording flexibility. The DR-07 is now shipping with an estimated street price of $199. www.tascam.com.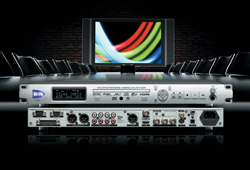 ► Developed to fulfill the requirement for a compact, industrial-strength, universal DVD/CD player, HHB's UDP-89 adds a new 'clean screen' feature that will enhance the UDP-89's suitability for use in A/V and broadcast applications. The 'clean screen' ensures that the video output remains free of the brand logos that render consumer DVD players unsuitable for professional use. Furthermore, menu commands and transport status appear only in the front panel display, leaving the screen a 'clean' plain grey when no content is being played. The UDP-89 has been designed from the outset to deliver the ultimate in digital video quality via its HDMI output, along with superb analogue picture quality. Sonic performance rivals that of high-end audiophile players, with the provision of balanced surround sound outputs to maximize the impact of high-quality movie soundtracks, and also to realize the best from SACD and DVD-Audio formats. Housed in compact 1U rack-mounting chassis and engineered for dependable, long-term use, the UDP-89 plays CD, Video-CD, SACD, DVD-Video, and DVD-Audio discs, and features a built-in preamp with volume control for direct connection to active 5.1 speaker systems, Dolby(tm) Digital and DTS decoding, MPEG audio decoding, professional cueing, A-B repeat function andRS232 and parallel control interfaces. Alongside the 'clean screen' the production model UDP-89 also adds an uprated power supply giving enhanced audio and video performance, more flexible cue to marker features, and an extension of the auto-pause facility to encompass SACD and DVD. The HHB UDP-89 Professional Universal DVD/CD Player is distributed in the USA by Sennheiser. www.sennheiserusa.com, www.hhb.co.uk.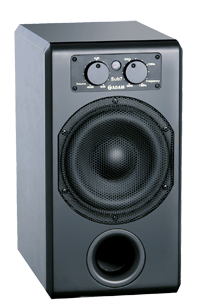 ► ADAM Audio is shipping the new Sub7 Powered Subwoofer in the US market. Built on the heritage of ADAM's professional studio monitors, the Sub7 has been designed to complement the A5 and A7 monitors of the A-Series. It features a compact size, three attractive finishes, and an affordable price point starting at $479. The Sub7's small footprint allows for easy placement in small spaces. The front panel features two motorized controls for input level and crossover frequency settings for dialing in the optimal settings for each environment. These knobs can also be controlled with an included wireless remote control, allowing users to optimize their sound reproduction without leaving the listening position. The Sub7 is equipped with both balanced XLR and unbalanced RCA in and output connectors and numerous controls. A 0°/180° phase switch and a switchable 85Hz highpass help tailor the sound to the system and room. The low cut off frequency of 31 Hz (-3 dB point) enables this subwoofer to fill out the lows of any system while keeping a compact form factor. The Sub7 comes in a choice of traditional ADAM matte black or new "piano gloss" finishes in black or white to compliment the finish options of the A5. In addition to desktop audio recording applications, the Sub7 is well suited to mobile and broadcast applications, surround set-ups, and multimedia uses such as gaming and home audio. Pricing: Sub7 in traditional matte black: $479 USD. Sub7 in "piano gloss" black or white: $529 USD. www.adam-audio.com.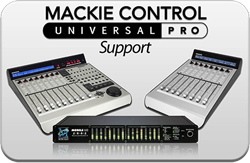 ► Metric Halo announced the shipping of Mobile I/O v.5.1, a software/firmware/driver update that enhances the capabilities of all new and existing Mobile I/O hardware and greatly enhances its utility and workflow in everyday production tasks. The new update provides important improvements to the Mobile I/O hardware and software platform, most notably advanced control surface support for EuCon – Euphonix Artist Series and Pro Series – and Mackie Control, and is available free of charge to all Mobile I/O users. MIO Console's EuCon implementation supports control of virtually all v.5 Mobile I/O functionality – from remote operation of mic gain, phantom power, phase and source selection, to Record Panel transport control – from Euphonix MC Control and MC Mix media controllers and Pro Series consoles. MIO Console also supports operation of the integrated 2d Monitor Controller from the MC Control's monitor section, with adjustment of monitor level, control room mute and source selection from the surface's touch screen interface. Banking and nudging across multiple Euphonix control surfaces is easily accomplished and there is complete support of dynamic fader ordering and send busses. MIO Console v.5.1 control surface support also manages the high-resolution metering, text and numeric readouts available on the Artist Series, including channel names, pan and gain levels and virtual knob positions. The updated software is available as a free download from Metric Halo's website at: www.mhlabs.com.
► NETIA, a GlobeCast company, is a provider of software solutions for managing and broadcasting television and radio content, and is a player in the digital broadcast arena. The company's four product ranges, Radio-Assist™ (audio), Manreo™ (video), OpenNet (audio and video), and Media Logging™ (audio and video), allow content holders to manage all of their processes from capture to multichannel broadcasting over terrestrial channels, the Internet, mobile devices, and other channels. NETIA recently introduced its Radio-Assist™ 8.0 range of digital audio automation software. Equipped with a broad range of tools for end-to-end multimedia workflows, the newest version of NETIA's software suite now extends beyond traditional broadcasting by: 1) Allowing users to prepare publication at an early stage of the workflow. Publication is prepared at the same level as the on-air thanks to new planning tools. 2) Integration with NETIA's Media Asset Management system for all media — video, images, texts, and audio. 3) Offering an automatic publishing engine for all media as well as managing associated metadata and linked media. Radio-Assist 8.0 gives instant access to all types of media, archived or online. Regardless of the storage medium, items can be previewed and restored for repurposing and distribution, both for broadcasting and for multi-platform distribution. By interfacing with NETIA's Media Asset Management system, Radio-Assist 8.0 also responds efficiently to the needs of media groups having to manage and share video, audio, images, and text throughout their entities.Radio-Assist 8.0 makes three different types of publishing available to users. With the software's new "Publication" tab, journalists can publish only audio content and its metadata; publish audio and associated media, such as video, text, or images; or prepare a group of items for automatic conversion and publishing to an array of destinations, such as a podcast, posting on the Internet, or delivery to mobile devices. NETIA's Radio-Assist family of digital audio software programs covers each part of the production and broadcast workflow, allowing users to record, edit, or prepare a playlist. In addition to new browse and publishing tools for full multimedia functionality, the software features tools for acquisition, sound-file editing, commercial and music production, newsroom systems, scheduling, multicasting, administration, and more. www.netia.net.
THE MIX
► Dan O'Day's the 14th annual International Radio Creative & Production Summit is slated for August 7-8 in LA with Dave Foxx, Patrick Fraley, Dan O'Day, and Nancy Wolfson. www.danoday.com/summit.
► Trev Hollywood, former Production Director of the nationally-syndicated radio program, "The Wendy Williams Experience," recently launched a full service production company called "Radioactive Productions." "Radioactive Productions" produces radio commercials, radio imaging, provides audio and music production for record companies, independent artists, mix tape DJ's and television. They've produced the theme music for the "The Wendy Williams Experience" on VH1. Radioactive also concentrates on event promotions and studio arrangements. Trev Hollywood, CEO of Radioactive Productions and his business partners, Infinite G. and Nelson "Big City" Alicea decided to launch the company after Trev Hollywood exited Inner City Broadcasting/WBLS FM in New York City last November. "Since leaving WBLS, my partners and I started Radioactive Productions," says Trev Hollywood, who served as the Production Director for the Wendy Williams Experience for nearly five years. "Radioactive was started as a means to fill a void in the production market. A lot of companies constantly look for production experts to produce commercials for their events, products and services, but are limited to production houses that concentrate on national production." Although Trev Hollywood's priority is making Radioactive a huge success, he isn't counting out his first love, radio. "Radio is definitely still an option for the future, but if we choose not to work for radio, radio will work for us" says Trev Hollywood. www.radioactiveproductions7000.com. ▲