TECHNOLOGY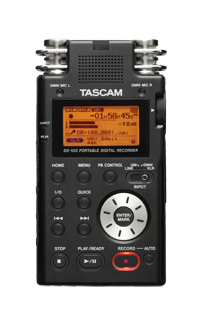 ► Tascam's DR-100 Portable Recorder targets recordists who need a reliable handheld recorder with advanced recording features. Building on the DR-1 recorder, the DR-100 has a pair of XLR mic ins with phantom power for adding pro condenser microphones. In addition, the DR-100 has four built-in electret condenser mics – two cardioid and two omni – and a built-in speaker for playback. It's powered either through an included Lithium-Ion rechargeable battery or easy-to-find AA batteries. Analog line inputs and outputs are also available, as well as a mic stand mounting hole for recording flexibility. Other production-savvy features of the DR-100 include a wireless remote control and audio editing features. Playback can be looped or slowed down without changing the pitch, and locate points can be added while recording. The DR-100 records to SD or SDHC cards, and a 2GB card is included with the unit. Tascam also announces new software version 1.10 for the Tascam X-48. The update adds several user-requested features to the 48-track digital audio workstation. Among the new features are a new "Big Meter Mode," which changes the VGA display into a meter bridge for live recording and tracking. Other added features include a new "fail safe recording" mode which saves the file every 5 seconds. Tascam also made improvements to the user interface, automation system and minor bug fixes. X-48 version 1.10 is now available for free download from the Tascam website. www.tascam.com.
► Staco Energy Products Co.'s UniStar® C series single-phase online Uninterruptible Power Supply (UPS) come in 1, 2 and 3-kVA rack-mount models and include hot-swappable batteries, a powerful internal battery charger, emergency shut-down and programmable receptacles. This double-conversion UPS protects from outages and irregularities in incoming line voltages from 60 to 144Vac (120Vac input) or 120-288Vac (230Vac input) at 45 – 65 Hz. A constant clean, steady sine wave protects downstream equipment even without going to battery mode, making the UniStar® C ideal for studio and location broadcast applications. Each UniStar® C features PWM sine-wave topology which yields excellent performance. The high crest factor of the inverter handles all high in-rush current loads without the need to upgrade the power rating. DC-start function ensures that the UPS will start even during a power outage. An easy-to-read user friendly LCD display provides real-time indication of all major system parameters and status, including load level, battery remaining and fault signals. Digital signal processing (DSP) provides the UPS with powerful communication capability, which enhances the flexibility for easy remote control and monitoring. This allows users to completely test the major operating functions of the UPS, communicate via SNMP/web/network adaptors, or access UPS functions via the web. Users can also be alerted to specific events via SMS messages. www.stacoenergy.com.
► SiPort Inc., a developer of digital terrestrial broadcast receiver ICs for use in consumer electronic devices, announced that its SP1010 single-chip HD Radio™ receiver was released to production. The SP1010 single chip HD Radio receiver is the world's lowest power HD Radio solution and provides digital and analog FM performance for the mobile, tabletop and automotive aftermarket market segments. The SP1010 completed comprehensive product qualification and is being shipped in volume to OEMs, ODMs and module makers. "This is the dawn of the digital radio revolution as the United States witnesses the rapid transition of analog radio to digital HD Radio technology," said Aiman Kabakibo, CEO of SiPort. "By offering the world's lowest power HD Radio solution in the smallest available form factor, SiPort is accelerating the analog to digital transition in popular consumer and mobile devices such as MP3 players and handsets." The SiPort® SP1010™ Terrestrial Digital Broadcast Receiver is a highly integrated CMOS IC with tuner, baseband and DC-DC converters on a single die. This multiband single-chip receiver enables Digital Radio and Digital Data Services from terrestrial broadcasts to high-volume devices such as mobile handsets and MP3 players. The SP1010's low power and small form factor enable mobile system manufacturers to develop, for the first time, mobile HD Radio platforms that provide attractive form factors and long battery life. While consuming an unheard of 100 mW for the entire HD Radio sub-system (baseband, tuner, DC-DC converters and memory), the SP1010's design provides superior RF performance and interference rejection in all operating modes. Digital Signal Processing (DSP) enables the baseband to provide performance previously found only in expensive, high-end receivers. A software-programmable configuration enables multi-standard reception with no compromise on performance/power ratios. The single-chip receiver handles all symbol decoding, synchronization, de-interleaving, error detection, and error-correction functions. "The HD Digital Radio broadcast infrastructure is already in place and 84% of the U.S. population can already receive HD Radio," said Jeff Littlejohn, executive vice president of Clear Channel Communications. "SiPort's ultra-low power mobile HD Radio receiver extends HD Radio's reach to battery-powered devices, which are becoming the entertainment platforms of choice for many consumers. Mobile audiences will enjoy the rich and diverse content that's only available from the hundreds of HD stations." The HD Radio system was developed by iBiquity Digital Corporation. The breakthrough technology allows digital radio signals to ride the same airwaves as today's ubiquitous analog AM and FM radio broadcasts, bringing additional content, crystal clear sound, and location-based data services. SiPort is a venture-backed fabless semiconductor company developing mixed signal RF and digital baseband wireless receiver chips supporting multiple Digital Broadcast Standards. www.siport.com.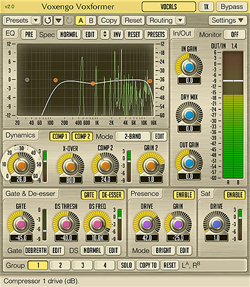 ► Voxengo announced the release of version 2 of Voxformer vocal processing plug-in. Voxformer is a multi-functional vocal channel strip plug-in for professional audio applications. Combining several professional quality processing modules, Voxformer was designed to be a comprehensive solution for all your vocal processing needs – be it spoken or sung vocals. Version 2 features the following improvements over version 1: Smoother compression, de-breath gate algorithm, multi-channel support, multi-platform support, wet/dry mix, mid/side processing, processing mode editors, selectable oversampling level, undo/redo and more. The coolest feature of Voxformer is its one-knob vocal compressor. Using only a single knob, you can get a tight, open and definitive professional vocal sound with an excellent articulation in no time. You do not have to worry about common ratio and make-up gain controls since they are automatically selected by the advanced compression algorithm while attack and release parameters are stored in a mode preset. Moreover, Voxformer features two compressors of this type, allowing you to apply either a two-band or a two-stage (serial) vocal compression. Voxformer also features the de-esser with selectable center frequency and threshold. Multi-band noise gate is available, which, in a manner similar to the compressor, was designed to bring ease of tuning while providing excellent sonic results. For those who like a saturated vocal sound, Voxformer implements a special module which applies a smooth saturation. Another useful feature Voxformer has to offer is the presence boosting module, which you can use to add some shine and space to the vocals. Almost all Voxformer's processing modules offer "mode editor" panels where you can fine-tune specific module's operation. In most cases this allows you to use Voxformer for processing of a wide range of instruments beside vocals.
► British DSP manufacturer XTA Electronics has announced the latest addition to their successful 4 Series – the DP426. The DP426 is a 2-in, 6-out audio management tool that has been introduced following the demise of the popular DP226 and is ideally suited to stereo three-way applications. The DP426 shares exactly the same features as all the other models in the 4 Series including, 28 band graphic EQ and 8 bands of fully parametric EQ on the inputs, 9 bands of fully parametric EQ on the outputs, crossover filters, which offer various slopes from 6dB/Octave to 48dB/Octave, delay, limiting and Audiocore remote control. www.xta.co.uk.
THE MIX
► Announcing wizzFX.com, a new Creative Freelancing, Production and Sound Design initiative, created and run by Chris Nicoll, current Imaging Director of ZM in New Zealand. wizzFX.com is an online sound design subscription service, continuously updated, with creative freelancing, and custom music and sound design packages available. More info available online at wizzFX.com, or email This email address is being protected from spambots. You need JavaScript enabled to view it..
► Voxengo now offers a custom drum track recording service. With its help musicians and producers can order custom drum tracks for their songs. The drum track will be played by an experienced drummer and recorded in Voxengo's recording studio. "…nothing in computer world can replace a real human drummer feel. Secondly, a realistic drum sound cannot be reproduced by a drum sampler since a drum set sounds as a single complex acoustical instrument: this makes it impossible to recreate such sound by means of discrete sampled drum hits. Thirdly, organizing drum recording on your own is usually expensive. We are doing all this in our service, but since the process is streamlined the cost can be kept reasonably low. Beside that we produce a finalized stereo drum mix which can be used instantly, with or without additional processing (e.g. equalizing, multi-band dynamics); individual drum tracks are also provided. Custom drum tracks are produced in 5 days for USD 109.95 per song. www.voxengo.com/drumservice/. ►
PRODUCTION LIBRARIES
► Blastwave FX, the HD sound effects label, has announced the release of Free Sound Effects Download Pack #1, available on www.blastwavefx.com. The Free Sound Effects Download Pack #1 contains 68 favorite sound effects selections from 40 Blastwave FX libraries. Sonic novelties include angry goat bleating, bursting fireballs, robot footsteps, a pixie dust fly-by, digital glitch, low frequency tremors and more. The 68 sound effects included Free Download Pack are available for all to use on a royalty-free basis via a Creative Commons License and contain 68 selections from the 40 Blastwave FX collections produced to date, including SONOPEDIA™, Blastwave Imaging Elements, Radio Meltdown, Pop, Buzzsaw, LFE and more. "After years of producing sound effects libraries for companies such as Apple, Sony, Adobe, Hollywood Edge and Sound Ideas, we decided it was time to do our own thing," said Ric Viers of Blastwave FX. "We have released the Free Download Pack as a way to introduce Blastwave FX and give people sound effects they can check out and use for free. Blastwave FX was born in January 2007 and since then we have produced over 33,000 sound effects organized into 40 royalty-free collections, including our flagship library SONOPEDIA." Blastwave FX also announced the release of 20 sound effects libraries on USB Flash Drive. The libraries currently available on USB Flash Drive include: Ambience I, Animals I, Cartoon I, Emergency I, Fire I , Foley I, Horror I, Household I, Humans I, Impact I, Industry I, Musical I, Office I, Science Fiction I, Sports I, Technology I, Transportation I, Warfare I, Water I, and Weather I. Each library is delivered on a 2 GB, 4 GB, 8 GB or 16 GB USB Flash Drive depending on the format selected. Available formats include 16/44.1, 24/28, and 24/96 broadcast .wav files. Blastwave FX libraries delivered on USB Flash Drives feature: • USB 2.0 (56mm x 16mm x 9mm) • MAC/PC compatibility • 100% HD Sound Effects (24/96 native recorded) • Embedded Metadata for Search • Royalty-Free. www.blastwavefx.com.
► Killer Tracks has 9 New Releases from Atmosphere, Koka, Match, UBM and Cezame. Atmosphere 225 The Indie Years 89-94, Koka 2300 A Guide To Protest Music, Koka 2301 Paris Glamour By Night, Koka 2302 Paris Glamour By Day, Ubm 61 German Pop, Match 225 Rock Highlights, Cezame 4062 Human Resources, Cezame 4063 Come To France, Cezame 4064 Heroes And Legends. www.killertracks.com. ▲