TECHNOLOGY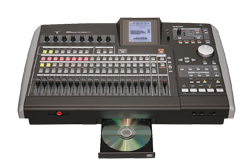 ► TASCAM's best-selling 24-track / 24-bit workstation has been upgraded to the 2488neo. The updated model has a bold new look and new mastering effects to create punchy, polished mixes. Like its predecessor, the 2488neo has eight microphone inputs, seven effects processors, an 80GB hard drive and the simple user interface common to all TASCAM Portastudios. The 2488neo's 80GB hard drive is enough for hours of 44.1kHz/24-bit recording. The eight microphone inputs, four with XLR and phantom power, can be assigned to any track for recording large ensembles. A reverb effect, multi effect with guitar amp simulation, and up to 9 compressors are also included. The new mastering effect includes multi-band EQ, compression and limiting for professional-sounding mixes which can be burned to CD or transferred to computer through the USB 2.0 jack. Built for musicians who want to record without needing a computer, the 2488neo continues TASCAM's legacy of easy-to-use Portastudios for home recording. TASCAM also launched the RC-SS20, a Direct Play Remote for its lineup of solid-state recorders. Compatible with the new SS-R1, SS-CDR1 and HD-R1, the RC-SS20 provides 20 buttons to begin instant playback. The self-illuminating keys and load button are ideal for use with the Flash Start feature on the SS-R1 and SS-CDR1, whether triggering sound effects, music cues, announcements or other sounds. www.tascam.com.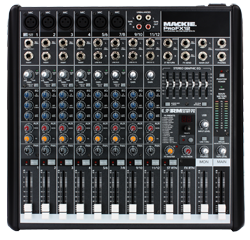 ► Mackie introduced two new compact effects mixers with USB I/O—the ProFX8 and ProFX12. Each ProFX model features Mackie low-noise, high-headroom mic preamps ensuring pristine signal and offers 16 "Gig-Ready" effects using the brand new, integrated 32-bit RMFX™ (Running Man FX) effects processor. Every channel strip features 3-band active EQ, two aux sends, LED metering and a smooth 60mm fader. Onboard 7-band stereo graphic EQ allows for simple tuning of the Mains or Monitors, and USB I/O lets the user stream music directly from a laptop, or capture the live mix using the included Tracktion 3 Music Production Software. The ProFX8 features four mic/line channels, two of which feature stereo line inputs. All mic channels offer a 100Hz lo-cut filter and include an easy Level Set LED. There is also a dedicated stereo line-in channel (bringing total stereo line inputs to three sets) and an additional Stereo Return for keyboards, external effects or stereo playback devices. It even includes a built-in DI input for direct connection of a guitar or bass. The ProFX12 includes six mic preamps, and five sets of stereo line inputs including the additional Stereo Return. All mic channels feature the Level Set LED and lo-cut filter, and there is also a built-in DI. The additional input count makes this model the perfect choice for small to mid-sized venues or performing acts that may or may not have an engineer on staff. The ProFX8 U.S. MSRP is $299.99. The ProFX12 U.S. MSRP is $359.99. www.mackie.com.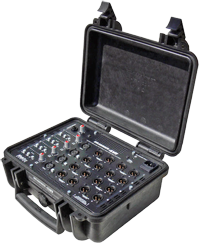 ► In response to pleas for durable, professional-grade mic/line inputs with multiple outputs for live sound, location recording, and broadcast, Drawmer has engineered the all new Kickbox 4x4 portable active splitter. Housed inside a rugged, road-ready carrying case, the Kickbox 4x4 accepts up to four XLR mic/line inputs and delivers them with up to 16 XLR line-level outputs. As with all of Drawmer's industry-leading products, TransAudio Group will import and distribute the Kickbox 4x4 in the USA. The Kickbox 4x4's high audio quality, robust build, and portability make it the ideal tool to provide multiple outputs for broadcast, press conferences, live sound, sports events, corporate events, or any situation where distribution of mic or line inputs to multiple outputs are required. Its four studio-grade mic/line preamps each provide phantom power, independent metering, and up to 66dB of gain. Its sixteen balanced output stages each provide a "transformer loaded" LED and the option of transformer isolation. The Kickbox 4x4 gracefully configures to four practical routing schemes: one input to sixteen outputs; two inputs each to eight outputs; four inputs each to four outputs; and one input to twelve outputs simultaneously with one input to four outputs. The 4x4 supplies as standard in a road proof case with a removable lid for access to all controls and connections. A headphone input with selectable source simplifies setup and monitoring. MSRP: $1,495. www.transaudiogroup.com.

► TransAudio Group, the U.S. distributor for SoundField introduced their new SPS200 software controlled microphone. Perfect for both the broadcast and audio recording markets, the SoundField SPS200 is the most affordable mic in the line with a USD list price of $2,995.00. Production models of the microphone, resulting from a three-year R&D program, are shipping now. The new SPS200 A-Format microphone brings the advantages of SoundField Technology to a wider audience and provides the perfect 'front-end' to capture both stereo and 5.1 surround. It is ideally suited to those working in the field on laptop based recording systems or in the studio on fully-fledged Digital Audio Workstations. The SPS200 A-Format microphone uses the same established SoundField multi-capsule technology as the high-end models in the SoundField range. This relatively lightweight microphone (approximately eight ounces) is powered by standard 48v phantom power and incorporates four low-noise, studio grade condenser capsules. A short break-out cable outputs the SoundField A-Format at mic level on four balanced XLRs, ensuring compatibility with all equipment. The SPS200 A-Format microphone is the first SoundField microphone that does not require an accompanying control unit. All the processing - such as the A to B-Format conversion, stereo and surround sound decoding/manipulation - takes place in the Surround Zone software which comes packaged as standard with the SPS200 A-Format microphone. The software is currently available for Pro Tools HD and all platforms supporting VST Multi-channel such as Nuendo, Cubase, Soundscape, etc. on both PC and Mac platforms.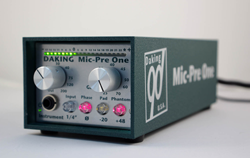 TransAudio Group also introduced the high performance Daking Mic-Pre One single-channel microphone/instrument preamplifier. Sharing the gain structure and Class A, fully discrete transistor circuitry design of the Daking Mic Pre IV, the Mic Pre One additionally features a unique variable high-pass filter and ships in a freestanding 'DI-style' steel enclosure, ensuring both strength and noise immunity. Essentially a single channel of the Mic Pre IV, the Mic Pre One features switchable phase, 20dB mic input pad and +48V phantom power, plus a selectable 1/4-inch line/hi-z instrument input, all utilizing relays with gold bi-furcated contacts. Two large knurled aluminum knobs control the variable high-pass filter (0-200Hz) and continuously variable input gain, which is complemented by a full-width, twenty-segment bi-color LED meter. The rear of the unit offers a Jensen transformer-isolated mic input and fully-balanced XLR output, plus a 1/4-inch line output. A fourth connector introduces DC power from the external power supply to the unit. Made in the USA, Daking Mic Pre One MSRP: $850.00. www.transaudiogroup.com.
► Seattle-based Hyran Media Services Inc., creator of the patent-pending SnipITTM service that uses mobile technology to make radio interactive, presents a whitepaper comparing various interactive initiatives available to radio stations. The whitepaper, titled "Interactive Initiatives for Radio", is available for download at: www.hyranmedia.com/InteractiveRadio.pdf . "It's easy for radio station owners and managers to be overwhelmed by all the new initiatives available today," says Peter Hartmaier, president of SnipIT developer Hyran Media Service Inc. "We created this whitepaper to offer a unique perspective on all the options available to radio stations, and show them how to compete for revenue from advertisers who are increasingly spending online." This whitepaper explores and compares the challenges of the following: Radio station Web sites and streaming audio; Increasing radio revenue using existing assets; Advertiser reliance on Internet search engines as secondary information sources; Leveraging new mobile technology (e.g., smart phones like the iPhone, Blackberry, etc.); Station-branded short codes and customized mobile marketing campaigns; and, Making smart decisions that generate meaningful revenue for radio. 'This whitepaper demonstrates the absurdity of peaking a consumer's interest with a radio spot only to lose them when they are forced to seek additional information on an Internet search engine," says Peter Hartmaier, president of SnipIT developer Hyran Media Service Inc. "We show them how radio can help advertisers own the first click." Hyran Media Inc. is the creator of SnipIT, the patent-pending technology that allows listeners to receive information on their mobile phone about the songs and advertisements they hear on the radio. Listeners simply text a station's call letters to SnipIT (764748) and automatically receive, on their mobile phone, the contact information for the advertiser that just ran a spot on the radio. SnipIT also allows listeners to have song information sent to their email inbox, effectively tagging songs for download from any cell phone. During a recent trial of SnipIT on a Seattle area radio station, listeners requested advertiser information at rates more than 20 times the typical banner ad. [i] The test abstract is also available for download at www.HyranMedia.com. SnipIT accesses the same song database used by RDS and HD technology to tag songs for download to iTunes Tagging-capable HD Radio receivers, and Microsoft Zune. www.HyranMedia.com.
THE MIX
► Booking 2.0 is a unique new service that delivers dynamic, timely interviews with world class guests to radio producers and hosts. The interviews are available for broadcast free of charge. They're recorded in high quality, digital audio, and distributed at www.plannedtelevisionarts.com/sdrt and via the site's RSS feed. Maya Angelou is the first interview. On the site, radio professionals can preview the audio and then if they wish to air it, download it for free. Booking 2.0 offers two versions of each interview - one complete 7 1/2 minute segment, as well as audio files of each answer with a transcript of questions. Stations may play a guest's answer as a clip; read questions and fire each answer afterward; or toss to host Lauren Frey as a guest correspondent, then air the complete interview. Podcasters can also pick up the content to run as is or use as source material in their original work. Lauren Frey has nearly a decade of broadcast experience in the New York City market. She has hosted on Sirius Satellite Radio, WNYC Radio, and WQXR, and written and produced for the national, Public Radio International show, Fair Game. Her writing regularly appears on TheMorningNews.org. Lauren is also the announcer for the nationally-distributed NOW on PBS. Booking 2.0 evolved when she and Jeff Nordstedt, head of Interactive at Planned Television Arts, began thinking of ways to turn the traditional radio tour on its ear. Rather than having a team of publicists call station after station to book interviews, with Booking 2.0, Lauren conducts the interview, then it becomes available freely online. There is a two week period during which the audio is available exclusively to radio professionals and podcasters, after which point it's distributed more widely. "We're not interested in doing infomercials," says Lauren, "You will never see a doctor paid to tout some miracle cure on the site. Our editorial standards are the same as they were when I was working on a national show." "Exactly," Jeff adds. "We don't do radio news releases. We do interviews." www.plannedtelevisionarts.com/sdrt.
► Broadcasters seeking the power of the Axia IP-Audio Driver for their Apple(tm) computer are in luck: Axia Audio has just announced a beta-software release for Mac users. Prospective beta-testers must have an Apple computer with an Intel CPU, must have OS X v10.5 or higher installed, and must have access to an Axia IP-Audio Network to connect to. The retail version of the Axia IP-Audio Driver for Windows(R) makes it possible for broadcasters to extract premium quality digital audio from a standard PC — without the need for a sound card. A PC with the IP-Audio Driver becomes an Axia "audio node"; its Ethernet port connects directly to the Livewire network, and the Axia driver handles all necessary audio conversions. The PC can then send stereo audio to any network destination, and can simultaneously record or audition any other network source as well. Two versions are available: a one-input, one-output version for use with audio editing workstations, and a 24-in/24-out version available directly from Axia Delivery System partners (a full list is available from AxiaAudio.com/partners) . To request inclusion in the beta-test program, please visit the Axia Discussion Board and read the post at http://forums.AxiaAudio.com/viewtopic.php?p=467; for more information email Clark Novak at Axia Audio, This email address is being protected from spambots. You need JavaScript enabled to view it..