TECHNOLOGY

► Broadcasting professionals in search of an affordable solution for transmitting multiple high-quality channels of audio over a single quality-of-service guaranteed IP-connection can now stop looking, and start using the Telos Zephyr iPort. It houses eight stereo MPEG codecs in a single 2RU box, capable of either 8 bi-directional or 16 encode-only channels. It can be used for any application where MPEG encoding and/or decoding is needed for transmission over IP channels such as VPNs, satellite links, Ethernet radio systems, and Telco or ISP-provided QoS-controlled IP services. Applications include studio-to-transmitter links, network distribution systems, and links to remote studios. With an appropriate server, the iPort can be used for Internet streaming, broadcasting to mobile phones, and audio distribution systems. State-of-the-art MPEG codec technology is used to conserve network bandwidth, while preserving high audio quality. A range of codec types and bitrates are supported. The Zephyr iPort uses the Livewire standard from Axia Audio. Uncompressed audio is transferred via an Ethernet connection to/from your Livewire network, eliminating expensive, space-consuming converters and connectors. A second Ethernet connector interfaces the compressed audio to a WAN. It can also be paired with an Axia AES/EBU or Analog Audio Node to make a standalone high-density audio codec package. www.telos-systems.com.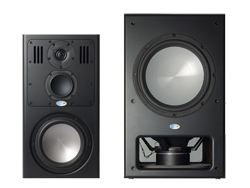 ► Blue Sky introduced two new critical listening components to its line of monitoring solutions: SUB 212 400-Watt Push-Pull Active Subwoofer and the SAT 8 300-Watt, Compact Mid-Field Monitor. The SUB 212 is designed to be an integral part of the monitoring system, enabling a studio monitor, such as the SAT 8, to be positioned for the best imaging, and the SUB to be positioned for the best bass response. Relieving the studio monitor of the requirement to reproduce the low frequencies means that the sealed-box design can combine with sophisticated bass management electronics to provide a seamless transition between the SAT and SUB. When combined, the SAT 8 and SUB 212 provide a full-range monitoring system. www.abluesky.com.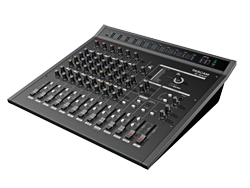 ► Tascam's M-164 Series is a new line of analog mixers, combining great analog specs with cutting-edge digital technology. The M-164 is a 16-channel mixer with 6 mic inputs, EQ and a built-in meter bridge. The M-164FX adds digital effects like reverb, delay and chorus for polished mixes without adding external processing. The M-164UF is the first compact mixer with built-in USB 2.0 to deliver all 16 outputs to a computer for live or studio recording. The M-164 features: 16-channel mixing, 6 XLR microphone inputs with phantom power and hipass filter, 5 stereo line inputs, 3-band EQ on mic channels, 2-band EQs on line channels 7-10 and main output, RIAA phono preamp on channels 9-10, Sub and Main output busses, and two aux sends. The M-164FX adds a stereo effects processor with 16 presets for reverb, delay, chorus and other effects. The M-164UF adds the same stereo effects processor, a USB 2.0 audio interface providing 16 outputs to computer and stereo return from computer at 96kHz / 24-bit, and supports Mac OS X, Windows XP and Windows Vista.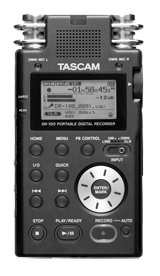 Tascam also has an update for their DR-100 Portable Recorder that supports high-resolution 96kHz/24-bit recording. The free software update, version 1.10, is available for download from the Tascam website. The DR-100 now supports sampling rates from 44.1k to 96kHz, 24-bit or 16-bit WAV recording and MP3 recording. The Tascam DR-100 targets recordists who need a reliable handheld recorder with advanced recording features. Building on the DR-1 recorder, the DR-100 has a pair of XLR mic ins with phantom power for adding pro condenser microphones. In addition, the DR-100 has four built-in electret condenser mics – two cardioid and two omni – and a built-in speaker for playback. It's powered either through an included Lithium-Ion rechargeable battery or easy-to-find AA batteries. Analog line inputs and outputs are also available, as well as a mic stand mounting hole for recording flexibility. www.Tascam.com.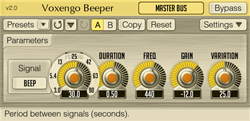 ► A set of free Voxengo professional audio plug-ins were recently updated. These plug-ins can be loaded into any audio host application that conforms to the VST or AudioUnit plug-in specification. Plug-ins are compatible with Windows XP, Windows Vista (32- and 64-bit) and Mac OS X 10.4.11 and above (Intel and PowerPC) computers (2 GHz dual-core or faster processor with at least 1 GB of system RAM recommended). While Voxengo Overtone GEQ and Voxengo Sound Delay plug-ins received several minor fixes, other plug-ins in this set were upgraded to their next major version, with a lot of additions over the previous version: multi-platform support, undo/redo function, preset manager, user interface coloration, user interface re-scaling, plug-in instance naming, bypass switch. Updated plugs include: Voxengo Beeper, an auxiliary audio processing plug-in which you can use to insert short beep, noise burst or silence signals to any sound material. This may help you protect your work from stealing. It is safe to apply this plug-in to any mission-critical material because plug-in does not perform any processing on the audio between signals. You may specify signal's duration, beep frequency, signal's loudness, period between signals and random variation of all parameters.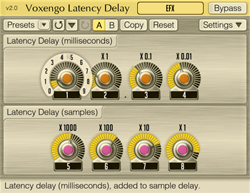 Voxengo Latency Delay is an auxiliary plug-in which allows you to compensate latency produced by any audio plug-ins, instruments and processes which produce latency but do not try to report it to the host. Latency Delay introduces 10000 samples latency itself and delays the audio signal by 10000 minus the specified amount of samples or milliseconds. Please note that host audio application should support the latency compensation itself for this plug-in to function properly. Voxengo MSED is a professional audio encoder/decoder plug-in for mid/side processing which is able to encode (split) the incoming stereo signal into two components: mid/side pair, and vice versa: decode mid/side signal pair into stereo signal. MSED is also able to work in the "inline" mode with the ability to adjust mid and side channels'gain without the need of using two plug-in instances in sequence. Voxengo Overtone GEQ is a 7-band harmonic (overtone) graphic equalizer with multi-channel operation support (supporting up to 8 input/output channels, host setup-dependent). Overtone GEQ offers extensive internal channel routing capabilities, and supports mid/side channel processing. Voxengo Sound Delay is an auxiliary multi-channel signal delaying plug-in for professional audio applications. You may specify delay time in both milliseconds and samples, with a high level of precision. This plug-in – being technical in its purpose – provides a basic signal delaying function only, without signal feedback or modulation capabilities. Sound Delay also features internal mid/side encoding and decoding, and allows you to delay mid and side channels independently. Voxengo Stereo Touch implements a classic technique of transforming a monophonic track into spacious stereophonic track by means of mid/side coding technique. This plug-in is most effective on monophonic sounds without overly sharp transients: it works great for both acoustic and electric/overdriven guitars, synthetic pad sounds and even vocals. These free plug-ins as well as demo versions of commercial plug-ins can be downloaded at the Voxengo web site at www.voxengo.com.
► Ableton has released Live 8 and Ableton Suite 8. Two new instruments, Collision and Latin Percussion are also available; both are included in Ableton Suite 8. Live 8 and Suite 8 enhance the Ableton vision of creative, real-time digital music with a wealth of new techniques, effects and most-wanted workflow improvements. These include a new groove engine, revamped warping techniques, live looping, five new effects (including the Ableton Vocoder), crossfades in the Arrangement View, group tracks and a reworked MIDI editor. Ableton Suite 8 includes all that plus a massive, inspired sound library and all the instruments a musician could hope for, including a wide range of synths, a sampler, electric and acoustic drums (new: Latin percussion), mallets (new: Collision), numerous sampled instruments and a new Operator. Ableton Suite 8 is priced at $849 USD for the boxed version, $699 for the download. Live 8 is $549 boxed and $449 for the download. www.ableton.com. ►
PRODUCTION LIBRARIES

► Blastwave FX, the HD sound effects label, announced Blastwave FX Search Engine software for Mac and PC. The Blastwave FX Search Engine is simple, single-user search software that comes bundled on select Blastwave FX sound effects hard drive products. The search engine provides 3 key functions: SEARCH: "Google-style" text search, Browse by Category; AUDITION: Rapid-fire playback, Keyboard Control; DRAG N' DROP: to any audio/video application on Mac or PC. The Blastwave FX Search Engine is bundled with all of Blastwave FX's sound effects hard drive libraries, including SONOPEDIA™, The BLASTDRIVE, TITLEWAVE, and .wavFX. An in depth video tutorial featuring the Blastwave FX Search Engine workflow with Pro Tools is available at www.blastwavefx.com. ►
THE MIX
► Barix AG, a pioneer in IP-based audio, intercom, control, and monitoring, announced the launch of Barix Radio, the company's fully-licensed, unique radio station now streaming on a 24/7 basis at www.barix.com. The station is programmed for Barix by DMD2, a Swiss content provider and Barix business partner, using licensed content. Barix Radio features an eclectic mix of music and no advertisements to entertain audiences at home, in the office or on the move. The station serves as an ideal test channel for Audio over IP applications, providing new Barix customers in entertainment, broadcast, retail or other markets with a continuous stream to test the delivery of live audio over the internet or an autonomous network. Future shipments of Barix Exstreamer IP decoders will include a preconfigured Barix Radio URL that will automatically begin streaming once connected to the internet. The station is hosted by StreamGuys, a streaming media provider and content delivery network that often partners with Barix for distribution of radio programs, in-store media and other audio streaming applications. Barix Radio will also add an aacPlus stream in the future for low bandwidth testing. "We sell IP Audio equipment to broadcasters and for content distribution globally, praising the advantages of the technology. It's only natural that we have our own radio station," said Johannes Rietschel, CEO and Founder of Barix AG. "We realize it's impossible to program a mix that suits the musical tastes of every listener, so we tried to capture the "Barix" taste and provide a unique station that can be used both for entertainment and business purposes." www.barix.com. ▲