TECHNOLOGY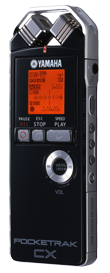 ► Following the success of the Pocketrak 2G Pocket Recorder, Yamaha's new Pocketrak CX adds an upgraded stereo microphone system and expandability, perfect for recording live music. Like its predecessor, the Pocketrak CX supports a variety of different recording formats from 16-bit 44.1 CD quality .wav files to MP3, an onboard speaker, stand adapter, and Cubase AI DAW software. The CX then adds a larger AA re-chargeable "eneloop" battery built into its compact body allowing up to 40 hours of continuous recording and play-back, a high sensitivity 90° X-Y microphone for high-quality stereo recording and expandability microSD cards (2GB card included). Add to this a peak limiter and variable speed playback. The Pocketrak CX is available for $499 MSRP at authorized Yamaha dealers. www.yamahasynth.com.

► Introducing Omnia ONE Studio Pro from Omnia, a new in-studio pre-processor. The Omnia ONE Studio Pro is the first studio processor to include a four-band compressor/limiter. The flexibility offered by the Omnia ONE Studio Pro's compressor/limiter allows you precise (and accurately defined) individual control while pre-processing music, commercials, remote feeds, or sweetening audio. You can also mix 'n' match production sound as much as your ear desires with the Omnia ONE Studio Pro's setups, which can be used separately or together for almost unlimited possibilities. They include: Wide-Band Automatic Gain Control, Four-Band Limiter, Four-Band Compressor, and Bass Enhancement. Omnia ONE Studio Pro is shipping now with a US MSRP of $2,995.00. www.OmniaAudio.com.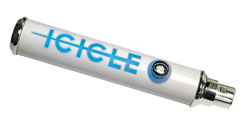 ► Blue Microphones introduced Icicle, a powerful in-line USB converter and preamp. Icicle makes connecting XLR microphones directly to your Mac or PC simple and effective. A key design goal of Blue is to keep technology out of the way of making music, so there are no complicated drivers, I/O boxes, or messy converters required. Icicle works with dynamic and condenser microphones, providing high quality and hassle free connectivity with Mac or PC for recording, podcasting, voiceovers and more. Icicle features: Studio quality microphone preamp, 48V phantom power, fully balanced low noise front end, analog gain control, Plug and Play driverless operation, 44.1 kHz, 16-bit CD quality converter, Mac or PC operation. Icicle is available for a suggested retail price of $59.99.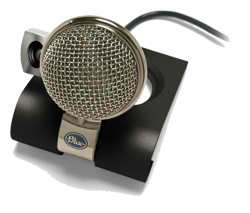 Also new from Blue Microphones, Eyeball and Mikey, two new consumer products for capturing audio. "With Mikey and Eyeball, we're building on the success of Snowflake and Snowball, our first consumer products, and changing the game for portable recording and personal broadcasting," said Skipper Wise, Blue's president. "Previous web cams and recorders were designed like computer peripherals, not specialized consumer electronics; we've re-invented these markets with Blue's sense of style and commitment to superior sound." Mikey is a recording device for the iPod that makes recording lectures, voice notes, live music, and interviews easy on the ubiquitous music and video player. Features include Blue's quality stereo condenser capsules, three position user selectable gain settings, built in speaker for playback, and unique user positionable head. Mikey works with iPod 4G, 5G, 6G, iPod Nano 2G, 3G and iPod Classic and is compatible with most protective cases. Eyeball is a web cam with exceptional audio and video, making it perfect for instant messaging, and video conferencing. Eyeball features include Blue's condenser capsule, premium lens with Super HD video, camera-off privacy position with innovative lens pop in and out feature to prevent accidental broadcasts, and plug and play ease of use -- no driver needed. Using the same integrated stand and case design as in Blue's popular Snowflake USB mic, the Eyeball also includes a custom designed monitor adapter making it simple to position it on virtually any laptop or desktop monitor. MSRP is $79.99 for Mikey and $99.99 for Eyeball. www.bluemic.com.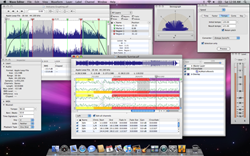 ► Audiofile Engineering, an audio software developer for the Mac, is shipping Wave Editor 1.4, the latest update to their audio editing application. In addition to new features and functionality, Wave Editor 1.4 also carries a new, lower price of $79. Created from the ground up for Mac OS X, Wave Editor brings a modern and elegant toolset to the practical task of manipulating audio on your Mac. Wave Editor offers all the essential editing features you require, while providing an inspired environment for sound design and creation. Taking advantage of Cocoa, Core Audio, Quartz, and other solid OS X technologies, Wave Editor brings you up-to-date with the latest advances in interface design, speed and stability, without compromising power. Wave Editor has won a loyal following with such concepts as non-destructive sound design via editing of audio in Layers, native support for Audio Units and VST plug-ins, and Bezier curve-based fades; support for multichannel files; the ability to combine different file types/sample rates/bit-depths in a single file; configurable level meters; built-in Spectrograph and Stereograph; customizable document templates; plus sample rate conversion and dither powered by iZotope. www.audiofile-engineering.com.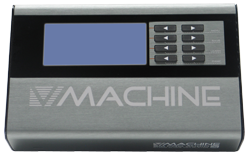 ► SM Pro Audio is shipping their V-Machine VST player in the US market. The V-Machine is a compact VST/VSTi hardware playback module designed to take plug-ins on the road or into the studio and access them directly without a computer. Multiple plug-ins can be loaded into bank/preset memories of the V-Machine for immediate access and combined into chains, splits, and layers to create extremely rich and unique sounds. Full external MIDI controller support allows users access to available loaded plug-in parameter controls such as virtual dials, switches, and faders. The V-Machine houses a host of connections in a sturdy metal chassis to hold up to the rigors of the road. Audio is handled by stereo inputs and outputs and a headphone output with dedicated volume control. Three USB connections handle computer transfers of VST applications, streaming of sample content from external hard drives, connection of USB controllers, and copy protection dongles. A MIDI-in jack is also included for the connection of standard MIDI controllers. The SM Pro Audio V-Machine ships with control configuration software compatible with Windows and Mac OS X as well as IK Multimedia's Sample Tank SE and a set of sound samples. Users can load up their favorite VST/VSTi plug-ins on their computer for auditioning, sound-set creation, and bank/preset memory assignment prior to transferring to the V-Machine for stand-alone use. Transferring plug-ins to the V-Machine via USB transfer takes care of all required user data and program memories. Once in the main unit, users have instant access to all instrument and effects for the stage or studio with great audio performance, hardware stability, ease of operation, and portability. The V-Machine is available for $599. www.smproaudio.com.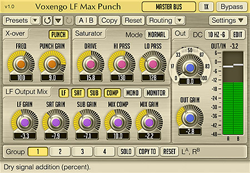 ► Voxengo released a new professional audio plug-in for Windows Vista, Windows XP and Mac OS X computers running AudioUnit- and VST-compatible audio host applications. Voxengo LF Max Punch is a professional audio effect plug-in for music and sounds where low-frequency thump and punch are most welcome, and where distortion is applied specifically to bring the bass sound to life. LF Max Punch provides a low-frequency effect specially designed for serious contemporary music producers offering them a convenient tool for applying a smooth punch and oomph to audio tracks and sounds. LF Max Punch plug-in dynamically emphasizes selected bass frequency band, applies a smooth saturation over it, and produces additional sub-harmonic content, with the ability to blend it with the original bass band sound. Optional compression can then be applied to the resulting low-frequency sound. LF Max Punch first splits the broad-band signal into low- and high-frequency bands and then applies the aforementioned effects to the lower band only. This effect can be applied over a wide range of sound material: drum tracks, bass tracks, contemporary music mixes: rap, trance, club music; also rock music can benefit from LF Max Punch's low-frequency enhancements. Voxengo LF Max Punch replaces previously available Voxengo LF-Max and Voxengo LF-Punch plug-ins. www.voxengo.com. ►
PRODUCTION LIBRARIES
► TrailerHouseFX.com announces the launch of their Online Sound Design Library. TrailerHouseFX.com lets users individually select, preview and purchase purpose-built sound design for movie trailers, TV and radio promos, video and multimedia productions. Customers pay only for the files that they want, and new material is added on a regular basis. Simply choose a category, then select, preview and purchase the cuts you want as MP3, WAV or 48kHz AIFF files. The royalty-free files are designed for professional and non-professional use. Sounds can be located by category, duration or by direct search. Each sound module features a waveform graphic offering an instant indication of the sound clip selected. Each sound has its own audio player and sounds can be previewed before purchasing. Preview files are deliberately data-compressed to ensure quick auditioning and to avoid abuse of the service; full audio quality is available upon purchase. Once a customer's selections have been made, a Zip file is processed while TrailerHouseFX.com obtains credit card info. Once payment has been made, the Zip file is downloaded to the customer's desktop. For further information, e-mail This email address is being protected from spambots. You need JavaScript enabled to view it. or visit www.trailerhousefx.com.
► New releases from Killer Tracks include KT 215 Teen TV, KT 216 Guitars and Strings, ZTS 14 Down & Dirty, ZTS 15 Cardiac Arrest, SLAM! 57 Fun-Explosion, KL 09 Latin Mix: Central America, HITS 007 Acoustic Guitar. Audition at www.killertracks.com.
► Sonic Quiver released a collection of horror production elements called Sounds Of Darkness, Production Elements To Haunt Your Dreams. The collection boasts 283 "dark and demented" effects. Categories include: bells, crystals, demonic sounds, distorted growls, drones, impacts, metallic, electrical energy, explosions, feedback, ghosts and whooshes. Recorded and mastered at The Detroit Chop Shop (www.thedetroitchopshop.com), headed up by acclaimed sound designer Ric Viers, Sounds Of Darkness comes with an audio CD and DVD ROM that contains 24-bit 48kHz WAV files and a track listing in PDF and Excel for convenient text search and export capability. Sounds Of Darkness is available for a buyout price of $129 and can be purchased directly at www.sonicquiver.com. ►
THE MIX
► KIDZARONI.com, a social networking portal geared toward 6-12 year olds, recently launched its own radio station. While developing the site, the company recognized that creating a digital music strategy was a must-have content feature. During brainstorming sessions, several ideas were tossed around, but the team always came back to the idea of providing a "DJ at a party." The best way to fulfill that need was with a radio station geared toward the target demographic. However, the founders also recognized that the economics of a stand-alone Internet radio station were not feasible due to astronomically high royalty rates. This hurdle was overcome when KIDZARONI.com partnered with Live365 for streaming and royalty services. Young listeners can now enjoy a 50/50 mix of age appropriate Top 40 songs and "tween" artists like Miley Cyrus, Jonas Brothers, and Miranda Cosgrove. KIDZARONI.com co-founder Scott Shapiro (known on-air as Scott "Davidson") is a 20-year terrestrial radio veteran. According to Shapiro, "Music has always been an important component of youth culture, but today we have to reach these kids in a creative and unique way. Today's kids don't necessarily do different things than the kids of other generations, but the technology kids use has changed. Instead of talking on the phone, today's kids IM and chat; instead of just watching TV, kids watch viral videos; and, because this generation's technology makes it possible, today's kids expect immediate gratification and personalization." www.KIDZARONI.com. ▲