TECHNOLOGY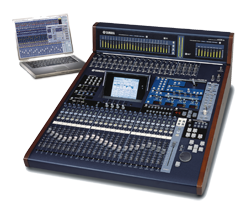 Yamaha Corporation of America has updated their 01V96V2 and 02R96V2 Digital Mixing Consoles. While there is no change in the retail price, the new 01V96VCM and 02R96VCM models retain the V2 features and add a host of VCM effects pre-installed. Previously available as "add-on" effect packages for top-line digital consoles, Yamaha's VCM Channel Strip processors and REV-X reverb are now standard features on the 01V96VCM. These effects are based on Virtual Circuitry Modeling technology that actually models the original analog circuitry — right down to the last resistor and capacitor. Included are recreations of classic compression and EQ units from the 70's, simulations of several legendary analog open-reel tape decks, a complete suite of unmatched REV-X reverb effects, a high-quality surround post-production package, and even a selection of vintage stomp boxes. www.yamaha.com.

iZotope, Inc. unveiled the ANR-B™ Adaptive Realtime Noise Reduction Unit, bringing the company's audio algorithm for adaptive noise reduction to a dedicated hardware unit for use in real-time broadcast applications. ANR-B uses iZotope's advanced noise reduction technology to intelligently identify and suppress environmental broadband noise, hum, phone line artifacts and more, dramatically increasing the quality of audio broadcasts involving radio call-in programs and on-location broadcasting. Unlike other noise reduction solutions, iZotope's ANR-B actually detects noise in real-time and adapts to changing noise over time, allowing for automatic operation with little to no input required from the user. Designed to suit a wide range of broadcast applications, the two-channel ANR-B features broadcast connections including analog and digital I/O, LAN for advanced parameter control, and remote automation capability. Presets are available for common applications while simple controls and clear meters help to customize settings for unique situations. While ANR-B is designed to automatically determine a noise print, a manual learn function enables the unit to reduce noise of a specific trained profile, adding to the unit's flexibility. $4995 MSRP. www.izotope.com.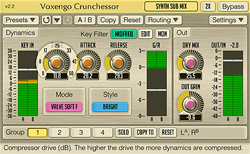 An update for Voxengo Crunchessor is available for download. Voxengo Crunchessor is a general-purpose track compressor for professional audio production applications. It is available in AudioUnit and VST plug-in formats, for Mac OS X and Windows computers. Version 2.2 update features the following changes: Minor internal fixes, "Copy to" list is now displayed correctly, Virtual Keyboard implemented, output/input signal level difference readout added, channel group output soloing implemented. One of Crunchessor's main advantages is the ease of tuning, which at the same time instantly delivers an excellent sonic performance. Beside this, Crunchessor offers you a selection of compression coloration styles. By choosing an appro-priate coloration style, you can add the character most suitable for the sound material you are working with. Crunchessor also accepts external side-chain source signals and allows you to filter key signal sources before they are used for compression. www.voxengo .com.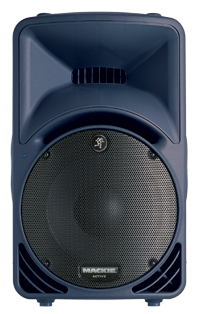 Ten years after launching the SRM450 and creating the Active loudspeaker market, Mackie announced the next generation of its SRM Series Active loudspeakers, the SRM450v2 and SRM350v2. In addition to the active electronics and rugged polypropylene cabinet featured in the originals, the new models feature high-tech Class-D, fast-recovery amplification, and ultra-efficient switching power supplies along with a lightweight neodymium woofer and an all-new titanium dome compression driver. The SRM450v2 is 11 pounds lighter than its predecessor and now cast in a distinctive midnight blue enclosure. The SRM450v2 features a built-in 300W class-D, Fast Recovery LF amp / 100W HF amp and weighs 40 lbs. The SRM350v2 features a built-in 165W class-D, Fast Recovery LF amp / 30W HF amp and weighs 26 lbs. The SRMv2s are now available world-wide. The SRM350v2 has a U.S. MSRP of $699.99. The SRM450v2 has a U.S. MSRP of $899.99. www.mackie.com.
With the release of V10.1 of their flagship DAW programs Samplitude and Sequoia, MAGIX has expanded its support for the AlphaTrack controller by Frontier Design Group. AlphaTrack has been designed from scratch to make the job of recording and editing audio a more efficient and enjoyable process. Those who are used to working with only a mouse and keypad may find large hardware controllers too daunting to use or too expensive to purchase. AlphaTrack defies both of those descriptions by packing a lot of power into a package that is just as easy to use as it is easy on your wallet. Installation and operation of AlphaTrack with Samplitude or Sequoia is simple. MAGIX now includes native mode support for AlphaTrack through a special control surface file that is pre-installed with the application. After installing the basic AlphaTrack driver on your Windows machine, simply launch Samplitude or Sequoia and add AlphaTrack to the Hardware Controllers panel. You're ready to begin mixing and editing. With AlphaTrack and Samplitude or Sequoia you can use familiar tactile controls with immediate access to your Aux, EQ, and Plug-in settings, write automation with a high-resolution fader, and navigate your project with the touch of a finger. www.frontierdesign.com.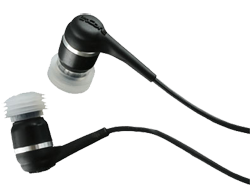 New headsets from TASCAM provide cutting edge performance for in-ear monitoring and assisted listening applications. The InCore ZE-1000 is a new in-ear monitor with a patented 5-layer silicon seal for -30dB of sound isolation. Two sets of Balanced Armature drivers ensure wide-range frequency response for rich, detailed playback. The kevlar-reinforced cable terminates to a gold-plated 3.5mm stereo mini plug, ideal for stage monitoring or listening in other loud environments. FillTune bone-conduction headsets are designed for the needs of the assisted listening market. The headset vibrates bones in the inner ear for wide-bandwidth playback for those with outer-ear damage. An external microphone can be connected or a source such as an iPod, A/V device or wireless transmitter. FillTune headsets can also be used in environments where someone needs to listen to a source while still paying attention to the sound around them, such as operating a vehicle or monitoring elderly patients. Each headset uses innovative technology to provide full-bandwidth audio in challenging audio environments. www.tascam.com.
TAPCO announced its entry into the powered mixer market with the 1000W Mix10fxP. Designed to match perfectly with the Series 69 passive loudspeakers, it is the most lightweight and efficient powered mixer in its class. "Integrated with TAPCO Series 69 passive loudspeakers, the Mix10fxP delivers a completely affordable sound reinforcement system that sounds great and is immensely powerful", said Gilbert Perales, TAPCO product manager. With 1000W of total power (500W + 500W) using a new cooler-running Class-D design, this powered mixer is a full-featured 10-channel ultra-lightweight mixer providing 10 premium mic preamps, accessible via XLR inputs, 2 stereo 1/4-inch inputs and 2 RCA inputs. The built-in stereo 20-bit multi-effects processor facilitates professional mixes at any live gig. MSRP is $499.99. www.tapcoworld.com.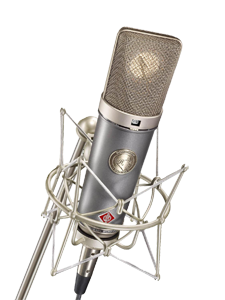 In the world of studio microphones, the numbers "47" "67" and "87" have associations that inspire enthusiasm among professionals. It is no coincidence that the name of the new Neumann TLM 67 contains the number "67". In many respects, the TLM 67 is based on the "workhorse" of the 1960s, the legendary U 67. Like the U 67, the TLM 67 incorporates the K 67 capsule. In addition, the special new circuit design closely reproduces the sound characteristics of the classic U 67, without the use of tubes. Similar Neumann circuit technology has already proved very successful in the TLM 49. The TLM 67 is versatile with its three switchable directional characteristics (omnidirectional, cardioid and figure-8), selectable 10dB pre-attenuation, and high-pass filter. The TLM 67 introduces a novel Neumann dual-color design with the pearl-gray of the microphone body combined with the classic 'Neumann nickel'. On the occasion of its 80th anniversary, the Neumann company is honoring its founder, Georg Neumann, with a three-dimensional metal emblem on the front of the TLM 67. www.neumannusa.com.
API (Automated Processes, Inc.) has established a new line of analog signal processing products - Arsenal Audio. The new line provides an outlet for the company to innovate and expand beyond the core technology on which API has built its reputation since it was established in the late 1960s. Arsenal Audio launched with an initial offering of three new products - the R20 two-channel mic pre and the R24 two-channel four-band EQ, plus the V14 four-band VPR 500 format equalizer. Arsenal Audio products feature robust design standards in a solid, reliable package. The Arsenal R20 features low-noise, high-quality inputs for both mic and instrument in a rack-mount chassis with internal power supply. Each channel includes rotary gain control plus individual toggle switches for phantom power, phase, pad and mic/instrument input selection. The dual mic preamps each offer up to 55dB of gain, while each front panel, high-impedance instrument input provides a maximum of 31dB of gain. Each channel's pad switch attenuates the mic input by -20dB, or the instrument input by -10dB. A pair of traditional analog VU meters with separate peak indicators is used for output metering. Both XLR and 1/4" outputs are fully balanced. The Arsenal R24 features two identical channels of equalization modeled after the classic APSI model 562. The R24 is rack-mounted with internal power supply and delivers a combination of rugged construction and solid performance. Individual continuously variable control knobs allow for separate adjustment of frequency and gain. All four bands are peak/dipping parametric design with 12dB of boost/cut per band. EQ in/out is controlled by classic toggle switches. The Arsenal R24 includes a custom transformer-balanced output with extended headroom of +23dB. The Arsenal V14 is an extremely high-quality four-band equalizer modeled after the classic APSI model 562 EQ, and is designed for the popular API VPR 500 series rack format. Controls include dual concentric pots providing continuously variable adjustment of frequency and gain, plus an EQ in/out switch. All four bands offer peak/dipping parametric configuration with 12dB of boost/cut per band. The Arsenal V14 includes a custom transformer-balanced output with extended headroom of +24dB. www.API Audio.com.
PRODUCTION LIBRARIES
Groove Addicts and production maestro Eddie Bower team up for RADIO RODEO, "modern imaging for today's country radio." It's all here: drop your voice in Work parts (Sweeps, ID's, Outset, Music & Artist Promo's, Promo parts), Music Beds, Jingle FX, Morning Show & Prep, FX, Movie, Artist, Listener, and Audience drops. Producer Eddie Bower notes: "My goal is to give imaging directors the highest quality contemporary country music beds and work parts possible, in an easy to use format... to get their feedback and deliver the elements they need." www.groove addicts.com.