technology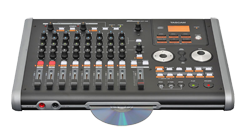 Tascam's best-selling digital Portastudios™ have been updated with a new look, new effects, a new display and a new price point. The DP-02CF records to compact flash media and includes a pair of XLR mic inputs with phantom power, 8-track recording at CD quality and two-band EQ per track. The DP-02CF includes a 1GB card as an introductory offer, for plenty of recording time without purchasing additional memory, The DP-02 records to a 40GB hard drive instead of compact flash, and includes a multieffect processor, stereo reverb and CD burner for CD masters and song backup. Both units feature a Portastudio-style interface so that musicians can mix with knobs instead of digging through menus. Features on both units include: Eight-track recording at uncompressed 44.1k/16-bit audio quality, USB 2.0 interface for transferring tracks, mixes and backup files to a computer, dedicated stereo master track for mixdown, internal metronome and bar/beat display for song position, stereo line outputs on RCA analog and S/PDIF optical digital connectors, multieffects processor with guitar, bass, vocal and drum programs featuring a new tube overdrive effect (DP-02 only), and more. Also new from Tascam are updated drivers for the FW-1082, FW-1804 and FW-1884 audio interfaces to support Windows Vista 32 and Vista 64, Microsoft's latest operating systems. In addition, drivers for Tascam's legacy USB products US-122, US-224 and US-428 have been updated. Nearly all of Tascam's interfaces have been now been updated to support Windows Vista. The new drivers are available for free download at www.Tascam.com. Windows Vista drivers for the Tascam FireOne are in development and will be available soon.

Yamaha Corporation of America introduced the Pocketrak 2G, a light and compact pocket recorder featuring 2GB of built-in memory, long battery life, easy USB file transfer, and Steinberg Cubase AI DAW software. The Pocketrak 2G features 2 tracks of CD quality recording in PCM, MP3 and Windows Media (WMA) formats. It's perfect for podcasting, field and location recording, audio for video and more. The Pocketrak 2G includes a rechargeable AAA nickel-hydrogen battery capable of providing 19 hours of MP3 recording to it's 2GB of internal memory. Plugging its sliding USB connector into a powered USB bus simultaneously recharges the battery and transfers files to a PC or Mac. The Pocketrak 2G is the only portable recorder to house an on-board speaker in addition to a headphone jack, making it a handy portable music player that supports MP3 and WMA files with DRM10 support. Included in the box is the Pocketrak 2G, a USB extension cable, stereo earphones, a leather carrying case and stand adapter, as well as Cubase AI, an "Advanced Integration" version of Steinberg's digital audio workstation software specially built to seamlessly integrate with Yamaha hardware. The Pocketrak 2G retails for $449 US. www.yamaha.com.
Furman introduced their new Merit x Series, an upgrade to Furman's existing Merit line, which provides convenient, rack-mountable power conditioning solutions to the value-conscious consumer. The M-8x provides eight filtered and protected rear-panel outlets with a front-panel convenience outlet, as well as a "Protection OK" indicator light. The M-8Lx adds pull-out light tubes (with dimmer knob) for discreet rack illumination, while the M-8Dx provides light tubes as well as a laboratory-grade front-panel digital voltmeter to monitor incoming voltage. Upgrades of the new Merit x Series include: Better protection with a higher joule rating, increased AC noise filtration for a lower noise floor, and a more robust chassis, with wall-wart outlet spacing on the rear panel to accommodate bulky power transformers. The new Merit Export x Series power conditioners are available to customers in 230-V countries. The M-10x E provides 10 filtered and protected rear-panel outlets, a front-panel convenience outlet, and a "Protection OK" indicator light. The M-10Lx E adds pull-out light tubes with a dimmer knob. The Furman Export models operate at a 10-A capacity and include a 1.5-meter removable IEC C-13 female-to-Schuko-male power cord. www.furman sound.com.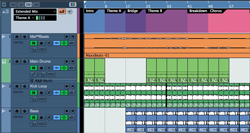 Steinberg Media Technologies GmbH announced a new Personal Music Production System: Cubase Essential 4. Tailored to musicians, home studios and anyone on a tight budget, Cubase Essential 4 is a streamlined version of Steinberg's Cubase 4. Including a powerful yet compact set of audio recording and mixing tools, comprehensive MIDI features and a full set of next-generation VST3 plug-ins including a guitar amp plug-in, Cubase Essential 4 is compatible with both the latest Mac and Windows operating systems, and replaces Cubase SE3 as Steinberg's entry-level version of Cubase. Cubase Essential 4 features include: Comprehensive composing, recording and mixing tools including 64 audio tracks, unlimited MIDI tracks, 44 included VST3 and MIDI plug-ins, 16 VST instrument slots, full latency compensation and much more; Integrated HALionOne sampling instrument with over 100 playable instruments including waves from the Yamaha Motif synthesizer; Built-in Amp Simulator for instant guitar recording with 14 amps and 10 speaker simulations with a new, easy-to-use interface; AudioWarp real-time time stretching and pitch shifting with formant correction for natural-sounding transposition and full tempo matching and more. Cubase Essential 4 is shipping worldwide for $149 MSRP. www.steinberg.net.
I/ONE Connects, a maker of Firewire based Audio Snakes, announces the introduction of new upgrades which include a new 3U XLR panel to make connections even easier as well as an update to firmware and software making it even easier to install and use. The 3U panel has XLR connectors for 16 analog inputs AND 16 outputs, plus 4 stereo digital in AND 4 out (AES-S/PDIF); 8 channels of ADAT in AND out remain on the 1U main unit for a total of 32 in AND out. Any input can be routed to any output of any other unit connected up to 1640 feet away (550 meters) over fiber optic cabling. www.IOne Connects.com.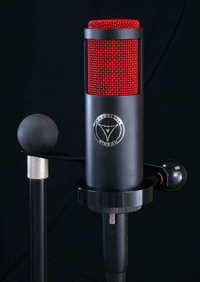 Crowley and Tripp announced the release of the Naked Eye Roswellite(tm) ribbon microphone, coinciding with increased production of the company's nanomaterial processes. Naked Eye Roswellite joins el Diablo as "the toughest and most powerful ribbon microphones ever created for music recording and live sound reinforcement." The Naked Eye Roswellite features the same True Dual Voicing design and carefully crafted tone of the Naked Eye Classic, plus it adds the power of the Crowley and Tripp nanocomposite ribbon material - Roswellite - that was first introduced in the el Diablo Mercenary Edition. The popular Naked Eye ribbon microphone has become a favorite of recording musicians for reliably capturing the thickest guitar tone, and adding Roswellite expands its capability into kick drums, snare, bass, and the rigors of live touring and sound reinforcement. "There is no other 'foil' ribbon microphone at any price that can match its tone, sound pressure level handling and toughness." www.soundwaveresearch.com.

Pro Audio unveiled the PR8DS remote controllable multi-channel microphone preamplifier. Based on their best selling PR8E, the PR8DS features 8 channels of high-quality balanced microphone pre-amplification with independent 48v phantom power and peak led indicators. Analog connectivity is provided by way of 8 x balanced/unbalanced combo connector inputs on the front panel and 8 x balanced analog outputs (D-sub 25) on the rear. The system is controlled via the standard RS232 interface implemented on the rear panel. RS232 command information is provided in the manual to allow user programming of compatible RS232 command devices. Independent remote control of channel gain and phantom power is provided in addition to the ability to receive peak indicator information feedback to the remote control device. SM Pro Audio's own RCA V1.0 software (Remote control application, Windows only) ships with the unit and allows full control and peak feedback information across all channels. A stand-alone hardware RS232 controller is planned for release in Q3 2008. Remote control pre-amplifiers enable engineers to shorten microphone cable runs considerably, helping to reduce the audible effects that occur along with reduced microphone sensitivity, changes in frequency, and phase. Shorter cable runs also help reduce phantom power voltage loss and eliminate additional audible effects from cable movement. Remote pre-amps are also well suited for use with digital snake systems. Microphone inputs cannot be sent down the digital snake without prior pre-amplification. Remote pres allow the engineer to control and monitor gain from a distance. There is no need for a secondary engineer to reside along side the stage box and monitor the preamp. All housed in a sturdy 1RU external chassis, the PR8DS is shielded from any stray electrical interference and built for road use. Robust connectors are provided for all inputs and outputs. www.smproaudio.com.
production libraries
Firstcom announces DarkFly for Promos, Imaging and Sound Design. 300 tracks in boxed 5-CD sets or a 2-DVD DigiPak (includes bonus disc with the best of FirstCom Music's AXS). DarkFly will open in iTunes and send to Final Cut Pro or any other non-linear workstation. See ad on page 5 for more. Also from Firstcom, twelve New Releases including: House Exclusive CHAP 33, Lush Latino beats and sexy club tracks from the dance floor to the catwalk; PowerPlay: Power Politics FC-08D, DVD compilation of all tracks from EVO069, EVO098, FC-A111Q, FC-E29Q, GM-052, GM-089; Filmscore Excursions evo102, exceptional orchestral works for comedy, nature, documentary and animation; Thriller evo096, dangerous action, chase, suspense and ruthless pursuit; Reality TV OM116Q, a collection of tracks created specifically for reality television. Perfect for 'tense moments' that are typical of these programs; Political Pressure OM115Q; Less Is More 2 GM-108; Luxury Deluxe GM-109; and more. Audition online. www.firstcom.com.
the mix
On March 6th in Toronto, Ross McIntyre from 100.3 The Q - Victoria, BC picked up Gold and Silver awards for Promo Campaign and Promo Single at the Radio Marketing Bureau of Canada's annual national Crystal Awards. Sheldon Hovde from brother station The Zone @ 91.3 also picked up a Bronze Crystal for Promo Single. According to the RMB, this is a very rare hat-trick for one radio outlet to win Gold, Silver and Bronze in a category. www.crystal awards.ca, This email address is being protected from spambots. You need JavaScript enabled to view it..
WSWT-FM of Peoria, Illinois taps Drake Donovan Productions for imaging production. DDP is also introducing a new service to stations looking to enhance their web presence, web video imaging. Drake explains, "With more companies pushing their stations to the internet, I can help extend your on-air brand to your website." Donovan further adds, "If you're going to outsource your imaging, get more than just sweepers and promos." Drake Donovan Productions' web video service includes animated streaming pre-rolls, video billboard opens, and more. See the complete video presentation at www.drakedonovan .com.
Ernest Martinez has been promoted to Creative Director, Radio Disney, it was announced by Ray De La Garza, Vice President, Programming, Radio Disney, to whom he will report. Martinez, who is also known as Radio Disney's popular on-air personality "Ernie D," joined Radio Disney ten years ago, rising from producer to on-air staff. In his new job, Martinez will be responsible for the presentation of Radio Disney's programming including overseeing feature and on-air promo content and the staff of on-air talent. Martinez will continue his afternoon airshift and frequent celebrity interviews. He is based in Dallas, Texas. Martinez was born and raised in Dallas and began his radio career as a morning show producer at KHCK-FM in Dallas. He eventually transitioned to an on-air role. He later was producer/production assistant at KHKS-FM in Dallas, before joining ABC Radio Networks International as international radio producer.