TECHNOLOGY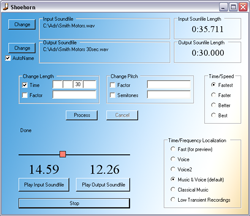 The new Shoehorn™ program from Fifty Thousand Watt Software is a time stretch program made specifically for use in radio production work. Shoehorn is simple and easy to use. In its most common application, Shoehorn can make recordings fit into a specified time slot without changing the pitch. For instance, ads can be made to fit into 30- and 60-second time slots, and entire radio shows can be made to fit into half-hour and one-hour time slots. Shoehorn can also be used to create the fast-talking "fine print" at the end of some ads, such as the legalese of a car lease. Shoehorn can additionally perform pitch shifting, without changing the recording length. Time stretching and pitch shifting can be done independently, or both can be done at the same time. A dual transport allows for auditioning both the "before" and "after", so that it is easy to compare the two. Shoehorn uses groundbreaking DIRAC™ technology for natural sounding time stretch that is surprisingly free of artifacts. Shoehorn runs under Windows. Price is $39. A free fully functional 30-day trial is available for download at www.50kws.com. About Fifty Thousand Watt Software: Fifty Thousand Watt Software makes software for radio broadcast and production. In assisting clients creating internet radio stations, founder Jeff Wilson found that many important tools and utilities were missing, and began to create software products to fill these needs. Jeff was the co-founder of Digital Audio Labs, Minnetonka Audio Software, and Sonic Studio. Fifty Thousand Watt Software is located in Plymouth, Minnesota.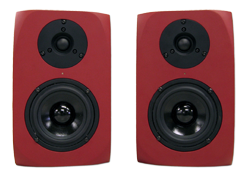 Tascam's latest breakthrough for home recording is the VL-A series of value-priced reference monitors. The lineup includes the VL-A4, VL-A5 and VL-A8, which are 4", 5" and 8" two-way reference monitors. Each of the models is self-powered and employs balanced TRS/XLR combination inputs. A deep-cabinet design with bass ports (front-mounted on the VL-A5 and VL-A8) extends the low end beyond similarly-priced units. High and low frequency controls on the VL-A5 and VL-A8 allow the user to tailor the monitor's response to their own studio. The LF-S8 subwoofer rounds out the lineup with an 8" ported design to extend the range of the system. VL-A4 features include: 35W active bi-amped design, direct radiating bass reflex 4" woofers with rear air port, and 1" dome tweeter. The VL-A5 features 90W active bi-amped design, direct radiating bass reflex 5.25" woofers with front-mounted port, LF control adjusts response at 150Hz or 800Hz for room correction, HF control adjusts response at 3kHz or 8kHz for room correction, Low cut filter for use with optional LF-S8 subwoofer, and 1" dome tweeter. The VL-A8 features 140W active bi-amped design, direct radiating bass reflex 8" woofers with front-mounted port, LF control at 150Hz or 800Hz, and HF control at 3kHz or 8kHz, low cut filter and 1" dome tweeter. The LF-S8 is a 50W active design with direct radiating bass reflex 8" woofers with top air port, a low frequency cut control, and cascade output for an additional subwoofer. www.Tascam.com.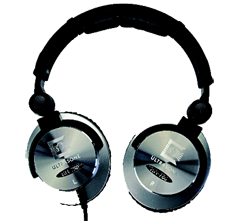 Ultrasone of America, the North & South American distributor for German headphone manufacturer Ultrasone AG, introduced the next generation of its line of headphones. Created for discerning musicians, producers and engineers, the latest Ultrasone headphones, which feature the patented S-Logic™ technology, have a sleek new look and unprecedented levels of accuracy and listening safety. The Ultrasone Pro series includes the elite PRO 550, 650, 750 and 2500 models. New features of all Ultrasone Pro headphones include: an aluminum nameplate and semi-hard case for storage and transport of headphones and all accessories, including spare earpads, removable cables and ¼"-mini adaptor. New features of the Ultrasone HFI line include the addition of the HFI 580 and 780 models with new S-LogicPlus™. The S-Logic Plus™ system is the enhanced version of S-Logic™ based on the earcup design of Ultrasone's limited-run Edition9 headphones. This system enables a level of sophisticated acoustic fine-tuning with even more neutral sound impression and optimized distance perception of voices and instruments. Ultrasone's S-Logic™ system reduces sound pressure to the eardrums by 40% while delivering a natural surround sound to the listener. Patented ULE (Ultra Low Emissions) technology allows Ultrasone's to have lower magnetic field emissions than any other headphones, reducing electromagnetic field radiation by up to 98%. www.ultrasoneusa.com.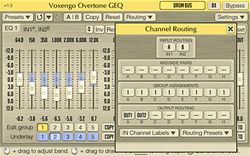 Voxengo releasee the next version of Overtone GEQ, their free 7-band equalizer plug-in in VST and AudioUnit formats for Windows, Windows 64 and Mac OS X platforms. This newer version offers a better look-and-feel of the plug-in, user interface rescaling and coloration options, and several other enhancements. Overtone GEQ is s 7-band harmonic (overtone) graphic equalizer with multi-channel support (supporting up to 8 input/output channels, host setup-dependent). Overtone GEQ offers extensive internal channel routing capabilities, and supports mid/side channel processing. Overtone GEQ was designed to allow audio engineers to apply quick EQ shape adjustments together with adding a bit of harmonic richness to the audio material (mainly mixes and sub-mixes due to a comparably high processing load this EQ puts on a CPU). www.voxengo.com.
NewTech Infosystems, Inc. (NTI), announces Media Maker™ 8, an all-in-one digital creativity suite. The new software suite simplifies and complements today's digital lifestyles by providing a single, low-cost solution for recording data, Blu-ray data, audio, photos and video on CD and DVD discs. Designed for both novices and experienced Windows® PC users, Media Maker 8 includes a Video Converter to convert videos for playback on an iPod®, PSP, Zune and other portable video players. With Video_TS split, the software can be used to create DVDs from the video collection stored on the user's hard drive on one or more DVDs without losing any image quality. Media Maker also includes NTI Photo Maker™ which enables users to quickly import, edit and share their digital photos and slideshows; NTI Ripper™ for ripping and archiving music; and NTI Digital Jack™ for playback of music collections. For added convenience, Media Maker supports Multi-Burning so multiple drives can be used to create CDs and DVDs at the same time. The software suite also features a new Test Drive utility for testing media as well as optical and hard drives. And to optimize media storage capacity so videos can be recorded at a higher resolution, NTI DVD Fit™ can be used to copy only the movie, leaving out the extras. Once a task has been set up, users can take advantage of a new Computer Turn Off, Hibernate, Standby, or Log Off feature that will automatically turn off the PC when the task is completed. In addition to the Audio Editor for personalizing MP3, WMA, WAV and OGG files and professional features such as Audio Cross Fade for smooth transitions between songs, Media Maker includes NTI Tagger™, an ID3 Tag Editor for organizing music files by song name, artist, year, album, etc. With the Music DVD tools, users can even create music DVDs complete with album covers, artist photos, trivia, and song names. Ready to use out of the box, the retail version of NTI Media Maker 8 comes with an MP3 encoder and a DVD MPEG-2 encoder/decoder to create and play DVDs. NTI's Home Video Maker is included for a complete movie-making and editing suite with DVD authoring. NTI Media Maker 8 can be used with Windows® 2000/XP/Vista systems. Media Maker 8 has a suggested retail price of US $79.99. www.NTIus.com.
PRODUCTION LIBRARIES
Iguana Kitchen unveils Quantum Audio Mechanics Full Spectrum HD Surround Effects. The brainchild of John Pellegrini, Quantum Audio Mechanics represents a "Quantum Leap" in sound effects — the first full spectrum twelve channel surround effects library. You get every track required for every surround sound format currently in use worldwide: 5.1; 6..1; 7.1 (both versions); and IMAX. Even if you mix in stereo, 12 tracks gives you true 360 degree mixing ability with no out-of-phase dropout. It's the first surround effects library of entirely new sounds (not remixes of previous stereo sounds) recorded at the source using the highest sampling rate possible: 24 bits 192 kHz – true HD. The high sampling rate means you can manipulate the sounds any way you want with virtually no decay in sound quality. Delivered in both AIF and WAV formats on a Glyph GT 050Q 160 gig portable hard drive (MSRP: $339.00) included in the price, which is 695.00. www.iguana kitchen.com.
FirstCom Music announced their migration toward complete electronic delivery via their website and alternative delivery options. "The industry has known for some time that the CD is in the final phase of its life cycle and that it will soon be history. As industry leaders, we believe that their is no better time than the present to move toward a future that is both environmentally friendly, as well as convenient and cost efficient for our clients," says Carol Riffert, Vice President/General Manager for FirstCom Music. In 2005 FirstCom Music started this migration with the release of online only discs and the launch of the Director's Choice compilation series, which is available exclusively online. FirstCom Music will now take their environmental commitment a step further by utilizing reusable USB drives for their new release demos. This will eliminate the need for over 30,000 demo discs each year. "Of course all of our libraries are currently available via CD as well as in earth-friendly alternative options. Many of our clients have already taken advantage of efficient electronic delivery and we fully expect this trend to continue," says Riffert. Their hope is that clients will embrace this step towards the future as not only a convenience, but also as a good environmental measure. www.firstcom.com.
THE MIX
You are invited to join Jeffrey Hedquist for a Free 60-Minute Teleseminar Interview with Radio Creative Doug Zanger. Thursday, March 20 at 5:30 pm Pacific / 8:30 pm Eastern. "In this FREE one hour teleseminar, you'll meet and learn from a guy who, armed with an International Studies degree went from a Portland, Oregon on-air shift to morning show producer, to Production Director for Rose City Radio (where he won a 2003 Radio Mercury Award) and Creative Director at Entercom which is when I first met him," states Mr. Hedquist. Doug started his own radio/audio advertising and marketing/branding agency, Xhang Creative, which supports clients from the Pacific Northwest, New York, Boston and Virginia. Doug continually spreads the gospel of good creative, content and strategy. He is passionate about the auditory medium to create change. As an adjunct professor at Mount Hood Community College in Oregon, Doug teaches younger generations about the importance of radio and advertising. He is also an active participant in the Freeplay Foundation, a non-profit organization that distributes hand-cranked and solar powered radios to remote areas of Africa with the purpose of delivering content and messaging that helps stem the tide of poverty. To register for this limited participant teleseminar, go to http://Teleseminar.Hedquist.com.