technology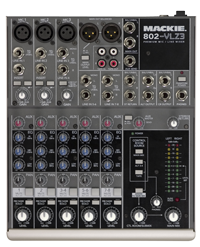 Mackie expanded its popular VLZ3 compact mixer line with the release of the 402-VLZ3 and the 802-VLZ3 Premium Mic/Line Mixers. Incorporating the same technology as their big brothers in the series, the 402-VLZ3 and 802-VLZ3 bring Mackie's premium sound, performance and reliability to the ultra-compact mixer category. "The 802-VLZ3 is the perfect mixer for someone who wants the overall quality of a 1202-VLZ3, but doesn't need that many input channels," said Greg Young, Mackie Product Manager. "The 402-VLZ3 is designed to be compact with an intelligently scaled feature set that maintains the sound quality and performance of the other Mackie VLZ3s." The 402- and 802-VLZ3 feature the studio-grade XDR2® (Extended Dynamic Range) mic preamps, proprietary Active EQ, and modern summing bus architecture to ensure high-headroom, low-noise performance. The all-steel chassis houses switchable line/Hi-Z instrument inputs, phantom power for use with condenser microphones, and bright stereo LED meters. The 402-VLZ3 features 2 mono mic/line channels, a dedicated stereo line channel and an assignable stereo RCA input channel. Mono channels each include an XDR2 preamp, switchable high-pass filter, 2-band EQ and a channel overload LED, and can be hard-panned for stereo applications. The 802-VLZ3 includes 5 channel strips with 3 XDR2 mic preamps, the Alt 3-4 bus, a pre-/post-switchable aux send, a dedicated stereo aux return, plus a comprehensive control room section. The 402-VLZ3 has a U.S. MSRP of $129.99. The 802-VLZ3 has a U.S. MSRP of $259.99. www.mackie.com.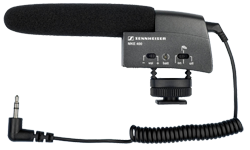 Sennheiser launched the MKE 400, a lightweight and highly directional mini-shotgun condenser microphone for use with digital camcorders. The MKE 400 may be small, but its features are huge, including switchable sensitivity, wind noise filter, extended battery life and an optional, professional accessory kit. The directional super-cardioid/lobar pattern allows the MKE 400 to precisely pick up sound exactly where the camera is being pointed. A control key on the permanently polarized condenser microphone allows users to adjust the sensitivity to match the camera type. It additionally increases the range of the mini-shotgun mic and permits reliable recording of low-level sound sources. A switchable wind filter is also included that eliminates low-frequency noise and rumble from interfering with the recording. The MKE 400 is plug-and-play. All that is required to immediately begin recording is a camcorder shoe mount and a 3.5mm microphone input. For cameras without an accessory shoe, there are shoe adapters commercially available that enable the microphone to be fitted onto the side of the camcorder. The MKE 400 delivers over 300 hours of professional quality sound on a single AAA battery. A warning LED indicates low battery voltage. As standard the MKE 400 is supplied with a foam windshield, battery and a microphone shock mount in a robust metal case. An optional accessory kit suitable for those filming extensively outdoors includes a professional grade hairy windscreen and a 3.5mm jack-to-XLR adapter that allows the MKE 400 to be used with professional cameras. www.sennheiserusa.com.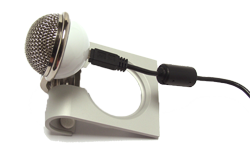 Blue Microphones follows on the success of their popular Snowball Professional USB Microphone with a new portable design, aptly dubbed the Snowflake. The Snowflake is a professional quality portable USB mic. Blue has combined a USB bus powered capsule with a class compliant design to make the Snowflake truly plug and play on both Mac and PC. The mic folds into a single compact case which also houses a USB cable for easy transport in a laptop bag or even a pocket. Unfolded, the case serves as a desktop stand or a laptop clip, making the Snowflake a natural for everything from podcasting, calling over the web, narrating a home video, or sketching out a song idea on the go. $79 MSRP. www.bluemic.com.
TASCAM has announced the SS-R1 and SS-CDR1, a pair of single-rack-space Compact Flash recorders for the installation market. Designed for applications that previously used a cassette or MiniDisc recorder, the SS-R1 records in WAVE or MP3 formats to achieve extended recording times. The SS-CDR1 adds a slot-loading CD recorder for additional recording and audio transfer functions. Each recorder includes balanced and unbalanced audio inputs and outputs, RS-232 and parallel control and a wired remote control. SS-R1 and SS-CDR1 features include: S/PDIF coaxial digital in and out with sample rate converter, power on play, auto track increment (level or time), PS/2 keyboard input for folder/file naming and remote control, RS-232C serial control, and DB-25 parallel control port. www.tascam.com.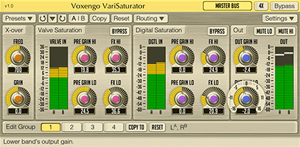 Voxengo released the VariSaturator pro audio plug-in. VariSaturator is an audio effect plug-in designed to apply saturation effects over audio material. VariSaturator can be used both to boost the loudness of the audio tracks without increasing their peak levels proportionally, and to apply subtle harmonic coloration that makes tracks sound more pronounced and polished. VariSaturator features two saturation modules which are applied in sequence, in two-band mode each. The valve saturation module applies asymmetric valve processing that closely resembles sound of valve amplifier cascade, and being a digital emulation, it applies its best sonic features without side artifacts like noise, strong phase shift and high frequency roll-off. Another saturation module VariSaturator features is a digital "waveshaping" saturator with feedback topology. This module applies smooth two-band saturation which can amplify signal level and apply desirable harmonic coloration. VariSaturator can be used in a variety of audio processing cases: you may apply it with good results over drum, bass and vocal tracks, over sub-mixes and of course over complete mixes. Since VariSaturator does not provide a brick-wall limiting performance, when applied over full mixes, it is best used for the final loudness boost inserted before the finishing brick-wall limiter. Note, though, that since VariSaturator applies distortion, it may damage original sonic qualities of the audio material if used incautiously. VariSaturator features include: multi-channel processing, internal channel routing, channel grouping, mid/side processing, 64-bit floating point processing, preset manager, undo/redo history, A/B comparisons, contextual hint messages. VariSaturator can be loaded into any audio host application that conforms to the VST or AudioUnit plug-in specification. Plug-in is compatible with Windows XP, Windows Vista (32- and 64-bit) and Mac OS X (Intel and PowerPC) computers (2 GHz dual-core or faster processor with at least 1 GB of system RAM recommended). A separate binary distribution file is available for each target computer platform for each plug-in format. www.voxengo.com.
Axia Audio introduced two new additions to their line of rack- and turret-mounted accessory controllers: user-programmable SmartSwitch Studio Control Panels. SmartSwitch panels interface with Axia's popular PathfinderPC™ router control software to provide on-air hosts, guests and producers with one-touch activation of router salvos, studio switching operations, audio equipment control, custom intercom functions and more. SmartSwitch Studio Control Panels are 1RU devices available in either 9- or 17-button configurations. They contain backlit, dynamic-LCD displays, and are designed for convenient placement next to host or guest mic positions, or anywhere fast access to switching operations is needed — control rooms, talent studios, production rooms, TOCs, et cetera. SmartSwitch panels connect to Axia networks via Ethernet. Axia PathfinderPC is used to program SmartSwitch Panels. A sophisticated yet intuitive software suite with an easy-to-use graphical interface, PathfinderPC lets users construct custom routing applications to control nearly any function within the Axia network and map them to SmartSwitch buttons. Possibilities range from simple contact closures, to complex scene changes such as transferring program chains between studios, to salvos that reconfigure multiple routes with one button press. The Axia IP-Audio system allows broadcasters to build audio networks of any size using standard switched Ethernet to connect a few rooms, or an entire facility. Axia networks have a total system capacity of more than 10,000 audio streams, and can carry hundreds of digital stereo (or nearly a hundred surround) channels over a single CAT-6 cable, eliminating much of the cost normally associated with wiring labor and infrastructure. Axia products include the Element modular broadcast console, a family of "audio nodes" that allow easy mixing and matching of digital, analog and microphone audio, and a comprehensive suite of network administration and routing control software.www.AxiaAudio.com.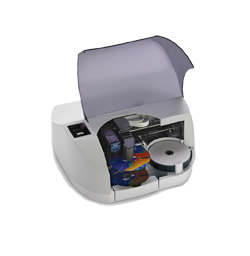 Primera Technology, Inc., a developer and manufacturer of automated CD, DVD and Blu-ray Disc duplication and printing equipment, announced its full and complete support of Blu-ray Disc technology across its entire product line. The "format war between HD-DVD and Blu-ray Disc has come to a swift and decisive end. HD-DVD has been withdrawn from the market and Blu-ray Disc has become the new worldwide standard for high-definition video. Video production professionals and others who may need high-definition disc burning and printing in the future can now confidently make the decision to upgrade their CD/DVD disc publishers to include Blu-ray Disc capabilities without the worry of obsolescence," said Mark D. Strobel, Primera's vice president of sales and marketing. Primera's automated disc publishers burn and print up to 100 CDs, DVDs and Blu-ray Discs per batch. The Bravo SE Blu sells for US$2995 (MSRP), the Bravo XR-Blu sells for US$5295 (MSRP), and the Bravo XRP-Blu and Bravo XRn-Blu sells for US$8,995 (MSRP). www.primera.com.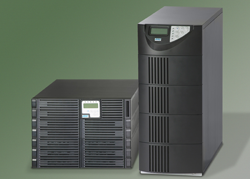 Staco Energy Products Co. introduced the UniStar P series single-phase online Uninterruptible Power Supply (UPS) which features powerful protection over a wide input voltage range at an affordable price. This true double-conversion UPS is available in 6, 8, and 10-kVA models, to protect from outages and irregularities in incoming line voltages from 160 to 280 VA at 45 – 65 Hz. Up to 4 UniStar P modules can be installed in parallel for redundancy or additional capacity. With near unity input power factor and AC to AC efficiency greater than 90% that meets industry standards for energy savings and, less than 5% reflected harmonics, the UniStar P is ideal for many broadcast applications, as well as servers and networks, telecommunications equipment, industrial equipment, medical imaging equipment or any sensitive electronic devices. Alarms are provided for line mode, backup mode, ECO mode, bypass supply, battery low, battery bad/disconnect, overload, transferring with interruption & UPS fault, line failure, battery low, transfer to bypass, and system fault conditions. Each size offers remote monitoring and diagnostic capabilities through an RS232 serial port and optional web, USB, SNMP or Dry Contact Cards. Standard software is compatible with operating systems such as Windows 98, 2000, ME, NT and XP. www.stacoenergy.com. l
the mix
Allan Peck has resigned his post as afternoons/imaging at KTYS in Dallas, Texas to focus 100% on his voiceover career. Samples of his work can be found at www.allanpeck.com. studio @allanpeck.com.