TECHNOLOGY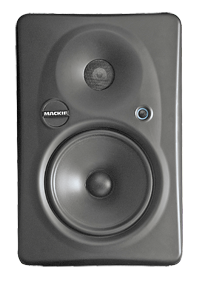 Mackie has introduced the HRmk2 high-resolution studio monitor series. The new THX-approved HR824mk2 and HR624mk2 monitors replace their predecessors, the HR824 and HR624, and boast a wide range of technological breakthroughs to meet the demands of the modern studio. "Engineered specifically for use with High Definition audio, they produce ultra-accurate—and incredibly natural—sound," said James Woodburn, Mackie recording product manager. Crafted from a single piece of cast aluminum, the HRmk2's new Zero Edge Baffle™ minimizes diffraction for a crystal clear mix image, while its Optimized Waveguide delivers wide, even dispersion as well as full, articulate mids. Coupled with the passive radiator, the new baffle design also ensures tight, articulate bass extension. And with a real wood enclosure, the HRmk2s perform with maximum detail, clarity and warmth. The HR624mk2 features a 6.7-inch low distortion LF transducer (woofer) and a 1-inch titanium dome tweeter. The HR824mk2 has a 8.75-inch low distortion LF woofer and a 1-inch titanium dome tweeter. The HRmk2's are now available and have a U.S. manufacturer's suggested retail price of $779.99 for the HR824mk2 and $579.99 for the HR624mk2. www.mackie.com.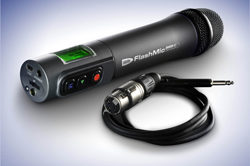 HHB recently introduced two new FlashMics - the DRM85-LI and DRM85-CLI. Developed in direct response to requests from broadcasters, the new models are line input equipped versions of the existing DRM85 omni-directional and DRM85-C cardioid FlashMics, enabling journalists to record the feeds often provided at press conferences. Both new FlashMics feature a bantam TT jack input on the base of the microphone body. An XLR to bantam jack cable is supplied which, when connected, switches out the microphone signal, recording only the line input signal. Journalists will enjoy the flexibility of being able to record a press conference feed, then switch quickly to record interviews or add their own commentary to the piece. Another important FlashMic development implemented in response to customer feedback is compatibility with mp3 files. FlashMic PCM or .mp2 recordings can now be converted, while being transferred from the FlashMic to a computer, by the supplied FlashMic Manager Mac/PC software application to provide mp3 files - the preferred workflow format for some broadcasters. Existing FlashMic owners can download the updated FlashMic Manager software free of charge at www.flashmic.info. Powered by two AA batteries, the FlashMic combines a studio-quality condenser capsule with a broadcast-quality 1GB Flash recorder and high-speed USB interface, all built into a rugged and durable microphone body. HHB products are distributed exclusively in the United States, Mexico, Central and South America and the Caribbean by Sennheiser Electronic Corporation. www.sennheiserusa.com, www.hhb.co.uk, www.flashmic.info.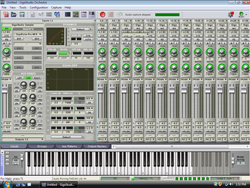 Tascam introduces the new GigaStudio 4 sampling workstation. The new version supports 64-bit operating systems like XP64 and Windows Vista 64, allowing users to access up to 128 gigabytes of RAM for loading massive sample libraries and compositional templates. GigaStudio 4 also hosts VSTi and GVI virtual instruments, loading or stacking instruments alongside GigaStudio instrument libraries. When hosted in GigaStudio 4, virtual instruments based on Tascam's GVI gain the advantages of kernel-level processing, offering lower latency than other host applications. Hundreds of enhancements have been made from GigaStudio 3, such as an all-new QuickSound database tool, additions to the QuickEdit interface and many user interface improvements. GigaStudio 4 builds on the features of GigaStudio 3, including unlimited polyphony, 96kHz/24-bit sample support, 128 MIDI channel playback and embedded GigaPulse convolution reverb. Tascam is also announcing GVI 4, a new plug-in instrument powered by Giga technology offering both Mac and PC support. www.tascam.com.
Adobe's Audition® 3 software is now available. New features include VSTi virtual instrument support with MIDI piano roll, enhanced spectral editing options, fast fade and crossfade controls, and advanced multi-core support. The estimated street price for Audition 3 is US$349. For more detailed information, read this month's RAP Test Drive or visit www.adobe.com.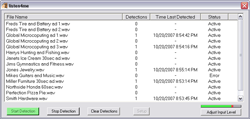 The new Listen4me™ program from Fifty Thousand Watt Software can listen for ads, music, jingles promos, or any other recordings. The program can listen to audio from any source including radio, TV, or internet streaming. Listen4me is simple to use. You give it a soundfile sample of any recording you want to it listen for. Listen4me listens to the sample recording to "learn" what it sounds like, then listens to the audio stream to detect plays of the recording. Listen4me can keep a log of all occurrences of detected recordings, including recording name, date, and time. The log file can be imported into a spreadsheet. Listen4me can also save a soundfile copy of the detected recording, for later review and verification. In addition, it can keep a snippet of the preceding sound, so you can determine what was playing right before the detected recording. Listen4me can listen for up to 20 recordings at once. Listen4me runs under Windows. Price is $99. A free fully functional 30-day trial is available for download at www.50kws.com. Fifty Thousand Watt Software makes software for radio broadcast and production. In assisting clients creating internet radio stations, founder Jeff Wilson found that many important tools and utilities were missing, and began to create software products to fill these needs. Jeff was the co-founder of Digital Audio Labs, Minnetonka Audio Software, and Sonic Studio. Fifty Thousand Watt Software is located in Plymouth, Minnesota.
PRODUCTION LIBRARIES
New releases from Killer Tracks include Redzone: KT 201 Wonder - delicate tracks with tinkling bells and magical pianos to uplifting synth and guitar filled anthems to luscious underscores with flowing strings and woodwinds. KT 202 Trailer Toolkit 3: Atmospheres - over 50 atmospheric arrangements designed exclusively for trailer and promo needs. Themes include 'positive/emotional', 'world/eclectic', 'dramatic', 'newsy/investigative', 'voices' and an additional 14 'drones'. NM 287 The Joy of Pop - classic pop style complete with a touch of retro rock and a carefree attitude. NYB 89 Prosperity - 16 tracks capable of motivating even the most uninspired to become 'productive happy people'. From soft, alternative rock to ambient loops and underscores, positive guitars and steady beats encourage both personal achievement and corporate progress. Audition tracks at www.killertracks.com.
THE MIX
On the heels of helping image the return of legendary CHR B94 to the Pittsburgh airwaves and signing American General Media's KIQO for voice-over and imaging, Drake Donovan has picked up a few awards. At the 2007 March of Dimes' Achievement in Radio Awards ceremony conducted on November 8, 2007, Drake Donovan won the award for "Best Station Image Promo" and was named "Best Production/Creative Services Director" in the Pittsburgh Market. This is Drake's third honor in this category in the last four years. Drake Donovan is the Creative Services Director for CBS Radio's WZPT-FM and WDSY-FM in Pittsburgh, PA. Drake is also a freelance voice-over and imaging producer for clients including: KPRB-FM, Fort Morgan, CO; KIQO-FM, San Luis Obispo, CA; and KPMX-FM, Sterling, CO. To hear Drake's award-winning work and get booking information, visit www.drake donovan.com.
Radio And Production readers are invited to join Jeffrey Hedquist for a Free 60-Minute Teleseminar Interview with the Creative Animal – Doug Harris. Wednesday, January 16, 2008 at 5:30 pm Pacific / 8:30 pm Eastern. In this FREE one hour teleseminar, you'll get dozens of commercial techniques, tips and tricks. With a creative legacy that spans twenty years in marketing and a stable of dozens of broadcast clients around the world, Doug Harris has earned a reputation as the world's premiere broadcast marketing consultant. A former Billboard Magazine Promotion Director of the Year, and the recipient of dozens of industry accolades, Harris has made a practice of out-thinking, rather than out-spending his competitors in ratings and revenue battles, and has demonstrated a unique ability to blend the needs of programming with those of sales. Harris has addressed marketing groups in nineteen foreign countries and was a featured presenter at the NAB Europe for eight consecutive years. As President of Creative Animal International and Chief Creative Officer of Noisemaker Communications, Harris creates clutter-busting campaigns for a wide variety of clients worldwide. To register for this limited participant teleseminar, go to http://Teleseminar.Hedquist.com.