TECHNOLOGY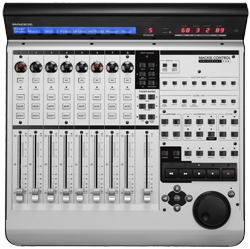 Mackie announced the Mackie Control Pro control surface series, the next generation of the Mackie Control Universal line of controllers. Comprising Mackie Control Universal Pro, Mackie Control Extender Pro and Mackie Control C4 Pro, the series provides a complete feature set and software compatibility. Mackie Control Pro series controllers are designed to seamlessly work together to deliver ultimate hands-on control of mix and plug-in parameters, thereby making the user's music production software complete. "Mackie Control Pro controllers allow users to get the most out of Logic, Pro Tools and other major audio production software by giving them control they simply can't get from a mouse or generic controller." said James Woodburn, Mackie Recording Brand Manager. The Mackie Control Universal Pro control surface boasts the ability to connect directly to a Mac or PC via USB, and support for connections of up to three additional pieces of external MIDI gear. Like the Mackie Control Universal, the MCU Pro features nine motorized, touch-sensitive Penny + Giles faders, eight V-Pots and more than 50 master buttons, as well as a sophisticated communication protocol that enables ultra-precise control, makes setup easy and gives real-time visual feedback via the huge backlit LCD and eight LED rings. The Mackie Control Extender Pro control surface extension shares the new appearance of the MCU Pro, and allows for easy expansion of the master module. Users can add eight precision Penny + Giles faders and V-Pot channels at a time — up to 24 faders and V-Pot channels total — by way of MIDI ports supplied by the MCU Pro. The Mackie Control C4 Pro plug-in and virtual instrument controller offers hands-on control of up to 32 simultaneous parameters as well as extensive visual feedback via four backlit LCD "scribble strips." Like the Extender Pro, the C4 Pro has been designed to seamlessly connect to the MCU Pro, but can also operate in standalone mode. The unique communication protocol employed by the C4 Pro allows for plug and play setup, and enables users to view parameter names and values in real time. When the C4 Pro is combined with Mackie's free C4 Commander Pro software, users can also take control of MIDI hardware such as synthesizers, effects and amp modeling processors, all without leaving the mixing sweet spot. The new Mackie Control Pro series are now available and have a U.S. manufacturer's suggested retail price of $1,549.99, $899.99 and $1,299.99 for the Mackie Control Universal Pro, the Extender Pro and C4 Pro.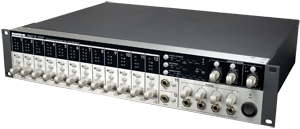 Mackie also announced the Onyx 1200F FireWire interface—a fully-integrated system for recording, monitoring and routing audio and MIDI. Designed to provide functionality that has previously required several different pieces of equipment to facilitate, the Onyx 1200F is perfect for musicians and engineers seeking an affordable, customizable and intuitive solution capable of meeting the demands of today's recording possibilities. The 24-bit/192kHz-capable 1200F interface boasts fully-equipped monitoring and signal routing architecture, including 30-by-34 channel I/O featuring 12 of Mackie's premium-grade Onyx mic/line preamps, onboard DSP matrix mixing, an advanced monitoring/headphone control section with four user-assignable headphone outputs, two stereo control room outputs, built-in talkback mic input, and remote switching capability. The 1200F also includes comprehensive digital I/O (AES/EBU, S/PDIF, 16 channels of ADAT Optical), WordClock, dual MIDI I/O jacks, and balanced sends/returns. Among the Onyx 1200F's most innovative features is the DSP Matrix Mixer, an assignable patch bay that allows connection of any input to any output with near-zero latency. This true 64-bit, floating-point DSP matrix is an industry first that results in pristine sound and massive routing flexibility. Even better, this powerful routing architecture is stored into the 1200F itself, so the user has total recall of all custom settings. This means the 1200F can be used in standalone mode, without the need for a computer, making it a portable recording system as well as a comprehensive studio solution. The Onyx 1200F comes bundled with Tracktion 3 Project Bundle Hardware Edition, Mackie's newest release of its audio/MIDI recording and production software, which features premium sounds, plug-ins and loops from the world's top virtual instrument, effects plug-in and sound library companies—including IK Multimedia, Drumcore, LinPlug, Garritan and Sonic Reality. The rugged, 2U rackmount steel chassis features an attractive extruded aluminum front panel with machined aluminum knobs. A black plastic lens is flushed mounted into the front panel and accommodates 12 channels of level meters. The Onyx 1200F has a U.S. manufacturer's suggested retail price of $2,049.99. www.mackie.com.

Tascam recently unveiled the new US-1641. The single-rackspace USB 2.0 Audio/MIDI interface is packed with I/O, including 16 simultaneous inputs (14 analog inputs plus S/PDIF digital inputs) and four simultaneous outputs, eight studio-quality microphone inputs with phantom power, digital I/O, independent monitor and headphone outputs and 16 channels of MIDI I/O. The US-1641 offers zero-latency hardware monitoring and up to 96kHz sampling rates at 24-bit resolution. It ships bundled with Cubase LE4 and Tascam's own Continuous Velocity Piano. "TASCAM has always been at the forefront of USB Audio/MIDI interface technology, from our very successful US-428 and US-122 through our most recent US-122L and US-144," remarked TASCAM Product Development Manager Jim Bailey. "The US-1641 packs an incredible amount of I/O into a single rackspace for live performance recording." www.tascam.com.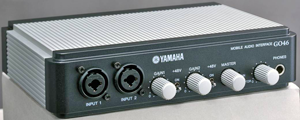 Yamaha Corporation of America has released new drivers and firmware updates for their GO46 Mobile FireWire Audio Interface, MOTIF XS Synthesizer Workstation, and n Series FireWire Digital Mixing Studios. Available for download at www.yamahasynth.com/download/index.html, new drivers make the GO46 compatible with the new Windows Vista operating system while new IEEE1394 firmware for the MOTIF XS, n8, and n12 improve network capability over mLAN. www.yamaha.com.
In a move expected to accelerate the rollout of mobile digital television (DTV), Kenwood USA Corporation has become the first major manufacturer of automotive electronics to develop a truly mobile DTV receiver for over-the-air broadcasts in North America. Kenwood has created prototype terrestrial DTV receivers based on the MPH(TM) in-band mobile DTV system, developed by Harris Corporation, LG Electronics and LG's U.S. R&D subsidiary, Zenith. MPH(TM) is capable of providing robust terrestrial DTV signals to mobile, pedestrian and handheld devices. For consumers, MPH(TM) enables users to view their favorite broadcast TV programs, including movies and sports, and access local news and weather information. For DTV broadcasters, this new technology has the potential to create lucrative new revenue streams. ATSC digital television -- which was optimized for transmission to fixed receivers -- will be the only broadcast television in the United States after February 2009 when analog broadcasting ceases. MPH(TM) represents a significant upgrade to ATSC, allowing excellent DTV reception performance in cars, even at highway speeds. LG Electronics President and Chief Technology Officer Dr. H.G. Lee said, "MPH(TM) field tests show that ATSC-compatible mobile DTV works well. The next phase is to measure consumer interest. That's where various manufacturers will play a crucial role, and Kenwood's contributions to this effort are noteworthy." www.harris.com.
PRODUCTION LIBRARIES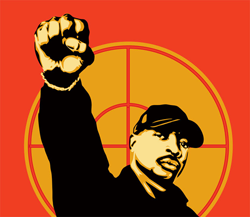 Chuck D, hip-hop icon and founding member of the controversial and pioneering rap group Public Enemy, has signed a worldwide production deal with Killer Tracks. Chuck D's new hip-hop music library, Chuck D Presents, will feature emerging artists and producers from his own record label, SLAMjamz Records, as well as guest performers including Public Enemy's Professor Griff. The library will be distributed by Killer Tracks and is scheduled to launch in the spring of 2008. www.KillerTracks.com.
THE MIX
Radio And Production readers are invited to join Jeffrey Hedquist for a Free 60-Minute Teleseminar interview with Broadcast Consultant Jay Mitchell. Thursday, February 21, 2008 at 5:30 pm Pacific / 8:30 pm Eastern. "In this FREE one hour teleseminar, you'll get very special insights into the secrets that make commercial and promos work in small markets. Large market writers and producers will be amazed at how some of these techniques will make their work more successful also." Jay is not only the publisher of Small market radio Newsletter (www.smallmarketradionewsletter.com) but a talent coach who's worked with top radio talent like Kidd Kraddick, Tom Joyner and Rick Dees and scores of other personalities in every size market, every format, all over North America www.killerjock.com. He's worked in just about every capacity in radio from jock to multi-station owner, and now full time consultant and publisher. To register for this limited participant teleseminar, go to http://Teleseminar.Hedquist.com.