technology

HHB unveiled their new CDR-882 DualBurn. The HHB CDR-882 DualBurn is compatible with all types of CD-R media, both low and high-speed up to 52X, including HHB's own new CDR80HS 2X-52X disc. With genuine REC-REC drive configuration, the CDR-882 resolves the inherent limitations of previous generation CD recorders by supporting seamless extended recording time across two or more discs, as well as simultaneous recording of two discs, high-speed duplication and intelligent disc management. The CDR-882 is designed from the ground up for high-end performance in a range of professional music recording and digital media applications. Full 24-bit A/D and D/A converters with noise-shaped dither onto CD combine with a high-quality quartz crystal-derived internal clock and audiophile-grade analogue circuitry to deliver superior sonic performance. Build quality is similarly uncompromised, with the CDR-882 weighing in at 6.7 kg / 14.7 lbs. Unlike adapted consumer devices, the CDR-882 uses high-quality IDE CD-R drives mounted in a steel 2U rack-mounting chassis to ensure reliable, glitch-free recording, even in unfavorable environments such as live concerts. Comprehensive professional connectivity includes balanced XLR analogue I/O, unbalanced phono analogue I/O, balanced XLR AES/EBU digital I/O, coaxial and optical S/PDIF digital I/O, external word clock input, RS232 remote control and parallel control interface. An on-board sample rate converter accepts digital signals from 32-96kHz, and the CDR-882 ships with an infra-red remote control. A full complement of professional features equips the CDR-882 for a wide variety of tasks. Track IDs may be manually created, or auto-generated from the digital input, audio level threshold or time period, both of which are user-definable. When recording seamlessly across two or more discs, track IDs are inserted when the next disc starts, and where the user-definable fade out and fade in start and finish. With an overlap between the two discs, the whole program can either be played back uninterrupted in the CDR-882, or easily reconstructed in a DAW using the track IDs to precisely align the audio from the two or more discs. The CDR-882 supports CD Text, and makes its own use of it to identify multi-disc recordings and the correct order. The versatility of the CDR-882 is enhanced further by the inclusion of Sync Record and Disc Copy modes, a Program mode to enable selective track record/replay, and Single/Clone modes to select recording to one or both drives. MSRP is $1,149.00. www.hhb.co.uk.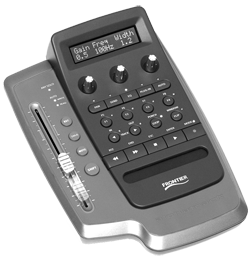 New editing and wireless remote control capabilities have arrived for users of Apple Computer's GarageBand 4 software, thanks to two new plug-ins released by Frontier Design Group. The first, for TranzPort, now allows GarageBand musicians to adjust mix settings from inside a vocal booth, or easily record instruments that are physically distant from the computer (piano, drums, etc.). This gives GarageBand users new ways to get creative in an environment away from the computer (living room, lounge, etc.) and without having to run back and forth to the workstation. GarageBand functions available via TranzPort include: Select the current track, remotely adjust its level and mute, solo, and record-arm status; scroll or shuttle the GarageBand time position using the large rotary dial; set In/Out points and turn Cycle on and off; enter Record mode via an optional footswitch; and a complete set of dedicated transport buttons (Rewind, Fast Forward, Stop, Play, and Record). The second new plug-in connects GarageBand with AlphaTrack, Frontier Design's compact moving fader control surface. For the first time, moving fader automation is available in GarageBand with a low-cost control surface. The AlphaTrack/GarageBand plug-in takes full advantage of AlphaTrack's features including: Track selection via dedicated switches or touch-sensitive encoder; complete control of track volume, pan, mute, solo, and record-arm status; horizontal and vertical window zooming; EQ controls (Frequency, Gain, and Q on multiple bands); Plug-in and Instrument selection with full parameter control; Aux Send and Automation control, Group Assignments, and Master Fader adjust; Punch-in and Cycle (looping) control; and a complete set of dedicated transport buttons and AlphaTrack's unique Scroll Strip. Other recent additions to AlphaTrack's growing list of supported DAW's include SAWStudio 4.1 by RML Labs, and MultitrackStudio 4.31 from the folks at Bremmers Audio Design. www.frontierdesign.com.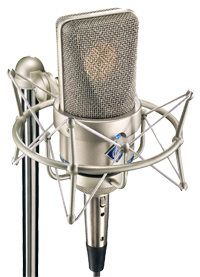 The Neumann TLM 103 D is the next classic microphone to enter the digital realm. When used in conjunction with digital workstations, digital Solution-D microphone technology makes life easier for users. The integrated, fast peak limiter guarantees optimal recording levels at all times. Likewise, the Neumann A/D converter built into the microphone eliminates the necessity of experimentation with external converters and preamps. The TLM 103 D is available in a choice of satin nickel or matte black finish, with a SG 1 swivel mount. Starter sets are also available, consisting of the microphone, an EA 1 elastic suspension and a connection kit for direct connection to an AES/EBU or S/PDIF input. www.neumannusa.com.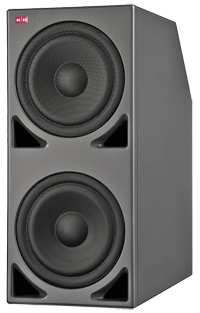 Klein + Hummel has developed the O 810 and O 870 subwoofers, each the perfect compliment to Klein + Hummel's extensive range of monitors and can be used either as a unit dedicated to reproducing the LFE channel, or as a way to provide low-frequency extension and increased maximum SPL for the main loudspeakers. "The O 810 and O 870 now make it possible to assemble flexible monitoring systems for different sizes of studios, with a smooth and uniform response that ranges from less than 20 Hz to greater than 20 Hz," says Andrew Goldberg, product manager studio systems. The built-in 7.1 Channel High-Definition Bass Manager(tm) is compatible with all formats from mono to the latest 7.1 high-definition systems, such as Blu-ray and HD DVD. Eight channels of analog, or an optional eight-channel 24-bit 192kHz digital input card, ensure flexible interconnectivity for modern studios. Four-mode LFE channel processing ensures maximum compatibility across all formats. Fourth order crossovers and flexible acoustical controls allow for seamless system integration. Built-in volume control allows for centralized system replay level adjustment independent of the source, and the electronics can be remote located to reduce cabling. The O 810 and O 870 can be used in music, broadcast, and post production studios for tracking, mixing, and mastering. They may be positioned next to a wall or flush mounted into a wall, and can be mixed freely in multi-channel systems with other loudspeakers from the Klein + Hummel range. An extensive range of accessories further enhance the flexibility of the system. www.klein-hummel.com.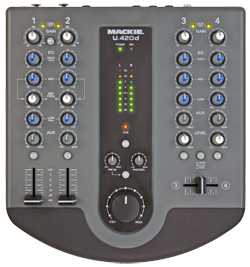 Mackie delved into a new genre with its U.Series Production Mixers, the U.420 and the U.420d. Designed for the needs of today's musicians, DJs and producers, Mackie U.Series provides flexible connections and an intuitive, centralized user interface to ease workflow and maximize creativity. Each model features a micro-master section with otherwise full-size qualities such as a prominent master volume knob and high resolution metering. Mic or stereo line channel strips with 3-band active EQ, a built-in DI box and RIAA phono preamps allow you to plug-in, and turn up for live sound and recording via integrated stereo Firewire I/O. "Loop-thru" routing enables you to mix and record analog and DAW playback with a couple of simple moves. Each offers a stereo aux send, headphone out with pre-main level control and self-monoing outputs. The U.420 4-channel high-headroom stereo line mixer offers 3-band "full-kill" active EQ on each channel, a built-in DI box and a Mackie designed RIAA phono preamp. The U.420d is loaded with 2 premium Mackie mic channels with 30mm faders, and features 3-band active EQ with mid-sweep, while 2 high-headroom stereo line input channels include 2 Mackie designed RIAA phono preamps, 3-band active EQ, a full headphone cue system and a 30mm crossfader. The U.420 has a U.S. MSRP of $249.99. The U.420d has a U.S. MSRP of $319.99. www.mackie.com.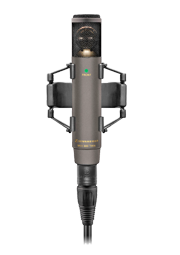 Sennheiser introduced its new MKH 800 Twin microphone. Based upon Sennheiser's MKH 800, the MKH 800 Twin multiplies recordists' abilities by offering polar pattern switching after the recording session. The MKH 800 Twin can be thought of as a multi-pattern microphone without the pattern switches. So how does it generate the various patterns? The MKH 800 Twin is equipped with both front and back capsule outputs. In a standard multi-pattern mic like its legendary predecessor, the MKH 800, the pattern of the mic is derived by adding and subtracting the back capsule. Thanks to the MKH 800 Twin's dual outputs, recordists can simply plug both of these capsules into a DAW or recorder and create the pattern desired during mix-down. The MKH 800 Twin is ideal for film scoring, symphonic recording, broadcasting, 5.1 surround, and studio and field recording. Sennheiser's renowned transparency and accuracy, incredibly low self-noise and humidity-resistant construction make the MKH 800 Twin a powerhouse in any application, while its wide frequency response spans 50kHz. The MKH 800 Twin also features a symmetrical capsule design with extremely low distortion. MSRP: $3,356. www.sennheiser usa.com.
production libraries
New releases from FirstCom include: CHAP 333 Songs Of The 60's - rare tracks from the Chappell vaults, restored and remastered; evo100Q Hybrid Sports – gritty, gnarly, mashed up orchestra, industrial beats and nasty guitar riffs deliver war zone video game styles; evo103 Struggles, Strife and Comebacks - urban underscore and drama, contemporary hip hop backgrounds to hopeful themes; evo104 The Global Games – big world class orchestral themes to dramatic struggles and strife. The scoring tool for the Olympics from fanfares to drama; evo106 Positively Delightful - simple underscores with a positive mood. Energetic, playful and unobtrusive; GM-110 Vote For Me - The political perils and victories. Two variations on each theme. Positive and negative for easy scoring and promos; HM-083Q Drama Asesina - dramatic theme and underscore meets Mexican mafia for the inner city barrio; crime and aggression. Plus many more. Audition at www.firstcom.com. l
the mix
Transom Capital Group recently completed the acquisition of Blue Microphones, a provider of high-end microphones for the professional audio and consumer markets. Skipper Wise and Martins Saulespurens, the founders of Blue, will retain an ownership interest in the Company and continue building microphones. Transom Capital Group is a Los Angeles private equity firm focusing on investments in the consumer, industrial, and media spaces. www.transomcap.com. www.blue mic.com.