TECHNOLOGY
Orban/CRL and Wowza Media Systems have introduced new capabilities that empower web broadcasters to take advantage of the new MP4 and HE-AAC capabilities introduced in Adobe Flash Player 9. By deploying Orban's Opticodec 1010 Series of Enterprise MP4 (AAC) and HE-AAC encoders in conjunction with Wowza Media Server™ Pro, netcasters will now be able to stream live audio to the Flash player using the most efficient and best-sounding codecs on the market, HE-AAC (High-Efficiency Advanced Audio Coding) and AAC (Advanced Audio Coding), at bitrates and costs as much as 66% lower than MP3 or Windows Media Audio (WMA). The Orban Opticodec 1010 line of MP4 (AAC) and aacPlus (HE-AAC) encoders were the first in the industry to bring high-quality, low-bitrate audio to IP Radio and the new 3G networks, allowing stations to transmit HD quality audio over the Internet and to the new generation of mobile devices. Said Greg Ogonowski, VP of New Product Development for Orban, "With Flash readily available in more than 98% of all Internet browsers, netcasters can now provide a seamless HD audio listening experience without forcing their audiences to use clumsy external players. Netcasters can also now deliver better quality at lower bitrates, an innovation that translates into significant cost savings." aacPlus (HE-AAC) is an audio codec developed by Coding Technologies that delivers high-quality 5.1 multichannel audio at 128 kbps, near CD-quality stereo at 32 kbps, and FM quality stereo at 24 kbps. It is widely adopted by many international standardization and proprietary bodies, including 3GPP, MPEG-4, ISMA (Internet Streaming Media Alliance), DVB (Digital Video Broadcasting), the DVD Forum, Digital Radio Mondiale, HD-Radio and MediaFLO. www.orban.com.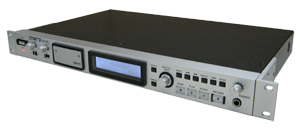 Tascam's contractor product line will now include the HD-R1 1U, rack-mountable stereo audio solid-state recorder. Mic inputs with Phantom Power (selectable), balanced outputs with both XLR and Euro-block terminals, and RJ45 100Mbit/s Ethernet interface for file transfer and control are just a few of the features which set the HD-R1 aside from similar products currently being sold on the market. The HD-R1 records 44.1/48 KHz, 16/24 bit PCM or MP3 files to highly reliable compact flash media. Remote control is possible via Ethernet, RS-232, Parallel, or 16-pin direct play via D-sub25 pin/Parallel. For maximum flexibility, the HD-R1 includes S/PDIF Digital I/O, unbalanced RCA input and outputs, front panel rotary input level controls, headphone jack w/level control, power-on-play, and a variety of play-back modes. www.Tascam.com.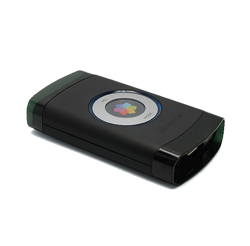 Pinnacle Systems, Inc., the consumer division of Avid Technology, Inc., announced Pinnacle Video Transfer an innovative device that records analog video onto any USB 2.0 storage device without using a PC. At the touch of a button, users with little or no technical expertise can immediately begin recording from a TV, DVD player, PVR, camcorder or set-top box directly to their Apple® iPod® Video, iPod nano (3rd generation), iPod classic, Sony® PSP, Sony PSP slim, USB flash drive or USB hard drive. For each connected device, the user can select three different recording levels, depending on their preference for video quality or the actual size of the video files. With PC-less recording, the compact device will appeal to people who want a simple way to offload footage from their camera to a portable USB device when away from home. For consumers with personal videos on VHS, Hi8 or VHS-C tape, Pinnacle Video Transfer can be used to make a digital copy on a USB 2.0 hard drive for safe keeping-without having to deal with PC-based software. Pinnacle Video Transfer also offers a very easy way for gamers to capture their preferred session in digital format that can be edited on a PC at later time. Videos are captured in the H.264 format, the high-compression multimedia technology supported by iPods and PSPs. This eliminates the need for time-consuming conversion. Also known as the Advanced Video Codec (AVC) specification or MPEG 4-Part 10, Pinnacle's H.264 encoding delivers high-quality videos with two to three times the compression efficiency of solutions such as the MPEG-2 standard, which is used in DVD video. With the press of a button, users can easily select the quality for each recording (Good, Better or Best). When Best recording is selected, videos can be captured at up to 720x480/576 (NTSC/PAL) resolution. Measuring only 4.843" x 2.638" x 0.906", the device supports multiple inputs including S-Video, Composite video and stereo audio analog. By purchasing additional cables, Pinnacle Video Transfer can also be used to recharge an iPod or PSP battery during video transfer. US MSRP is $129.99. www.pinnaclesys.com.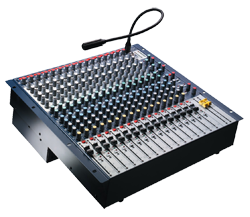 The Soundcraft GB Series has now gained another new member, the Soundcraft GB2R. This 19-inch rack-mountable mixer is designed specifically for smaller installations in churches and performance venues, or for small portable PA systems. It will also find friends in broadcast where its high quality and feature set will be very appealing. Available in two variants, the GB2R offers either 16 mono inputs to a stereo mix output, or a 12.2 version with 12 mono inputs, two full-feature stereo inputs and two group busses, each model having six auxiliary sends. The Soundcraft GB2R inherits both the GB30 mic preamplifier and GB30 equalizer designs from the larger GB4 and GB8. For ease of installation, the connector section is contained in a rotatable pod, allowing cable access from the top of the mixer if sat on a tabletop or from the rear when mounted in a 19-inch rack. On the stereo inputs of the 12.2 model, connectors are provided for both mic and line inputs. With mic signals routed to the local channel, the line inputs are available as stereo returns to the main mix bus. Two stereo returns and a two-track (CD replay, for example) input are provided, which means that the GB2R-12.2 model can offer up to 26 inputs to mix in a mixer just 19 inches (485mm) wide. Every input has a pre/post switchable direct output for recording or effects sends, while an internal universal voltage PSU avoids external power supply connections. www.soundcraft.com.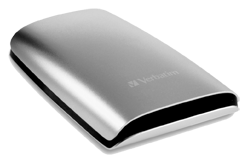 Leveraging the resources gained with the purchase of SmartDisk® Corporation's external hard drive (HD) assets in July 2007, Verbatim Americas, LLC launched a new line of SmartDisk 2.5" Portable Hard Drives (HDs). With the new elegantly designed HDs, consumers and businesses can immediately add 120, 160, 250, or 320GB of removable capacity without having to open their computer. The palm-sized external drives are available for both Windows® and Mac® users with retail prices starting at US$99.00. A growing number of consumers are using external hard drives to gain the additional storage they need for their photo, music and video files. Office workers are using the compact drives to transport work to their home systems and branch offices. As a result, IDC predicts more than 6 million external hard drives will be shipped in 2008, up 58 percent from the 3.8 million units shipped in 2006. Verbatim has enhanced the versatility of its 2.5" SmartDisk HDs by offering them with choice of a USB interface or a Combo USB/FireWire interface. With the Combo USB/FireWire interface, the device also becomes interoperable and files can be transferred between a Mac and a PC. The bus-powered, 5400 RPM drives deliver transfer speeds of up to 480MB per second (MB/sec.) when connected with USB 2.0 and up to 400MB/sec. for FireWire connections without requiring an AC power adapter. Once the SmartDisk portable HD is connected to a computer, it can be accessed and used like a computer hard drive. Users can drag files to the portable HD's icon to copy them, navigate to their HD in Open or Save dialog boxes, or delete files stored on the HD. Verbatim 2.5" SmartDisk Portable HDs support the "Time Machine" backup feature in Mac OS X Leopard. Included in the USB-only models is CMS' BounceBack Express backup software, an easy-to-use backup utility that incorporates scheduling, backup sets, automatic launch options and a quick restore feature. www.verbatim.com.
PRODUCTION LIBRARIES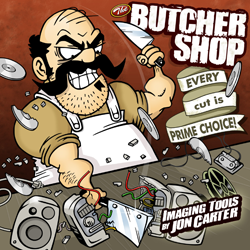 Jon Carter of Megahertz Studios announces the official release of The Butcher Shop Version 2.0 production effects and music bed package. Exclusively available from Megahertz Studios at megahertzstudios.com, The Butcher Shop Version 2.0 contains 100 short FX, 100 longer FX, 100 :10 beats, 100 :30 beats, 100 :30 production loops, 60 scratches & turntable effects, and 200 free butcher drops. "All killer, no filler." Says John, "The effects were produced with special attention to detail and motion. They are extremely usable. The music beds and beats will pump your production up and take it to the next level." Available as wav and mp3 for 299.00 buyout on DVD. www.megahertz studios.com.

Joe Kelly Worldwide, Inc. introduces ProducersWarehouse .com, a new, online "SuperStore for indie producers." The site features more than 20 new, format-specific imaging production libraries and "Cool Tools" for Active Rock, Alternative, Classic Rock, Classic Hits, Mainstream AOR, Lite Rock, CHR, Hot AC, Modern AC, Soft AC, Rhythmic AC, Urban Hip Hop & Rhythmic CHR, Urban AC, Country, News & Sports Talk & more. Hundreds of original Promo & Commercial scores, the Post-Production arsenal, VideoSweet v2.0, plus Cool Tools including Beat Freaks, Coconut Joe's Plug 'n Plays, The Creeps, Stupid Sound FX, ComTec v3.0, Talk is Cheap & more. Instant downloads in high-quality MP3 320 kbps. Also available in wav files. Every product a royalty free buyout. Most products are under $300 USD. ProducersWarehouse.com.

The creators of the Groove Tools online imaging service, Los Angeles-based Groove Addicts and voice talent and imaging whiz Will Morgan, team up once again for The Groove Lounge (www.the groovelounge.com), a mix of grooves and effects for adult-leaning radio formats. Morgan and Groove Addicts set out to produce a radio imaging package for the "hip and musically savvy Gen-X demographic who, as they age, move to more adult leaning formats, such as Hot AC, Modern AC, AAA and Jack." Says Morgan, "I wanted to make audio toys for these formats that are representative of their listeners, and to try to get away from the geriatric, lightly produced sounds that currently populate super softy, make-you-feel-good adult stations." www.thegroove lounge.com.
THE MIX
You're invited to join Jeffrey Hedquist for a Free re-broadcast of his classic 60-Minute teleseminar "Radio and the Power of Imagination" Thursday, April 17 at 5:30 pm PST / 8:30 pm EST. In this FREE one hour teleseminar, you'll learn: Specific ways to engage your audience's imagination with sound; How to use voices, sound effects, music and silence to capture their attention, engage them, convince them and get them to respond; Writing and production techniques you can use to immediately increase the results of your radio commercials; Powerful principles from hearing lots of audio samples and commercials from some of the most successful radio creators in the country and discovering how and why each one worked or didn't work. To register for this limited participant teleseminar, go to http://Teleseminar.Hedquist.com.